Allure Backend Theme (For Community Edition)
App Description Page
This Theme is compatible with
Community

   Allure Easy User Interface with more flexibility to user to user


                                            Allure look & feel and user experience


Web Layouts
                                                                 Responsive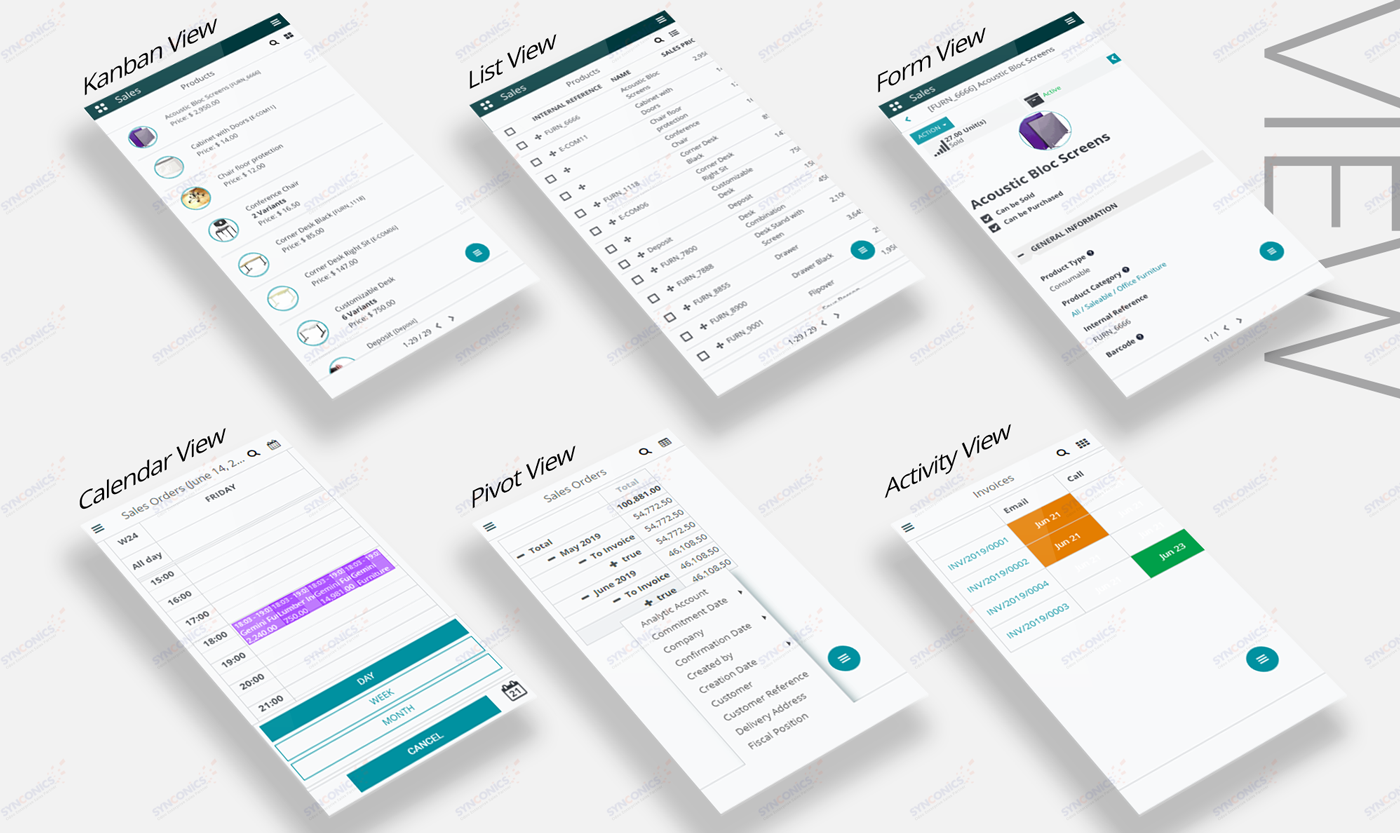 Desktop Menu
The desktop of the ERP system has been designed for better user interface. The main menu icons are placed on the desktop layout of ERP system. The user can have a visual glance of the available modules and it becomes easier to access any menu with a single click.


                                                                   Fuzzy Search
Adding to the features of the desktop menu, fuzzy search option is provided on the top of menu icons. The user can jump into the menu, sub menu and get into the depth of the tree view, directly without accessing into it. The user needs to type in the key alphabets and the desired list will show.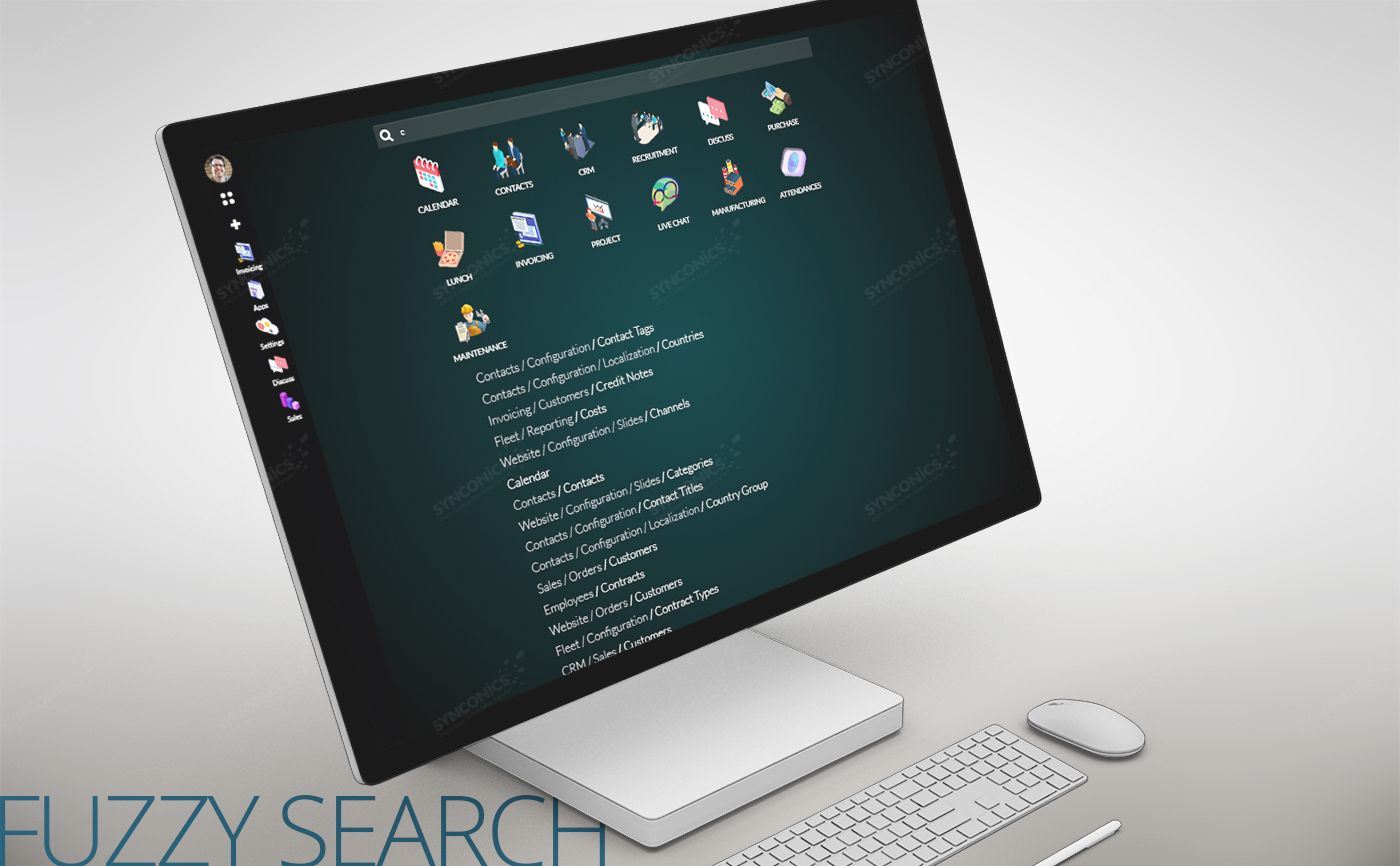 Horizontal/Vertical Menu options


Allure backend theme has flexible options to switch from horizontal to vertical and from vertical to horizontal menu options. Depending on the user convenience and with simple configuration the main menu and the sub menus can be switched from vertical left bar (default) to horizontal top bar. It can be used in combination of favorite menu, for e.g. a sales representative selects inventory, sales, invoicing and etc. main menus for favorite bar and he can opt for the option for horizontal top bar. So when the main menu icon is selected from favorite bar, simultaneously sub menu options can be accessed which reduces number of clicks to access the sub menu.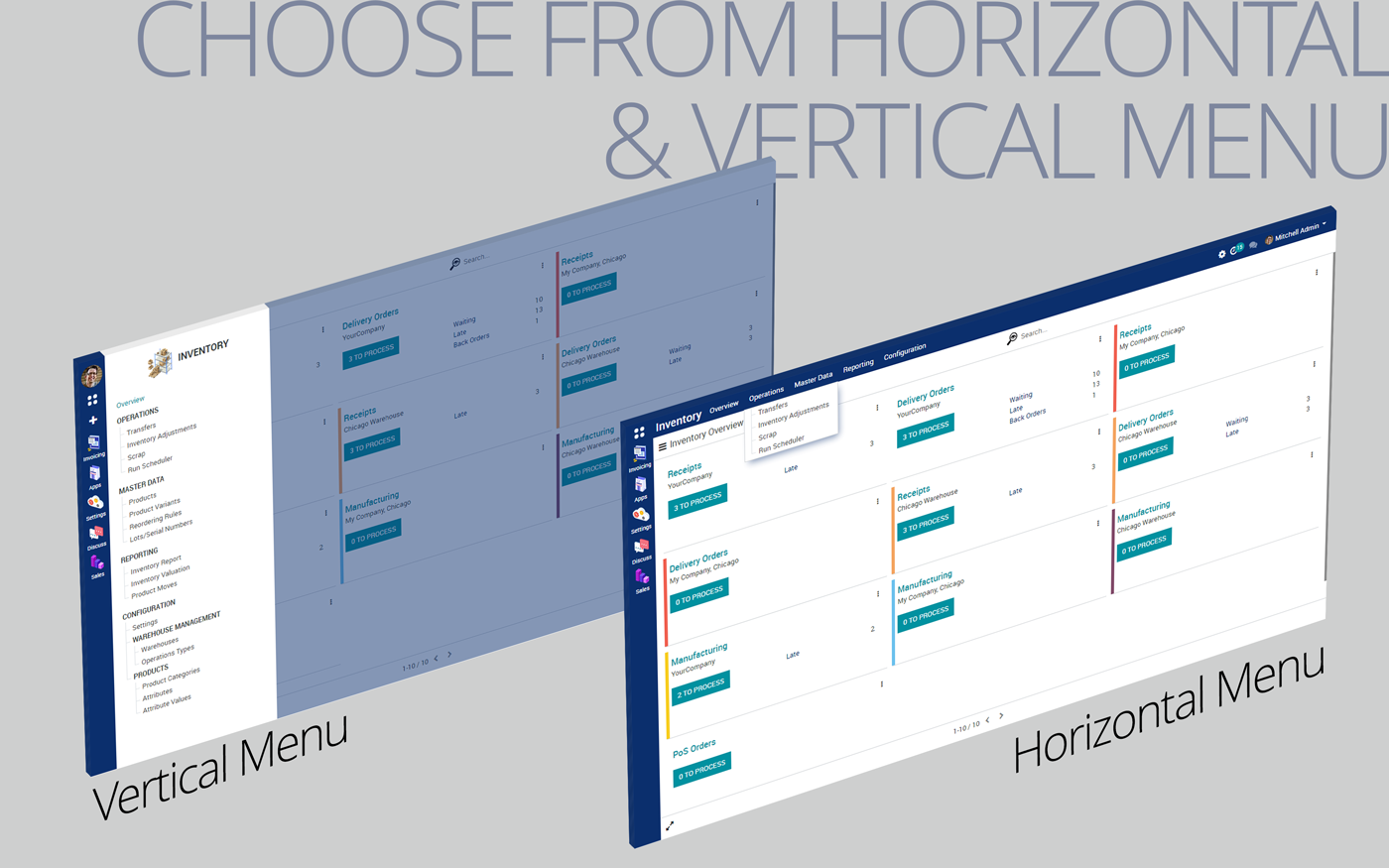 Favourite bar


(Favorite Bar) In addition a favorite bar option is also provided, wherein the menu icons can be dragged & dropped. At times there are users who frequently access common menus, so the favorite bar can be configured user wise, for e.g. a sales representative often uses inventory, sales, invoicing, etc. modules. These modules can be easily dragged & dropped on the favorite bar provided on the left side, so it becomes a shortcut for the sales representative to access those modules with a single click, even though the user is working on a different module. User can change the sequence of menus on Favourite Bar.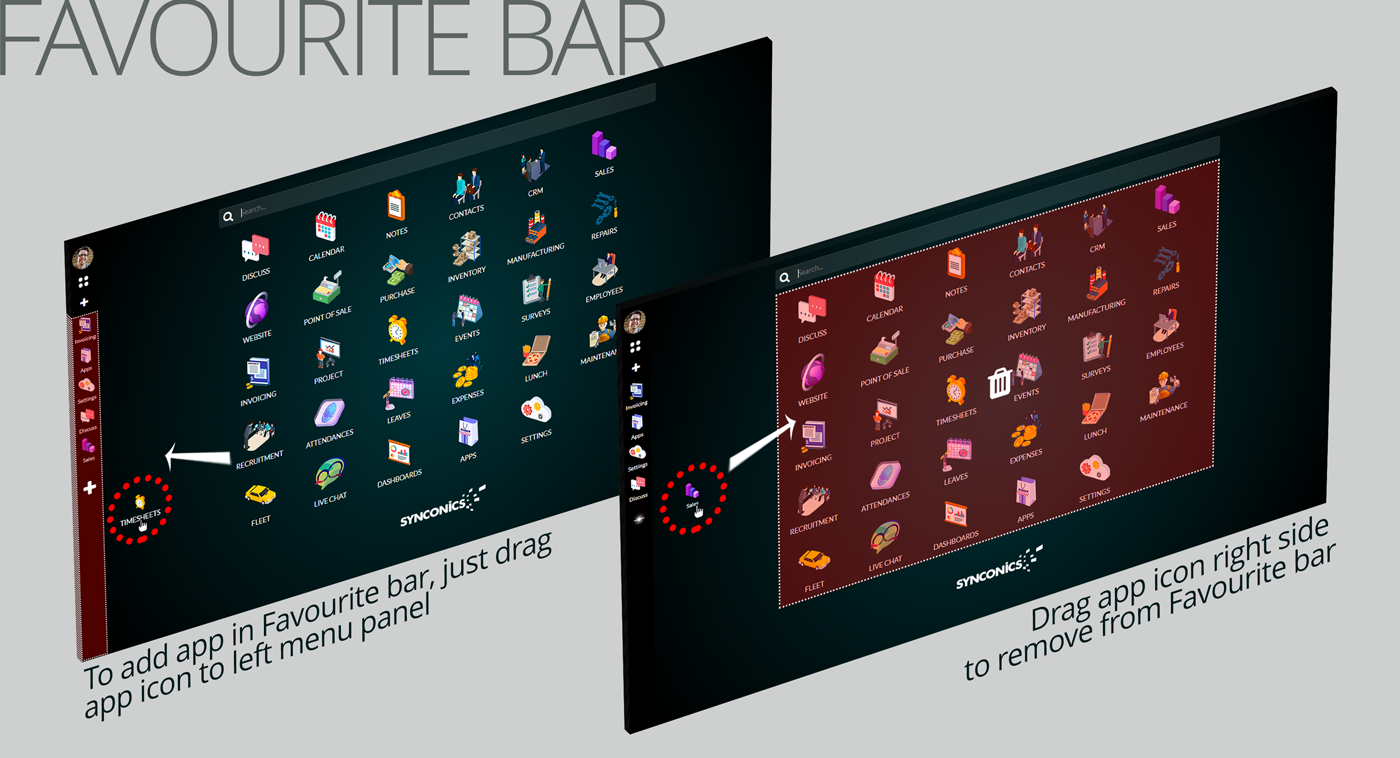 List view (Display density)


A unique feature is added in Allure backend theme, the list view can be changed with available options; default, comfortable and compact. In default option the list view shows the records with the files attached, an option is also provided to download them directly. The image, video and PDF files can be viewed directly without downloading them. In comfortable view the attached files are not visible on the record line. If more records are to be viewed then the user can switch on to compact view, wherein more record lines are visible on screen.


                                                                   Display Mode
Adding on to the features the display mode can be adjusted suitable to the ambient light. By default the normal mode is the most suitable mode for normal vision. If the user finds the screen too bright, then in Light mode the access screen brightness is reduced. If the user is operating the ERP system in complete darkness, then Night mode is the best option available in Allure Backend theme.
                                                          2D, 3D & default Icons


In continuation to the menu icons, multiple options are provided, 2D, 3D and Odoo base icons. With change in icons the outlook of the ERP changes. 2D & 3D icons have been specially designed, keeping in mind the visual aspect of user interface and to enhance the user experience.


                                                      Horizontal/Vertical Tab options


As shown in the screenshot, there two type of tab options available, horizontal & vertical. Horizontal is similar to standard Odoo functionality. The vertical tab view is specially designed to ease the user operations. At the time of form filling the user can jump from one field to another without using the mouse. If there are more tabs an option is provided to minimize the tabs, the user can configure to minimize or maximize the tabs as per his operation convenience. Bu default the tabs will remain open in vertical tan view.


                                                            System Tray Menu
We have provide Theme setting options along with other system tray menu, We have also modify the view of System tray menu.


                                                   Choose Font from six options
The Odoo ERP system has standard fonts there are no options to change the fonts. But in Allure backend theme we have taken care of fonts too and provided 6 fonts options. Desired to user choice fonts can be changed from the provided options.


                                                      Menu's Tree view display


The ERP system can be operated in full screen mode. The browser won't be visible, only the ERP system will be visible on screen.
RTL Layouts (Arabic)
                                                                    Responsive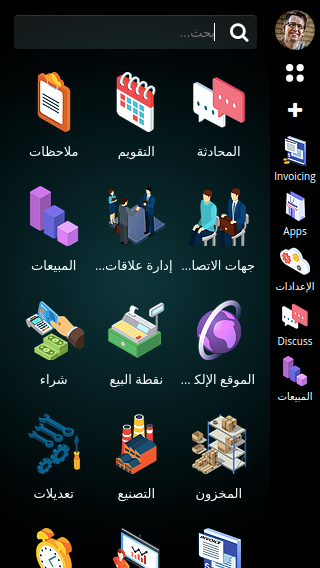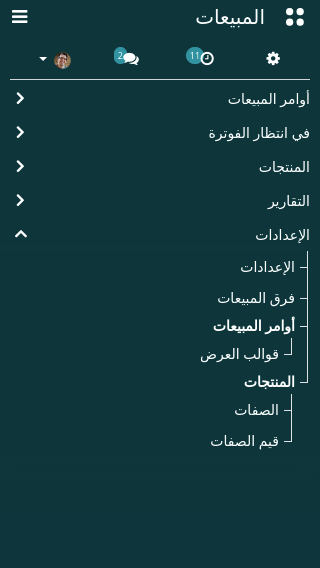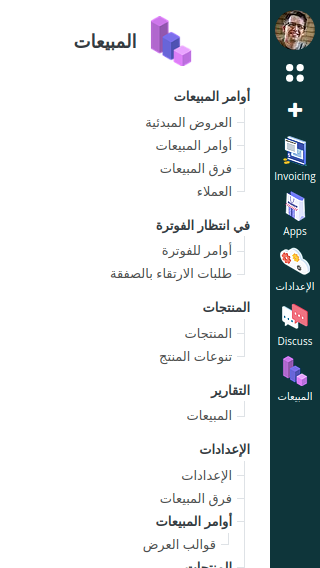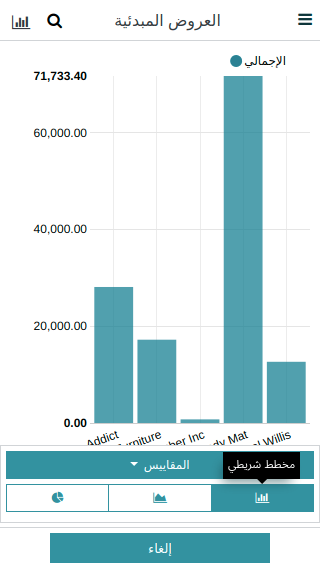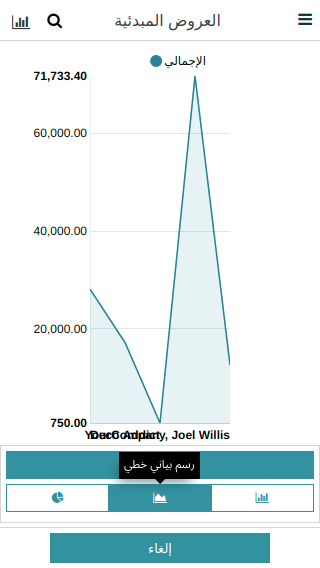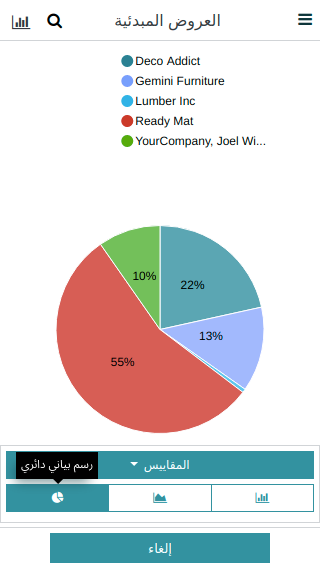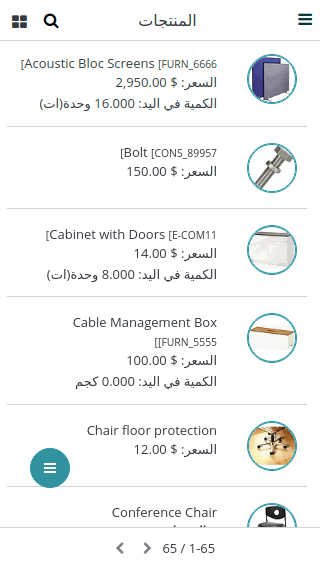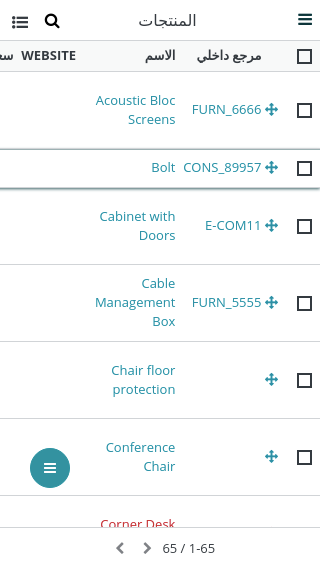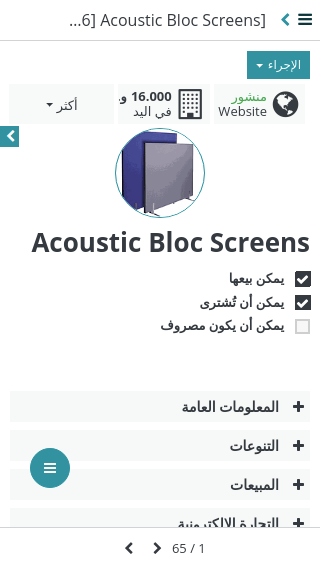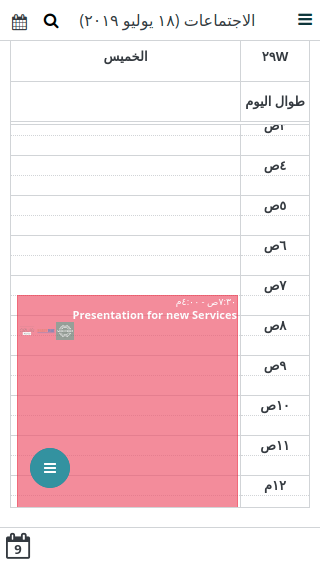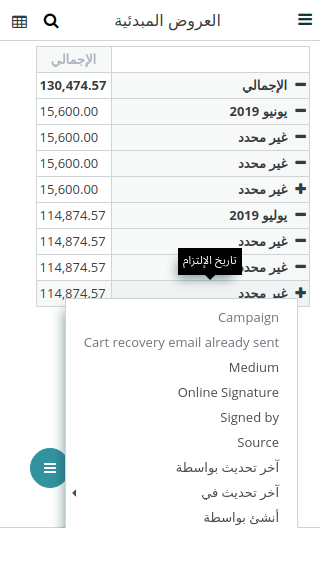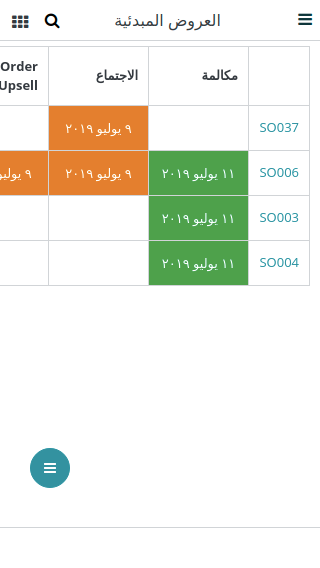 Horizontal/Vertical Menu options


                         List view Display density(compact,comfortable & Default)




                                  Display Mode(Normal, Night & light mode)


                                       Horizontal/Vertical Tab options


                                                              User Settings


More flexible options are provided for comfortable user settings. In Allure backend theme the administrator has rights to provide user access rights to alter their settings. Check the table below for administrator and user settings options available.


                                                            Customize Theme Colors


Allure backend theme has predefined 9 color themes. In addition a separate option is provided to customize your own color scheme for left bar, menus, buttons etc.
Notes:

All the apps are to be purchased separately, for individual versions and individual edition.
One month free bug support period will be offered pertaining to any one server used, testing or live.
Synconics is only responsible for providing the module zip file on your registered email, purchased from our app store or directly through our company.
Synconics is not responsible for installation or updating of the module on any of your server.
If an error appears in our app due to other custom modules installed in your system or if Odoo base source code is not updated on your system, to make it compatible with your source code, we'll charge you for our efforts to resolve those errors and make the module compatible with your source code.
Please refer the document for configuration. If any support is needed for module configuration, installation, updating or any help is needed, it will be considered in paid support.
Please note that you are not allowed to distribute or resell this module after purchase.
This module is tested and working on Odoo vanilla with Ubuntu OS.
Support services will be provided from Monday to Friday, 10:30 AM to 7:30 PM IST (Indian Standard Time).
Support will not be provided during Indian public holidays or company holidays.
---
This is a preview of the recently viewed products by the user.
Once the user has seen at least one product this snippet will be visible.
Recently viewed Apps