Repair Service - Contract Management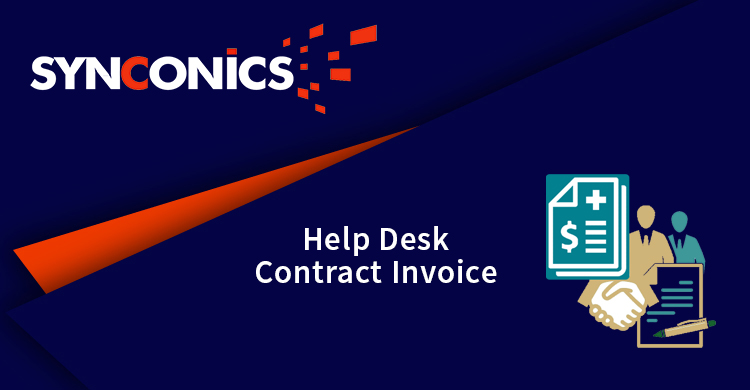 Repair Service - Contract Management
---
* This application allows to create contract of customer for specific duration and defined services in contract.
* Defined services line in contract.
* Ticket creation time user will select contract and its related services if any currently working.
* Make an in-depth analysis of your contract through the pivot view in the reports menu.



---
App Description Page
Repair Service - Contract Management
Contract management provides digital space to store your agreements done with your customers. From a simple agreement defining a start to end date for an application subscription or complex agreement such as managing service contract with defined products.
Key Features
 Periodic contract can be created with start date and end date for selected service line and predefined number of service calls.                 

 On ticket creation contract is automatically selected from customer.

 Service call will be automatically deduct from contract on creating ticket.

 Automated reminder email sent to customers for contract renewal.

 Print contract information in PDF format.

 Make in-depth analysis of your contract through pivot view in reports menu.
Generate Contract for services
Go to Helpdesk/Contracts/Contracts.
Create a new contract for specific duration with different services.
Fields Description
| | |
| --- | --- |
| Name: | Contract Title. |
| Service: | Define product for customer services. |
| Customer: | Define customer name. |
| Contact: | Define contact person name. |
| Assigned to: | Team member name, responsible for handling contract and customer communication.                          |
| Period: | Define contract period - Days, Weeks, Months, Year. |
| Length: | Contract length, based on selected period. |
| Date Start: | Contract Start Date. |
| Date End: | Contract End Date. |
| Duration(In Days): | Auto calculate duration form start date to end date. |
| Description: | Add contract terms & conditions and other contract related information. |
| Special Notes: | Special note related to contract. |
| 24/7: | Service is available for 24x7 hours. |
| Response Time: | Define response time while creating a ticket. |
| Service Lines: | Define number of services which are covered in contract with number of quantity. |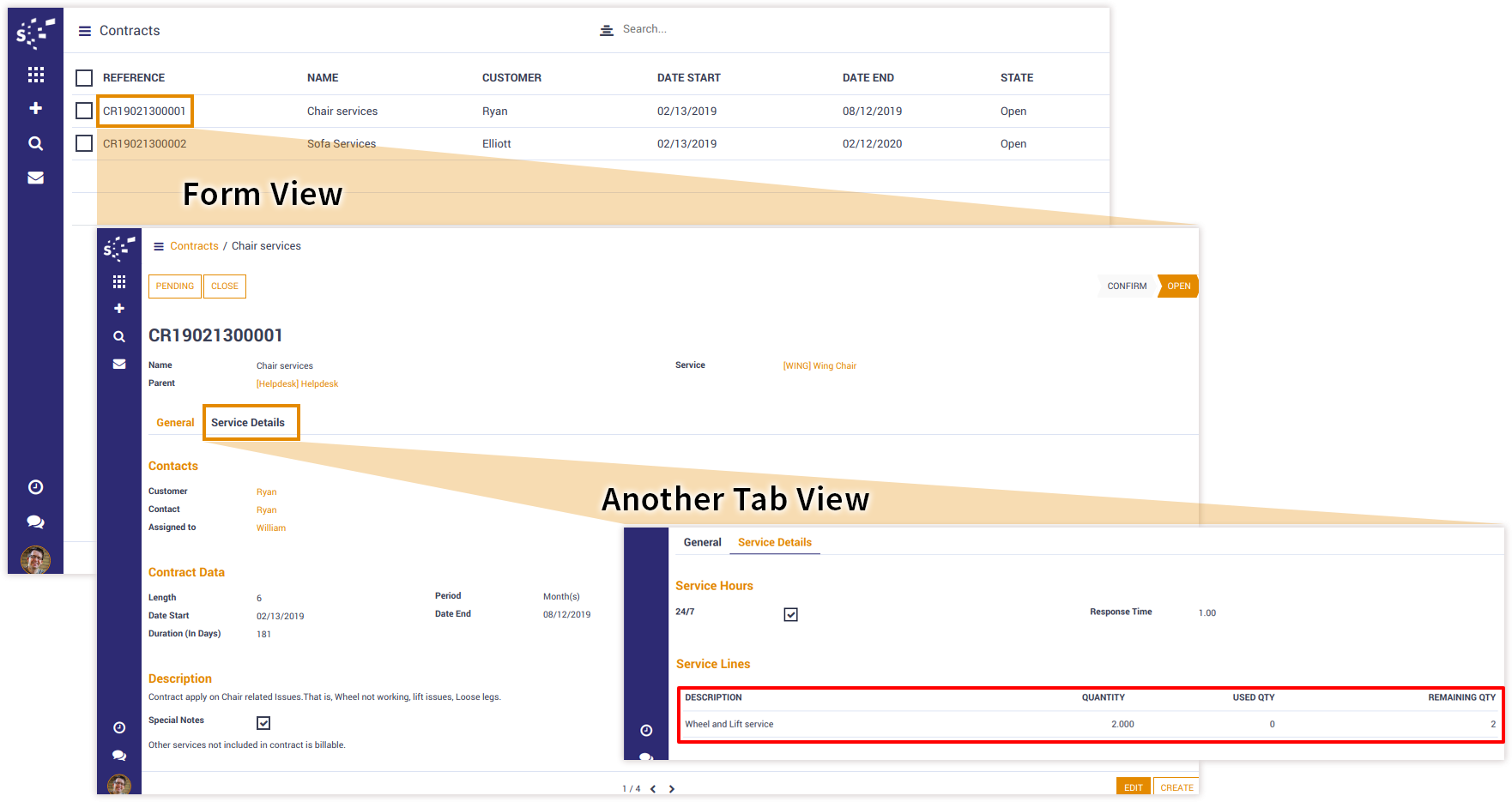 Contract in Tickets
The contract is automatically selected when customer is selected on ticket. 
Select service for the contract for issue generated.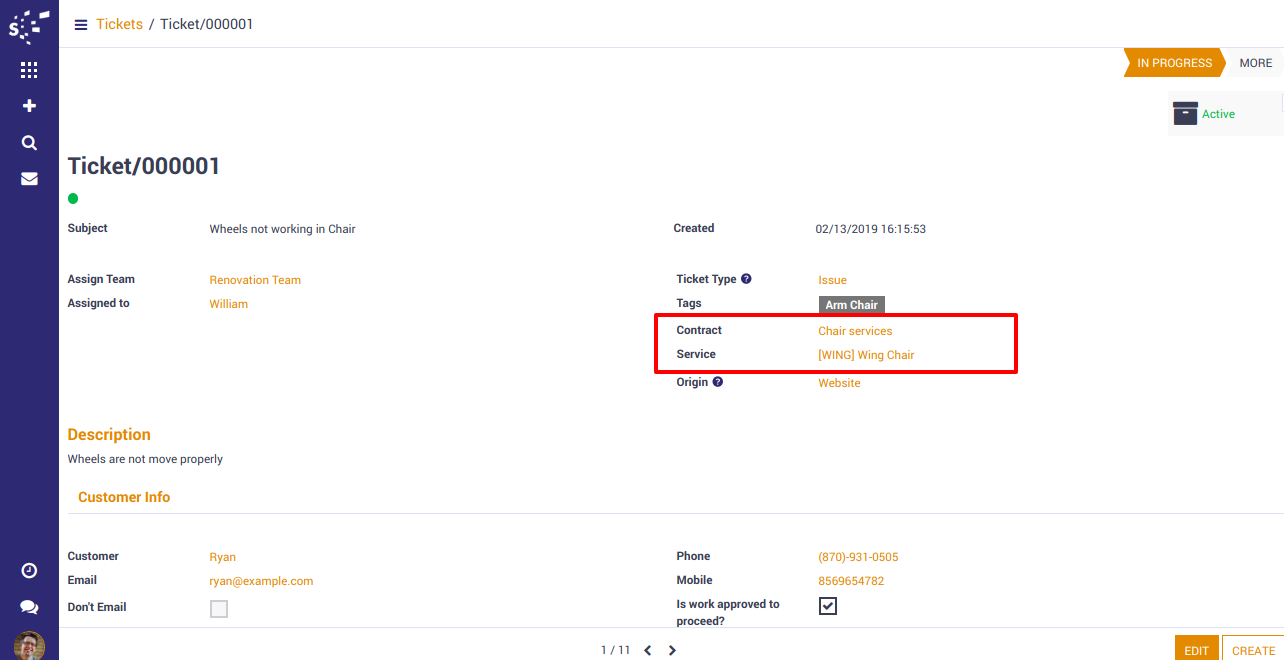 Ticket is automatically linked with contract and service will be deducted automatically as per used service in ticket.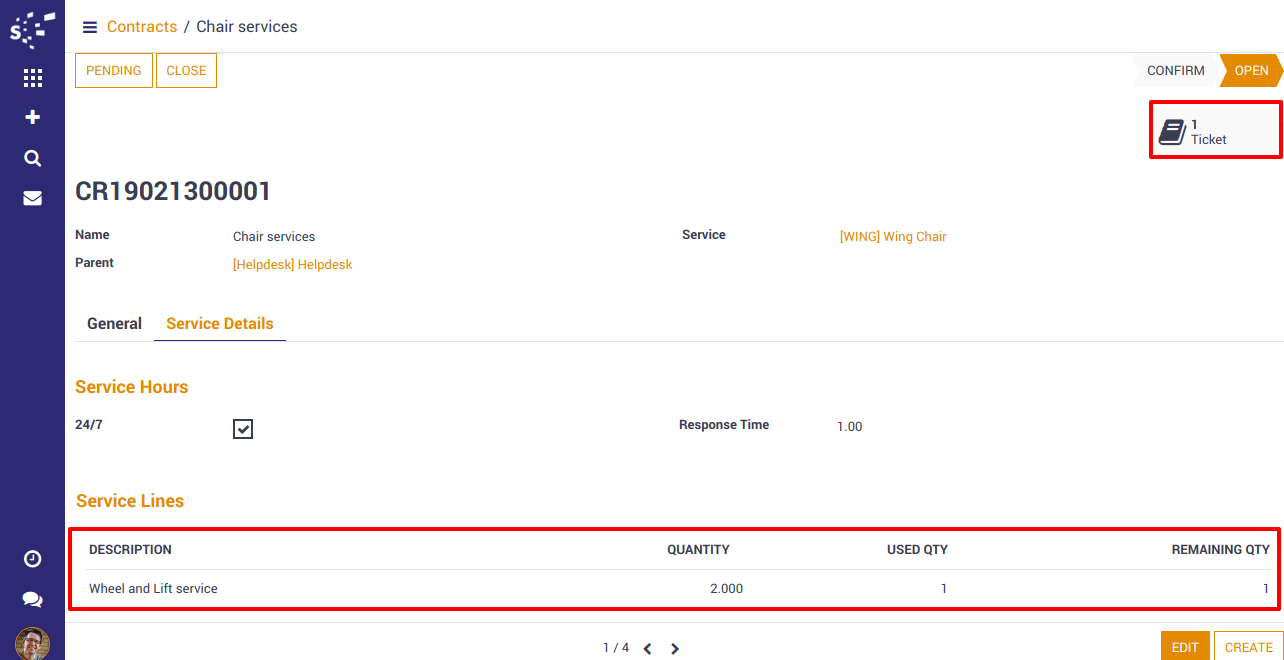 Print Contract PDF
Print contract and customer information in PDF.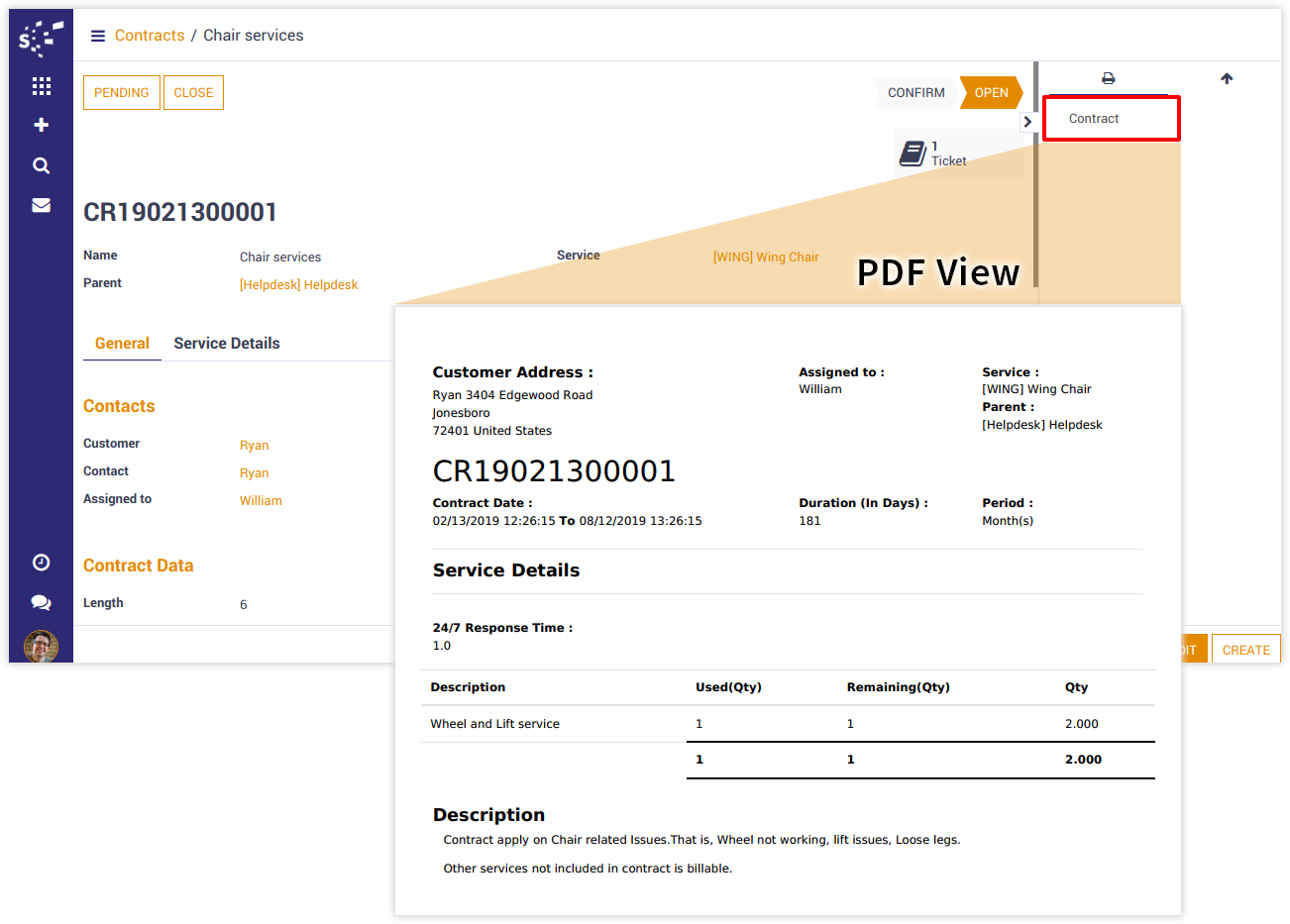 Monitor and Measure Contract
Go to Helpdesk/Reports/Contract.
Make in-depth analysis of your contracts through the pivot and graph views.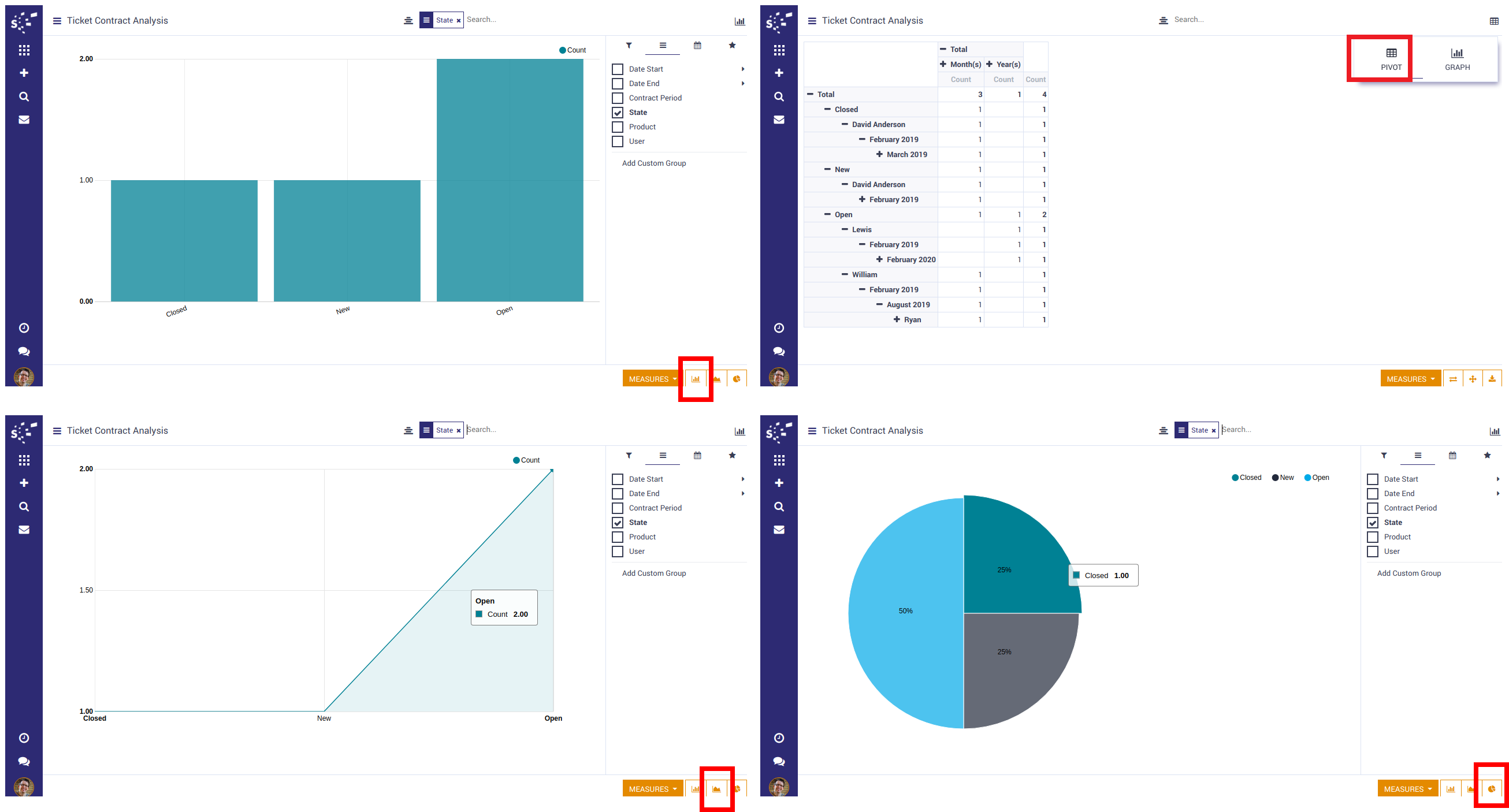 Notes:

All the apps are to be purchased separately, for individual versions and individual edition.
One month free bug support period will be offered pertaining to any one server used, testing or live.
Synconics is only responsible for providing the module zip file on your registered email, purchased from our app store or directly through our company.
Synconics is not responsible for installation or updating of the module on any of your server.
If an error appears in our app due to other custom modules installed in your system or if Odoo base source code is not updated on your system, to make it compatible with your source code, we'll charge you for our efforts to resolve those errors and make the module compatible with your source code.
Please refer the document for configuration. If any support is needed for module configuration, installation, updating or any help is needed, it will be considered in paid support.
Please note that you are not allowed to distribute or resell this module after purchase.
This module is tested and working on Odoo vanilla with Ubuntu OS.
Support services will be provided from Monday to Friday, 10:30 AM to 7:30 PM IST (Indian Standard Time).
Support will not be provided during Indian public holidays or company holidays.
---
This is a preview of the recently viewed products by the user.
Once the user has seen at least one product this snippet will be visible.
Recently viewed Apps