Repair Service - Customer Portal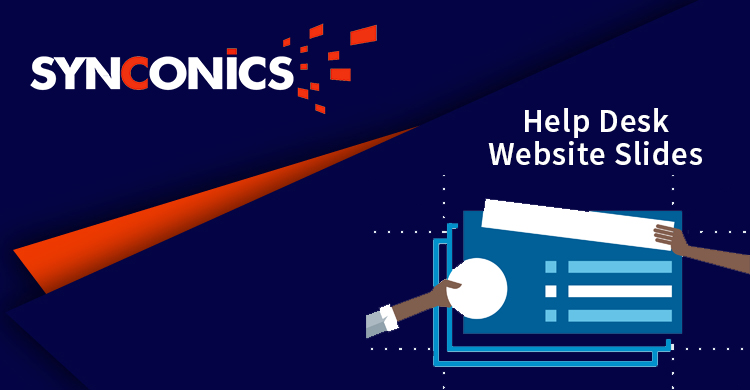 Repair Service - Customer Portal
---
* This application allows you to create, view and track tickets through website.
* Show ticket as per user and customer.
* Allow to attachment through website.
* Customer and user easily communicate with each other through chatter for better understanding.
* Customer can receive notification when ticket is created.
* User easily check ticket status and update it.


---
App Description Page
Repair Service - Customer Portal
Companies providing support service to the website visitors have different teams to assist customer query and resolve their issues through different mode of communication, for e.g. FAQs-forum-docs-ppts, e-mail, chat and inbound call centres. The idea of the Customer Portal is to bring new level of communication to your customers.
The Customer Portal is automatically created for every customer in the system that has a email address entered. The customer can create a new ticket with necessary information and attach necessary document. They can also check the status of their repair work.
Key Features
                     

Through website the customers get connected directly to the customer support executive and communicate with them to resolve the issue or query.                     

                     

Automated invitation mail for website portal is sent to the customers on adding their email address in the system.

 Customer can create a new ticket and attach necessary document.

 Notification mail is sent to the customer when a ticket is created.

 Customer can view existing ticket information with updated status.
Login
The login user can view 'Submit a Ticket' and 'View my Tickets' button.             
Generate Ticket
Go to Helpdesk/Submit a Ticket.
Submit a Ticket: The login user can create a new ticket with 'Submit a Ticket' button.
View my Tickets: The status of their existing ticket's can be viewed with 'View my Tickets' button.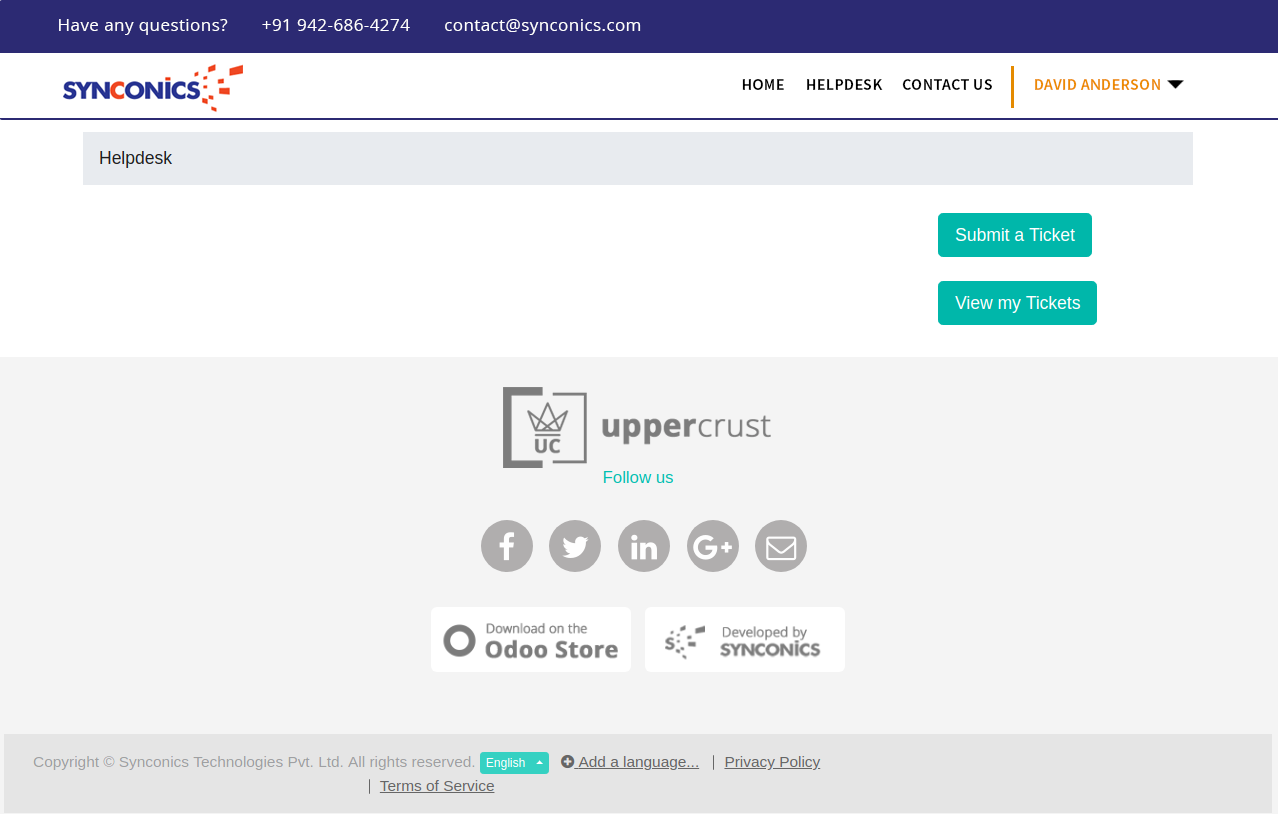 The new user have to fill the essential information like name, email id etc with description of the issues and attach files.
Fields Description
| | |
| --- | --- |
| Your Name & Email: | Customer name and email address |
| Subject: | Ticket subject |
| Type: | Ticket issue type |
| Priority: | Set ticket priority |
| Description: | Issue description |
| Attach File: | Ticket related documents (Image/Invoice, etc.)                      |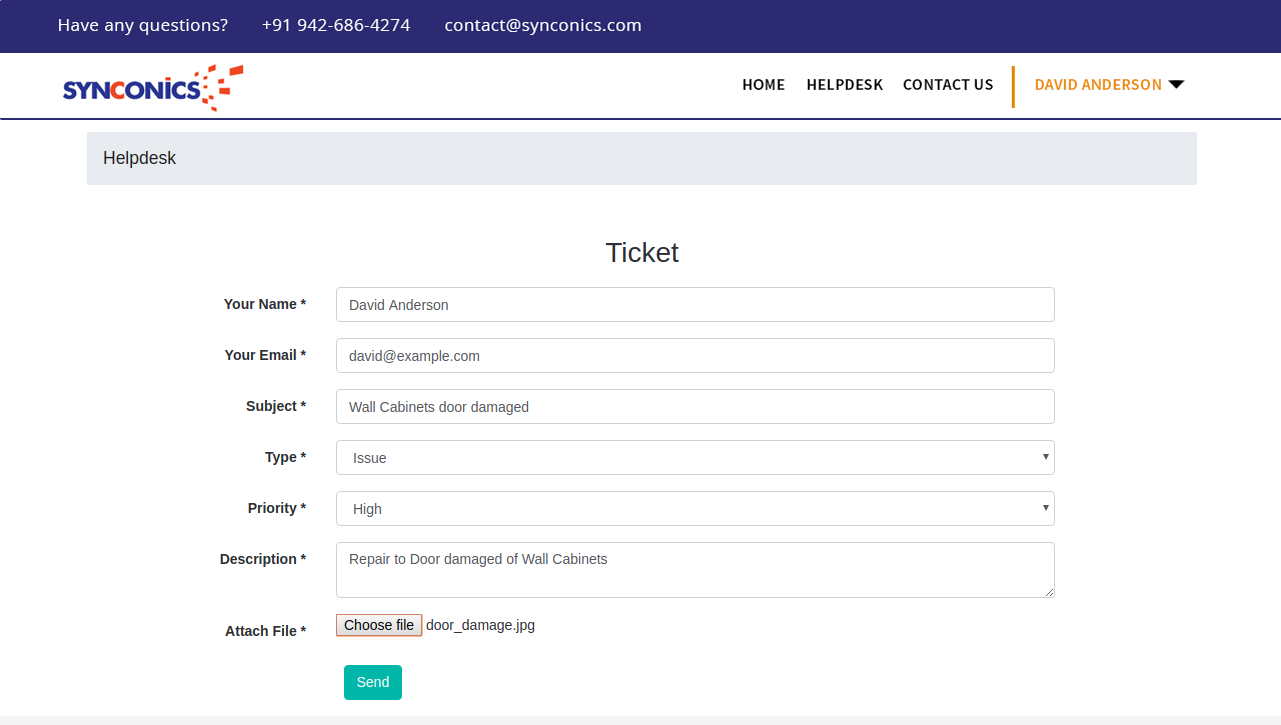 Ticket successfully created
On successful ticket creation a message will appear on web portal with ticket number and its subject.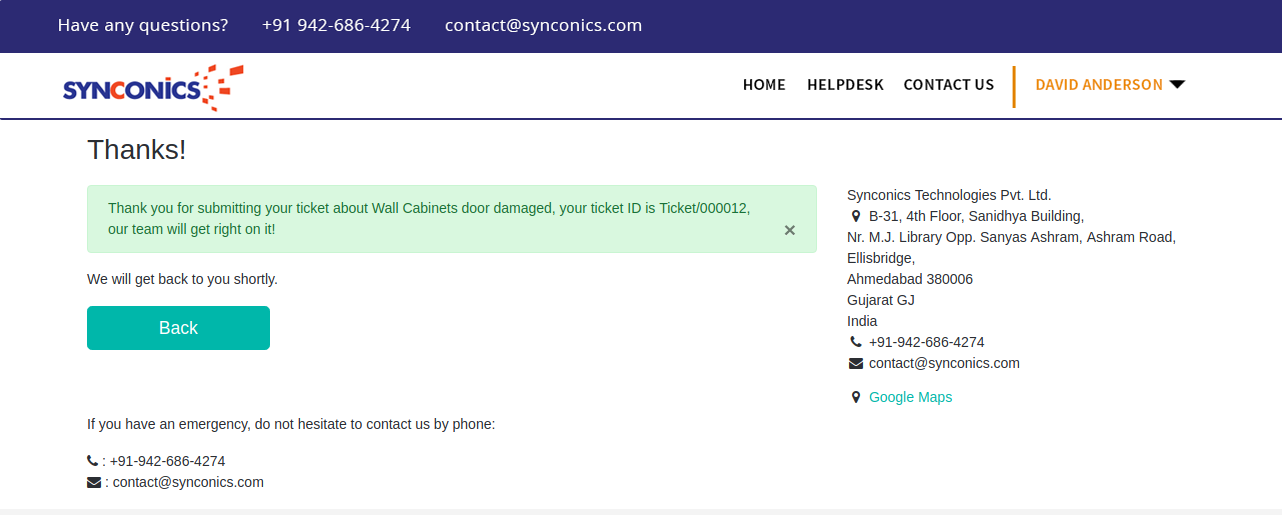 View ticket details
Customer can view list of their tickets and their status by clicking on 'View my Tickets' button.
The customer can view the status of the ticket and if needed they can attach additional documents. They can directly chat with the customer support executive.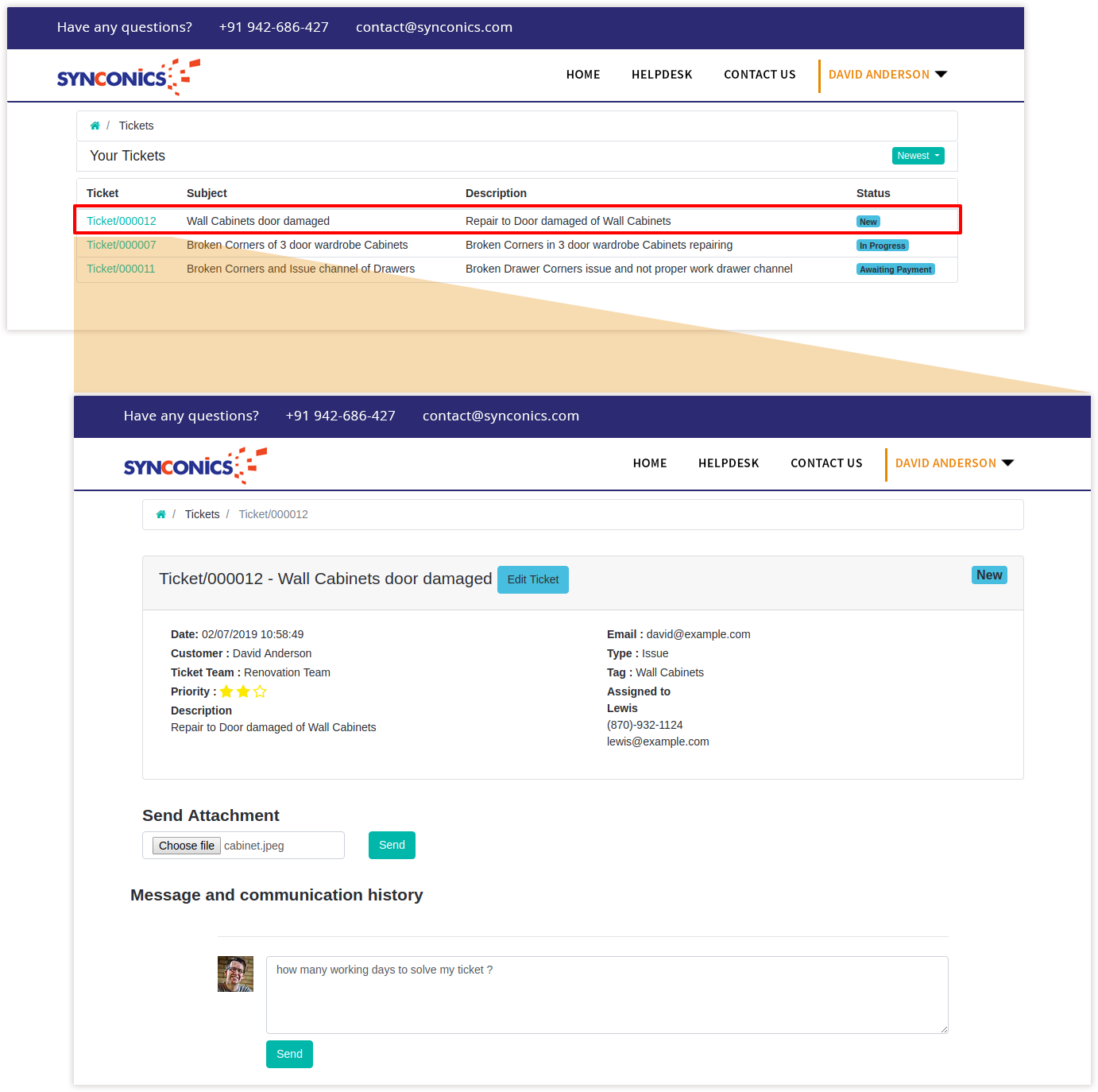 On submitting the attachment successfully, the system will generate a confirmation message.

Customer can view chat history.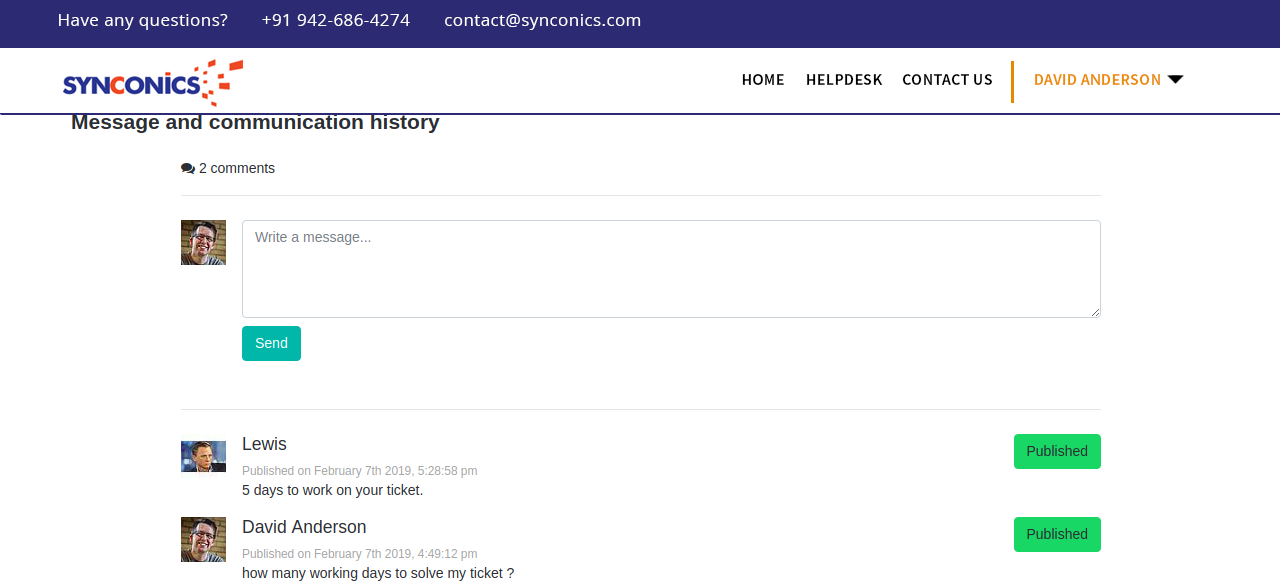 Updated information on ticket (Backend side)
Once the ticket is submited with attach files on the customer portal, on the backend side the customer service executive can view all the details and start working on it.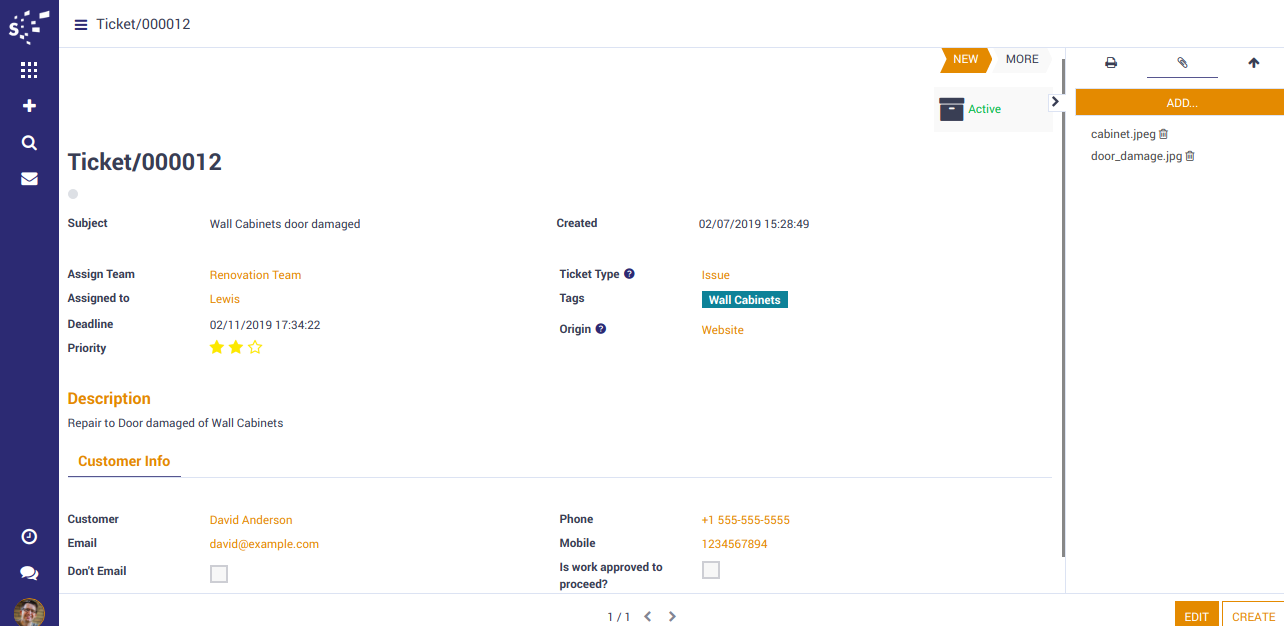 Monitor and Measure Website Tickets
Go to Helpdesk/Reports/Tickets.
Make an in-depth analysis of your website tickets through the pivot view.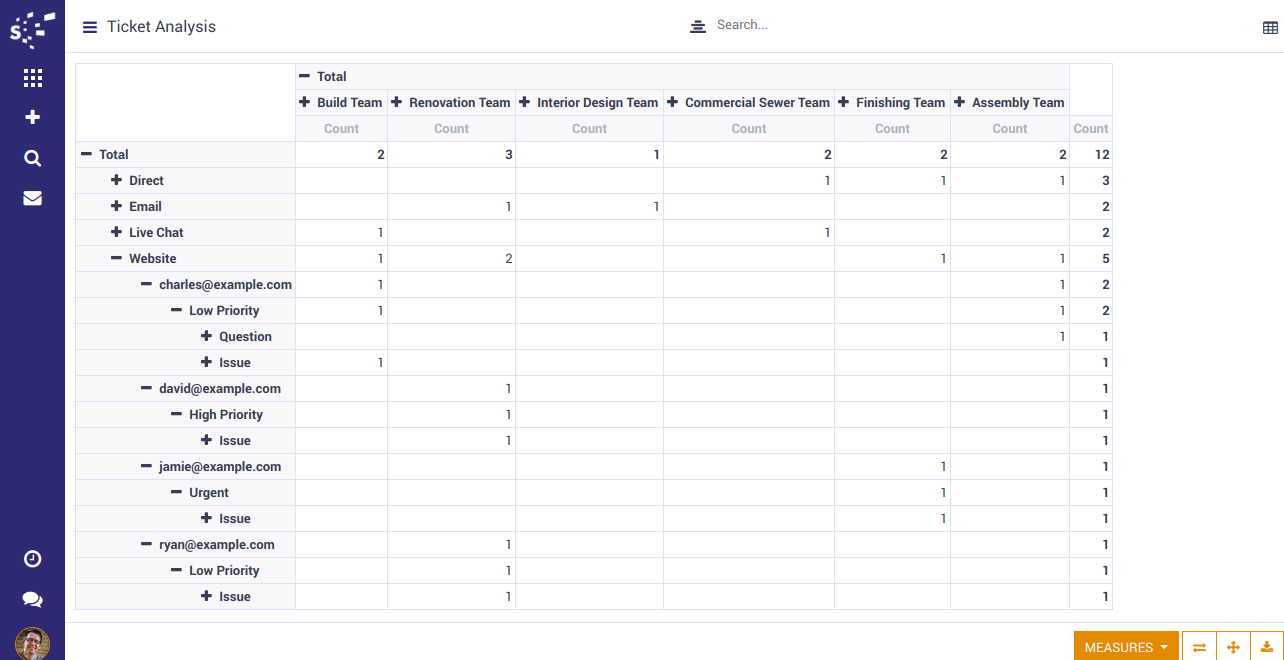 Ticket Closing using Website
Go to Helpdesk/Settings/General Configuration/Ticket Closing.
Allow customers to close their tickets using on website.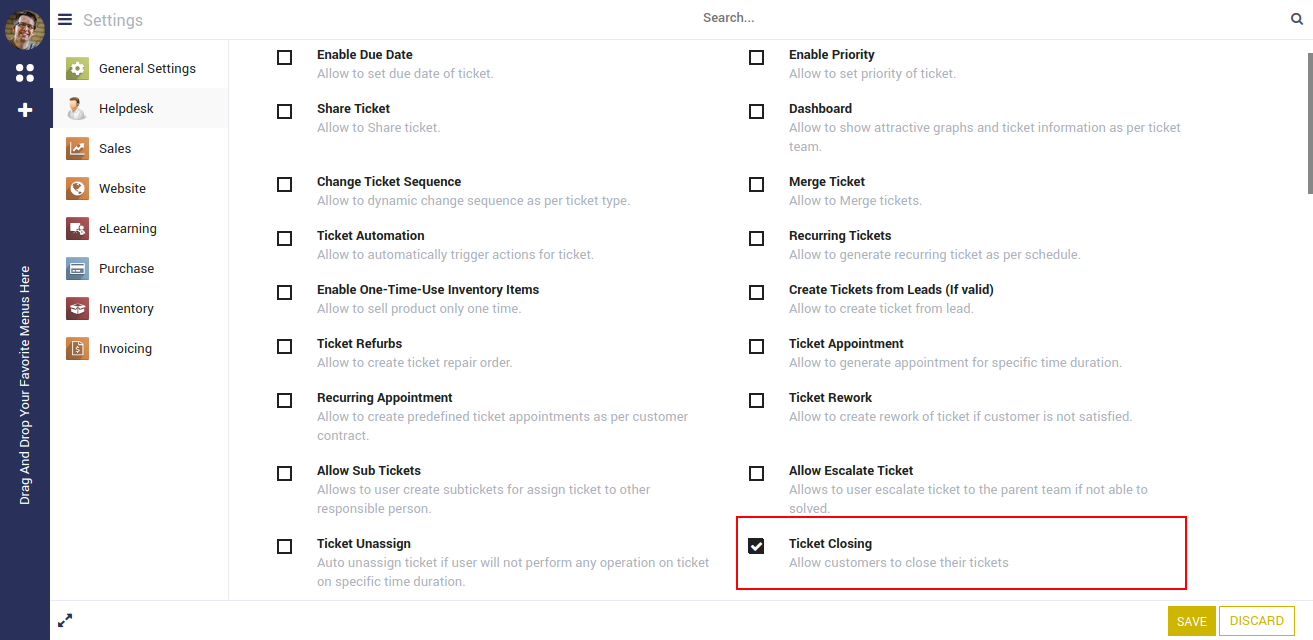 If the issue has been solved, the customer can close the request.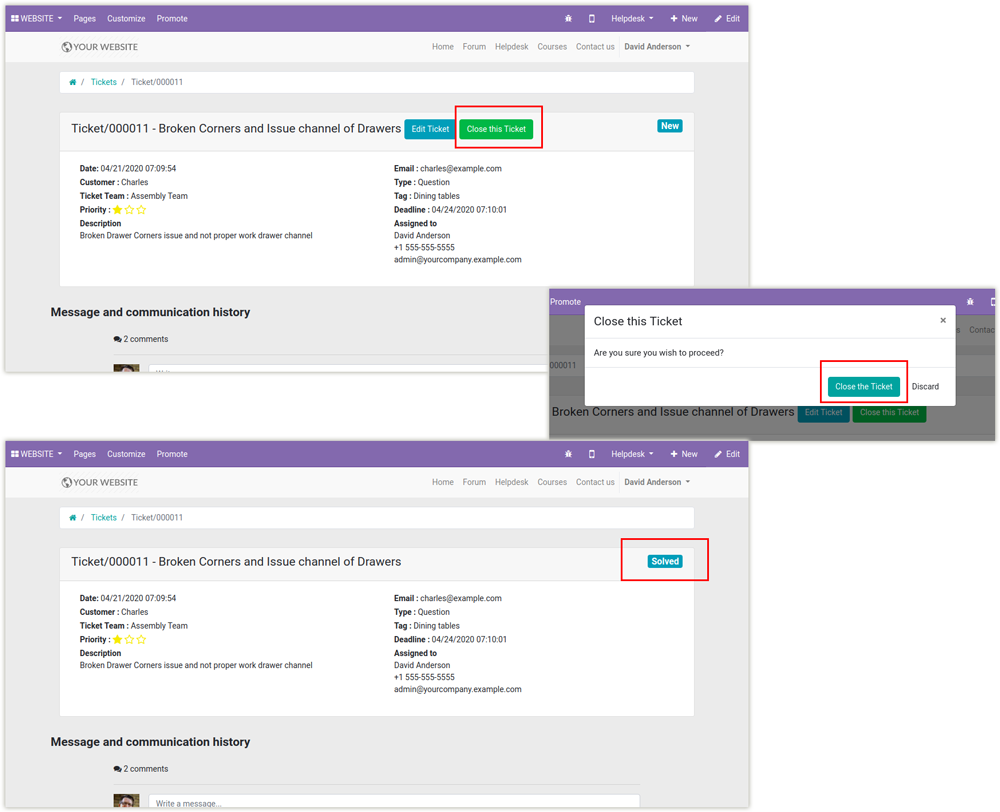 Notes:

All the apps are to be purchased separately, for individual versions and individual edition.
One month free bug support period will be offered pertaining to any one server used, testing or live.
Synconics is only responsible for providing the module zip file on your registered email, purchased from our app store or directly through our company.
Synconics is not responsible for installation or updating of the module on any of your server.
If an error appears in our app due to other custom modules installed in your system or if Odoo base source code is not updated on your system, to make it compatible with your source code, we'll charge you for our efforts to resolve those errors and make the module compatible with your source code.
Please refer the document for configuration. If any support is needed for module configuration, installation, updating or any help is needed, it will be considered in paid support.
Please note that you are not allowed to distribute or resell this module after purchase.
This module is tested and working on Odoo vanilla with Ubuntu OS.
Support services will be provided from Monday to Friday, 10:30 AM to 7:30 PM IST (Indian Standard Time).
Support will not be provided during Indian public holidays or company holidays.
---
This is a preview of the recently viewed products by the user.
Once the user has seen at least one product this snippet will be visible.
Recently viewed Apps