App Description Page
Property Management Rental System
Property management is the operation, control, and oversight of real estate. Management indicates the need of real estate to be cared for, monitored and accountability for its useful life and condition. This is much akin to the role of management in any business.
A property manager is a professional or a company that oversees the daily responsibilities of a property. Managers work on behalf of owners of investment properties. An investment is anything someone owns that provides them with income or has the potential to be sold for more than they paid for it.
Property management is a critical service to landlords and property owners as they enhance their steady flow of income. It is important to note that your Rental property can only generate income for the owners when there are good tenants in place. The management of tenants to make sure that they pay their rent on time and keep the property in good shape is essential. Management of rental property is a time consuming and cumbersome responsibility for an owner. There are many advantages of hiring professional property management, particularly to owners of multiple properties. A Property manager plays an essential role in arbitrating between tenants and owners; hence, establishing proper working relationships. They do conduct screening and sourcing tenants that increase income for the owner. Renting the property without understanding the financial and criminal background of tenants is a source of the problem. The property managers will make sure that they rent the property to individuals who have proper records in payment and no criminal behaviors. Management of tenants is difficult, which requires professional and experienced individuals.
This module will help you to manage different properties of owner and manage your customer who have taken the property on rent.
This module provides you with completed features to handle different property rentals, commission, maintenance, claims and so on...
 Key Features
 Manage Property Types and Property Sub Types                 
 Check reservation and vacant properties.
 Manage waiting list of properties.
 Easily identiy manin and sub properties.
 Manager Owner contracts and vouchers.
 Manage Tenant Contracts and vouchers.
 Manage Maintenance and Claims.
 Manage commission for the employee.
 Manage property maintenance.
 Reports : Maintenance, Claim report etc.
 Configuration
Go To Configurations Menu to configure :
1. Main Property Type
Configure main property types here. It can be residence, office, etc.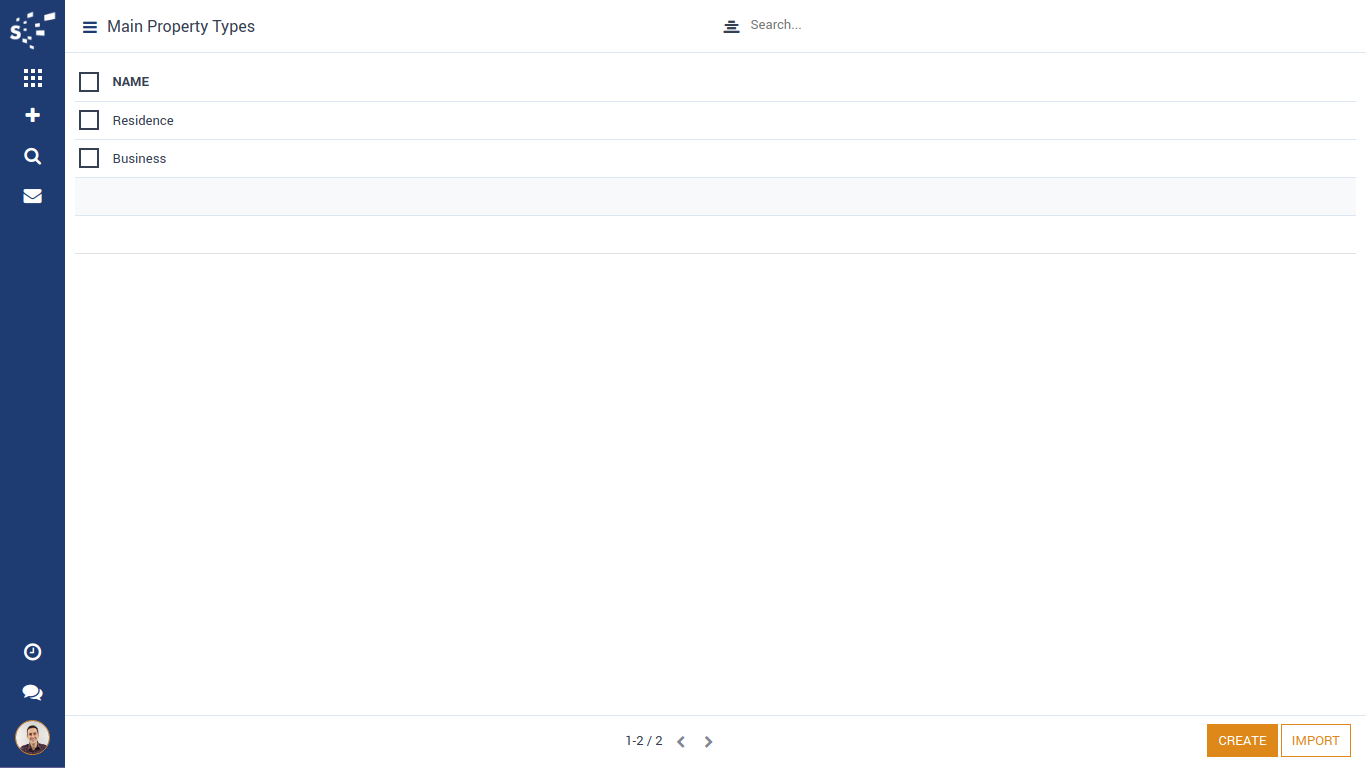 2. Sub Property Types
Dynamic configure sub property types for main property types. For Residence there are sub property types like Flats, Vila. For Office it can be shops, showrooms.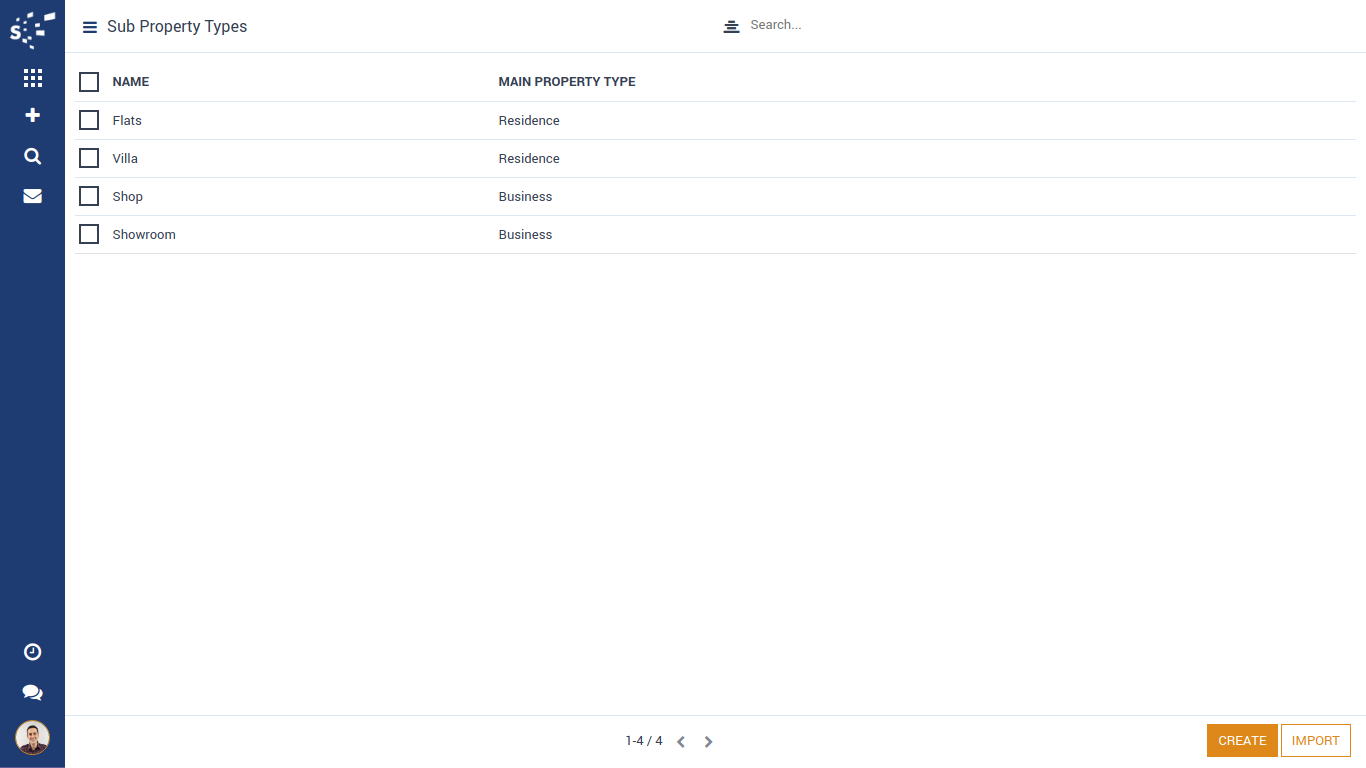 3. Maintenance Types
Configure Maintenance types here, Which are to be paid by owner.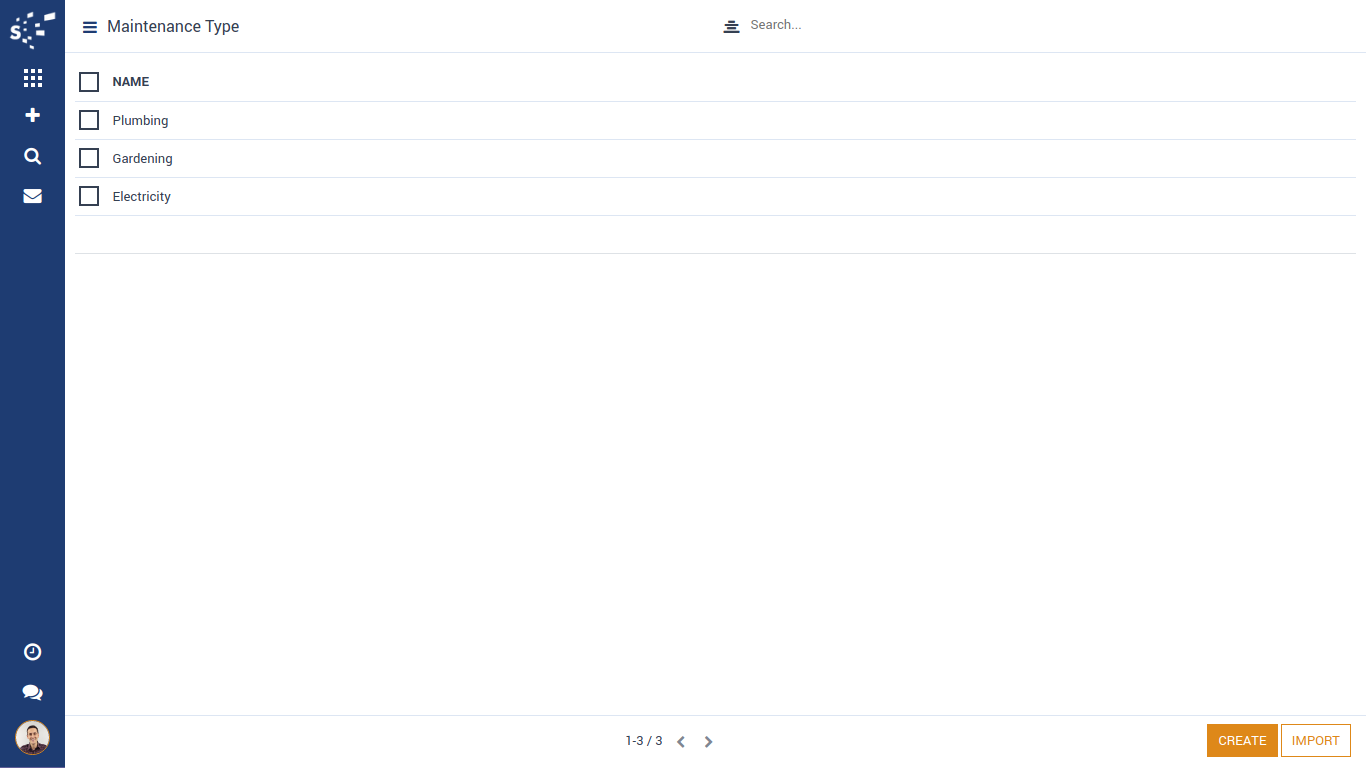 4. Claim Categories
Configure Claims Categories here, Claims are payments due from tenants.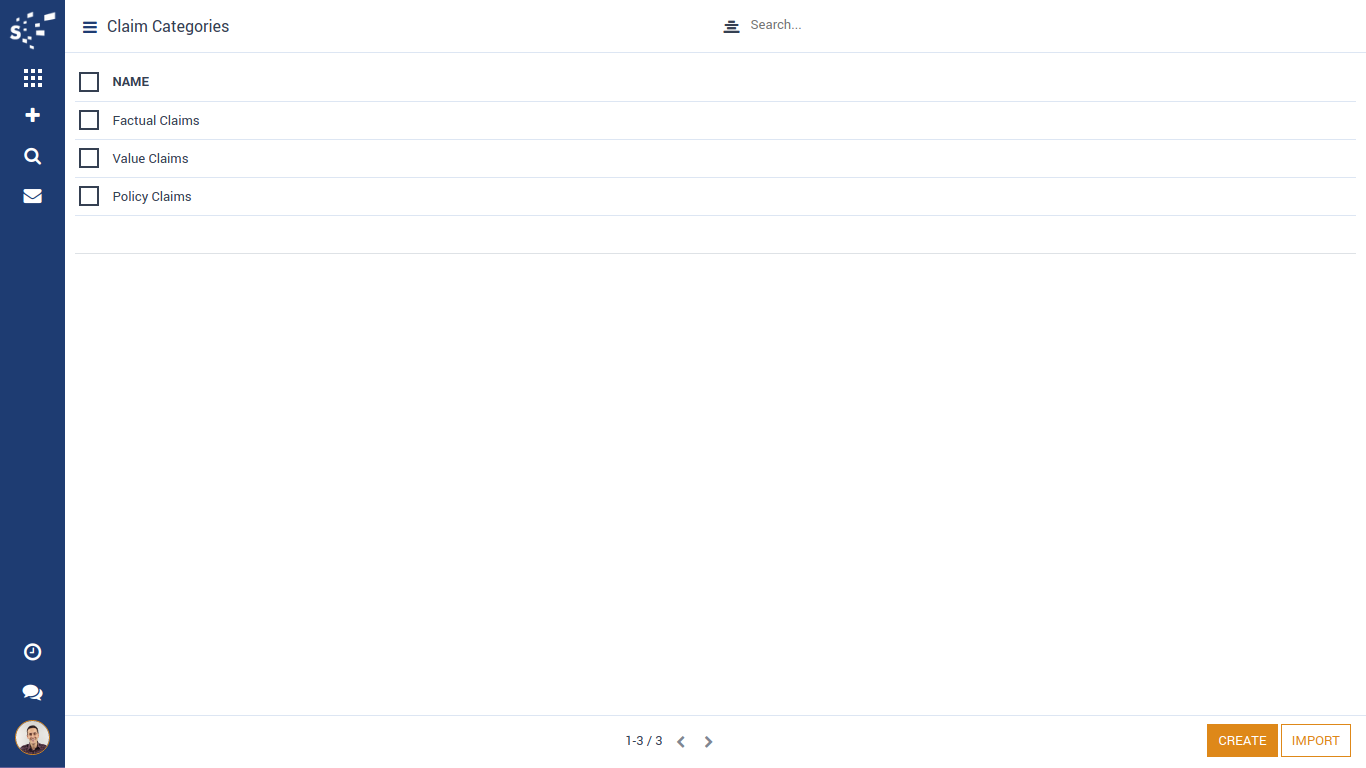 5. Installment Duration
Configure Installment duration and you can also manage discount here if you want to give some discount on some particular no of installments of tenants.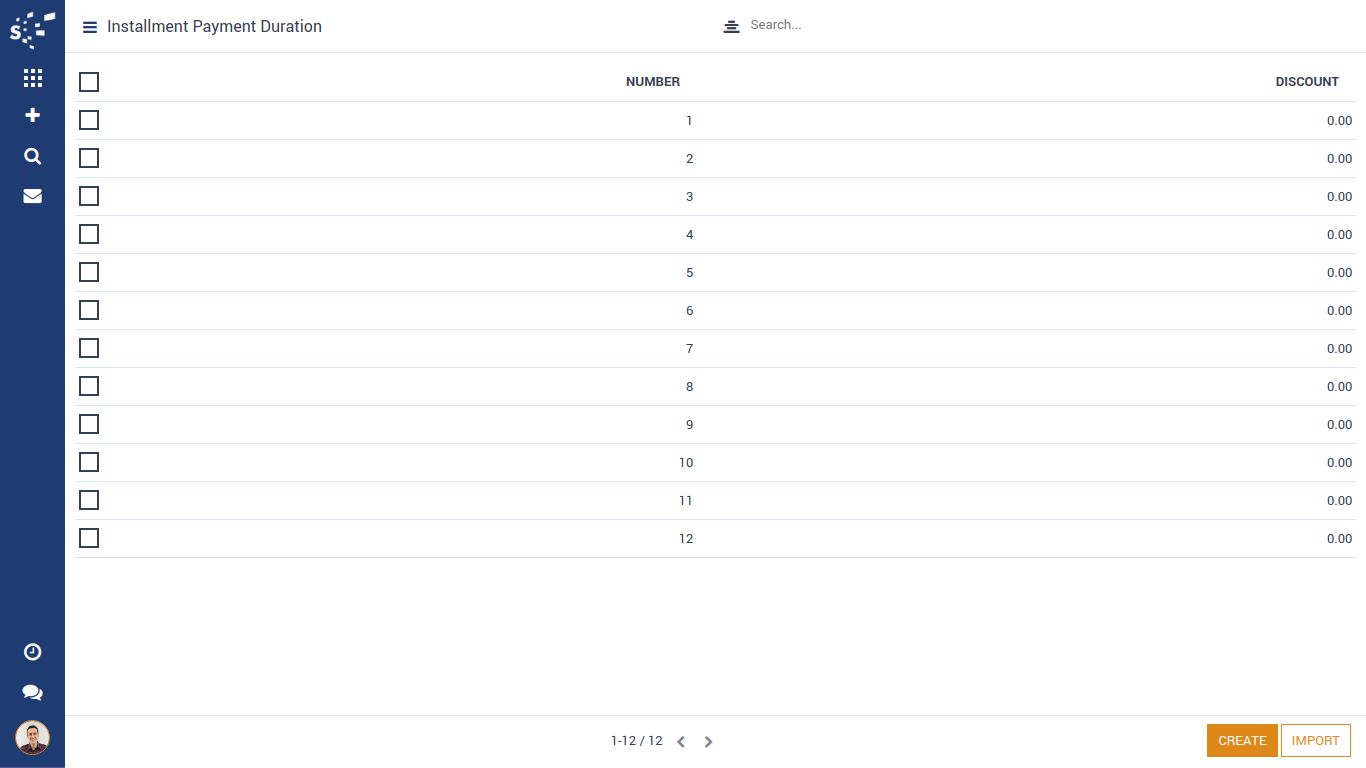 6. Labours
Configure labour details, people who works different maintenance work like electrician, plumber, etc.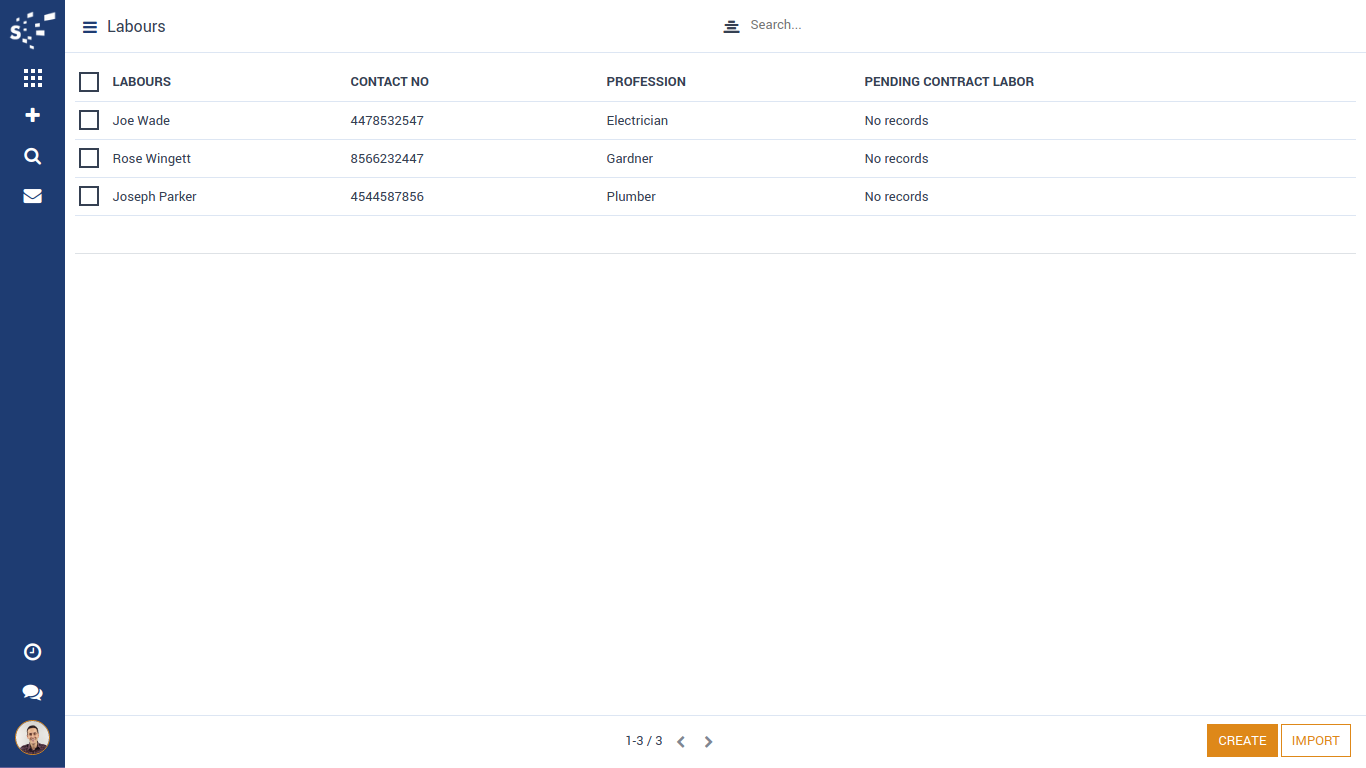 Property
Main Properties : Here user can create various properties for owners and tenants. Add details of properties, configure property type and sub property type with number of sub properties.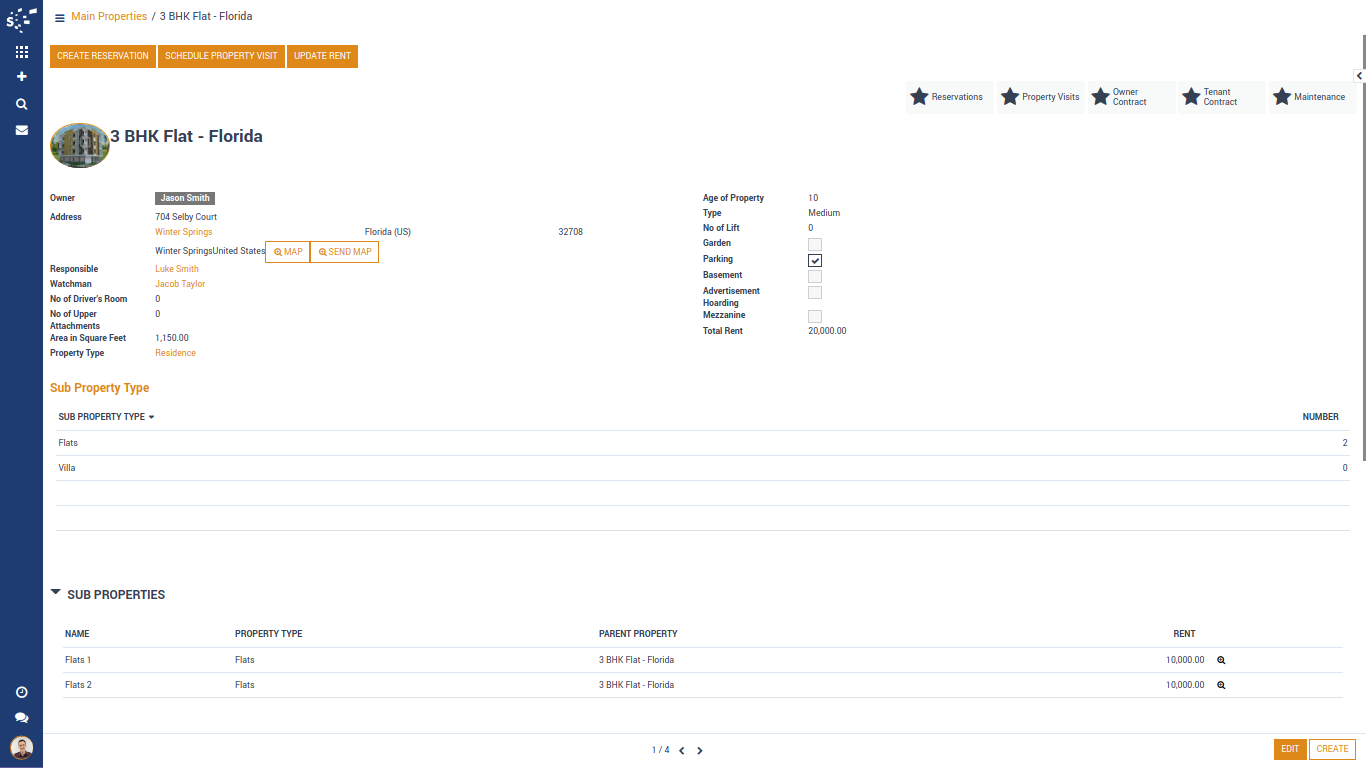 Sub Properties : Here user can see various properties for owners and tenants. Sub-properties can not be created or deleted manually. User can edit details as per requirement.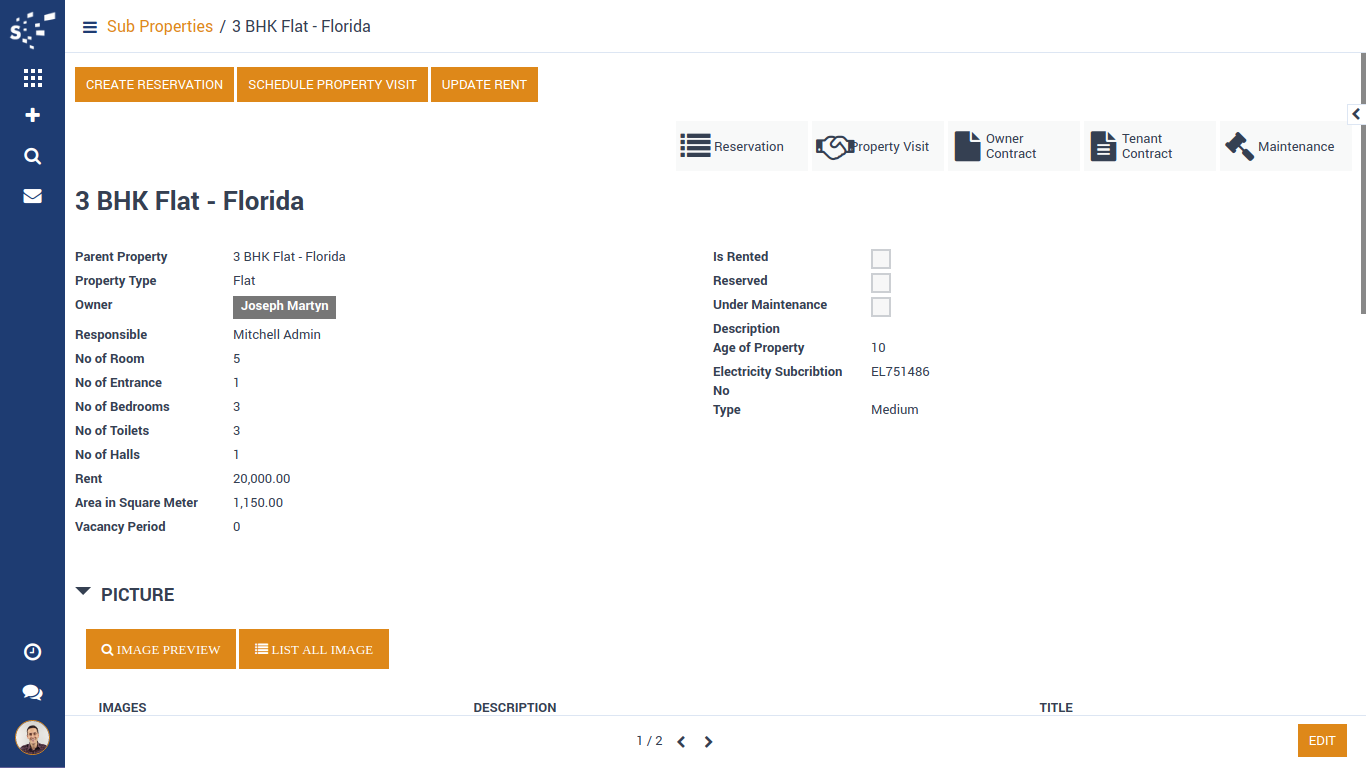 Vacant Properties : Here user can see all vacant properties listed in system
 Property Reservation
Tenant can reserve property if it is available in future and tenant want to reserve it by paying some of amount.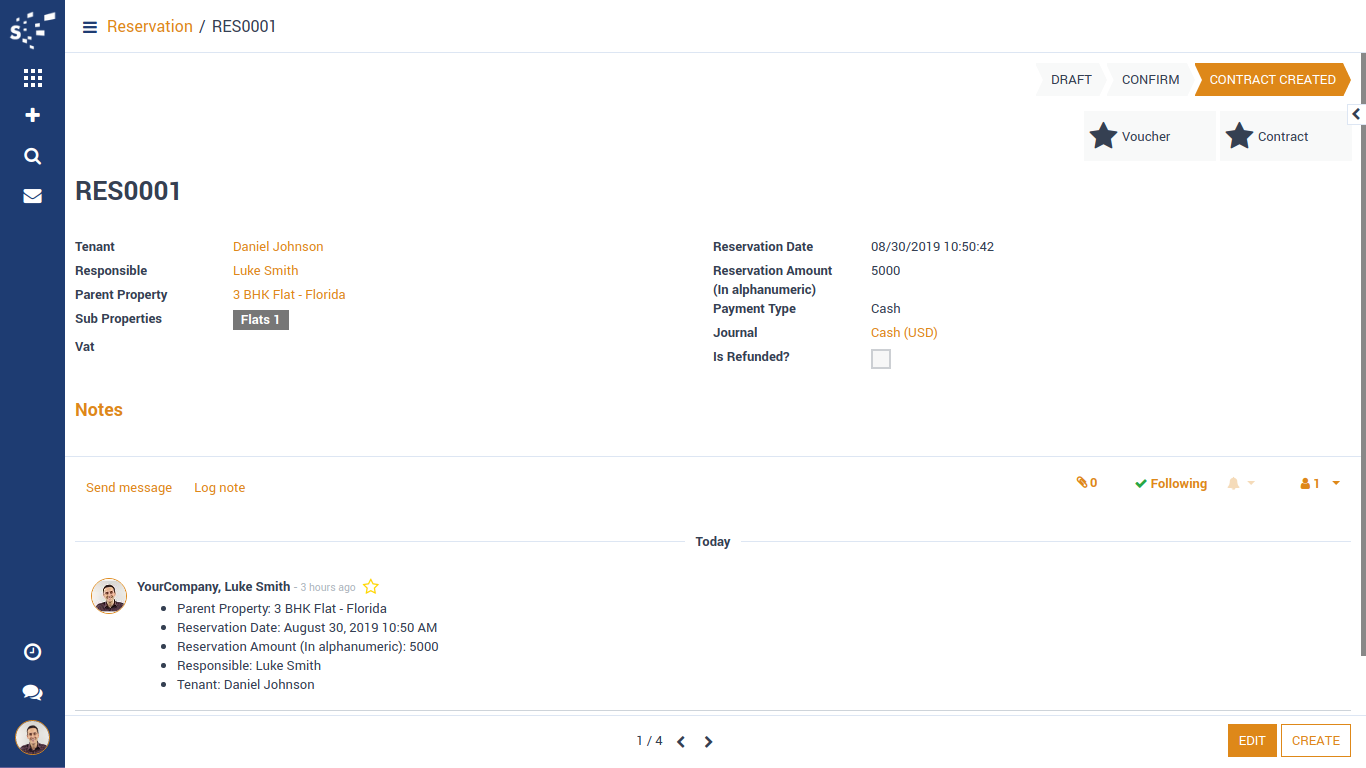 Property Visit
Here user can schedule property visit for client when they want to visit the property. So multiple tenants doesn't conflict to visit same property.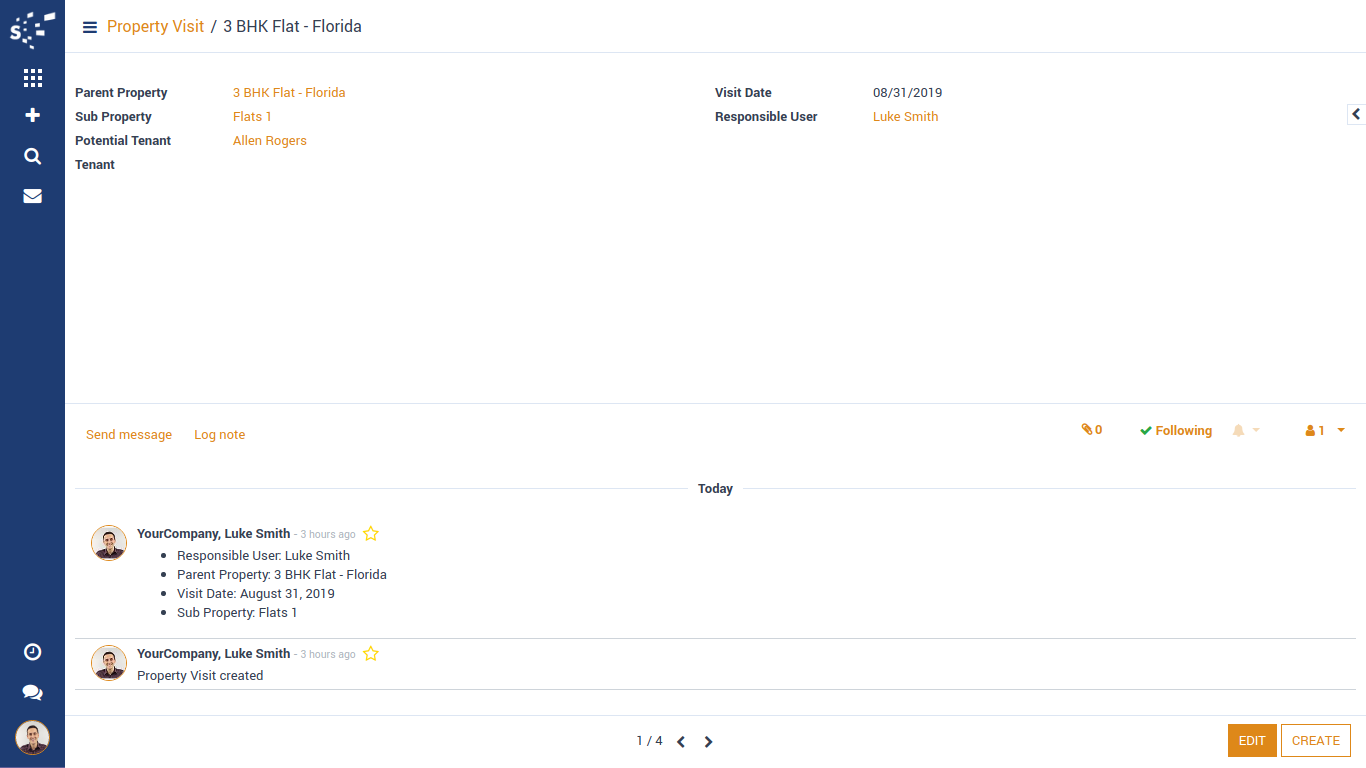 Waiting List
This is list of tenants waiting to get their turn to have a property on rent.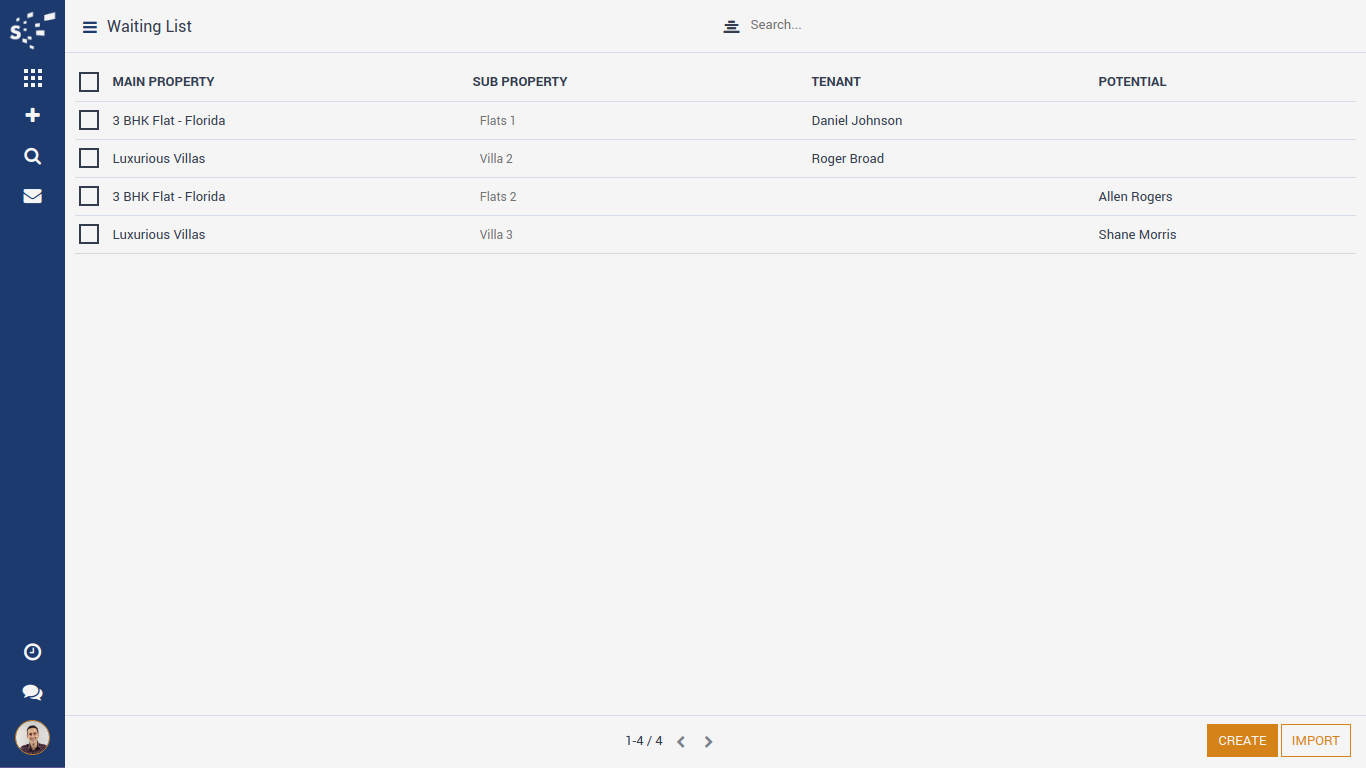 Owners
Owners are the property owners who have listed their property for rent.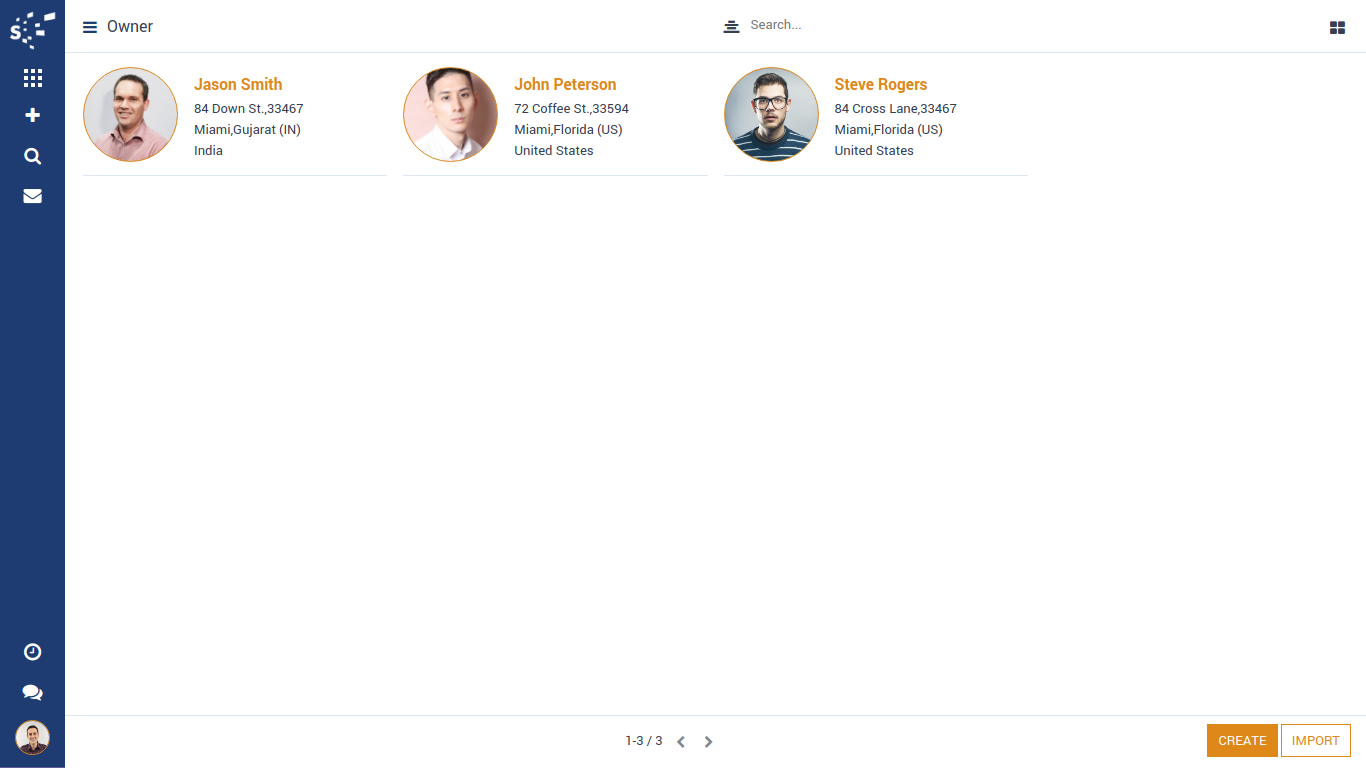 Tenants
1. Potential Tenants : Potential tenants are contacts who have asked or inquired for some property on rent but not took on rent yet.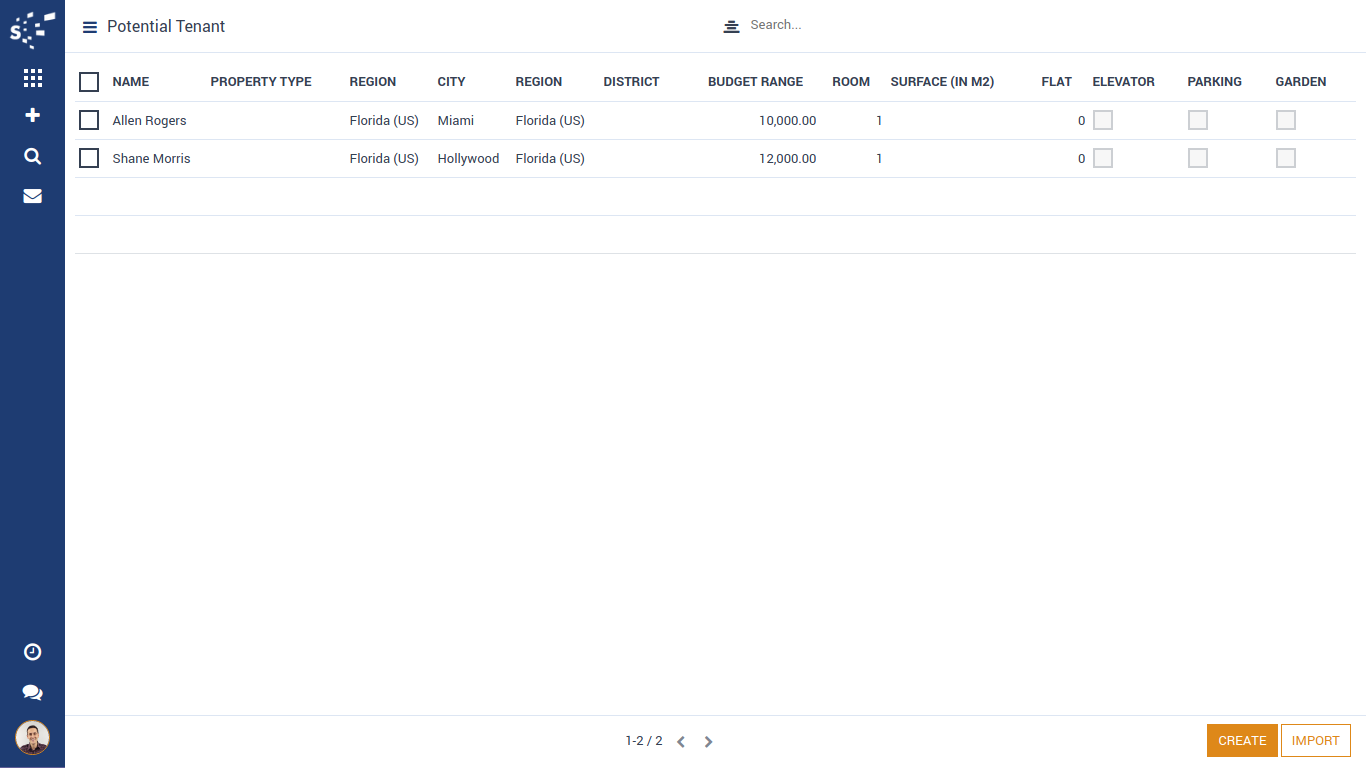 2. Tenants : Tenants are contacts who have took property on rent. Mostly potential tenants are converted into tenants.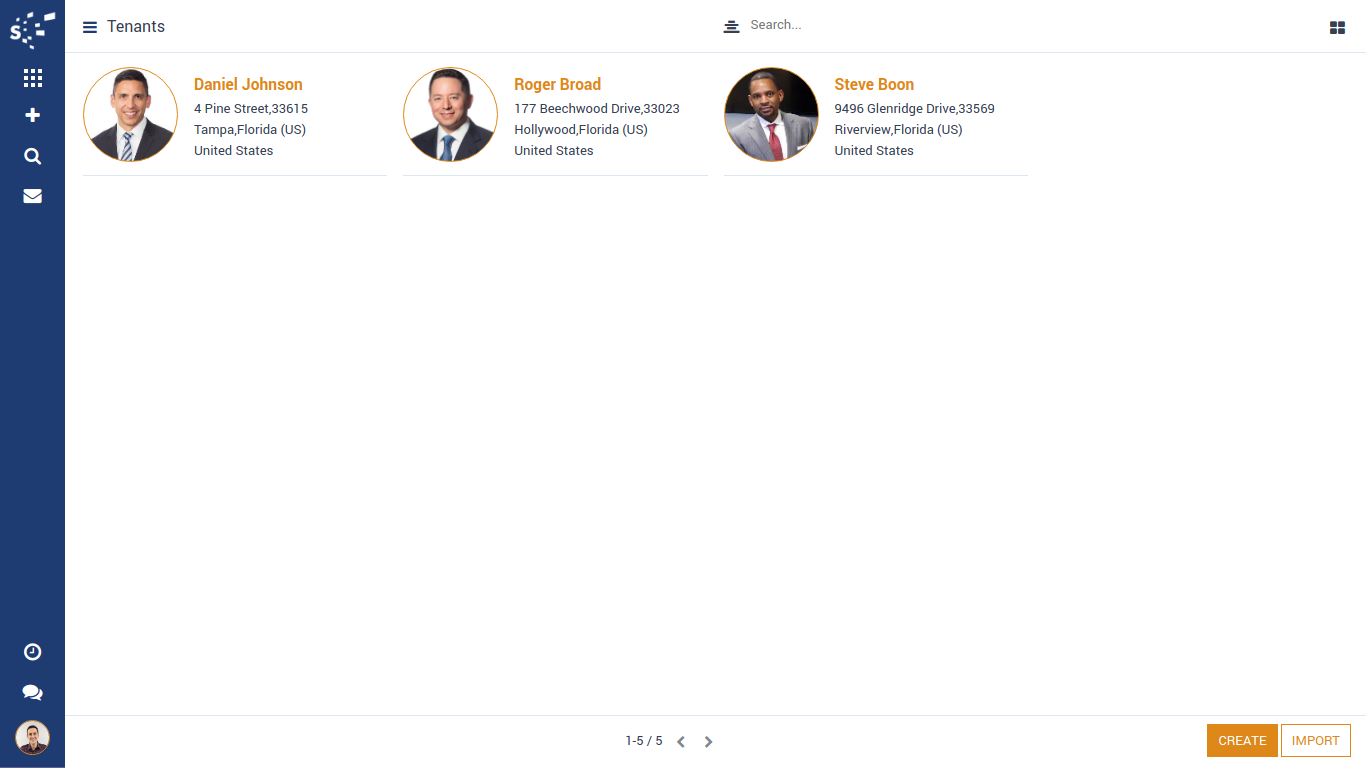 3. Blacklisted Tenants : These tenants are blacklisted to work with. They do not have good market credit and avoid working with them.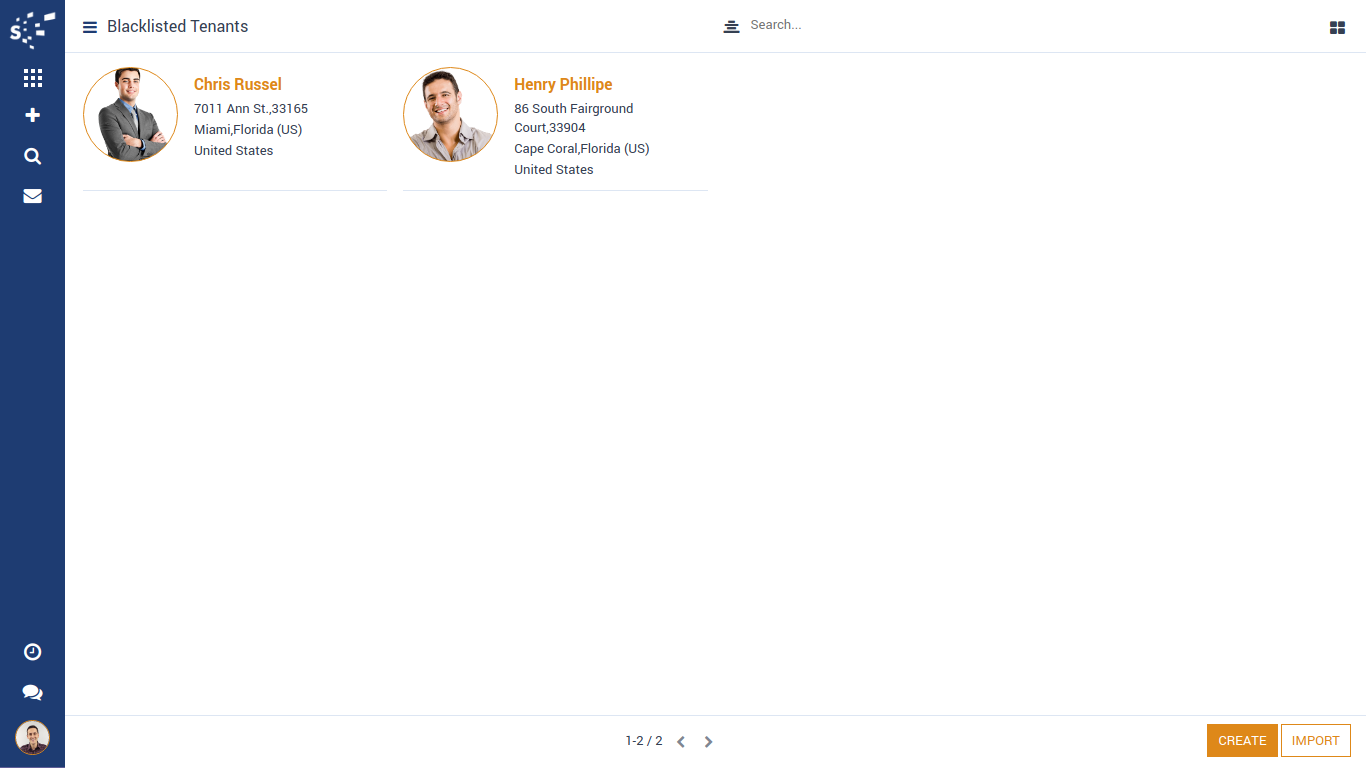 Contracts
1. Owner Contracts : These contracts are done with owner for how long we can give their property on rent. For how long they need to give commission, other fees, commissions, etc.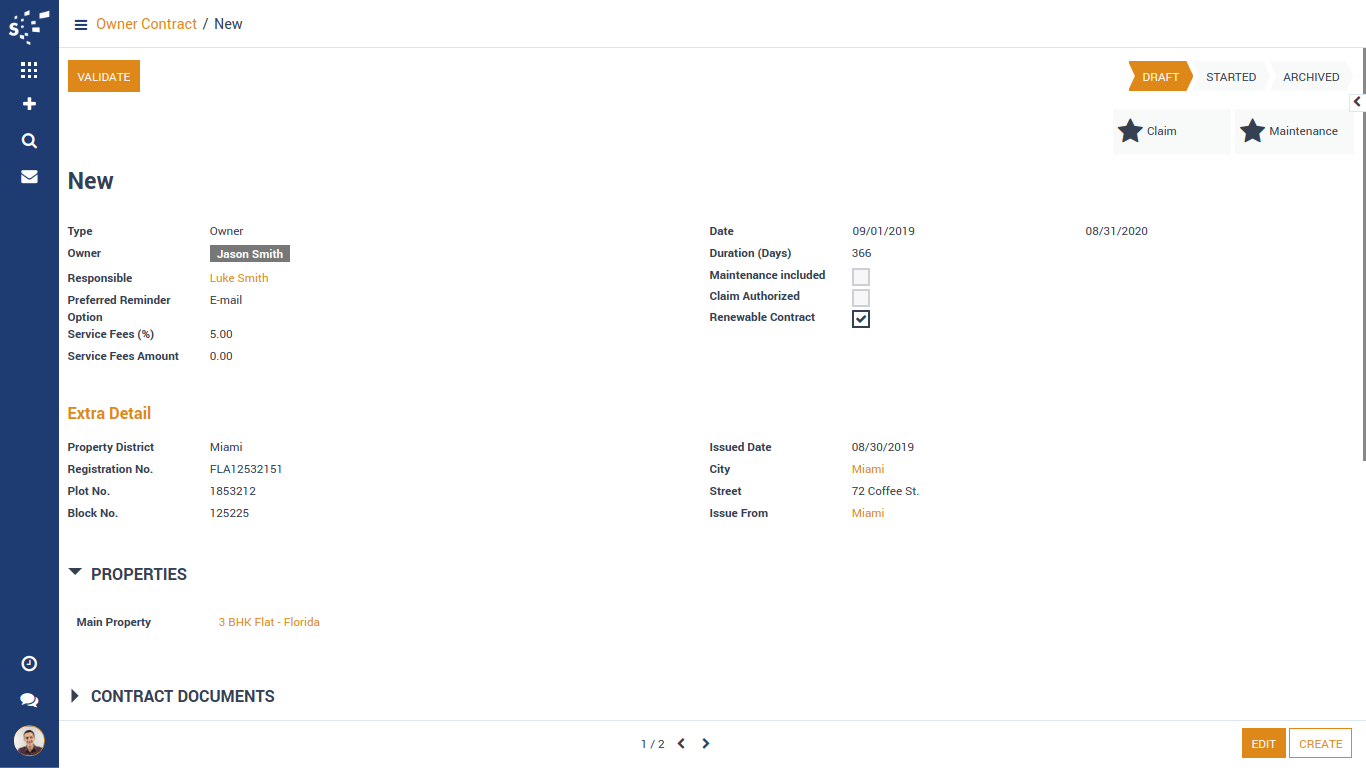 2. Tenant Contracts : These contracts are done with tenants, its contains details for how long tenant can use property, commissions, other feese, expenses, etc.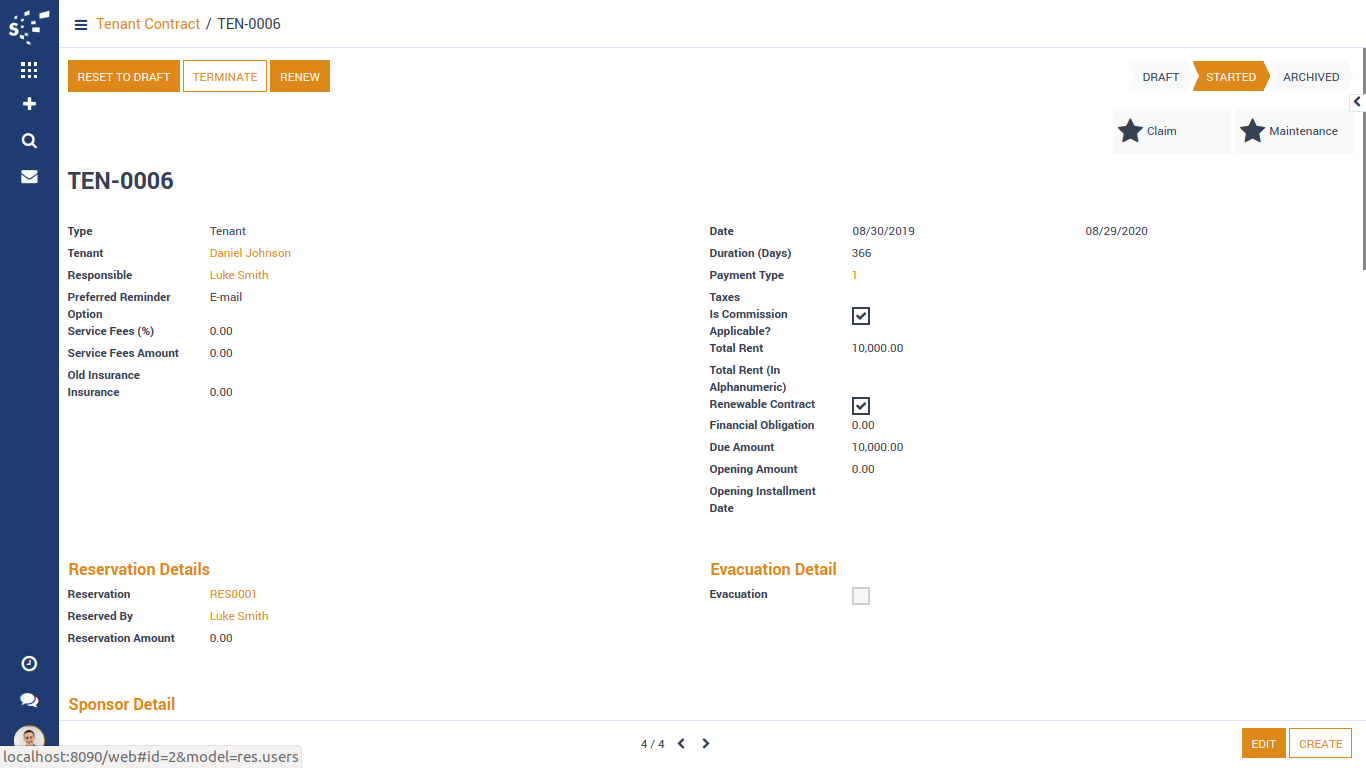 3. External Contracts : These contracts are done with external owner and tenants who are not registered on system, system will create a new contract between tenant and owner.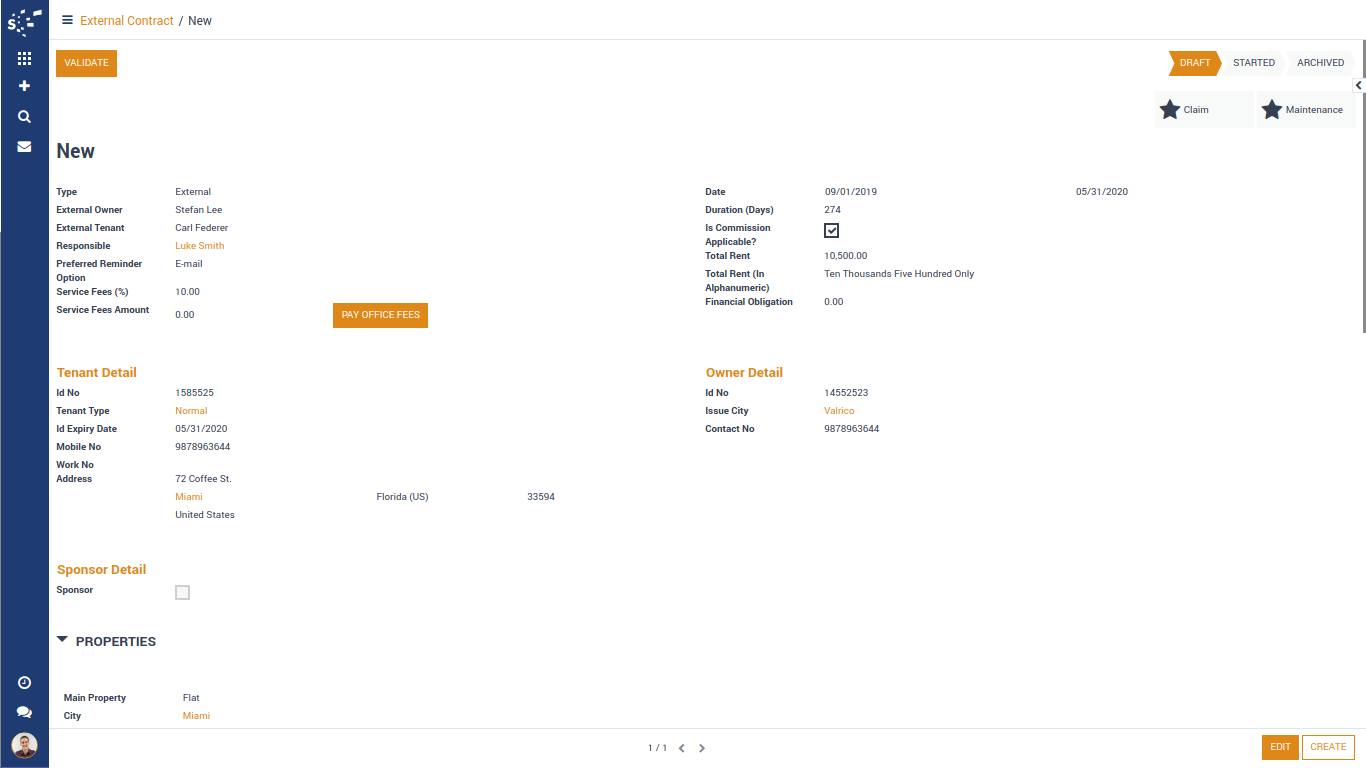 Commission
1. Company Commission : Commission is received by company for each voucher paid by owner / tenant. Commission amount / percentage are clarified in owner / tenant contract.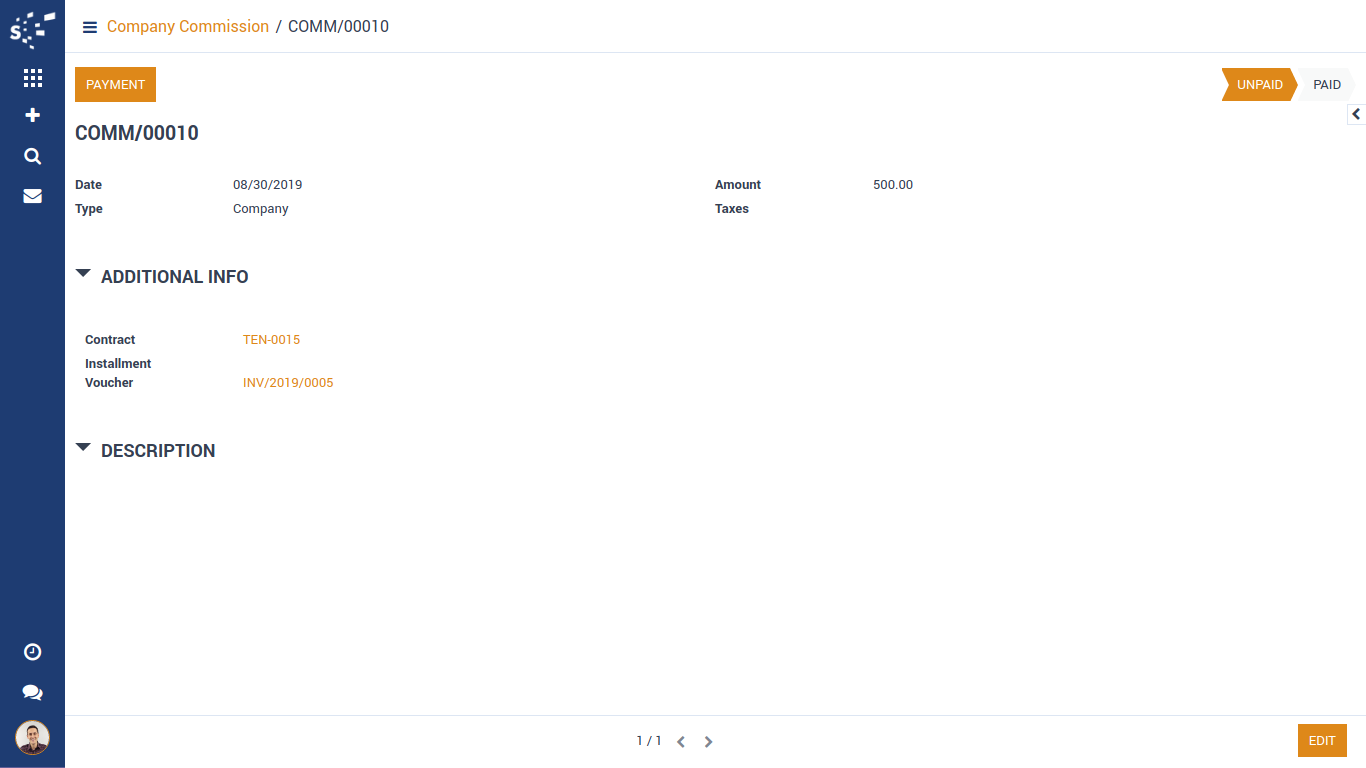 2. Employee Commission : Commission is received by employee for each payment done with their property contract, commission amount / percentage are clarified in employee record.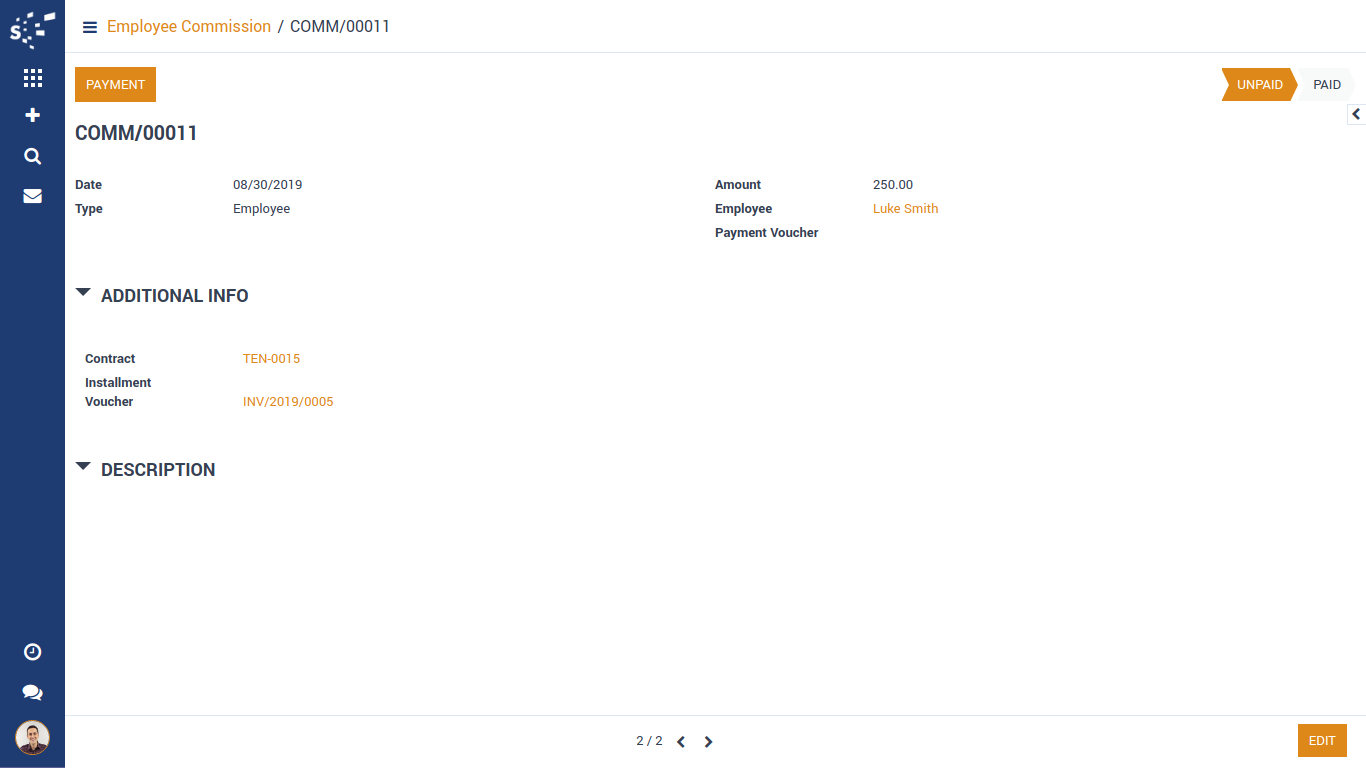 Maintenance
Maintenance is expenses on property done by company. It will be receivable from owner if mention in contract.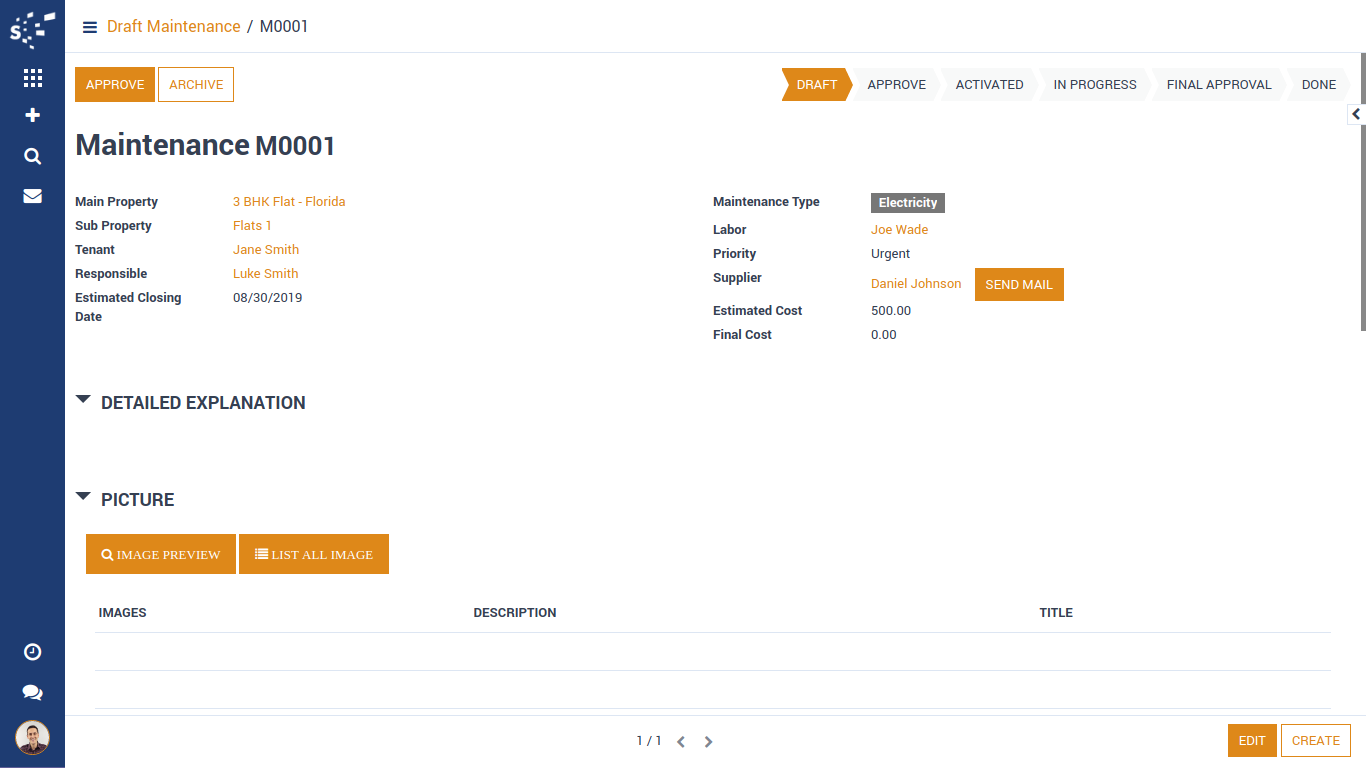 Claims
Claims are raised against tenants, whether they are late to pay rent or any other expenses they need to pay for. Claims are receivables from tenants.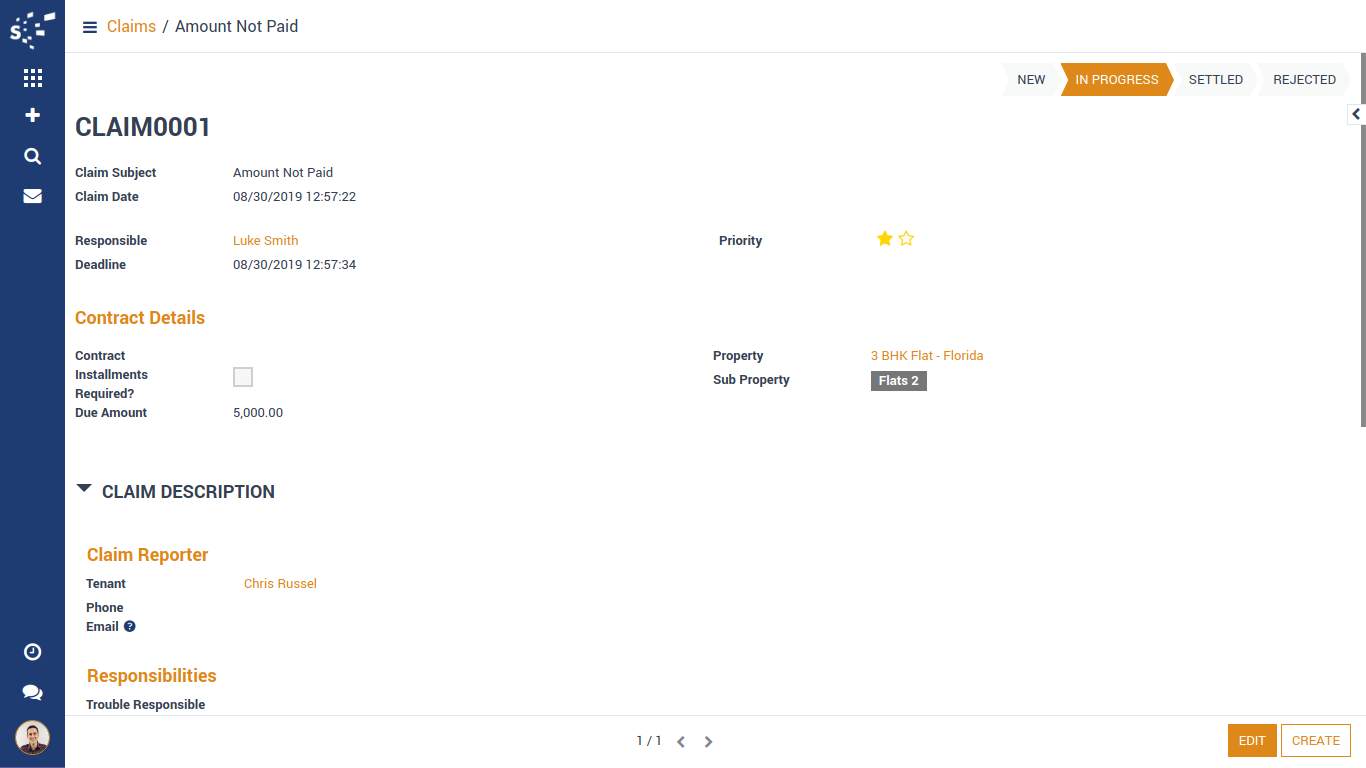 Archived Section
Archived Section contains old contracts and maintenance records which are processed once and expired. They are of no use right now.
 Reports
We have provided Several reports like :
1. Maintenance Report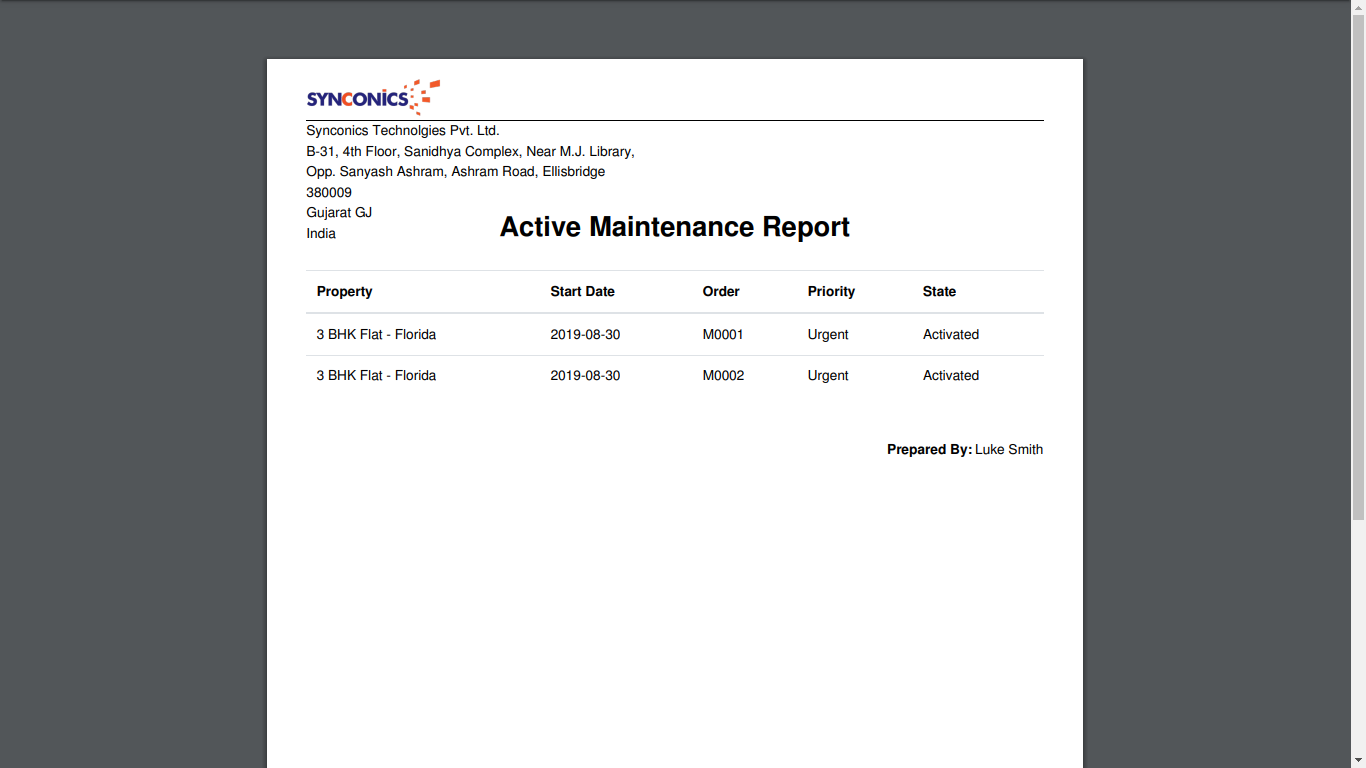 2. Claim Report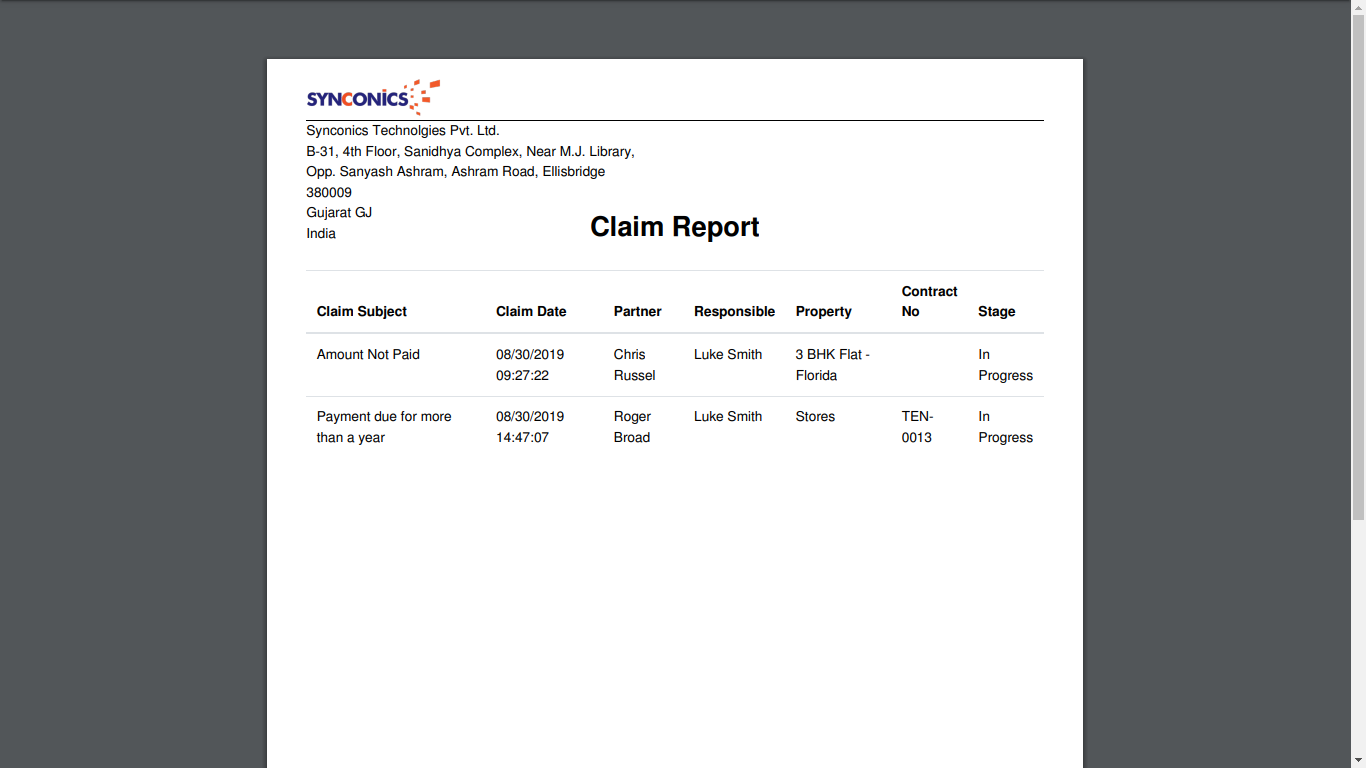 Following reports are available in both excel and pdf formats. These reports are available in a separate module.
For following report you need to buy a separate module from us. These reports are not included in current module.
We had developed many other reports in Excel and PDF format. For more information/demo kindly contact us. 

3. Owner Report

4. Vacancy Report
2
5. Vacant Property Report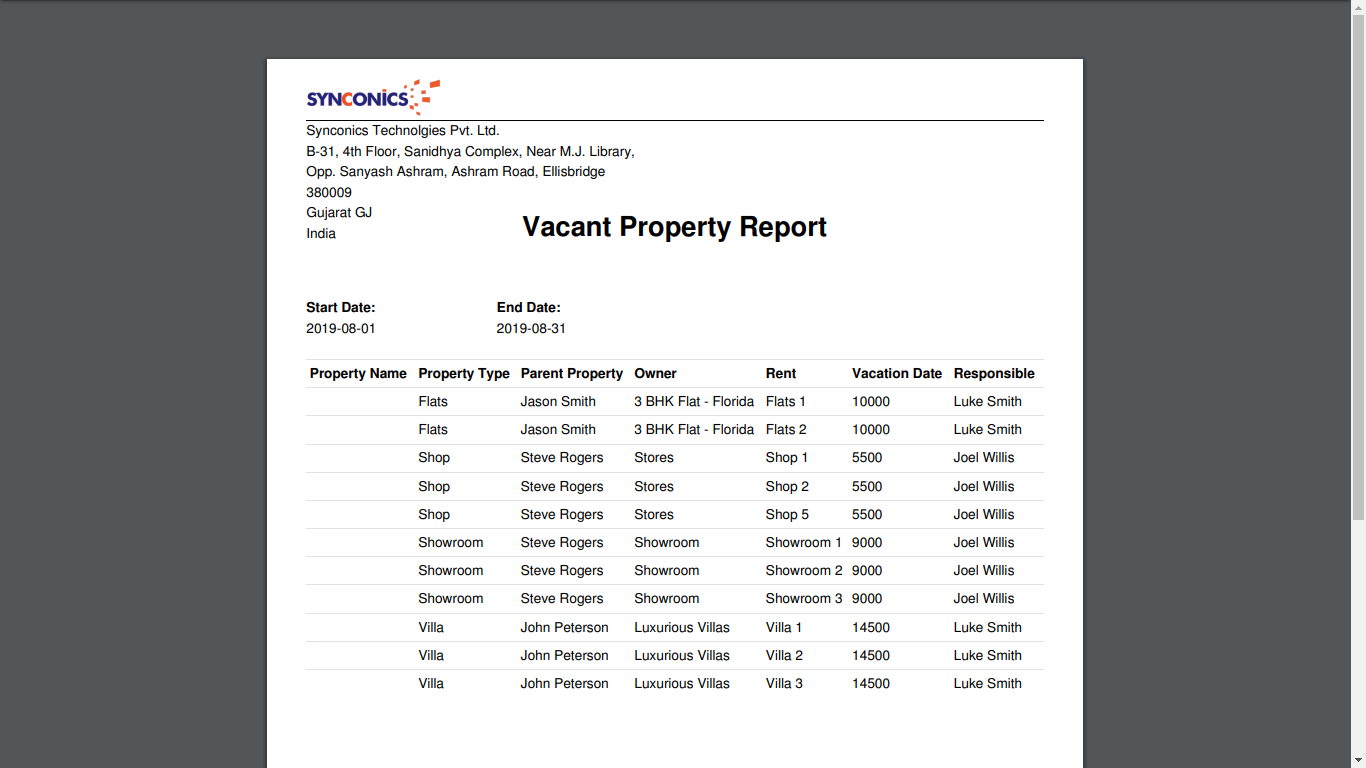 Notes:

All the apps are to be purchased separately, for individual versions and individual edition.
One month free bug support period will be offered pertaining to any one server used, testing or live.
Synconics is only responsible for providing the module zip file on your registered email, purchased from our app store or directly through our company.
Synconics is not responsible for installation or updating of the module on any of your server.
If an error appears in our app due to other custom modules installed in your system or if Odoo base source code is not updated on your system, to make it compatible with your source code, we'll charge you for our efforts to resolve those errors and make the module compatible with your source code.
Please refer the document for configuration. If any support is needed for module configuration, installation, updating or any help is needed, it will be considered in paid support.
Please note that you are not allowed to distribute or resell this module after purchase.
This module is tested and working on Odoo vanilla with Ubuntu OS.
Support services will be provided from Monday to Friday, 10:30 AM to 7:30 PM IST (Indian Standard Time).
Support will not be provided during Indian public holidays or company holidays.
---
This is a preview of the recently viewed products by the user.
Once the user has seen at least one product this snippet will be visible.
Recently viewed Apps