Manufacturing(MRP) Quality Inspection
Manufacturing(MRP) Quality Inspection
---
This application provide functionality of Quality Inspections on Manufacturing order and Work order.You can configure different control points and its parameters products wise. Also provide Quality alert report with/without barcode and lot number.


---
App Description Page
Quality Control MRP
Quality control is essential to building a successful business that delivers products that meet or exceed customers' expectations. It also forms the basis of an efficient business that minimises waste and operates at high levels of productivity. It ensures that customers receive products free from defects and meet their needs.
When customers receive quality products you will:
« Increase customer loyalty
« Gain repeat business
« Gain new customers from referrals
« Maintain or improve your position in the market
« Improve safety
« Reduce liability risks
« Contribute to overall positive branding of your product
Therefore, all manufacturers and service providers out there constantly look for enhancing their product or the service quality.
In order to make sure your products will pass quality control inspections, you need to ensure proper conditions and procedures at the production facility. Auditing and inspecting these factories to ensure they meet your rigorous standards is a critical step toward perfect product, but there's still a chance that issues will slip through the cracks and cause your product to be rejected or labelled as unsafe
Finally, inspection software helps you implement a documentation management program, so you can be sure that every QC inspection is ready and available to prove your compliance when necessary.
Synconics Quality Management consists of tools for several interrelated activities that can be configured for organisation's specific processes. Each of these tools consists of functions that are specific to that activity. These tools include:
Quality Planning: which lets you set up and manage quality inspection plans that define what goods are inspected, how the inspections take place, the characteristics of the goods to be inspected and the type of equipment used to perform the inspections.
Quality Inspection: which allows you to determine if a product meets the defined quality requirements and to record the results of inspections. Quality management uses inspection specifications that are defined in Quality Planning.
Quality Notifications: which lets you record problems you encounter with goods received from a vendor, when the goods are in production, or that are reported by customers. Quality Management Notification can be configured to record, process, and manage positive information about products as well as complaints about quality.
Quality Control: which allows you to manage the quality control process. For example, you can use inspection results to update quality levels; use control charts to control characteristic values; and update vendor validations for the procurement process.
Key Features
Quality control point define for manufacturing orders, which will generate multiple quality inspections on Manufacturing orders and Work-orders.
It could be configured with different possibilities, measurement (min/max tolerance), image, pass or fail option (choice) with multiple parameters for one control point.
System will reconfirm user input data and suggest right measurement, when wrong data is fetched by user.
Quality alerts stages will be defined.
Multiple quality alerts can be generate with multiple reasons for quality inspection.
Alert email related to quality issues could be sent to quality alert team and responsible person.
Quality alert sticker report will be generated with/without product bar-code and product lot number to track the products physically for repairs.
Quality Control Points
Different quality control points can be configured based on products and operations. Same product multiple control points versions and sequences can be managed for manufacturing operations.
We can configure below different 'Test Type' in control points.
Measure (min/max tolerance)
Image
Choice (Pass or Fail)
On pressing 'Quality Inspections' button, start In-progress inspections will begin based in configuration for manufacturing product.
System will suggest right measurement parameters as configured during inspection.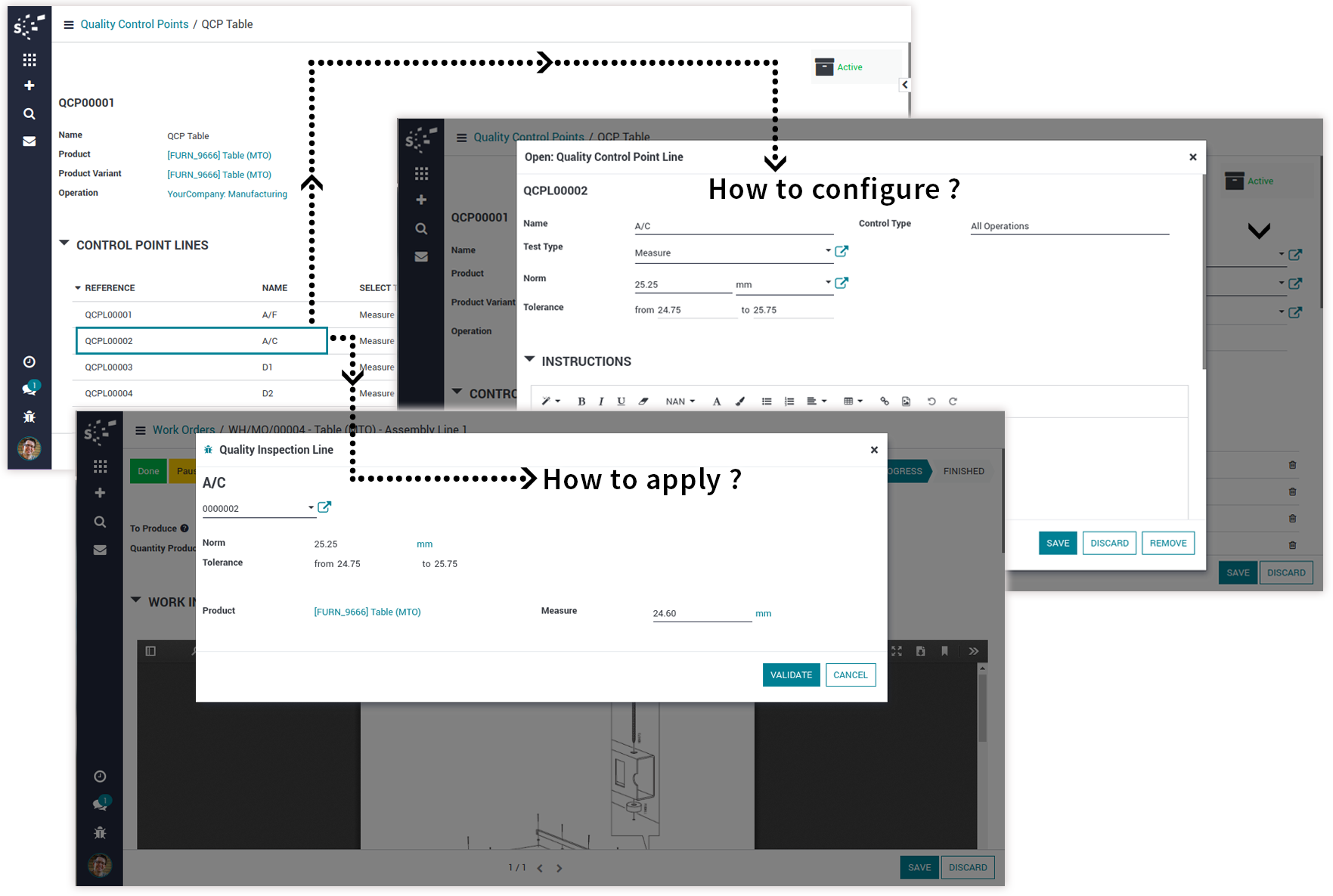 Quality Final Inspections
After manufacturing work-orders is done, final inspection can start on pressing 'Quality Inspection' button, as configured in product control point.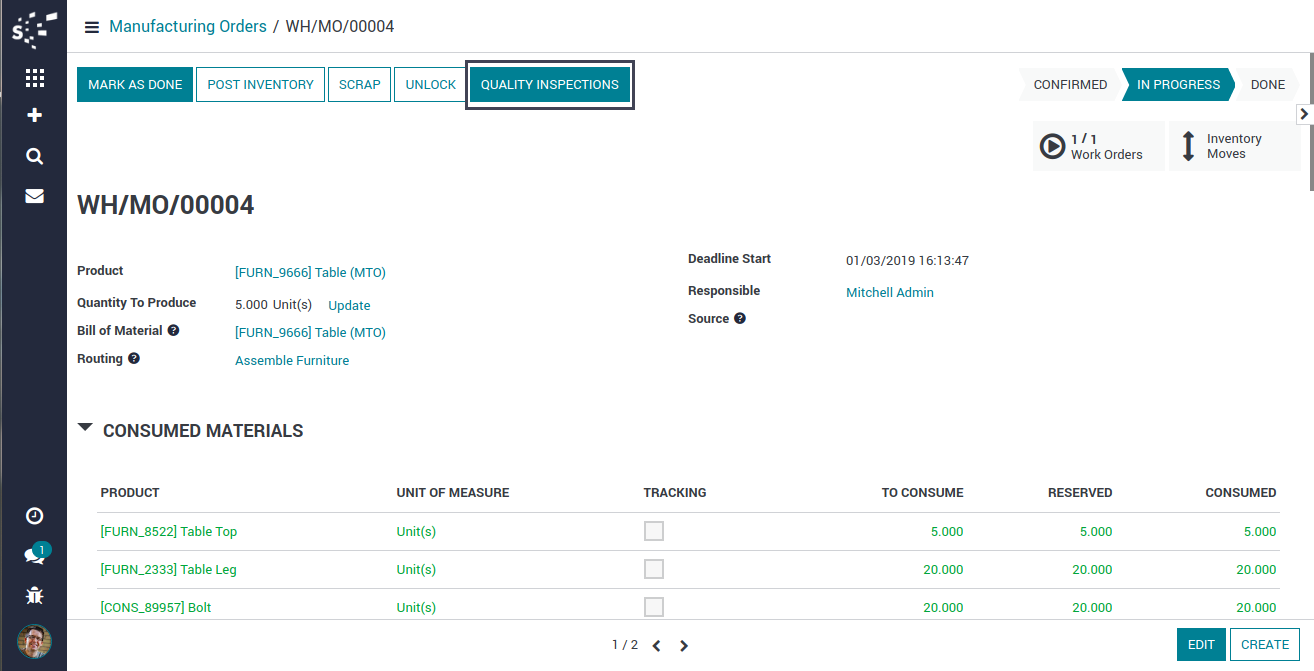 Quality Inspections
Quality Inspections can be used with group by functionality to identify records inspection wise.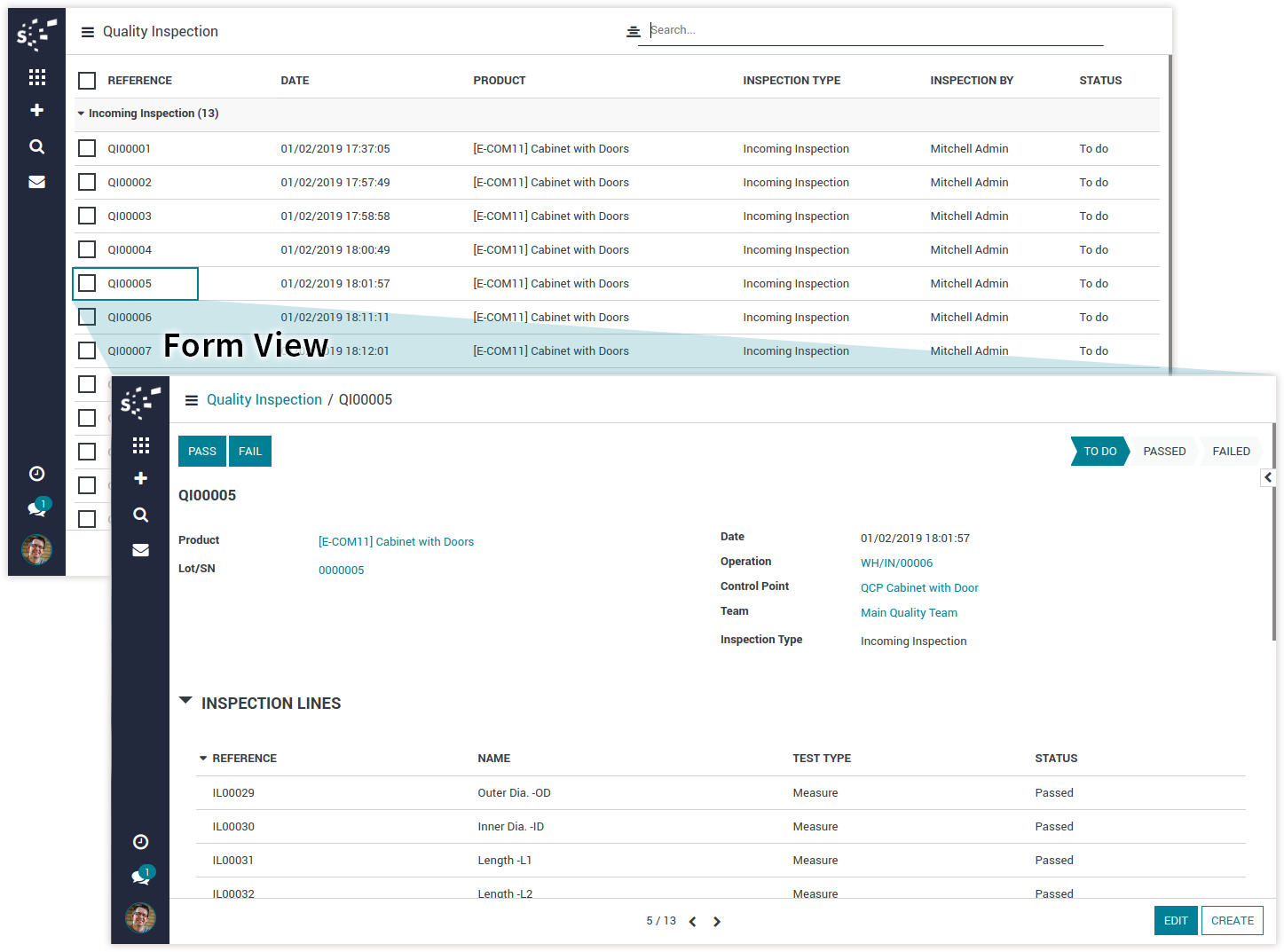 Quality Alerts
Quality alerts with multiple reasons can be generated for failed inspection line.
Quality alert sticker report will be generated with/without product bar-code and product lot number to track the products physically for repairs.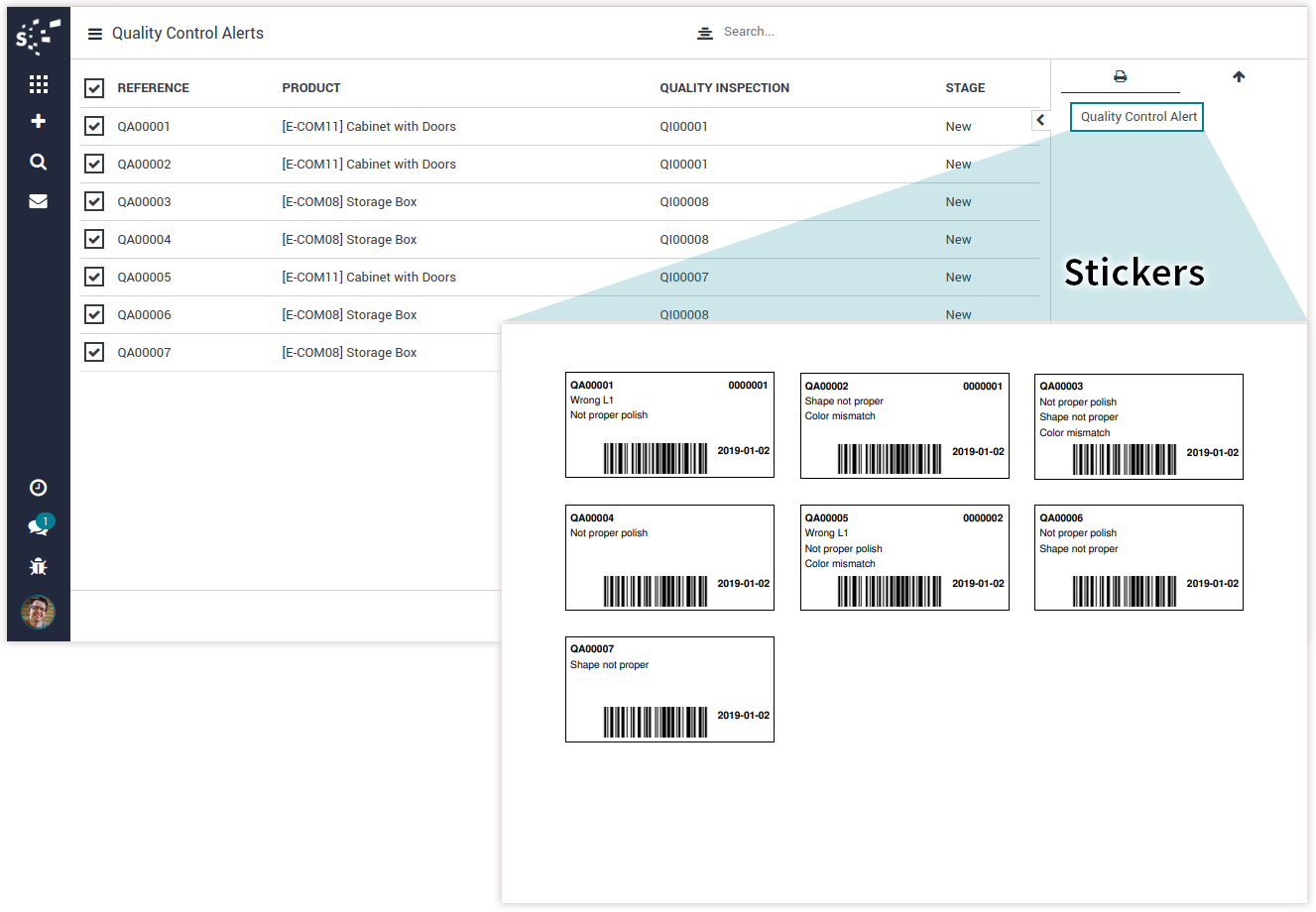 Notes:

All the apps are to be purchased separately, for individual versions and individual edition.
One month free bug support period will be offered pertaining to any one server used, testing or live.
Synconics is only responsible for providing the module zip file on your registered email, purchased from our app store or directly through our company.
Synconics is not responsible for installation or updating of the module on any of your server.
If an error appears in our app due to other custom modules installed in your system or if Odoo base source code is not updated on your system, to make it compatible with your source code, we'll charge you for our efforts to resolve those errors and make the module compatible with your source code.
Please refer the document for configuration. If any support is needed for module configuration, installation, updating or any help is needed, it will be considered in paid support.
Please note that you are not allowed to distribute or resell this module after purchase.
This module is tested and working on Odoo vanilla with Ubuntu OS.
Support services will be provided from Monday to Friday, 10:30 AM to 7:30 PM IST (Indian Standard Time).
Support will not be provided during Indian public holidays or company holidays.
---
This is a preview of the recently viewed products by the user.
Once the user has seen at least one product this snippet will be visible.
Recently viewed Apps