Stripe Recurring Payment - Strong Customer Authentication Update
App Description Page
Stripe Recurring Payment(SCA)
Recurring Payments, also known as AutoPay, are automatic payments where customer authorize vendor to collect the total charges from his credit card or bank account every month. This amount is deducted on the due date of every billing cycle, so that you never have to worry about late fees.
This module is used for Stripe Recurring Payment - Strong Customer Authentication Update.
This module is compatible with
Community

Enterprise

Odoo.sh
Key Features
Backend User can create recurring invoice with Stripe payment acquirer with SCA.

Flexible recurring duration.

Recurring invoice will be automatically synchronised at Stripe.

Cancel recurring invoice at any time, it will synchronised at Stripe.

All recurring invoices summary at one place.

Notification mail will be sent to respective customers when their recurring invoice payment will be paid.
Configuration
In Stripe payment acquirer set payment flow as 'Payment from Odoo'.

Add New Card
Option is enabled for portal customer for his account 'Manage your Payment Methods'.

Customers will provide required details & click on 'Add new card'. Details will be stored as an encrypted(secured) format in Odoo.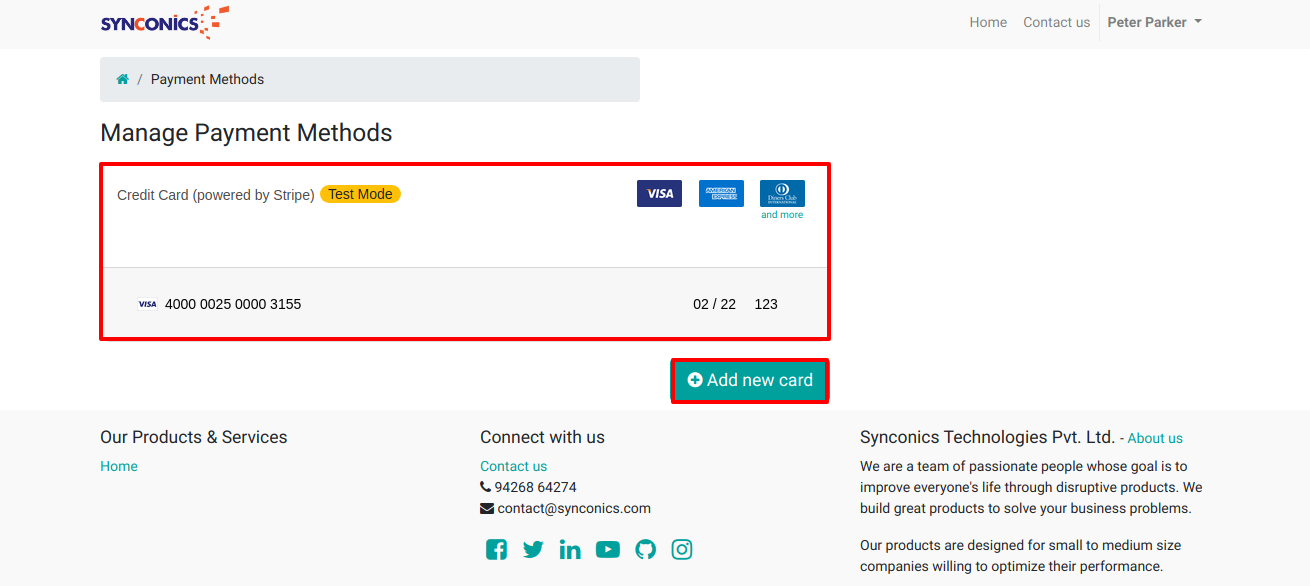 Portal customer can see their stored credit card / debit card token details and can also delete it whenever they want.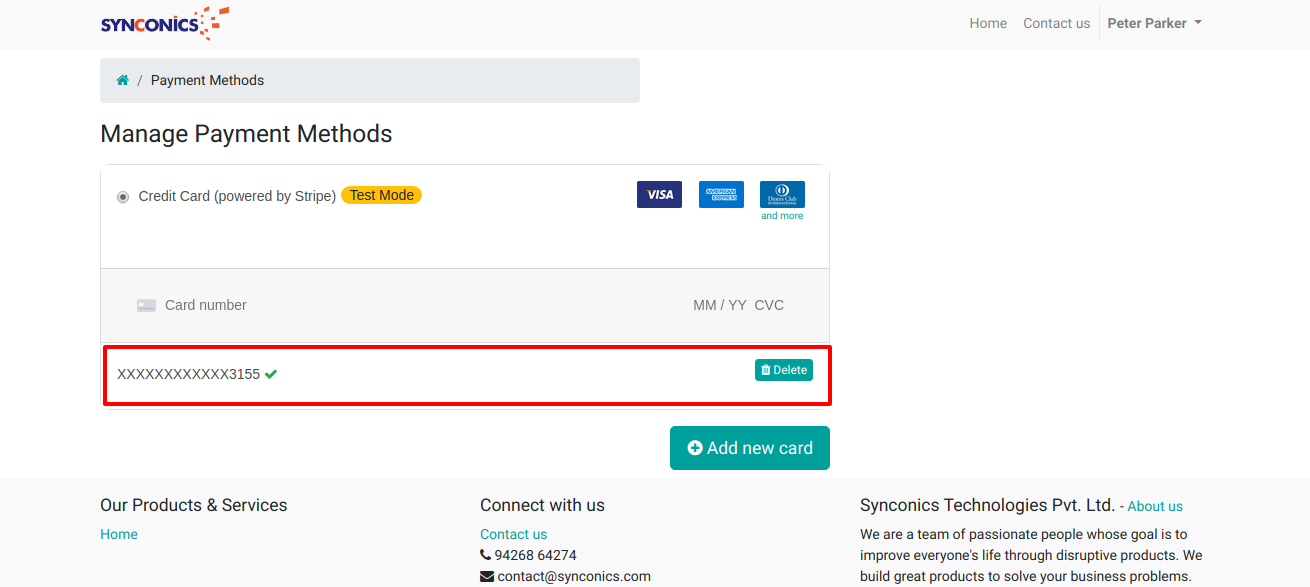 Make Recurring Invoice
Option is available in customer invoice action to make current invoice as 'Recurring Invoice'.

Wizard
By clicking on "Make Recurring" option, wizard will pop-up which has follwing functionality.

Fields Description
| | |
| --- | --- |
| Name: | Name is a way to know which Recurring invoice it applies towards. |
| Partner: | Define Customer name. |
| Recurring Unit: | Option is available like Days, Weeks, Months. |
| Recurring Interval: | Multiply with interval unit like if we give value '2' system will create recurring invoice every 2 months. |
| Recurring Number: | How many recurring invoice want to create by a user. |
| Token: | Needs to select payment token stored by portal customer which will be used for Stripe recurring payment. |
| First Date: | Recurring start Date. |
Save information & click on 'Process' button for the start recurring.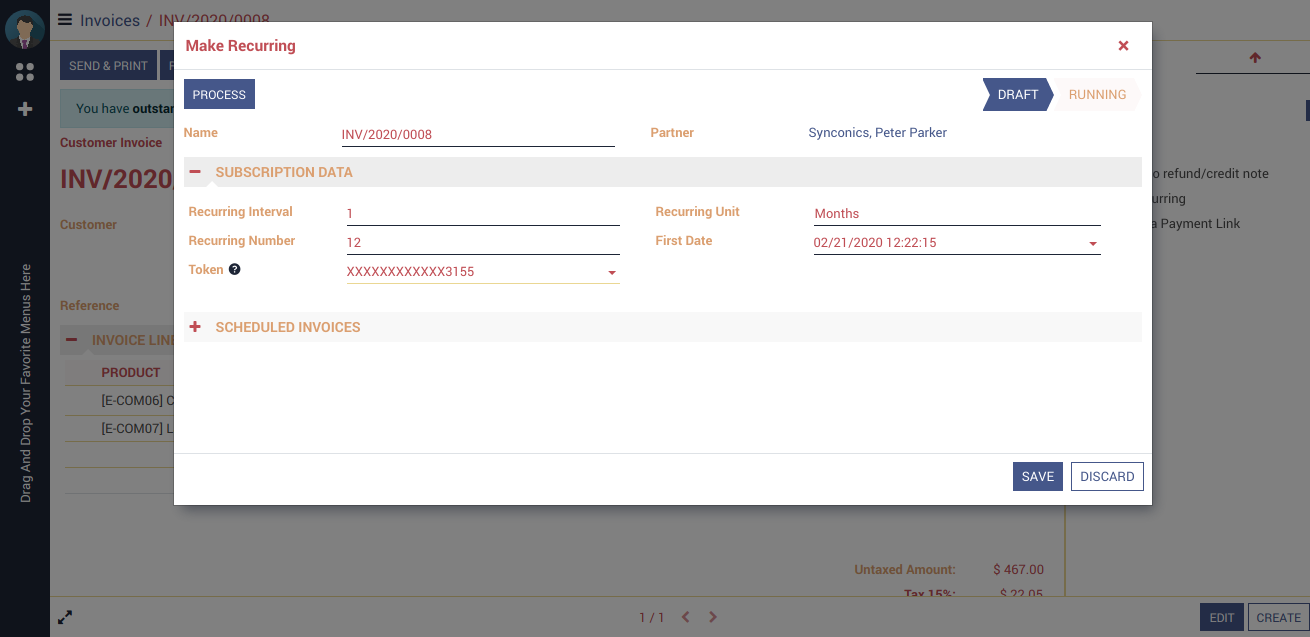 Recurring Invoice
Recurring invoice record will be created with all invoice details.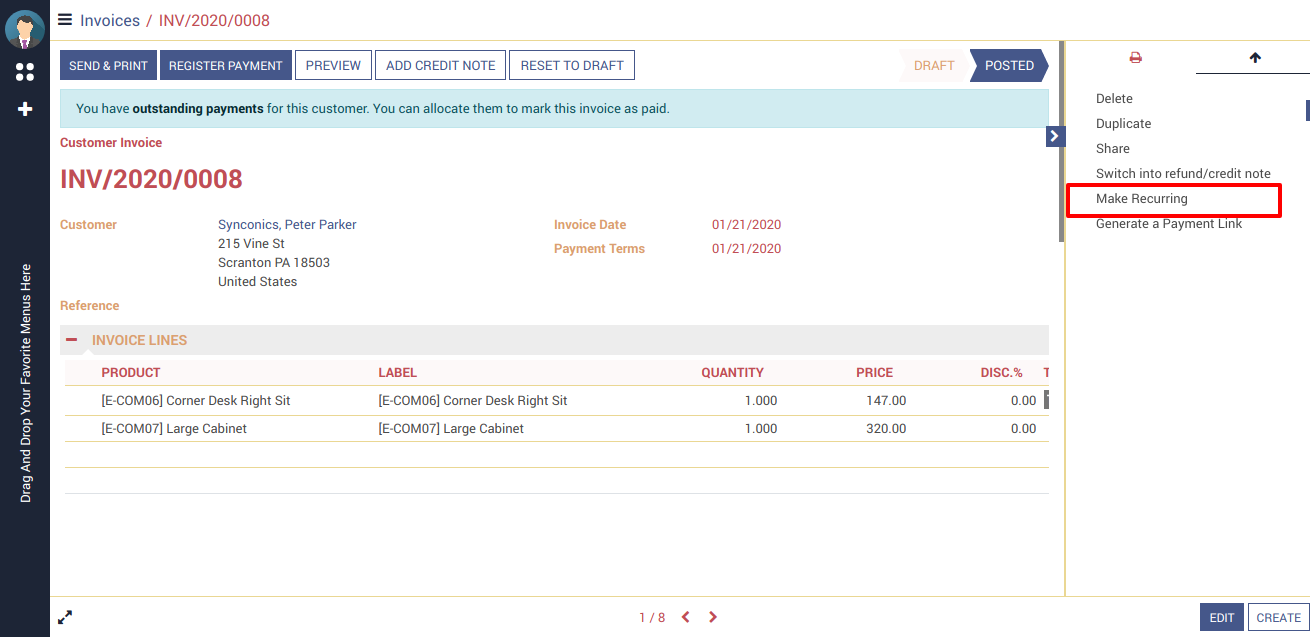 Stripe Subscription
By clicking on "Process" button for recurring record at the same time in Stripe subscription will be automatically created with related customer detail.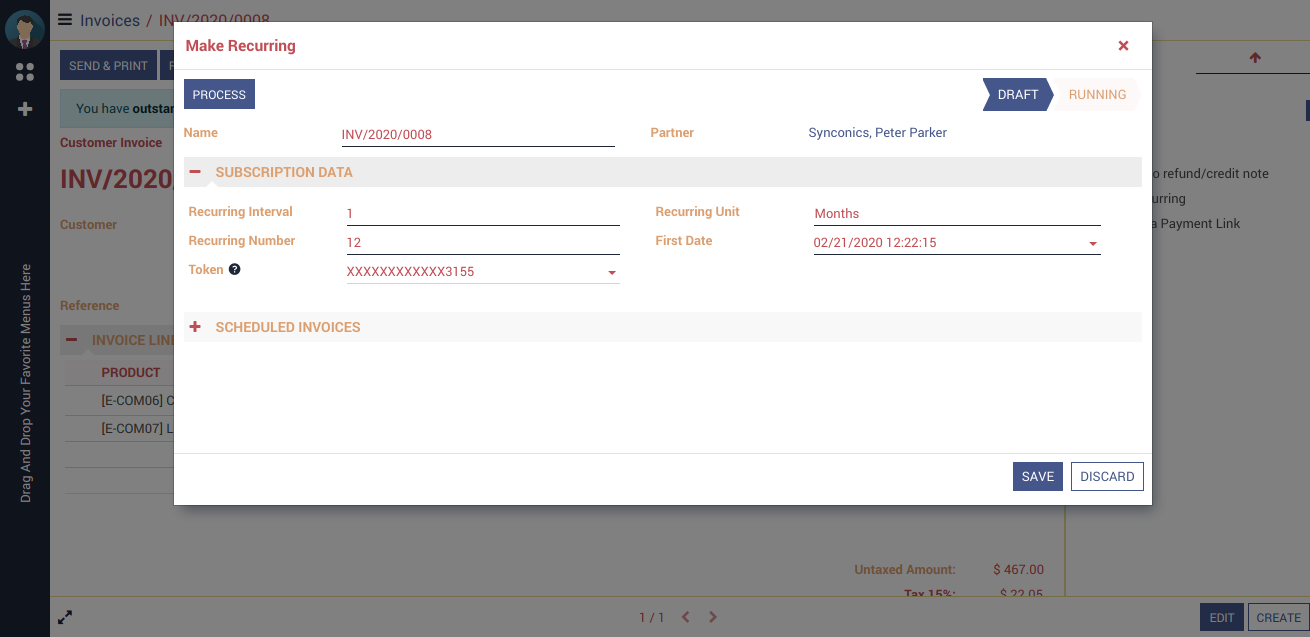 Plan Details
Recurring pricing plan will be displayed at Stripe.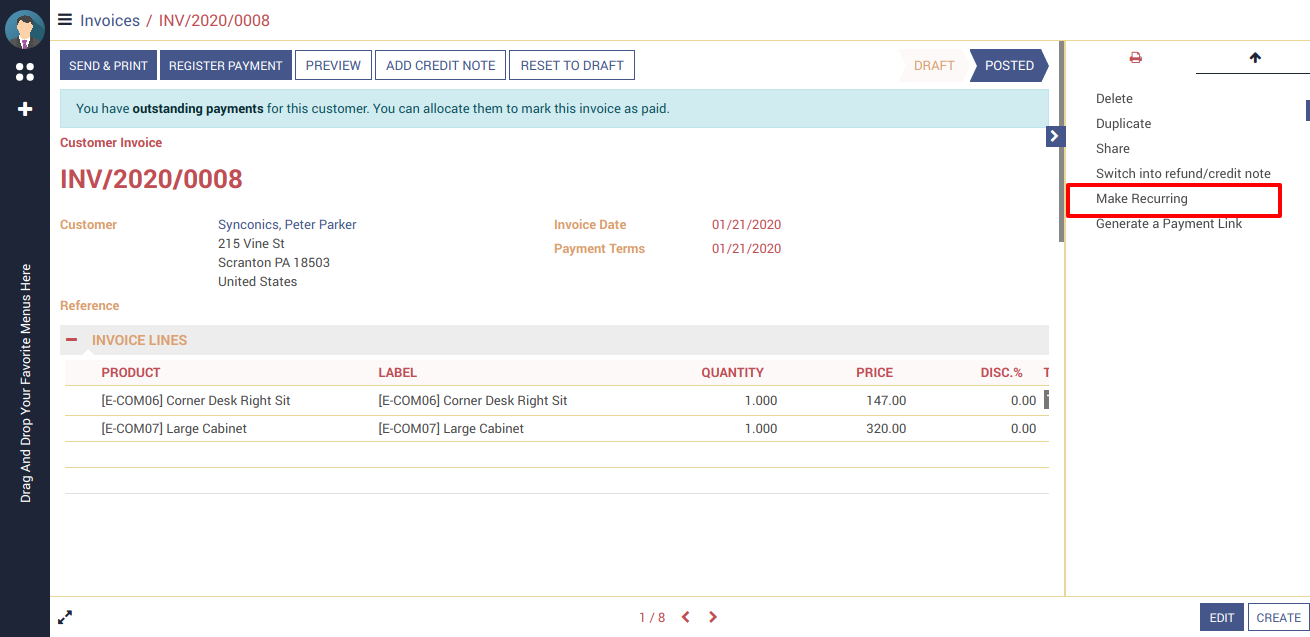 Invoice Details
Invoice details will be displayed at Stripe.

Payment Details
Payment details will be displayed at Stripe.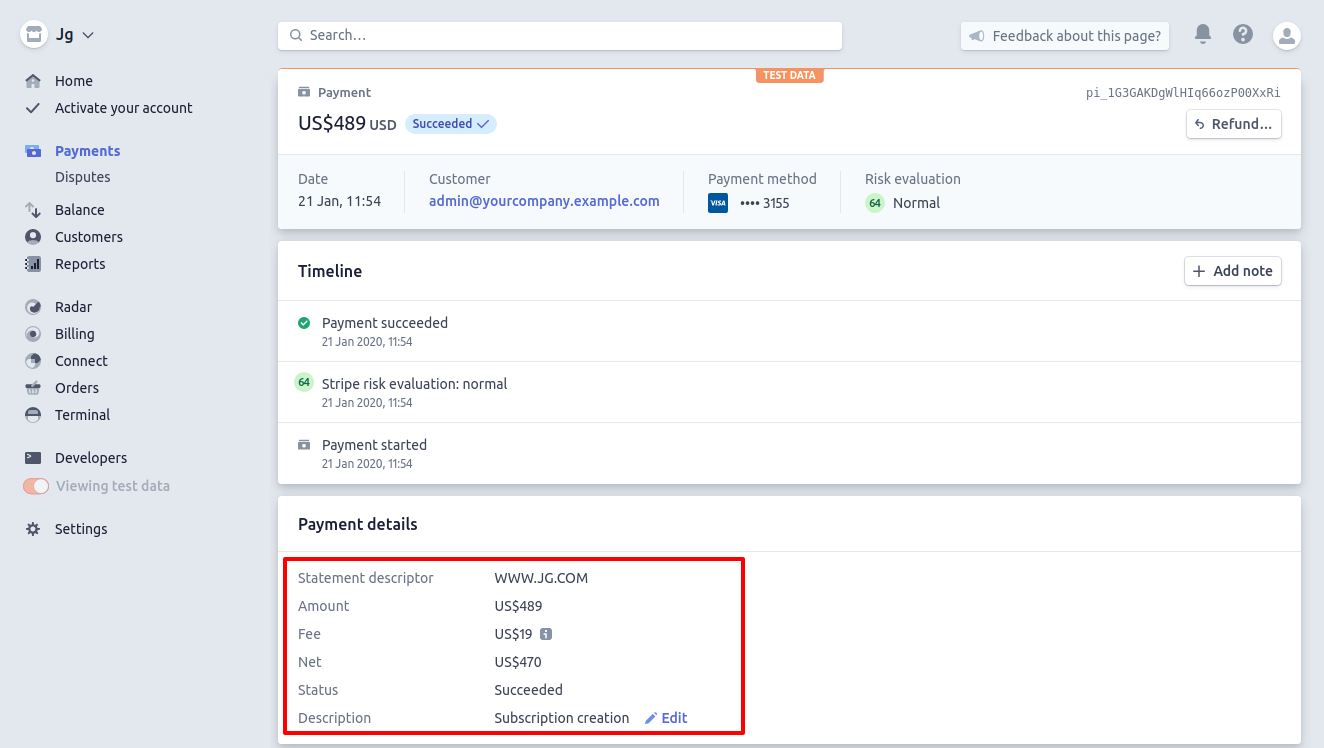 Scheduled Actions
Using scheduled actions system will automatically create recurring invoice as per configuration & create payment and also sent mail to customer for successful recurring invoice payment.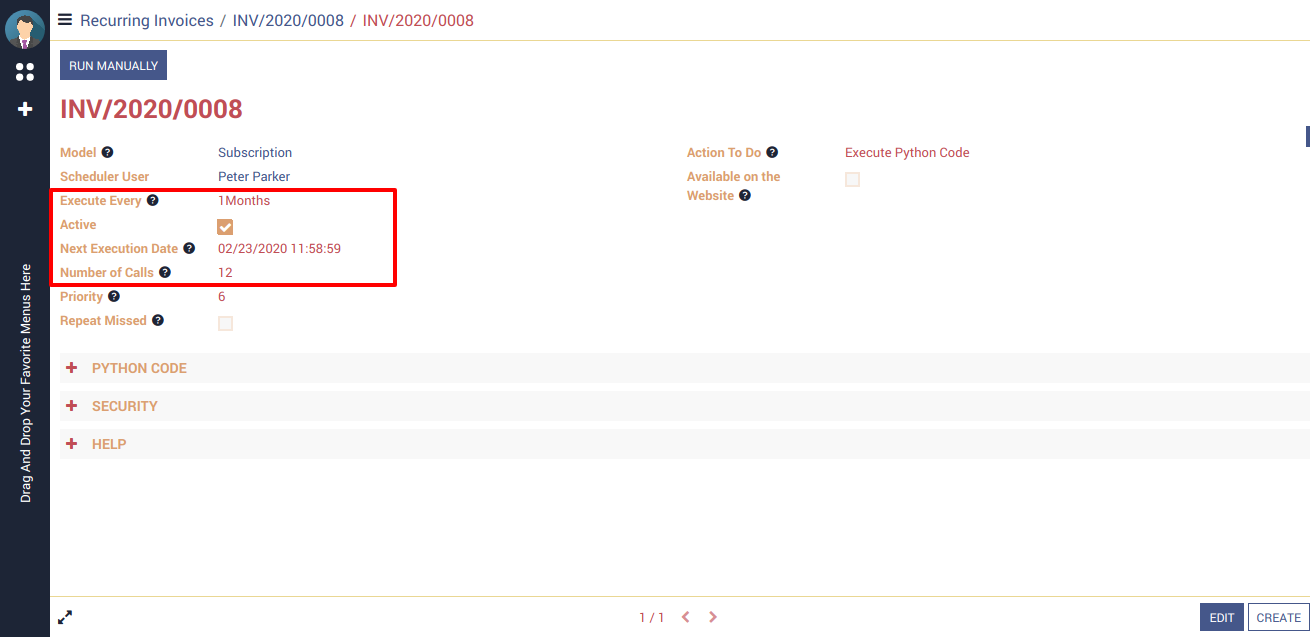 Notification mail will be sent to customer when recurring invoice will be paid.


Cancel Recurring Plan - Odoo
When backend user will be cancel recurring plan in Odoo, At the same time subscription record will be cancel automatically at Stripe (vice versa).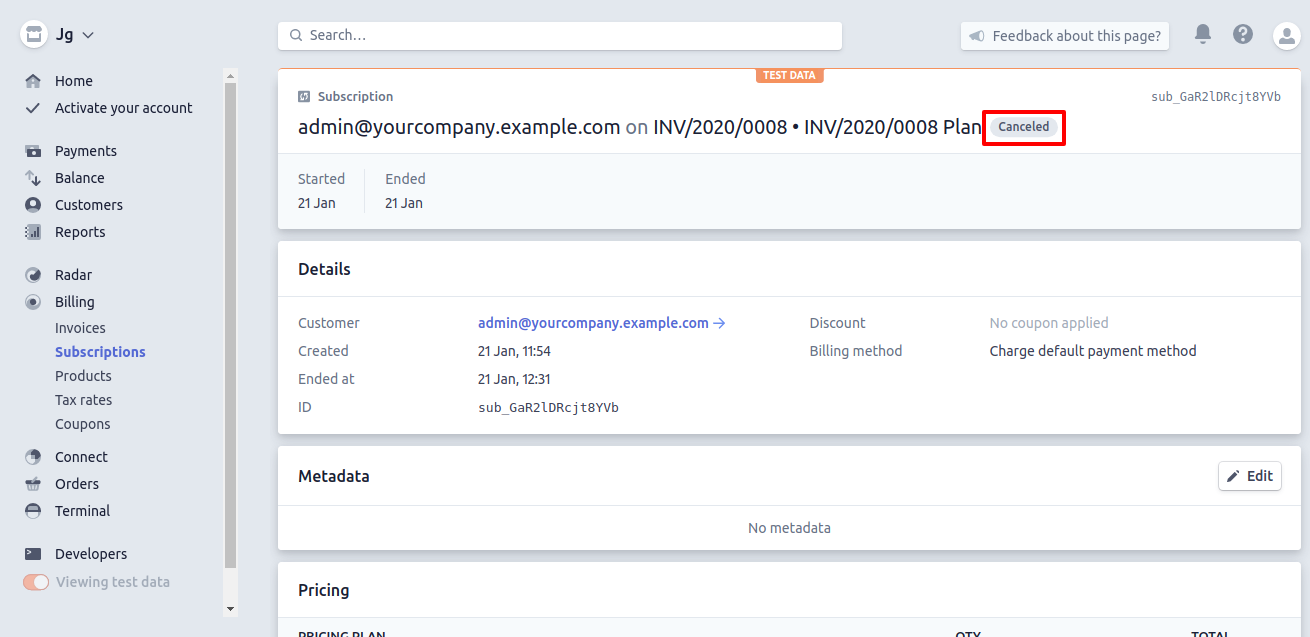 Notes:

All the apps are to be purchased separately, for individual versions and individual edition.
One month free bug support period will be offered pertaining to any one server used, testing or live.
Synconics is only responsible for providing the module zip file on your registered email, purchased from our app store or directly through our company.
Synconics is not responsible for installation or updating of the module on any of your server.
If an error appears in our app due to other custom modules installed in your system or if Odoo base source code is not updated on your system, to make it compatible with your source code, we'll charge you for our efforts to resolve those errors and make the module compatible with your source code.
Please refer the document for configuration. If any support is needed for module configuration, installation, updating or any help is needed, it will be considered in paid support.
Please note that you are not allowed to distribute or resell this module after purchase.
This module is tested and working on Odoo vanilla with Ubuntu OS.
Support services will be provided from Monday to Friday, 10:30 AM to 7:30 PM IST (Indian Standard Time).
Support will not be provided during Indian public holidays or company holidays.
---
This is a preview of the recently viewed products by the user.
Once the user has seen at least one product this snippet will be visible.
Recently viewed Apps