App Description Page
POS Product Combo
This module benefits POS users to boost their sales and to catch attention of customers. It is very useful at the time of occasion & festival season to provide different types of offers to customers.
Users can combine multiple products as a group & can sale as an individual items. It also save time and reduce burden to select each & every product multiple times. this functionality also facilitated customer to buy all related other products at once.
 Key Features
 Product Combo is used to increase products sale and provides special offers.

 Less famous products can be included in a combo so this way it increases their sales too.

 Add products categories in combo.

 Options to allow selection of multiple products at a same time.

 Options to allow edit combo products after selection the products.

 Options to allow required products in included product price with main combo price or not.

 Maintain inventory for sub-products.

 Restricts POS users to duplicate restricted or un-restricted POS product category while configuring combo products.                 
 Product combo creation
 POS Users will enable 'Use as Combo' option for create a new combo product.                     
 

Menu Sequence: 

Point of Sale/Products/Products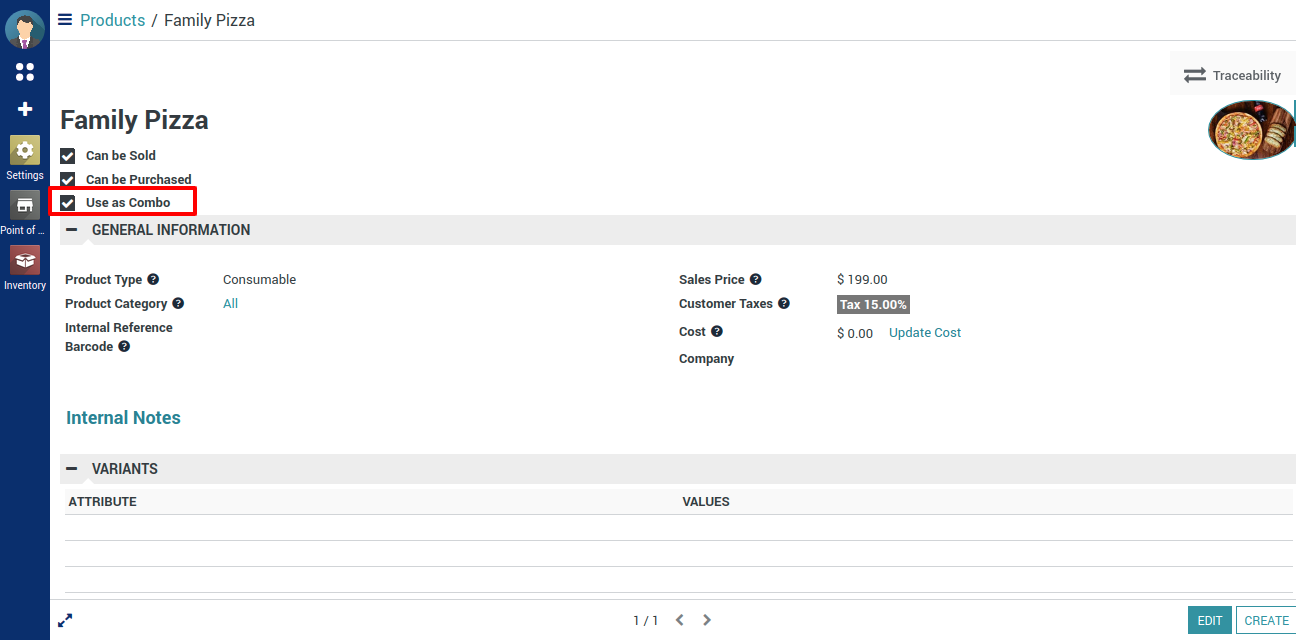 Product combo constraints
 POS Users can not be able to create duplicated required / un-required products categories line while configuring combo products.                     
 Assigning Components for a Combo Product
 If 'use as combo' option is enable on a product then product pack tab will be visible.
Fields Description:
Required Products :

 This option describe that selected products are required for combo.
Include In Main Product Price :

 This option describe that whatever products are defined here those products price will be count on combo product price.
Product Category :

 Product category define here can be use as combo product categories.
Include All Products :

 By enabling this option system will auto add all products related to selected category.
Product: 

Users can add products manually.
Number Of Items:

 Whatever counts user will define those number of products can be selectable by on POS screen.
 Point Of Sale Session
 This option enable to display combo products images while configuring it.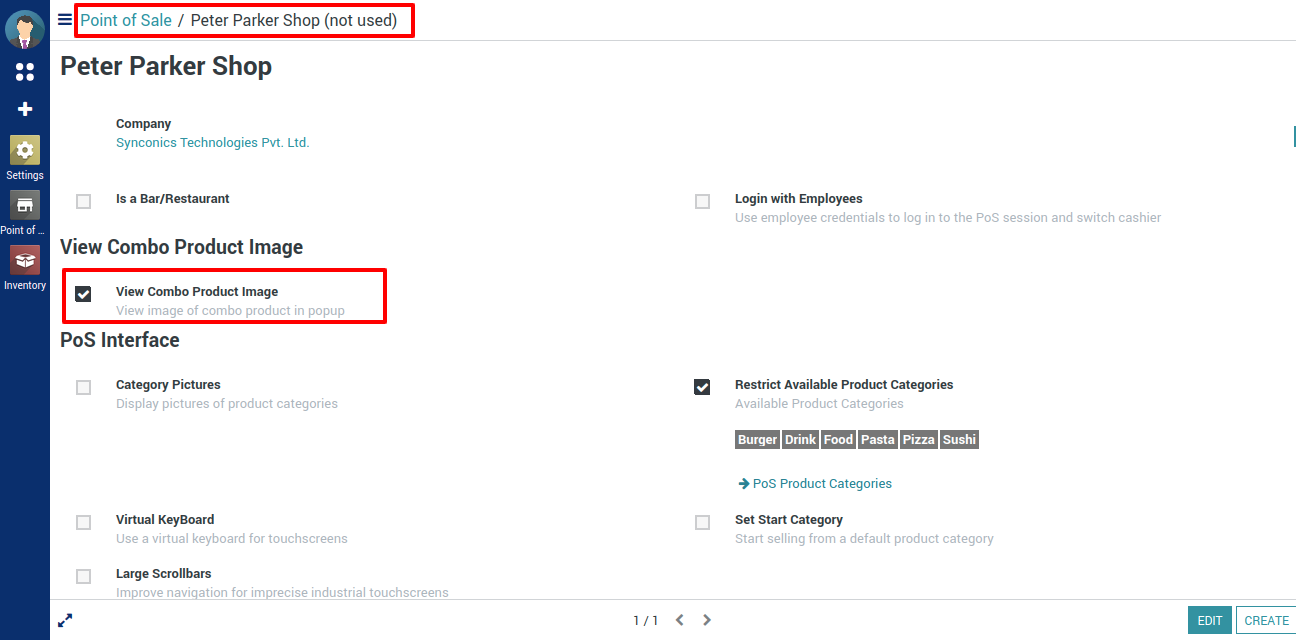 Add Combo Product
 All combo products will be visible on POS screen with 'Combo Product' label.
 Here user can add them as single product as a Family Pizza.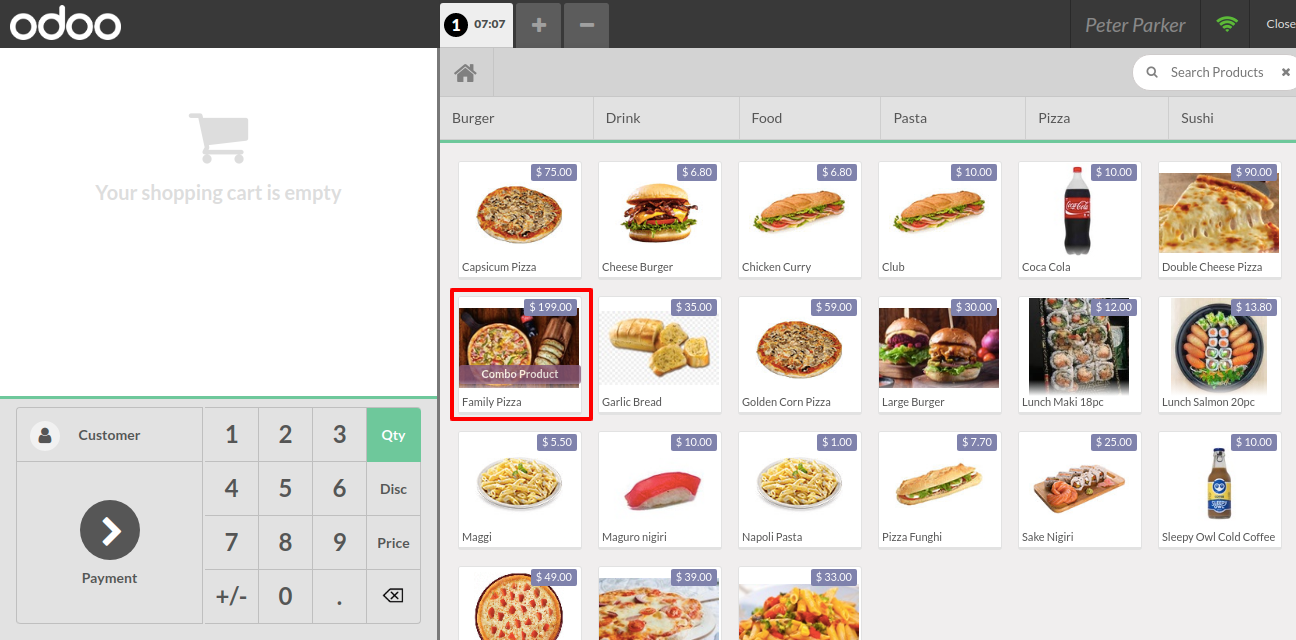 Choose product on popup
 If product price is not include on main price then related price will be counted as a extra price.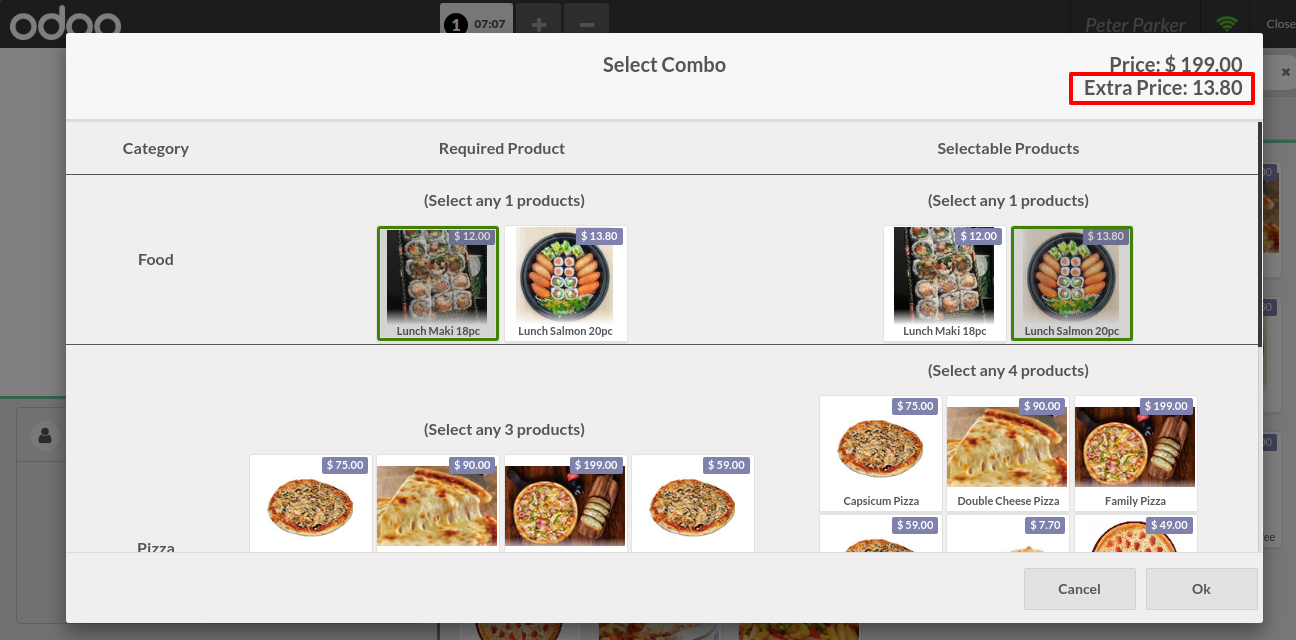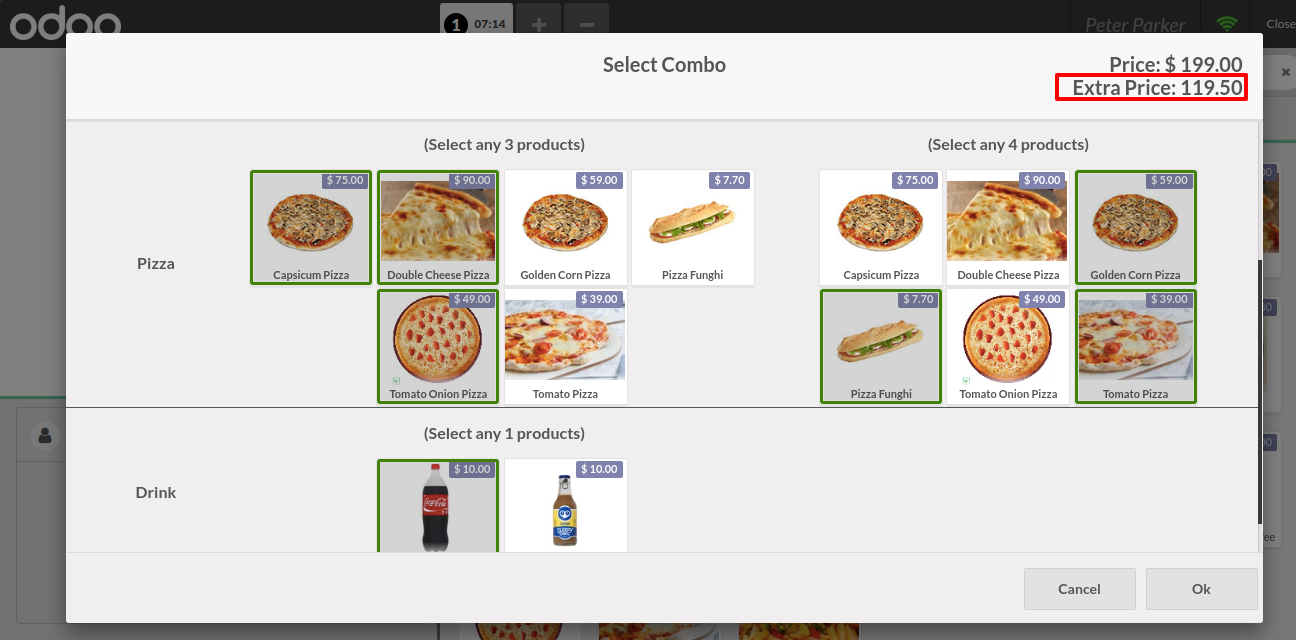 Add Combo Product with sub products
 All products will be defined on POS screen as per selection with separation of 'Required' and 'Selectable' labels.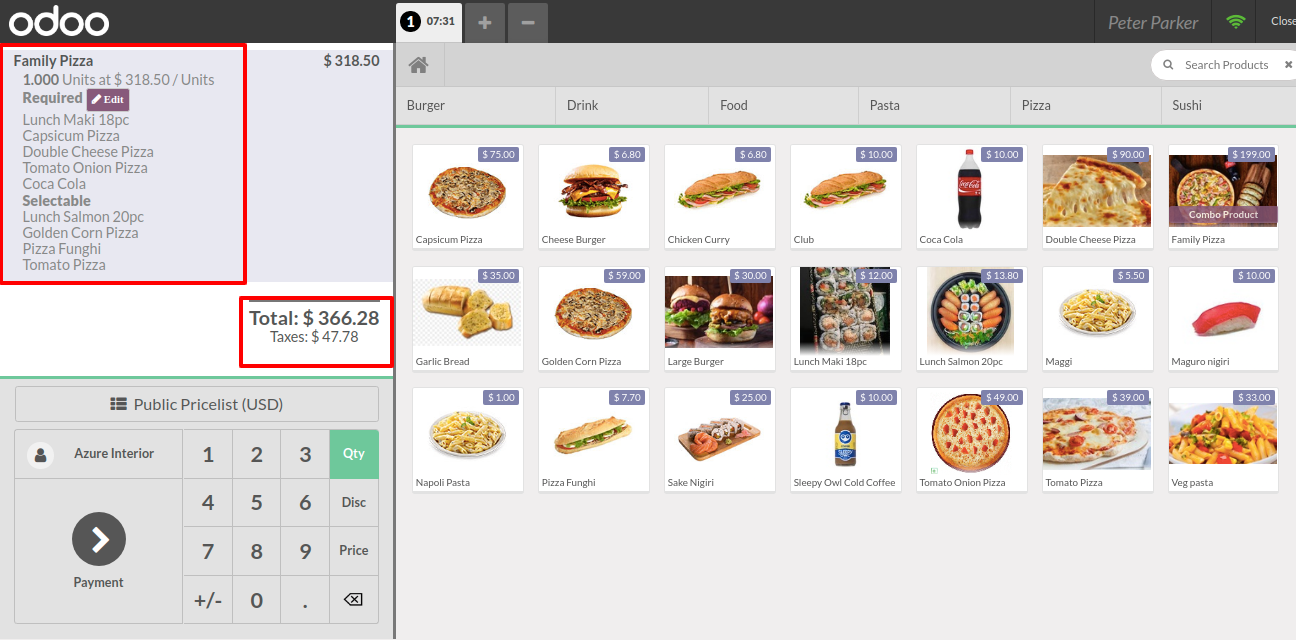 Edit (Update) Combo products
 User are able to edit (update) combo products by click on edit button on POS screen.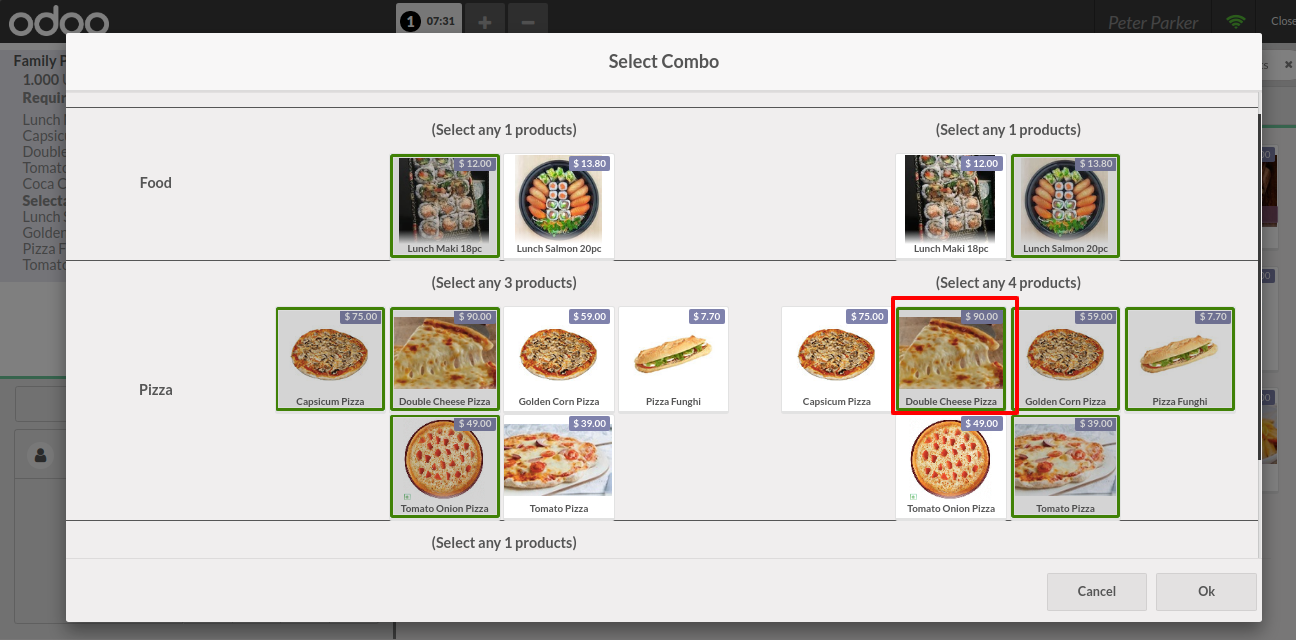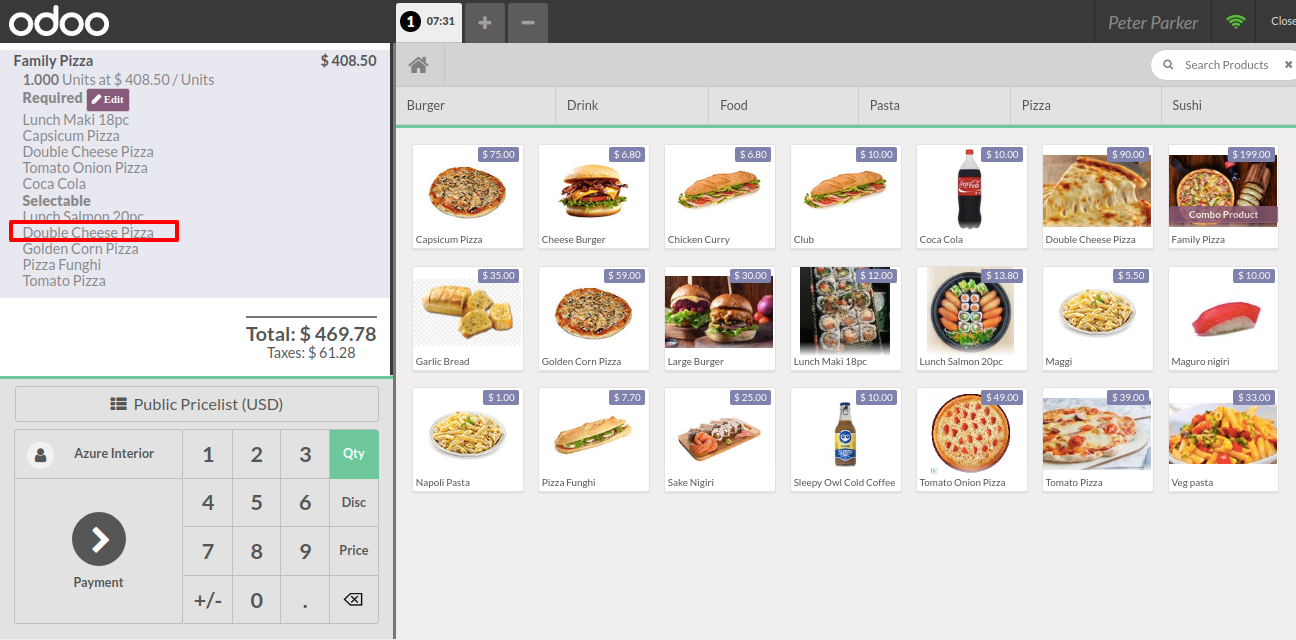 Set Price-list on combo products
 User are able to select different price-lists on combo product. for example public price-list offer, new year price-list offer, etc.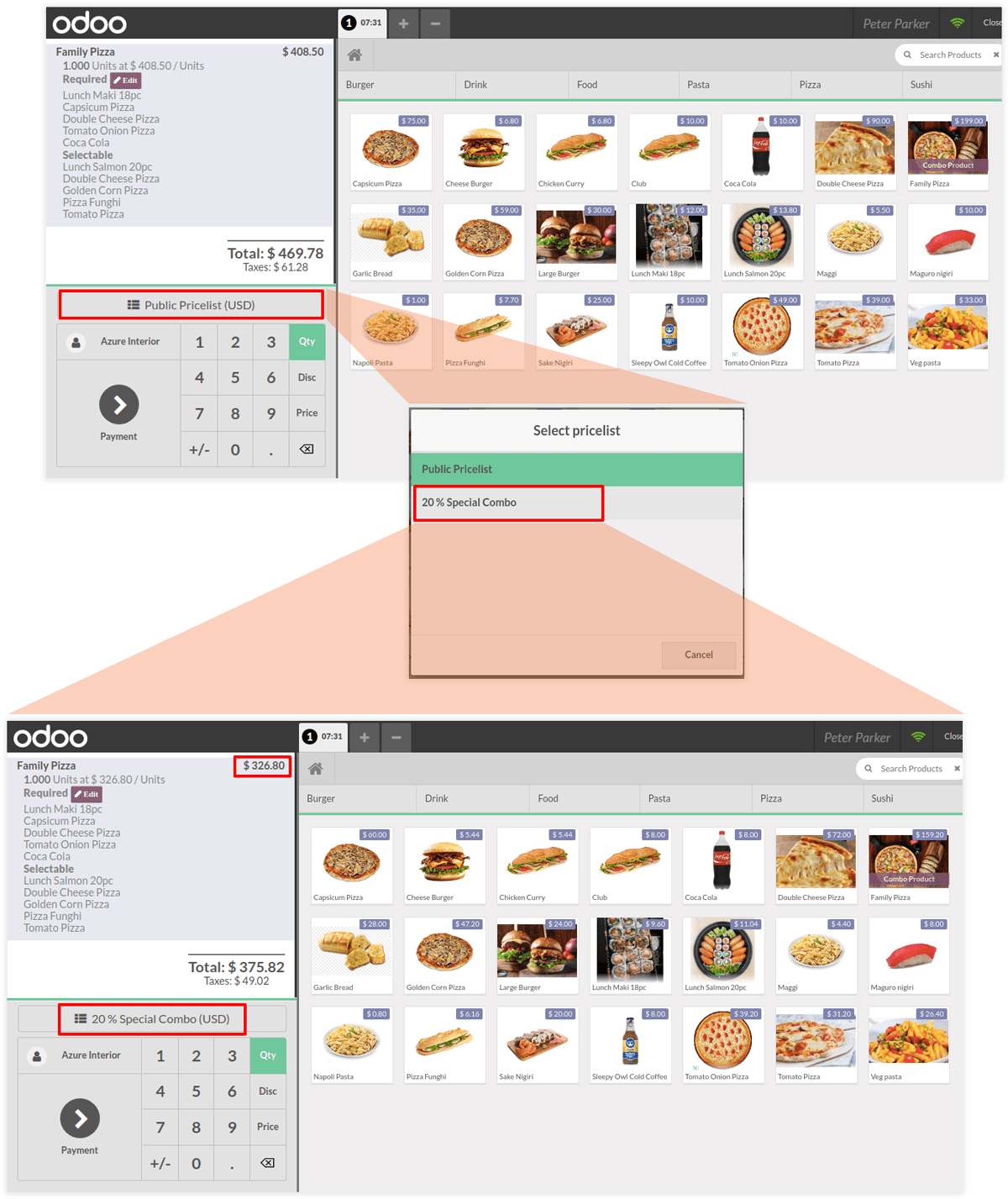 Validate order
 POS user will validate order & select invoice if want to generate it.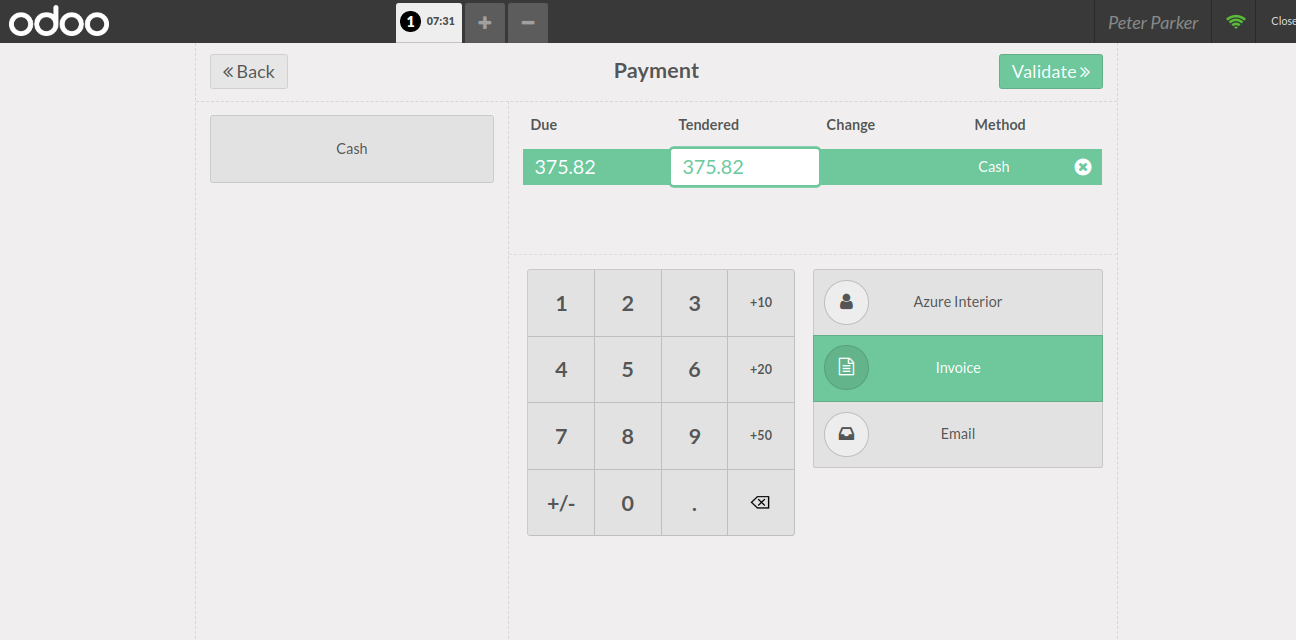 POS order receipt
 At the time of pos receipt generation all combo products will be bifurcate by their assigned sub products.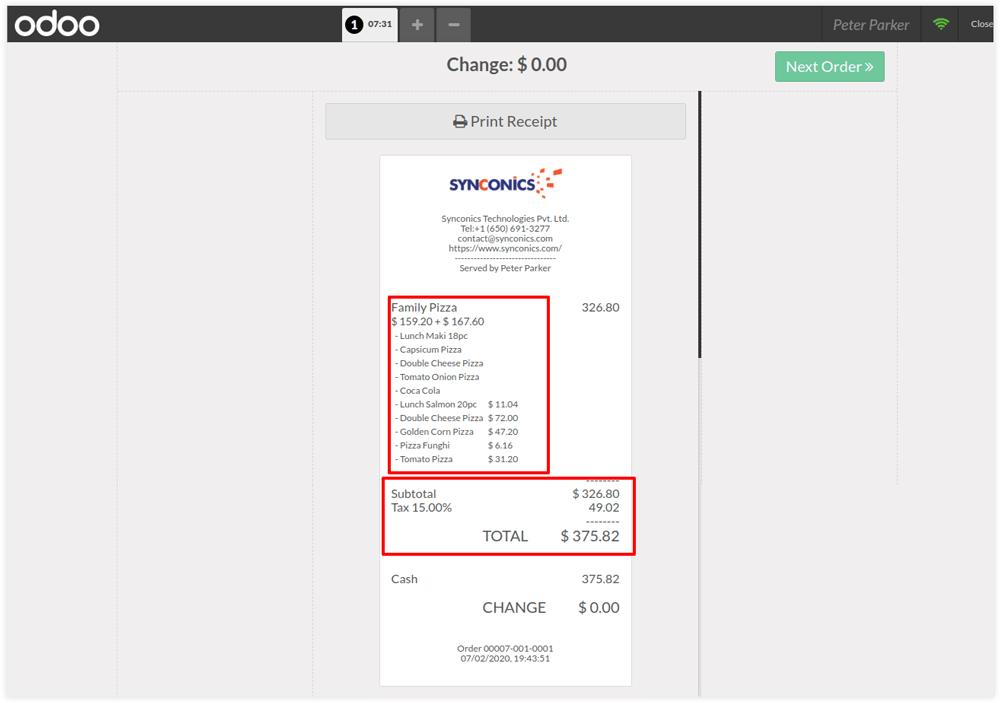 Pos order
 On backend side order will created with all sub-products and bifurcate with 0.0 price.                     
 

Menu Sequence: 

Point of sale/Orders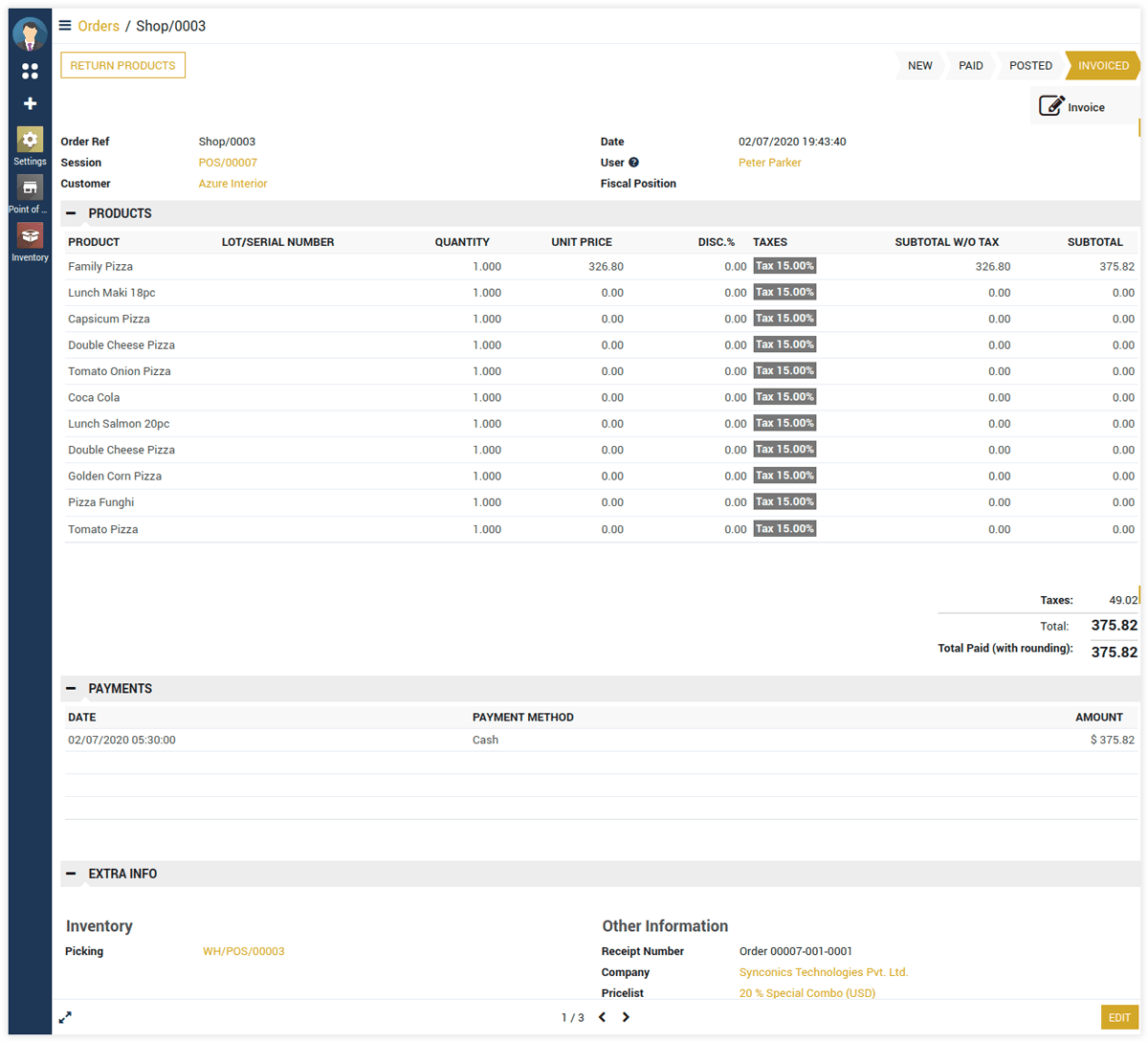 Point of sale invoice
 Invoice will be generated automatically if pos order validate time select invoice option.                     
 

Menu Sequence: 

Point of sale/Orders/Invoice (Button)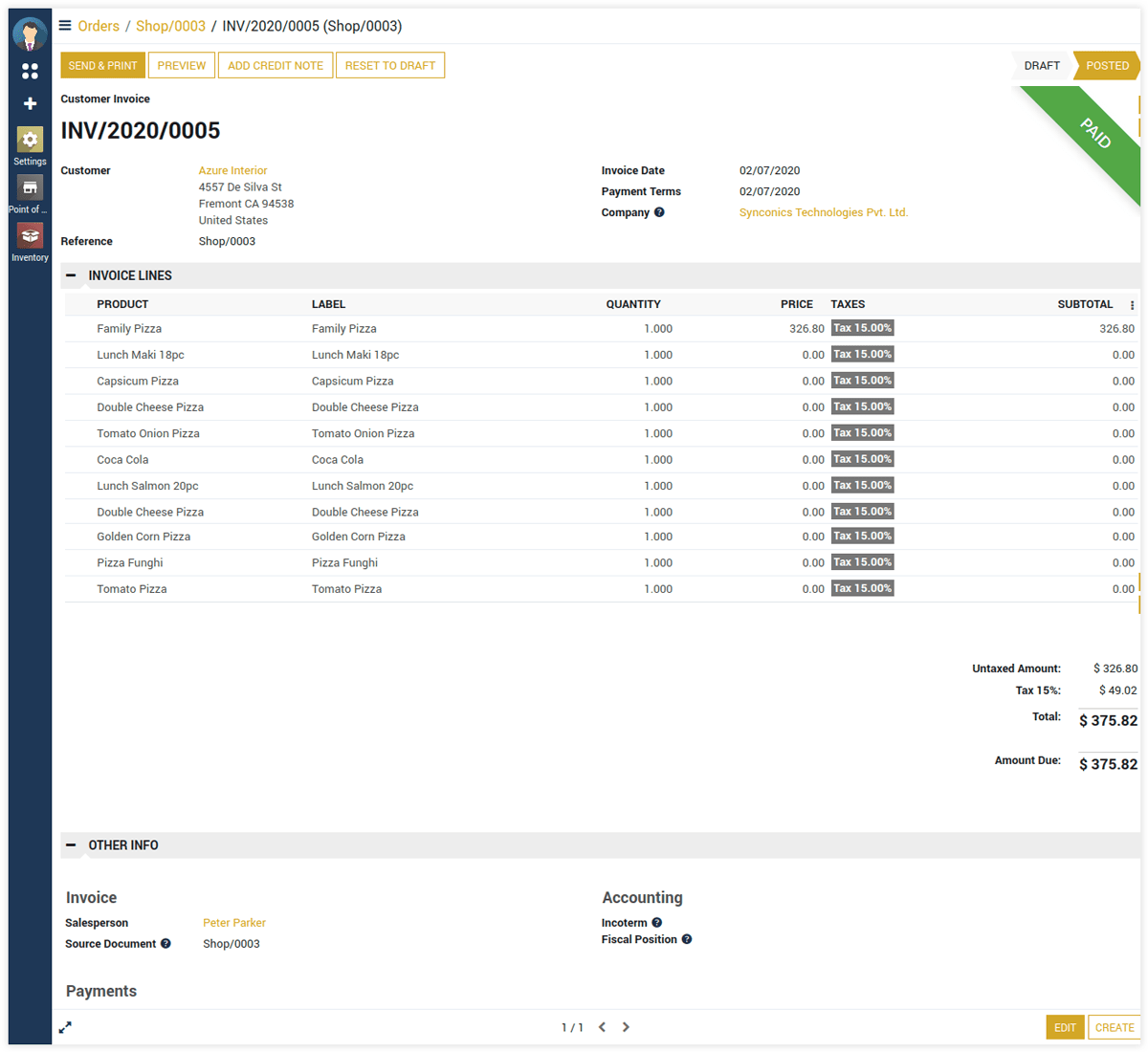 Invoice report
 In invoice report also bifurcate sub-products.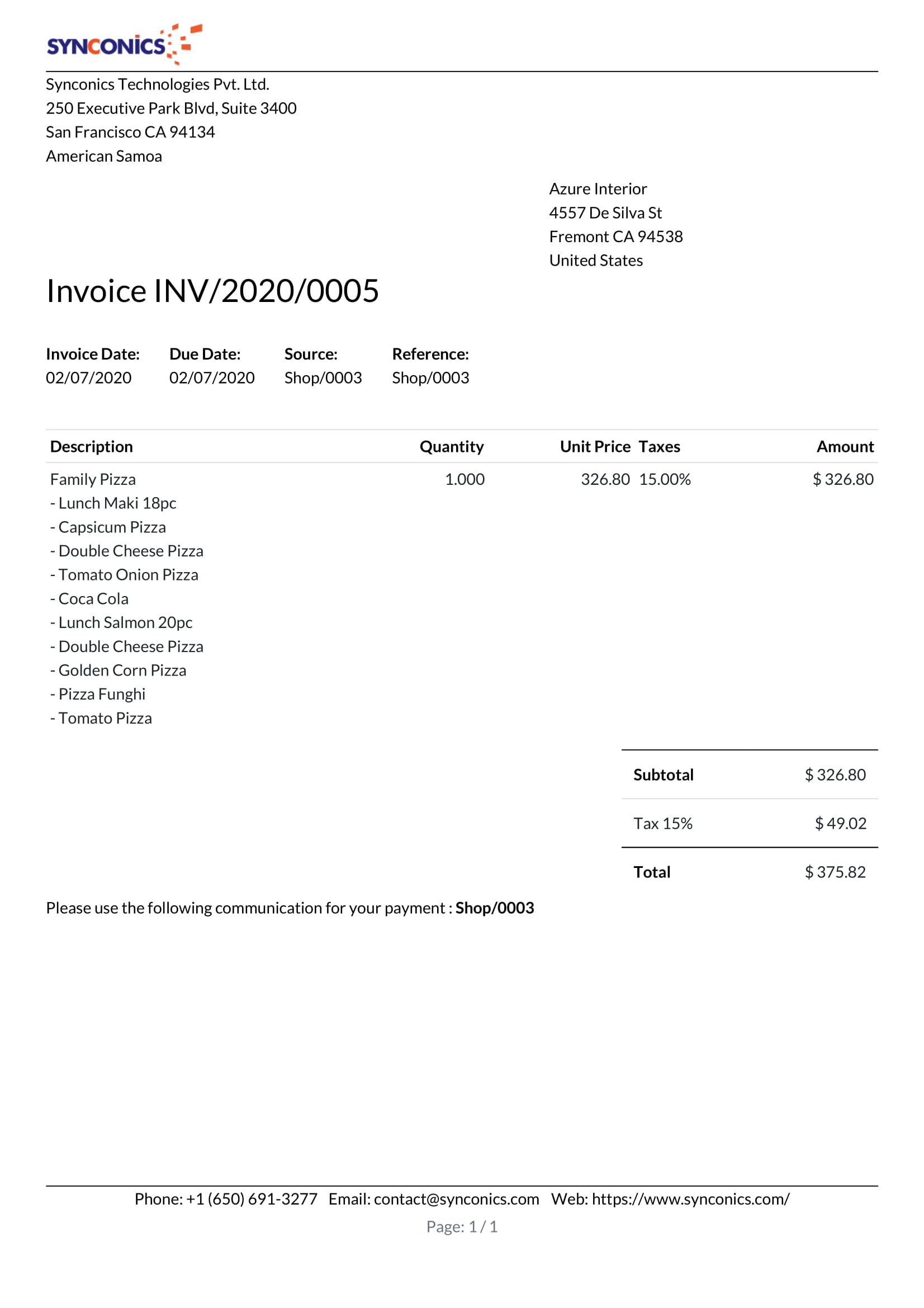 View Picking of POS order
 Delivery order will created with all described sub products with combo product.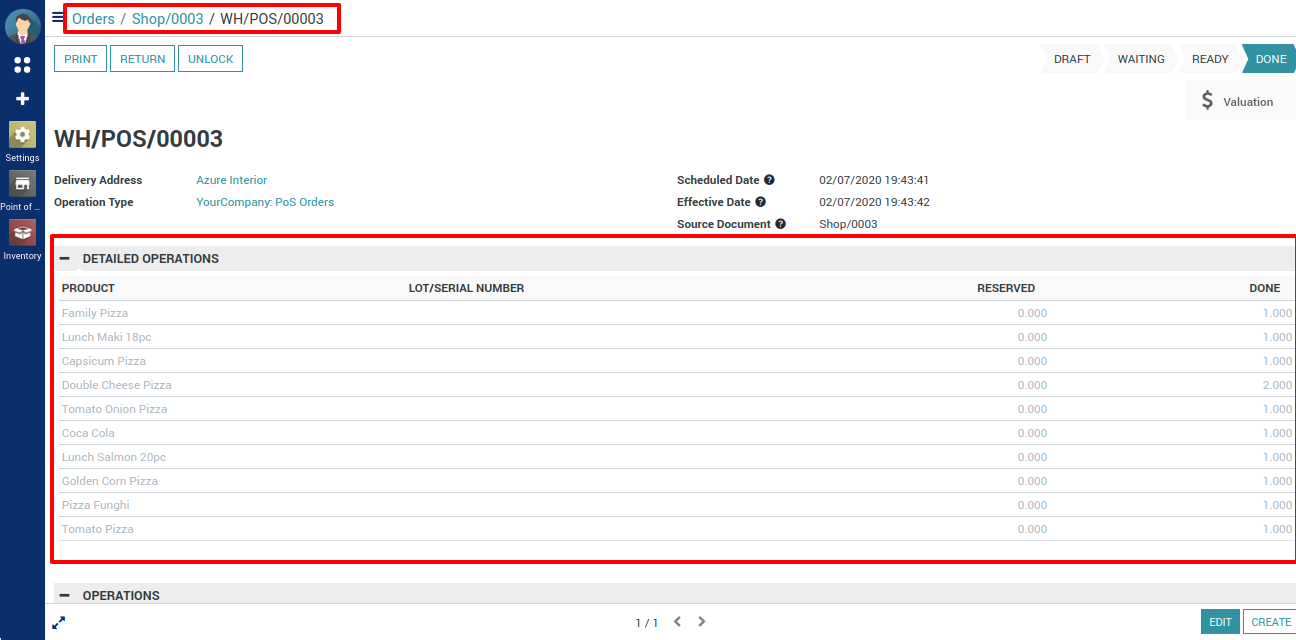 Notes:

All the apps are to be purchased separately, for individual versions and individual edition.
One month free bug support period will be offered pertaining to any one server used, testing or live.
Synconics is only responsible for providing the module zip file on your registered email, purchased from our app store or directly through our company.
Synconics is not responsible for installation or updating of the module on any of your server.
If an error appears in our app due to other custom modules installed in your system or if Odoo base source code is not updated on your system, to make it compatible with your source code, we'll charge you for our efforts to resolve those errors and make the module compatible with your source code.
Please refer the document for configuration. If any support is needed for module configuration, installation, updating or any help is needed, it will be considered in paid support.
Please note that you are not allowed to distribute or resell this module after purchase.
This module is tested and working on Odoo vanilla with Ubuntu OS.
Support services will be provided from Monday to Friday, 10:30 AM to 7:30 PM IST (Indian Standard Time).
Support will not be provided during Indian public holidays or company holidays.
---
This is a preview of the recently viewed products by the user.
Once the user has seen at least one product this snippet will be visible.
Recently viewed Apps