Repair Service - Sub Tickets
App Description Page
Repair Service - Sub Tickets
Some issues demand a collaborative response by the service team from a specific team or technician. The Sub-Ticket module divides the main ticket into sub-tickets and they are assigned to another team or technician for assistance. With the main ticket sub-ticket can be tracked easily.
With collaborative team work the organization can resolved the ticket much faster and have a better customer satisfaction.
Key Features
 The main ticket, divided into sub-ticket task is easily assigned to the team member with description.                 

 Automated mail is sent to the team member to whom the sub-ticket is assigned.

 Sub-tickets status can be tracked through the main ticket as it is linked with it.
Ticket Details
Go to Helpdesk/All Tickets/Tickets.
Ticket information filled with 'Assign Team' and 'Assigned to'.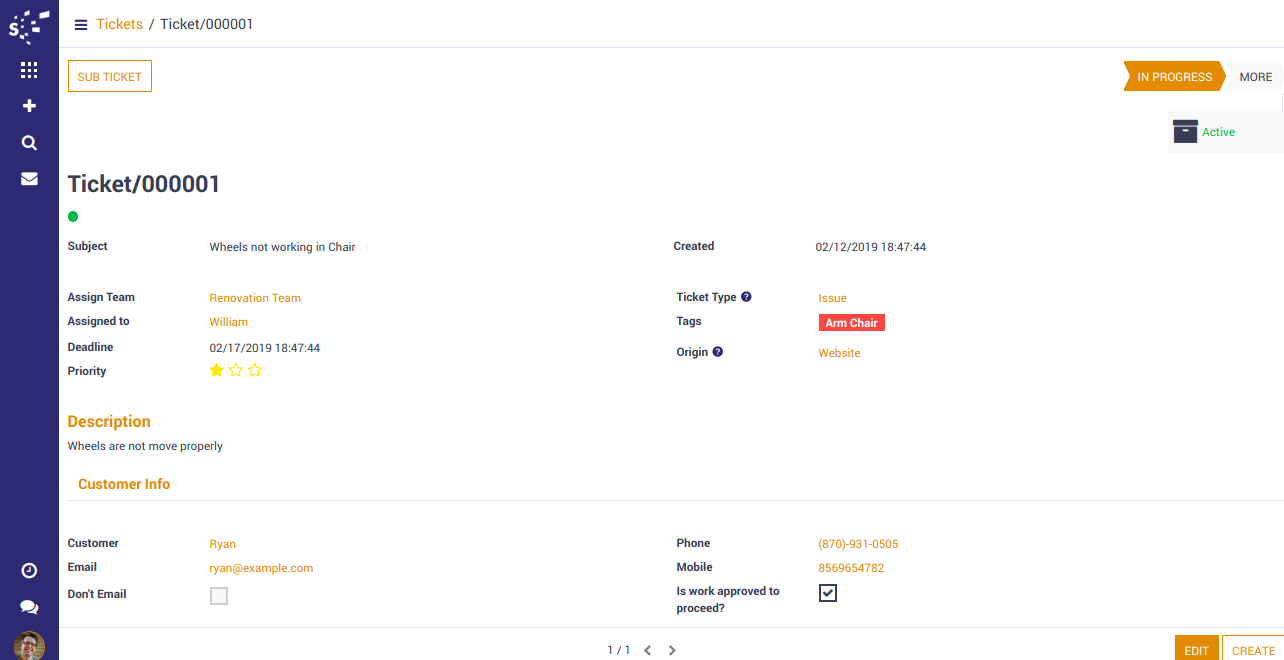 Sub Ticket Information
To create a sub-ticket for a specific task, click on 'Sub Ticket' button.
Fill necessary information and assigned the sub-ticket to the concerned person.
Field Description
| | |
| --- | --- |
| Technical Team: | By default the current team is selected, but a new team could be assigned or changed. |
| Assigned to: | Select team member name. |
| Subject: | The subject content can be changed or modified, by default which is copied from the main ticket.                      |
| Priority: | Ticket priority can be set. |
| Description: | Ticket description can be mention for reference or ticket resolution. |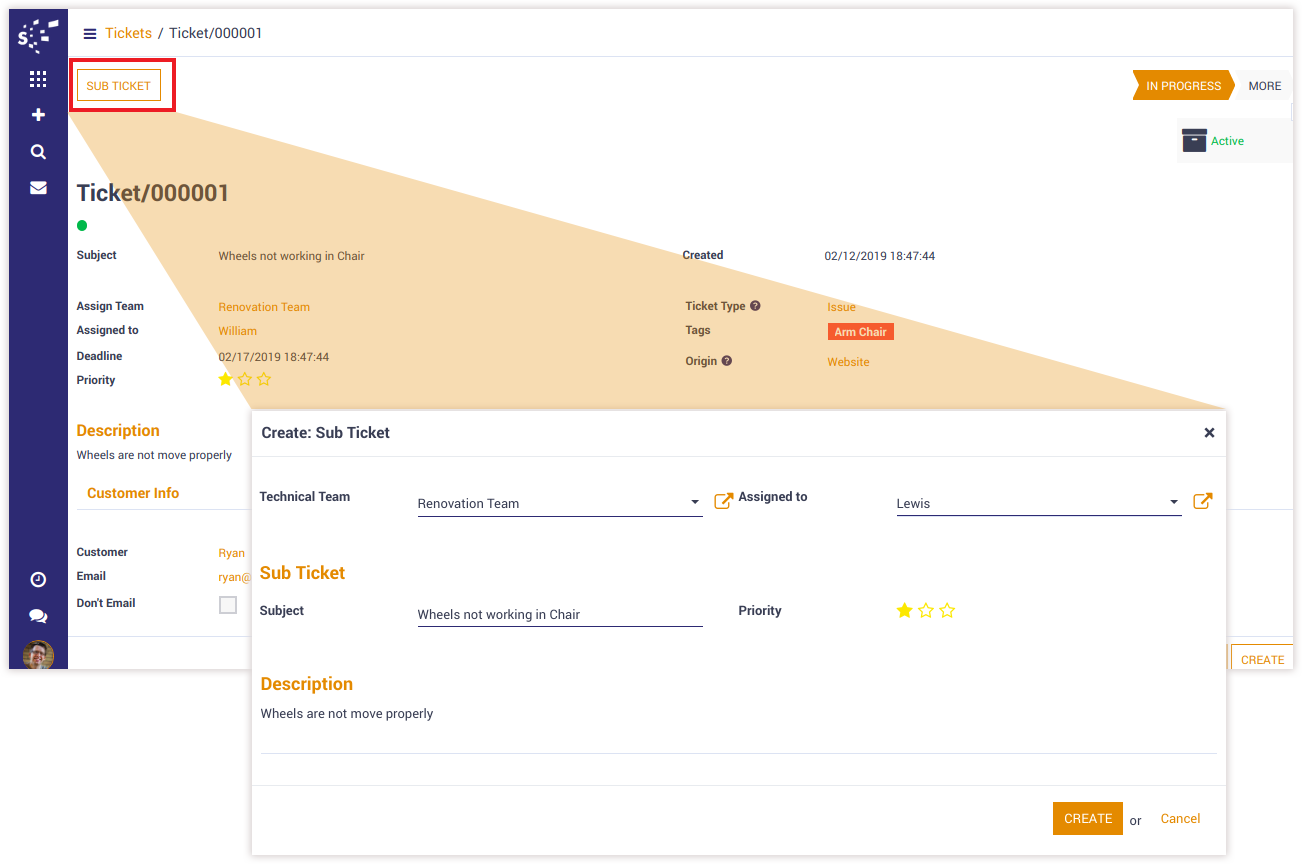 After Creating Sub Ticket
From the main ticket sub-ticket status can be checked.
Notes:

All the apps are to be purchased separately, for individual versions and individual edition.
One month free bug support period will be offered pertaining to any one server used, testing or live.
Synconics is only responsible for providing the module zip file on your registered email, purchased from our app store or directly through our company.
Synconics is not responsible for installation or updating of the module on any of your server.
If an error appears in our app due to other custom modules installed in your system or if Odoo base source code is not updated on your system, to make it compatible with your source code, we'll charge you for our efforts to resolve those errors and make the module compatible with your source code.
Please refer the document for configuration. If any support is needed for module configuration, installation, updating or any help is needed, it will be considered in paid support.
Please note that you are not allowed to distribute or resell this module after purchase.
This module is tested and working on Odoo vanilla with Ubuntu OS.
Support services will be provided from Monday to Friday, 10:30 AM to 7:30 PM IST (Indian Standard Time).
Support will not be provided during Indian public holidays or company holidays.
---
This is a preview of the recently viewed products by the user.
Once the user has seen at least one product this snippet will be visible.
Recently viewed Apps