Repair Service - Website Slider(Videos, Presentations & Documents)
App Description Page
Repair Service - Website Slider(Videos, Presentations & Documents)
Now a days customers have fair intenet access through laptops, smart phone and other electronic gadgets. With the fast paced technology the customers look for solution on the internet. The companies can publish videos, document file, ppts & info-graphics pertaining to common issues faced by the customer. This module enables you to publish presentation videos, images and documents directly on your website.
It also provides the portal customers with the ability to rate, comment, share the uploaded content and see detailed statistics like total views, likes/dislikes, total comments and shared on social site.
Key Features
  

Allows support team members to publish solution videos, infographic images, PDF or share a link for Youtube or Google Doc URL through public or private channel.    

 With easy share option on social media platforms.

 Multiple statistics options like views, comments, share, likes/dislikes etc are available.
Create/Configure Channel
To create/configure Channel, go to Website/Configuration/Slides/Channels.
Configure all necessary details and save record.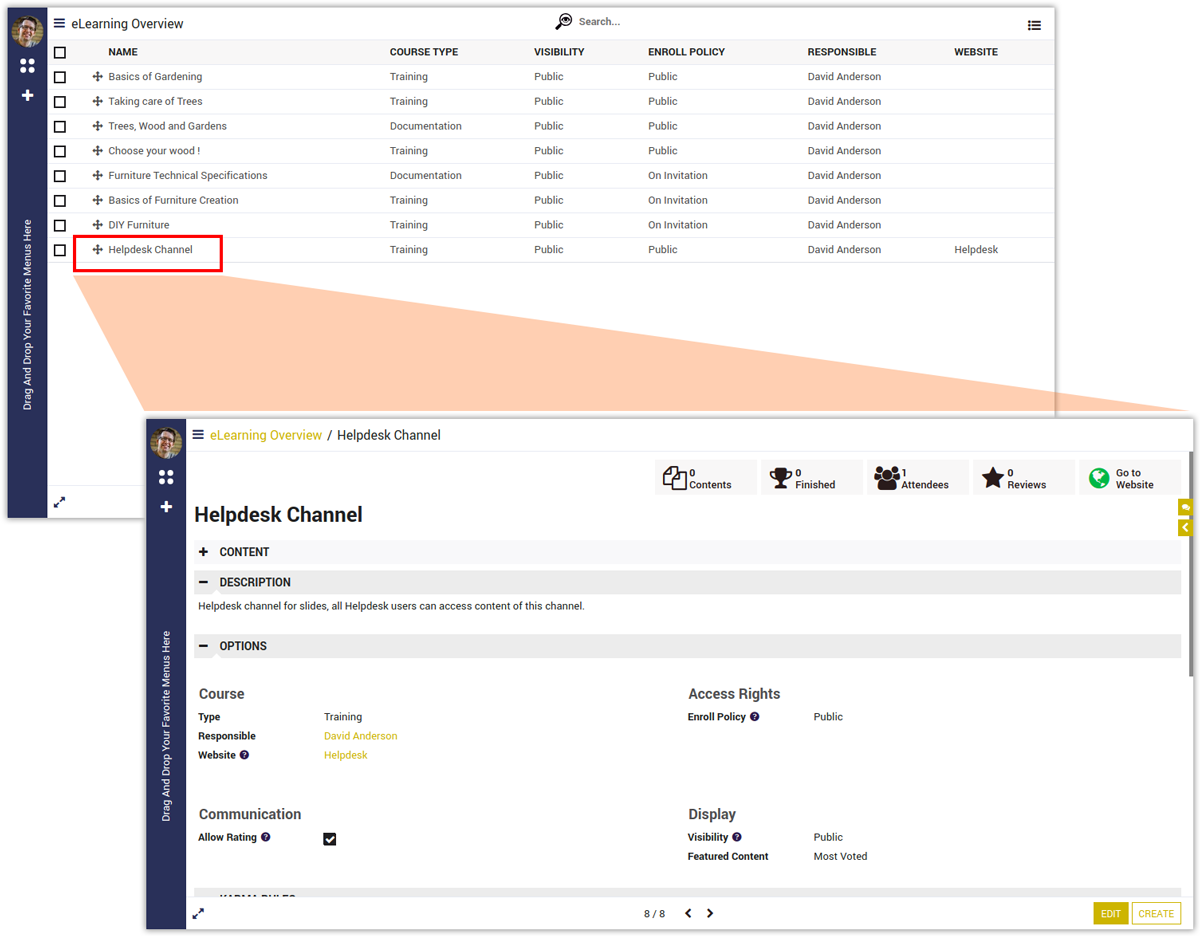 Website Slides Configuation In Helpdesk
To configure Helpdesk Channel, Go to Helpdesk/Configuration
The selected channel data will be visible in the website.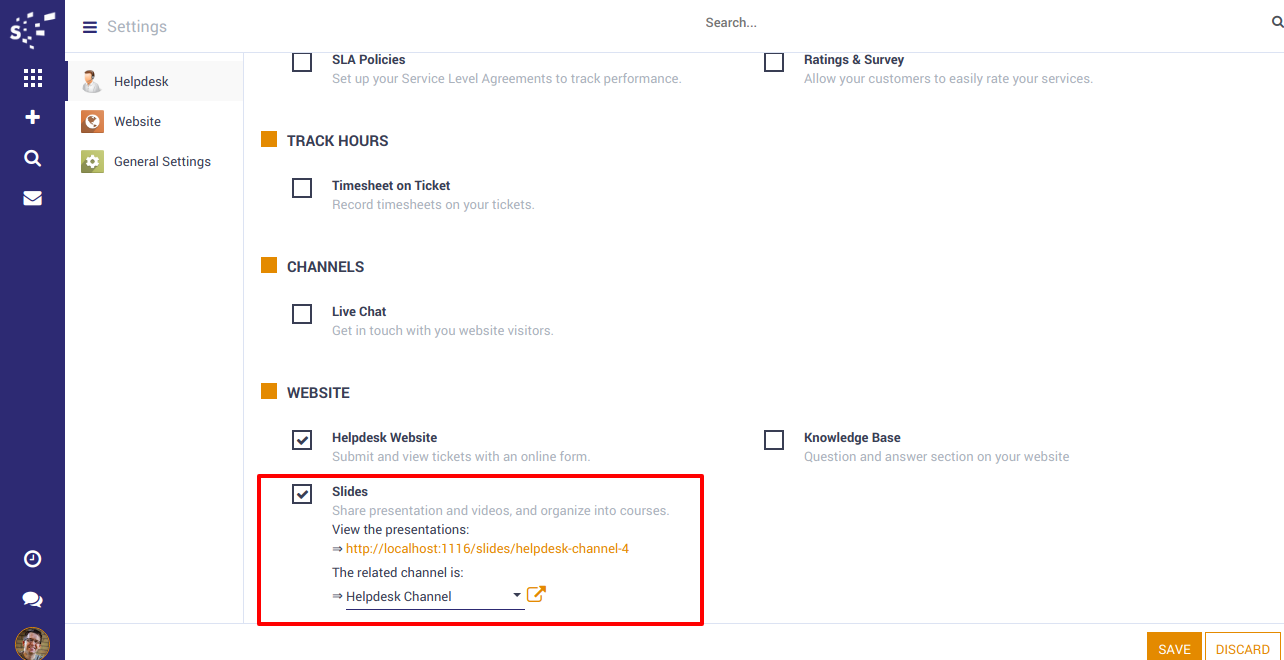 Presentation
The user can find solution through visible channels before generating a ticket.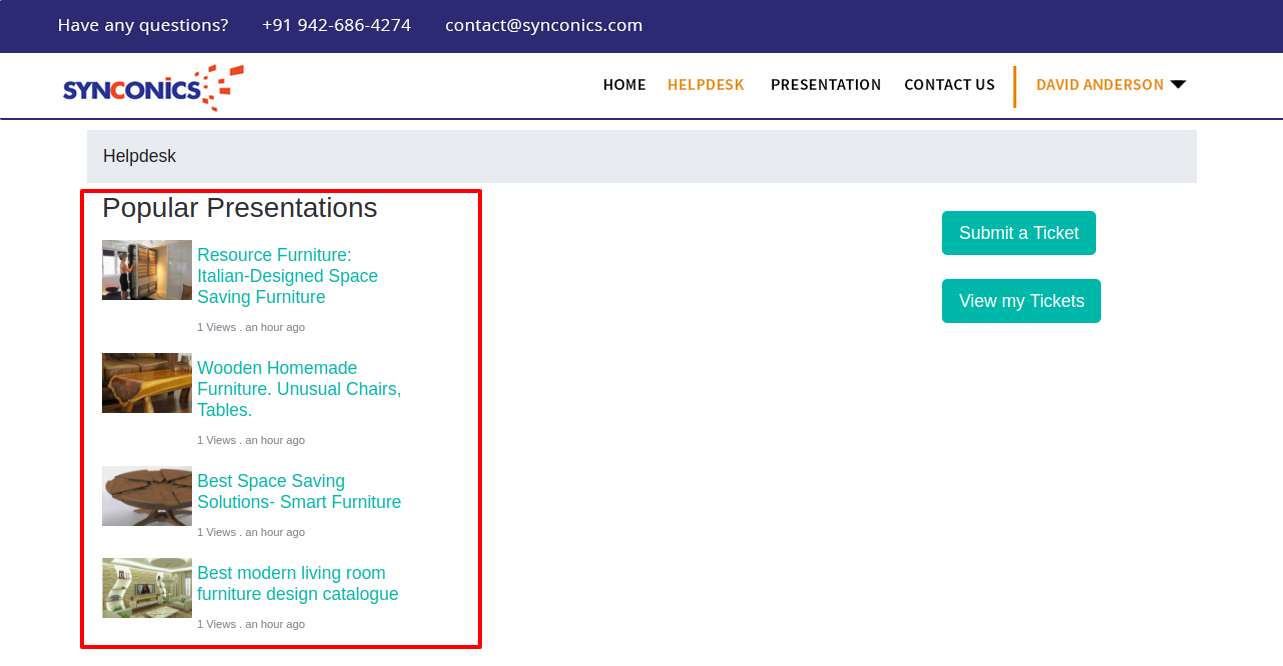 The content can be shared on social media platforms like LinkedIn, Twitter, Facebook, etc.
Provides smart analytics like:
 Views count and traffic origin
 Measures engagement for each upload: total downloads, views, likes/dislikes, comments, social media share count, forwarded on emails, etc.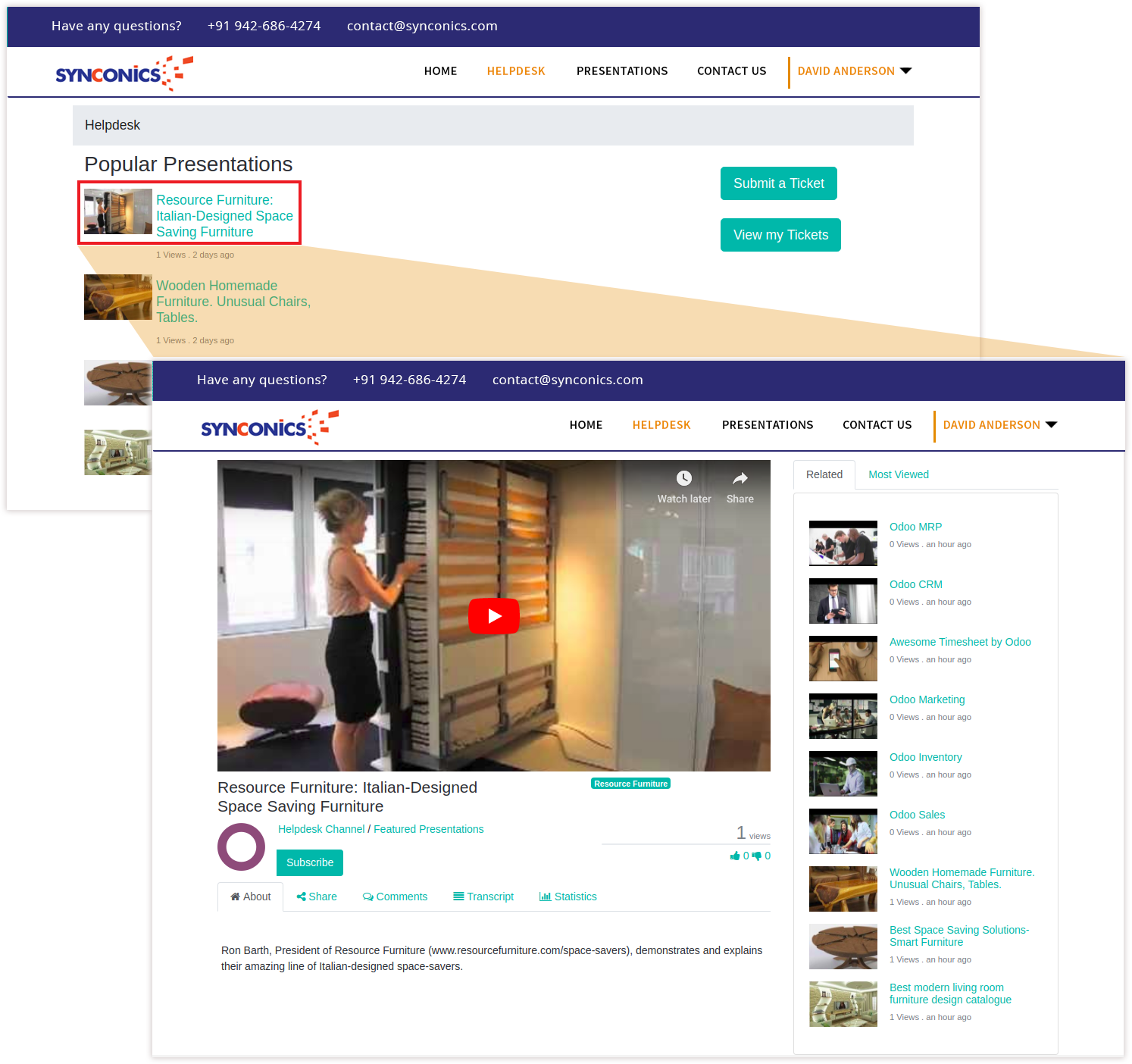 Notes:

All the apps are to be purchased separately, for individual versions and individual edition.
One month free bug support period will be offered pertaining to any one server used, testing or live.
Synconics is only responsible for providing the module zip file on your registered email, purchased from our app store or directly through our company.
Synconics is not responsible for installation or updating of the module on any of your server.
If an error appears in our app due to other custom modules installed in your system or if Odoo base source code is not updated on your system, to make it compatible with your source code, we'll charge you for our efforts to resolve those errors and make the module compatible with your source code.
Please refer the document for configuration. If any support is needed for module configuration, installation, updating or any help is needed, it will be considered in paid support.
Please note that you are not allowed to distribute or resell this module after purchase.
This module is tested and working on Odoo vanilla with Ubuntu OS.
Support services will be provided from Monday to Friday, 10:30 AM to 7:30 PM IST (Indian Standard Time).
Support will not be provided during Indian public holidays or company holidays.
---
This is a preview of the recently viewed products by the user.
Once the user has seen at least one product this snippet will be visible.
Recently viewed Apps