App Description Page
Inter Warehouse Transfer
This application benefits inventory managers & users to transfer different products related stock between multiple warehouses managed under a same company
Here approval of a responsible person for example inventory manager will be required for internal warehouse stock transfer requests generated by different inventory users.
Key Features
Internal stock transfer operations are handled effectively within multiple warehouses of same companies.

Approval of a responsible person will be required for internal warehouse stock transfer requests generated by different inventory users.

Internal stock transfers will be managed easily and efficiently.

Easily change product location while receiving product.

Approve user transfer request by Inventory Manager.
Orders Creation
Menu Sequence: Inventory -> Internal Warehouse Transfer -> Inter Transfer
Inventory user has rights for create an internal transfer order between inter warehouse locations.
From Source Location - SWH/Stock
To Destination Location - GWH/Stock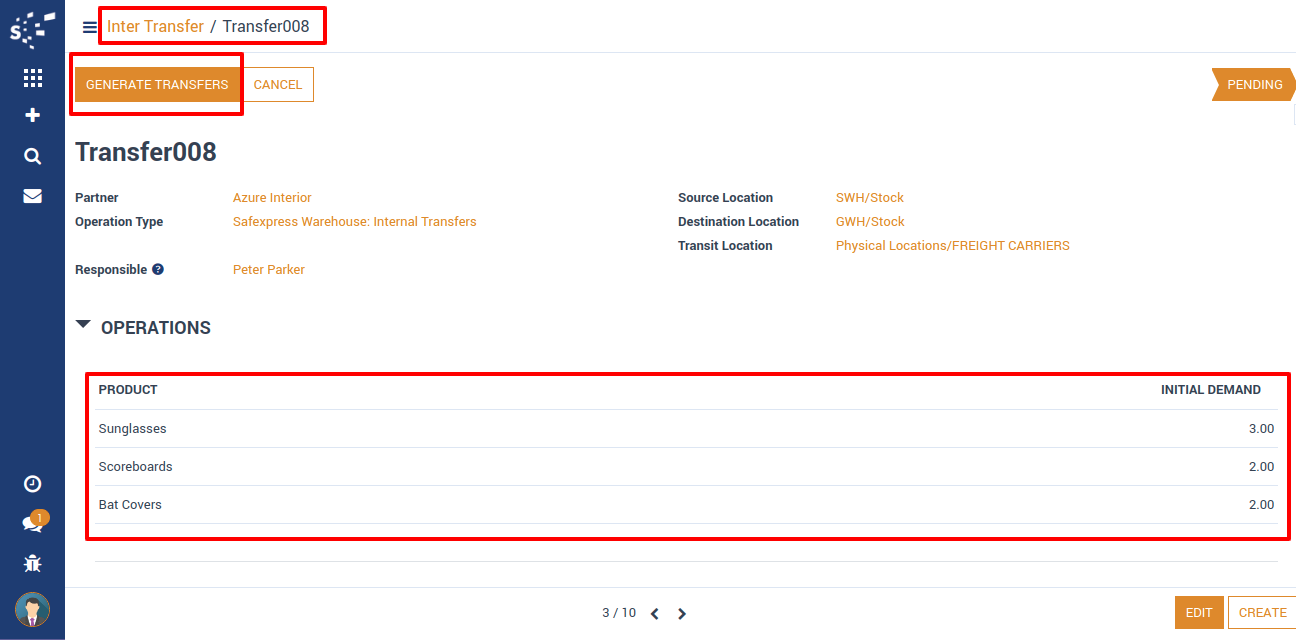 View Create Transfer Order
By clicking on "GENERATE TRANSFER" button system will create transfers according to selected locations.

System will create 2 Transfers.


1. Source location to Transit location.
2. Transit location to Destination location.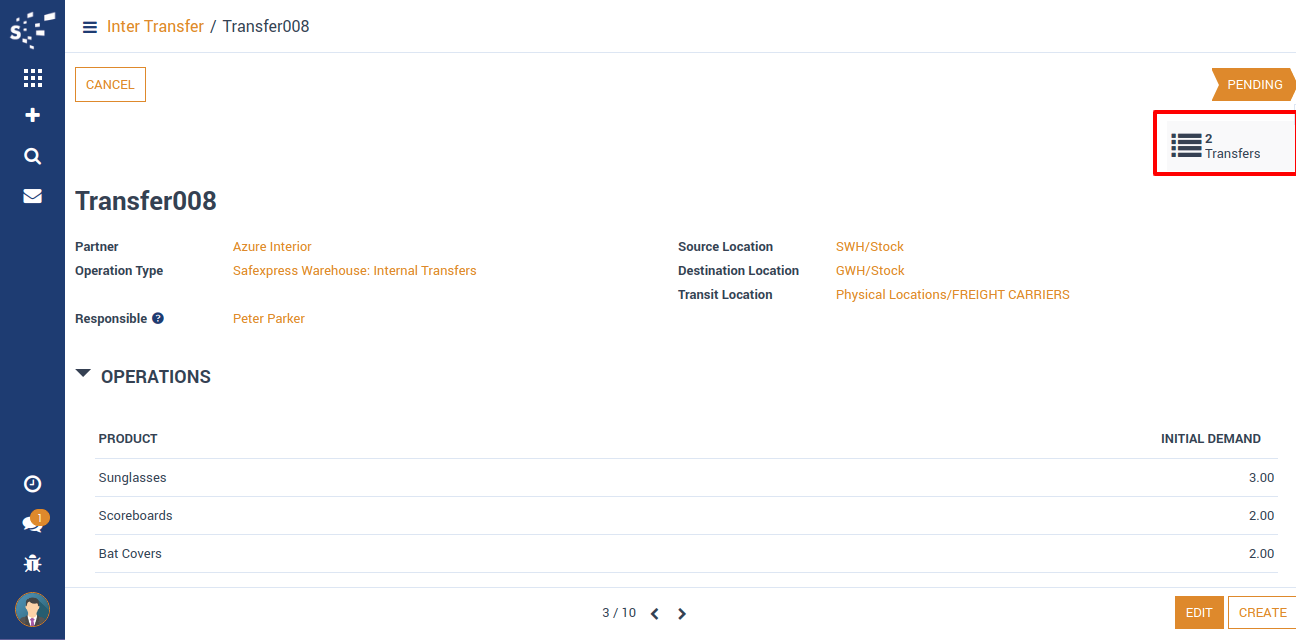 Select Transfer Orders
By clicking on transfer records inventory users will be able to manage and proceed it ahead.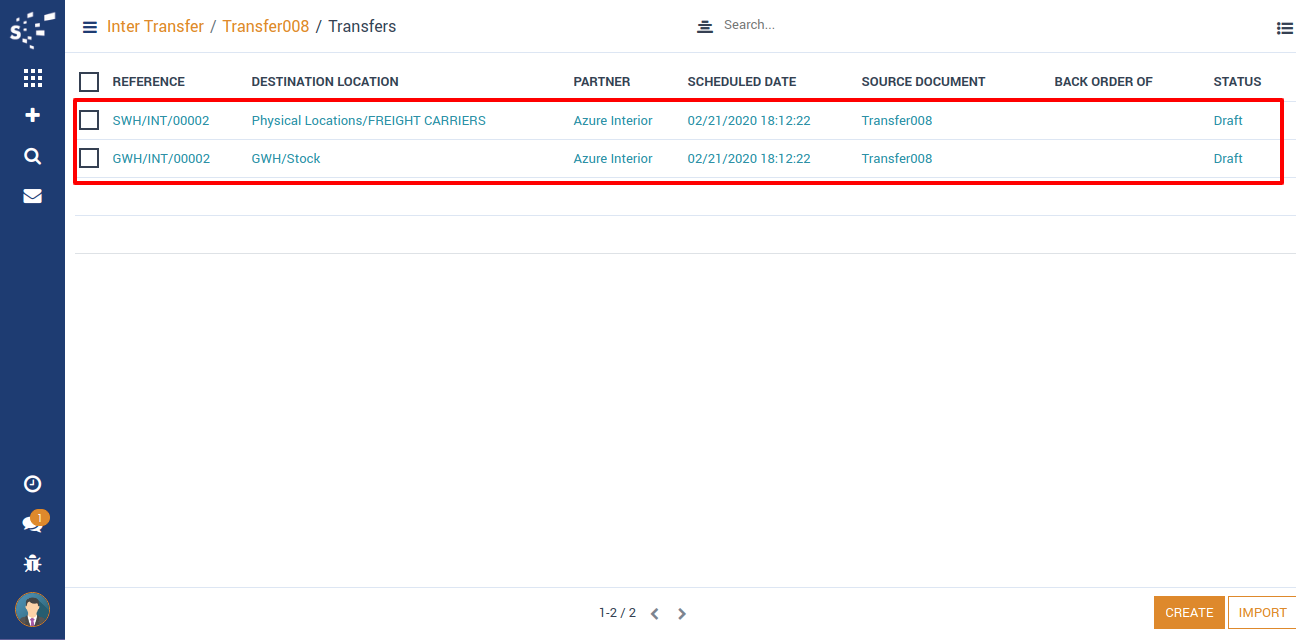 Validate Transfer Order
Inventory user will validate transfer orders.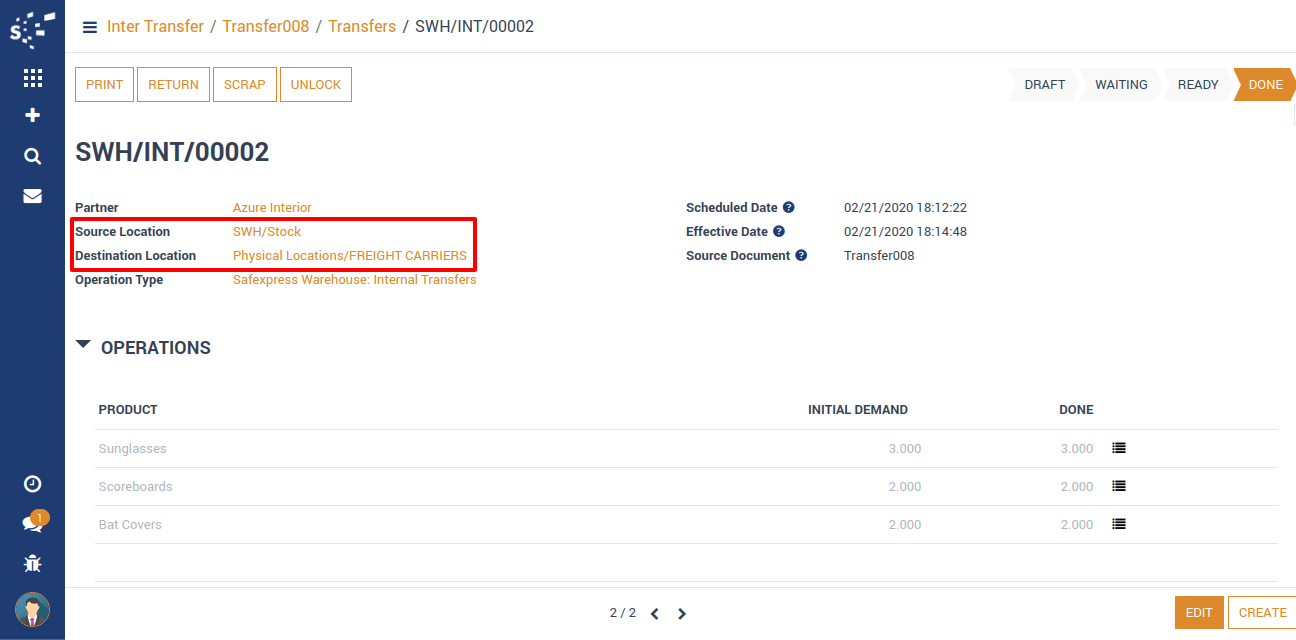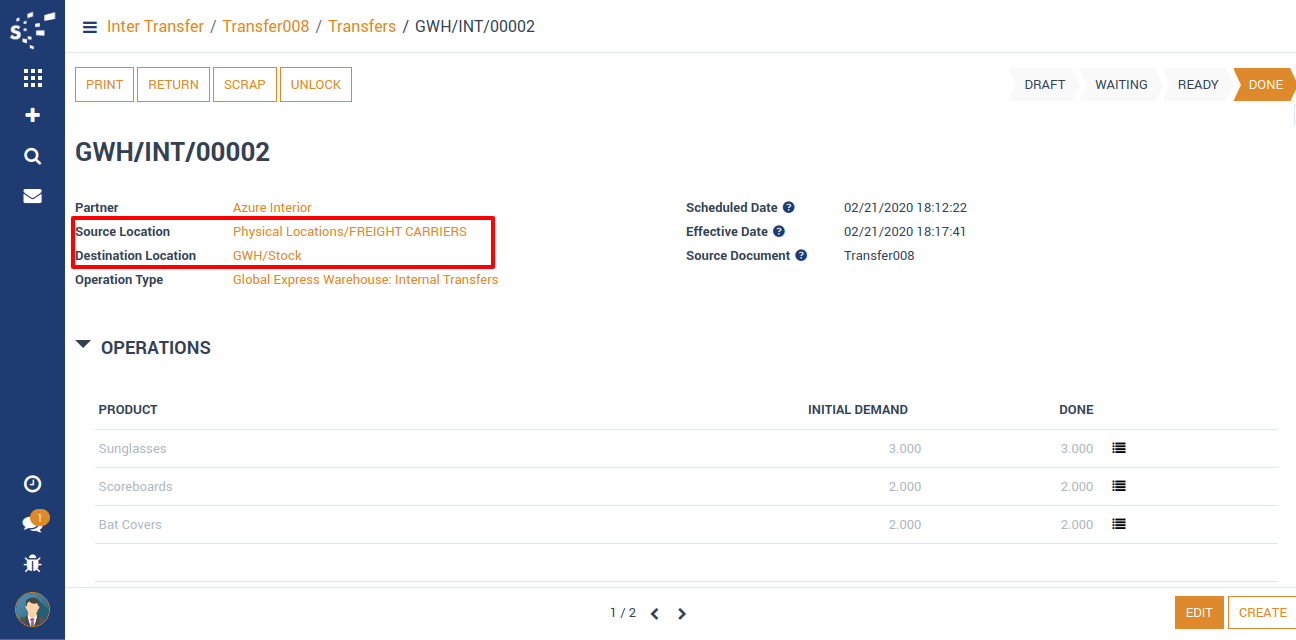 Configuration For Inter Warehouse Transfers Approval
Menu Sequence: Inventory -> Settings
Select 'Approve Inter Warehouse Transfers' option to enable approval flow for internal warehouse transfer.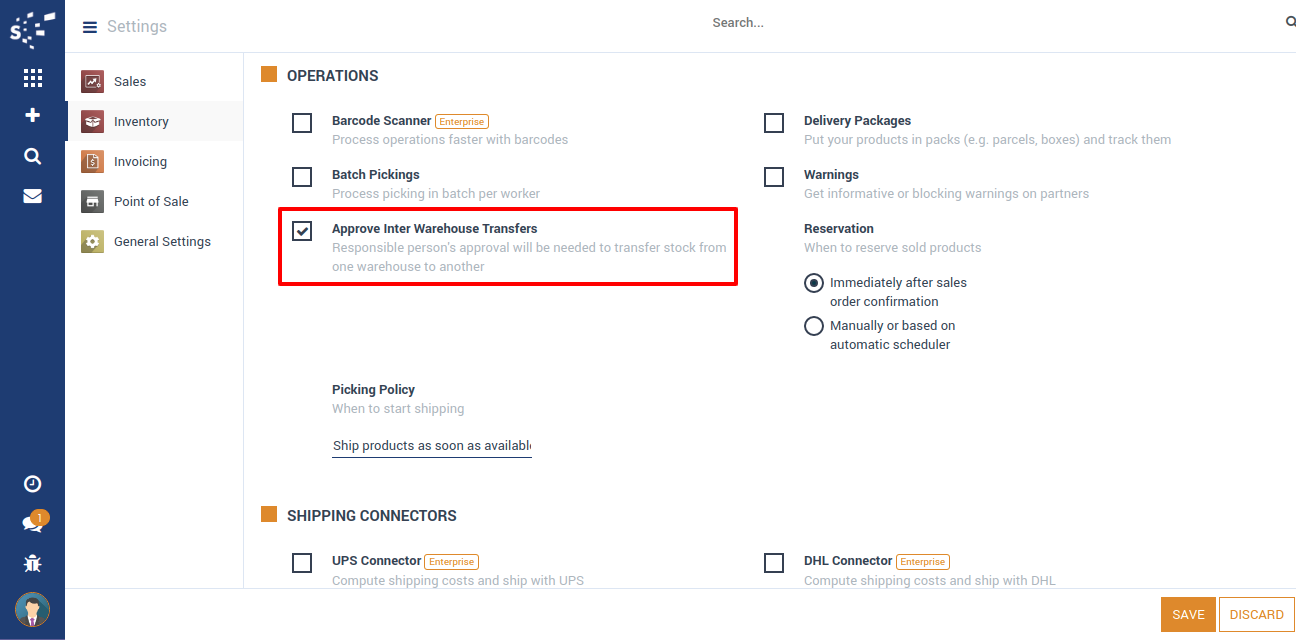 Confirm Inter Warehouse Transfer Orders
Inventory user are able to create request for Internal Transfer.

Inventory Manager have rights for Approve user request.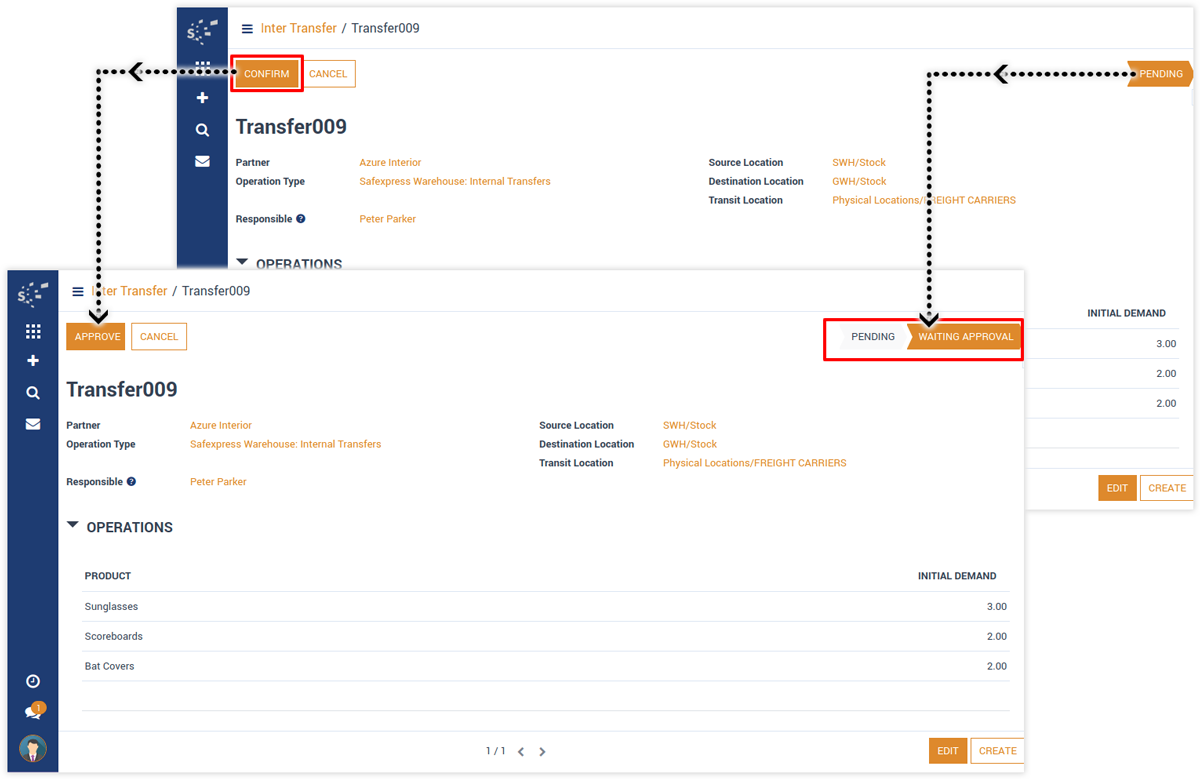 Generate Inter Warehouse Transfers
After approval of a responsible person inventory users will be able to generate transfers by clicking on 'GENERATE TRANSFERS' button.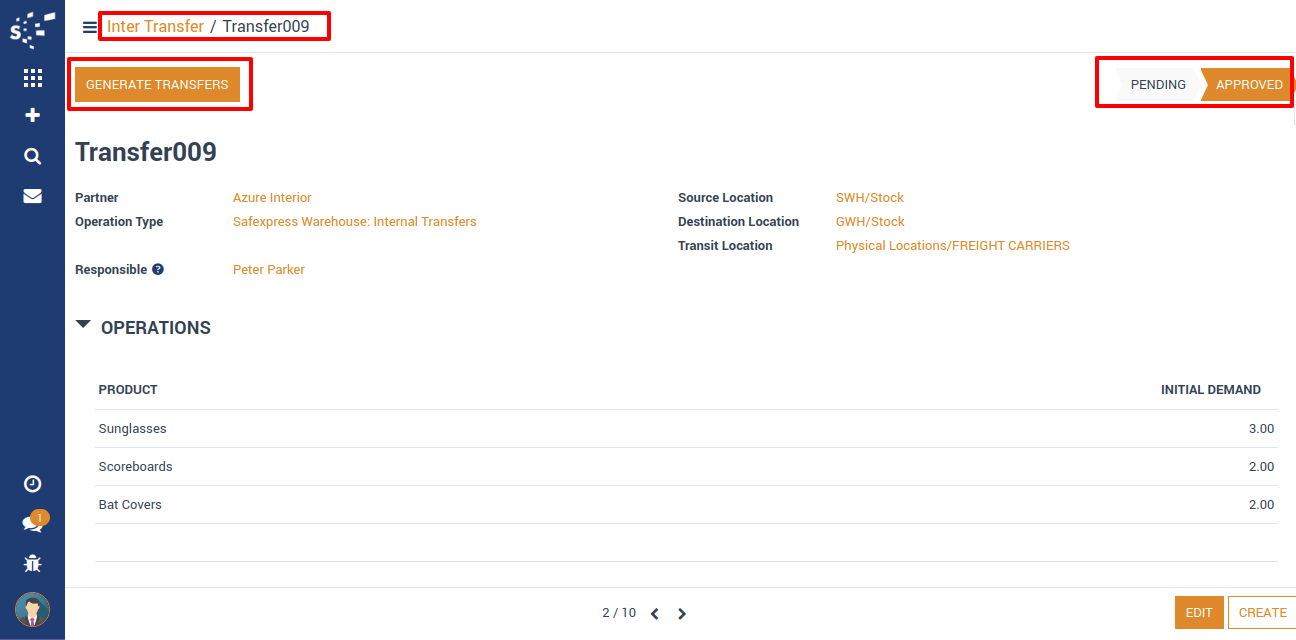 Notes:

All the apps are to be purchased separately, for individual versions and individual edition.
One month free bug support period will be offered pertaining to any one server used, testing or live.
If an error appears in our app due to other custom modules installed in your system, we will charge for our efforts to resolve those errors.
Please refer the document for configuration. If you need our support for configuration, please request our paid support.
Please note that you are not allowed to distribute or resell this module after purchase.
This module is tested and working on Odoo vanilla with Ubuntu OS.
Support services will be provided from Monday to Friday, 10:30 AM to 7:30 PM IST (Indian Standard Time).
---
This is a preview of the recently viewed products by the user.
Once the user has seen at least one product this snippet will be visible.
Recently viewed Apps