App Description Page
Inventory Stock Nearest Warehouse
In huge industries to manage inventory effectively, different warehouses are situated at different remote locations.
This Application facilitates inventory users to bifurcate and manage different warehouses for customer requests coming from different physical areas / postal codes for example Los Angles, San Fransisco, New York etc.
Here inventory users will also be able to define multiple nearest warehouses in a single warehouse configuration so that if any inventory will not available in defined warehouse than system will map and define respective warehouse automatically for available quantity as configured to fullfill inventory demand.
Key Features
Bifurcate and manage different warehouses by postal or zip codes defined on customers

Assign multiple nearest warehouses in a single warehouse configuration

When products quantity lacks than system will map and define respective nearest warehouses zip code wise automatically to fullfill inventory demand

Flexibility to change warehouse on sales order lines according to inventory user's choice

Easy configuration

Also work for Lot and Serial number wise products tracking

Now no more headache to manage huge and complex inventory process
Inventory Nearest Warehouse
For configuration, Go to Inventory-> Configuration-> Warehouses
Here Inventory managers will configure every warehouse by defining zip code range and nearest warehouses
For example here warehouse Americold will be managed for customer requests coming between 400001 - 400005 and 410001 - 410005 zip code range
Also 3 warehouses are defined as nearest warehouses for Americold here
So when any product quantity will not be available in warehouse Americold then system will search in defined respective nearest warehouses zip code wise automatically.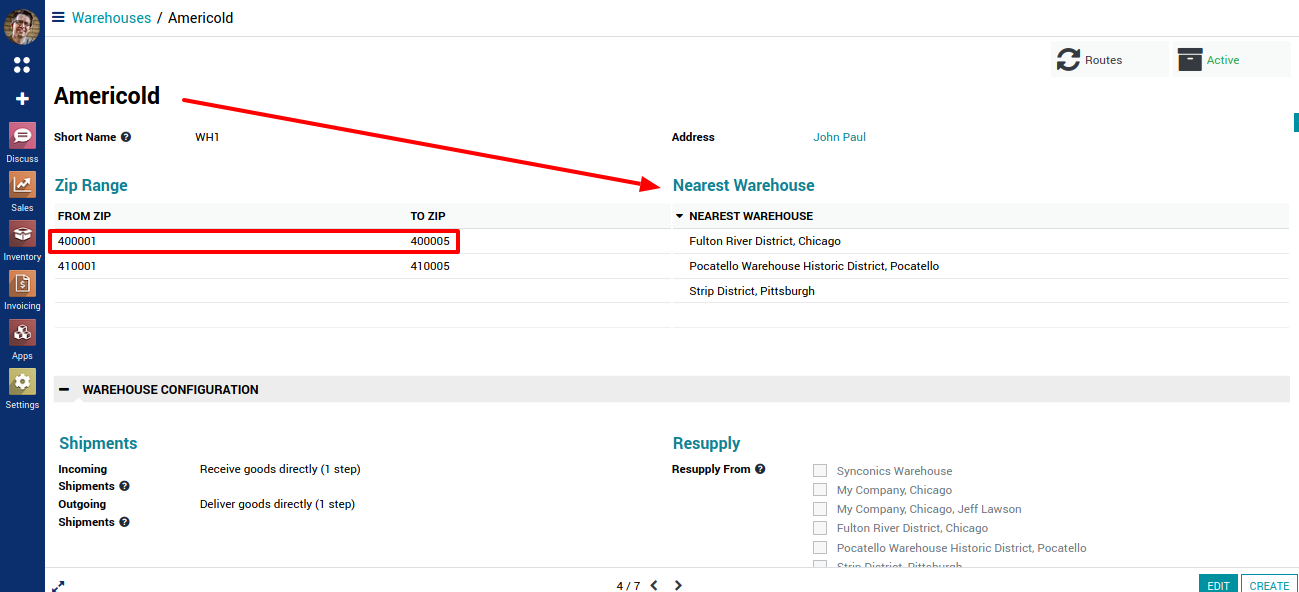 Here one customer John Pual is created in the system with zip code as 400001.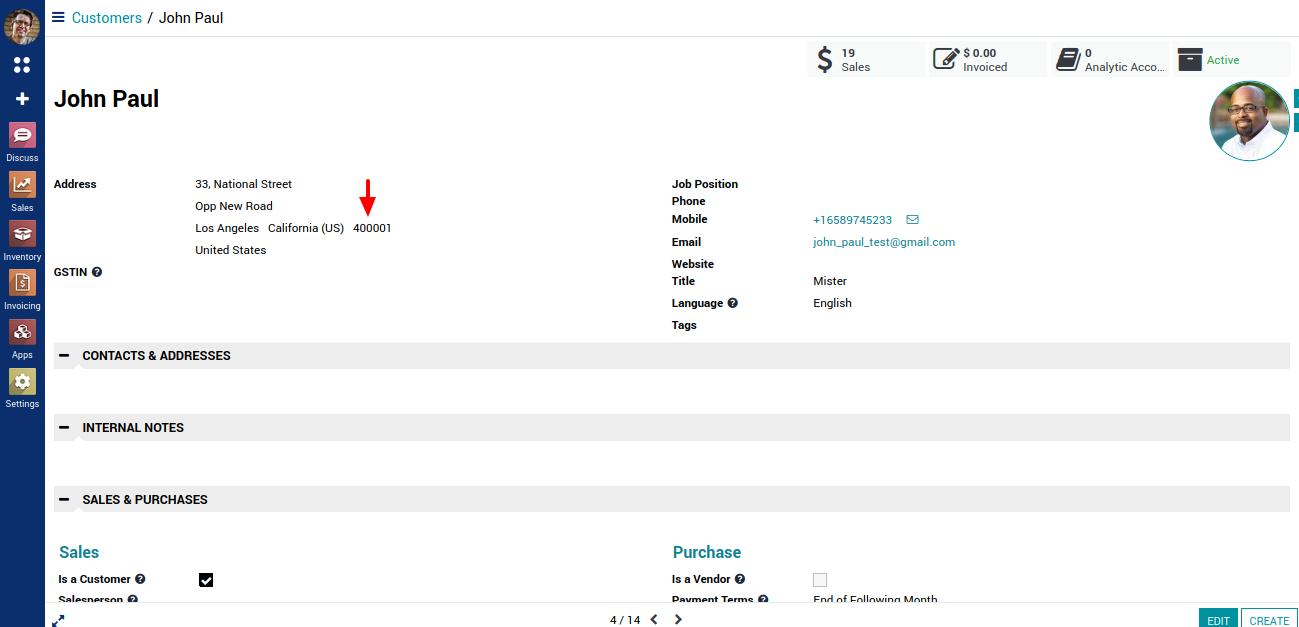 So when a sales order is generated from the customer named John Paul then for product lines system has mapped and defined nearest warehouses zip code wise automatically for non available products quantity here.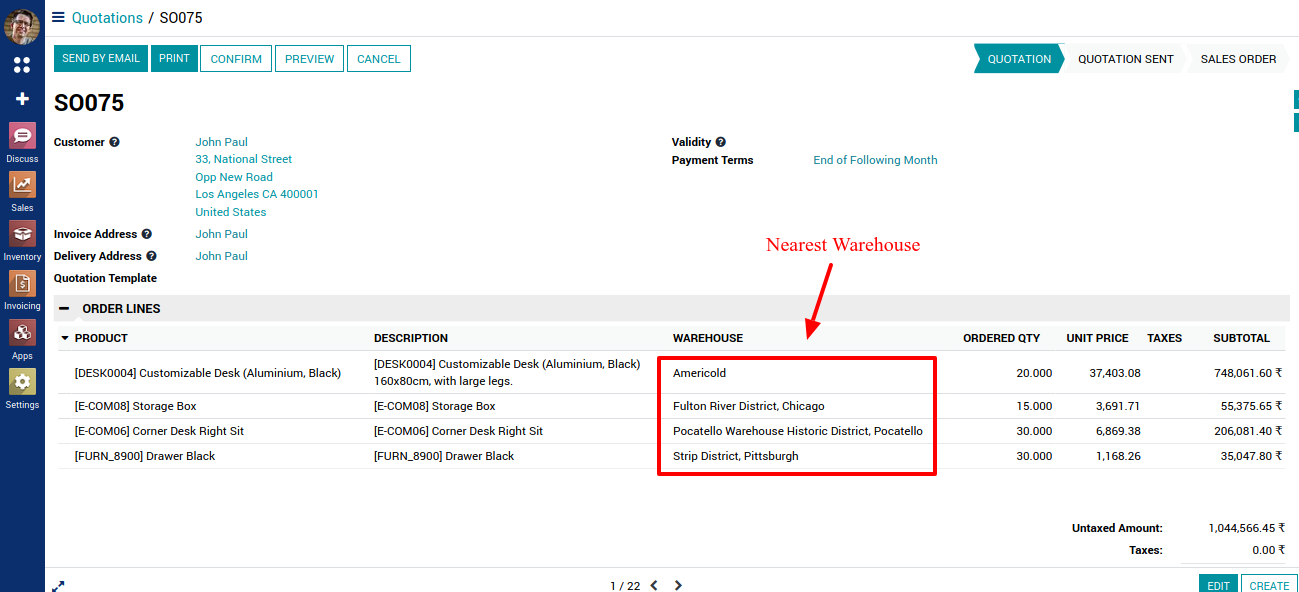 When system will not find products available quantity from nearest warehouses then it will define default warehouse automatically in respective sales order lines.
For example Synconics Warehouse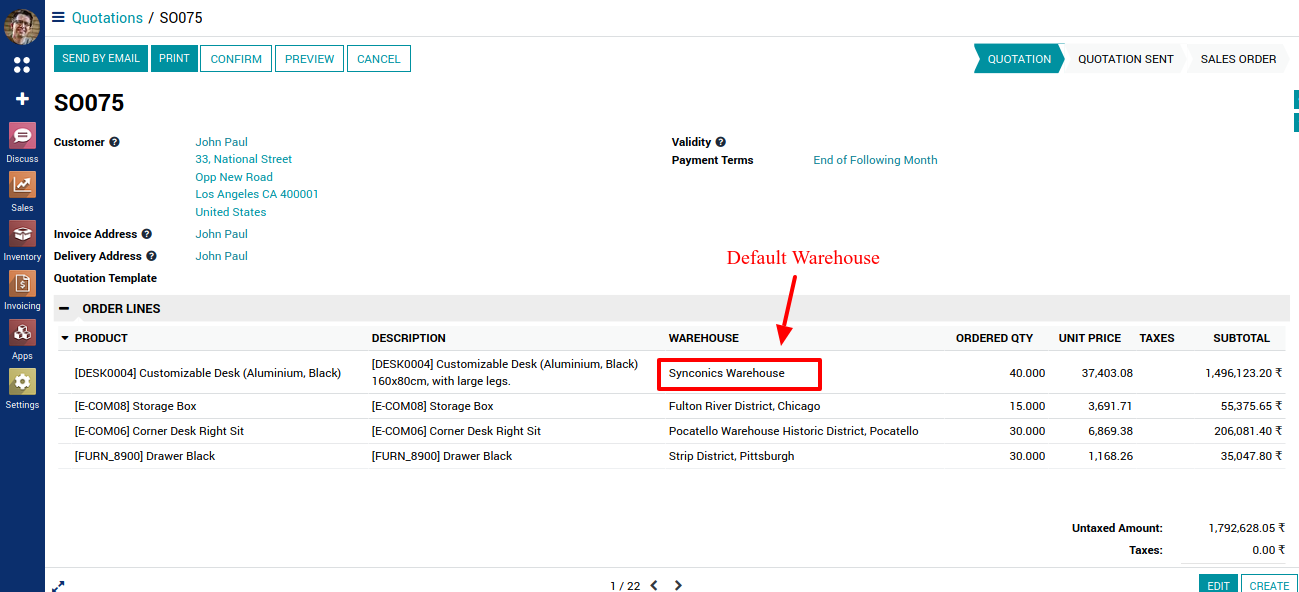 Notes:

All the apps are to be purchased separately, for individual versions and individual edition.
One month free bug support period will be offered pertaining to any one server used, testing or live.
Synconics is only responsible for providing the module zip file on your registered email, purchased from our app store or directly through our company.
Synconics is not responsible for installation or updating of the module on any of your server.
If an error appears in our app due to other custom modules installed in your system or if Odoo base source code is not updated on your system, to make it compatible with your source code, we'll charge you for our efforts to resolve those errors and make the module compatible with your source code.
Please refer the document for configuration. If any support is needed for module configuration, installation, updating or any help is needed, it will be considered in paid support.
Please note that you are not allowed to distribute or resell this module after purchase.
This module is tested and working on Odoo vanilla with Ubuntu OS.
Support services will be provided from Monday to Friday, 10:30 AM to 7:30 PM IST (Indian Standard Time).
Support will not be provided during Indian public holidays or company holidays.
---
This is a preview of the recently viewed products by the user.
Once the user has seen at least one product this snippet will be visible.
Recently viewed Apps