Repair Service - Ticket Intake Form
App Description Page
Repair Service - Ticket Intake Form
The purpose of this form is to collect information from the client. In the initial meeting with the client, ticket manager gathers all the information to address the client's immediate needs and to encourage his/her engagement and retention in services.
User can sign ticket intake form through any touch screen devices like smart phone, tablet etc. The ticket intake form is designed with a step-by-step confirmation process for easy traceability.
This module is compatible with
Community

Enterprise

Odoo.sh
Key Features
It will works in the workflow of the newly generated and existing tickets as well.

Able to get the online ticket confirmation from the customer in the form of signed document.

Allows to download signed document in the PDF format.
Intake Configuration
To configure Intake, go to Helpdesk/Configuration/Tickets/Types.
If the intake ticket type is ticked (configured) then it will be mandatory to fill the intake form. If it is not ticked then intake process can be skipped.
Intake in Ticket
Go to Helpdesk/All Tickets/Tickets.
Send intake confirmation mail to customer after filling details in ticket.
Online confirmation link will be send to customer once the "Send intake by email" button is clicked.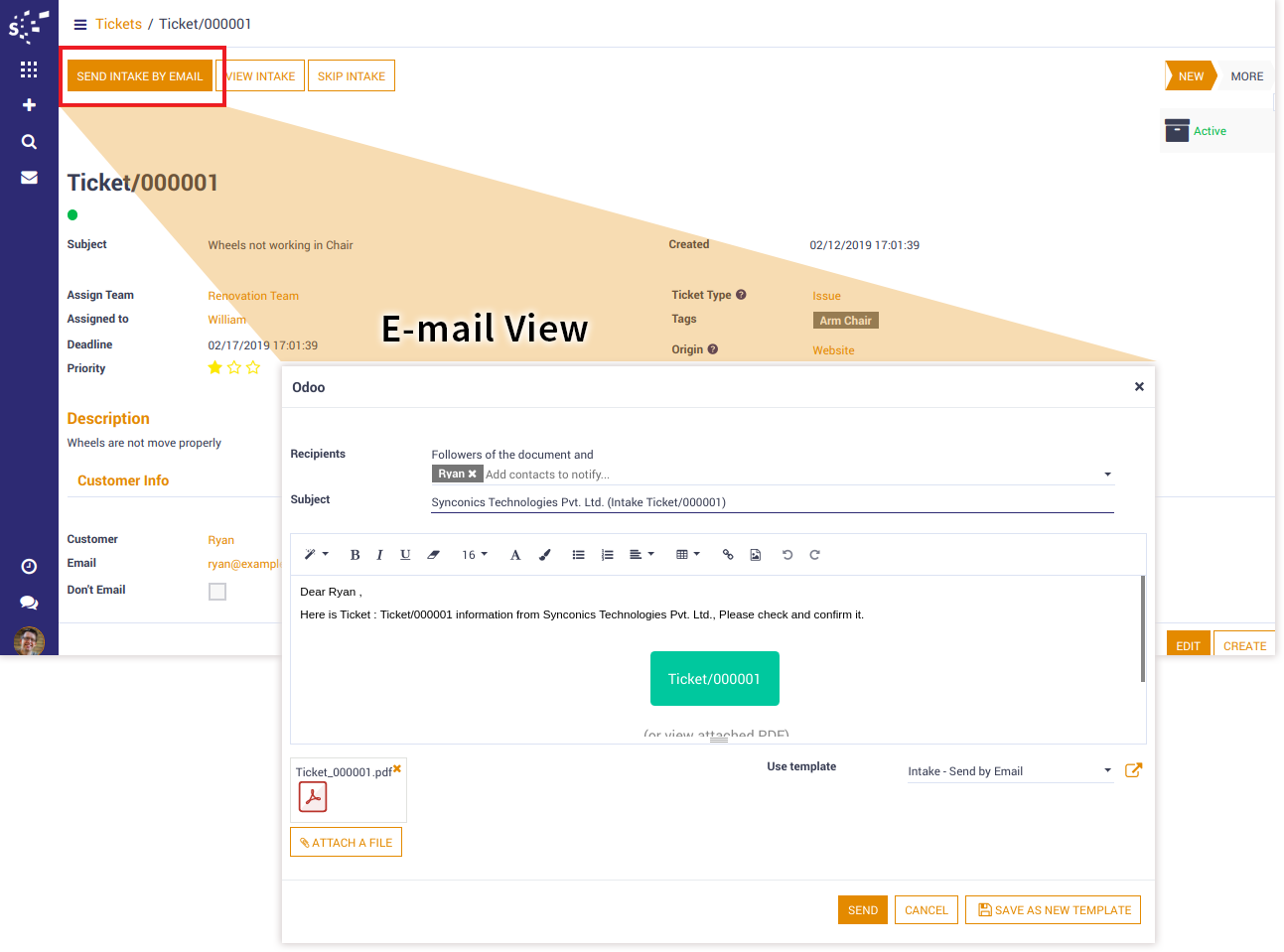 Customer can verify all details on receiving confirmation link.
After confirming the details, customer can Accept or Reject intake conformation.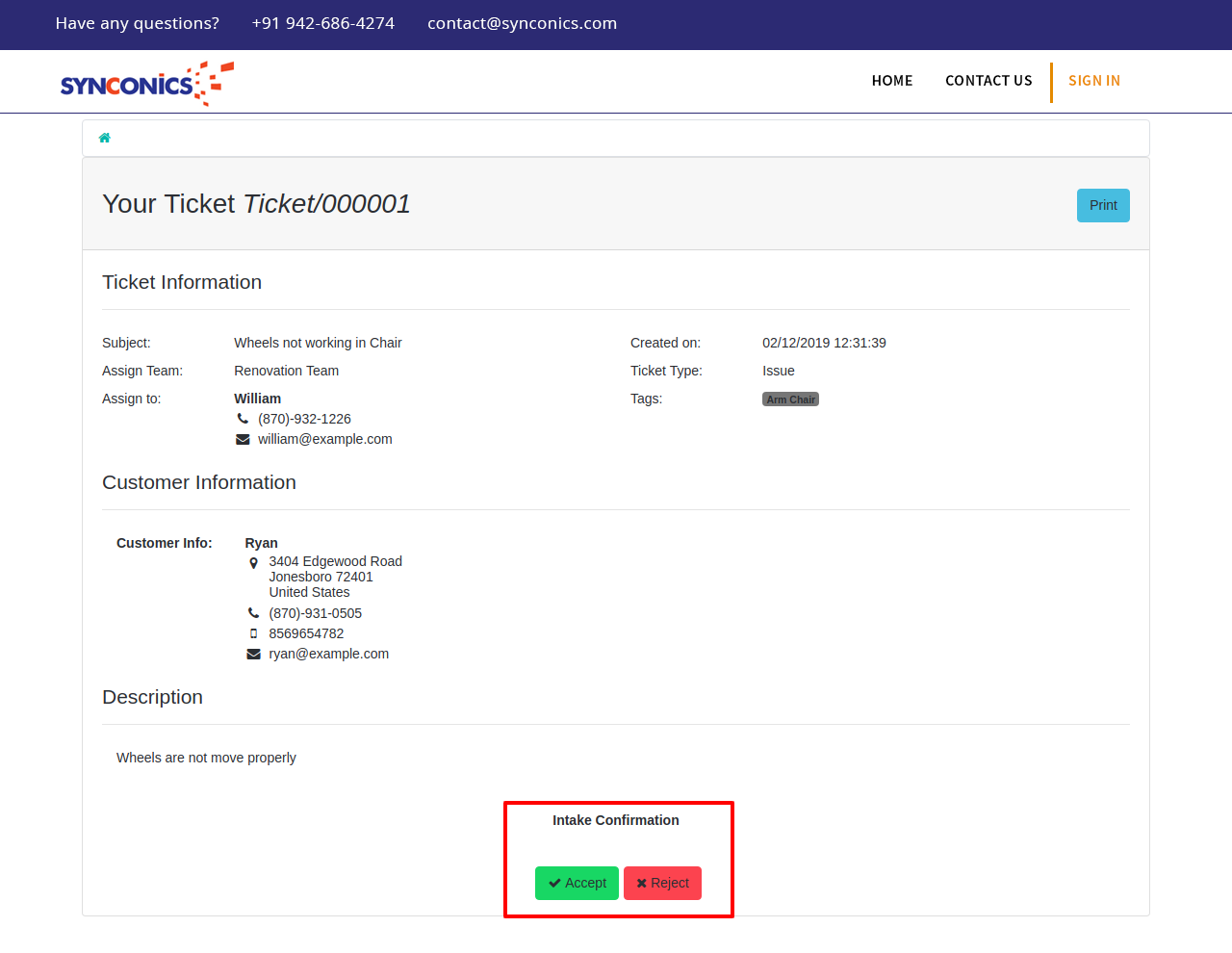 Intake Confirmation Process
On accepting intake confirmation, customer can add their signatures.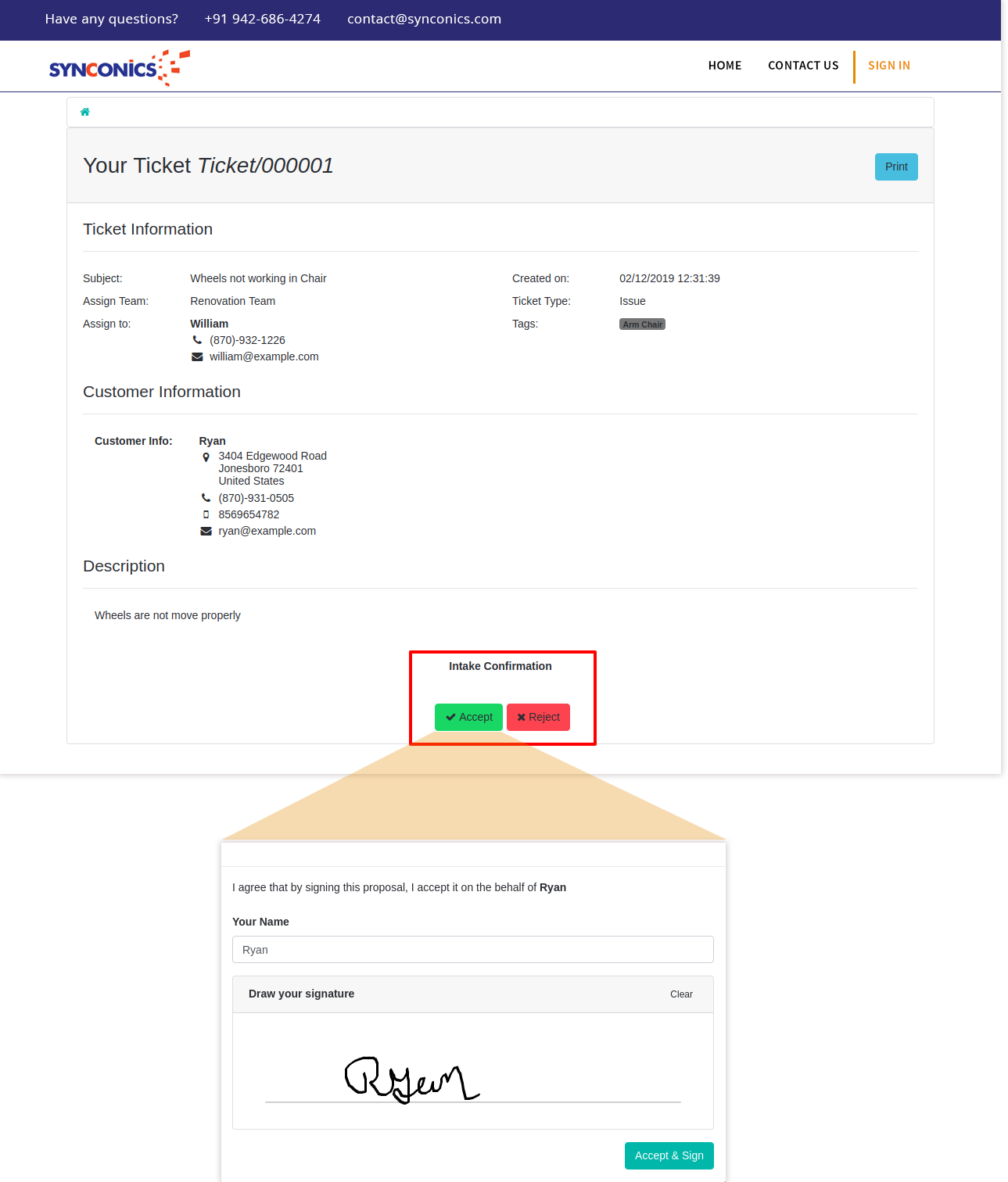 Once customer signs and presses "Accept & Sign" button, the ticket is automatically confirmed.

Customer confirmation signature will appear on intake form.
Option to print & save intake form.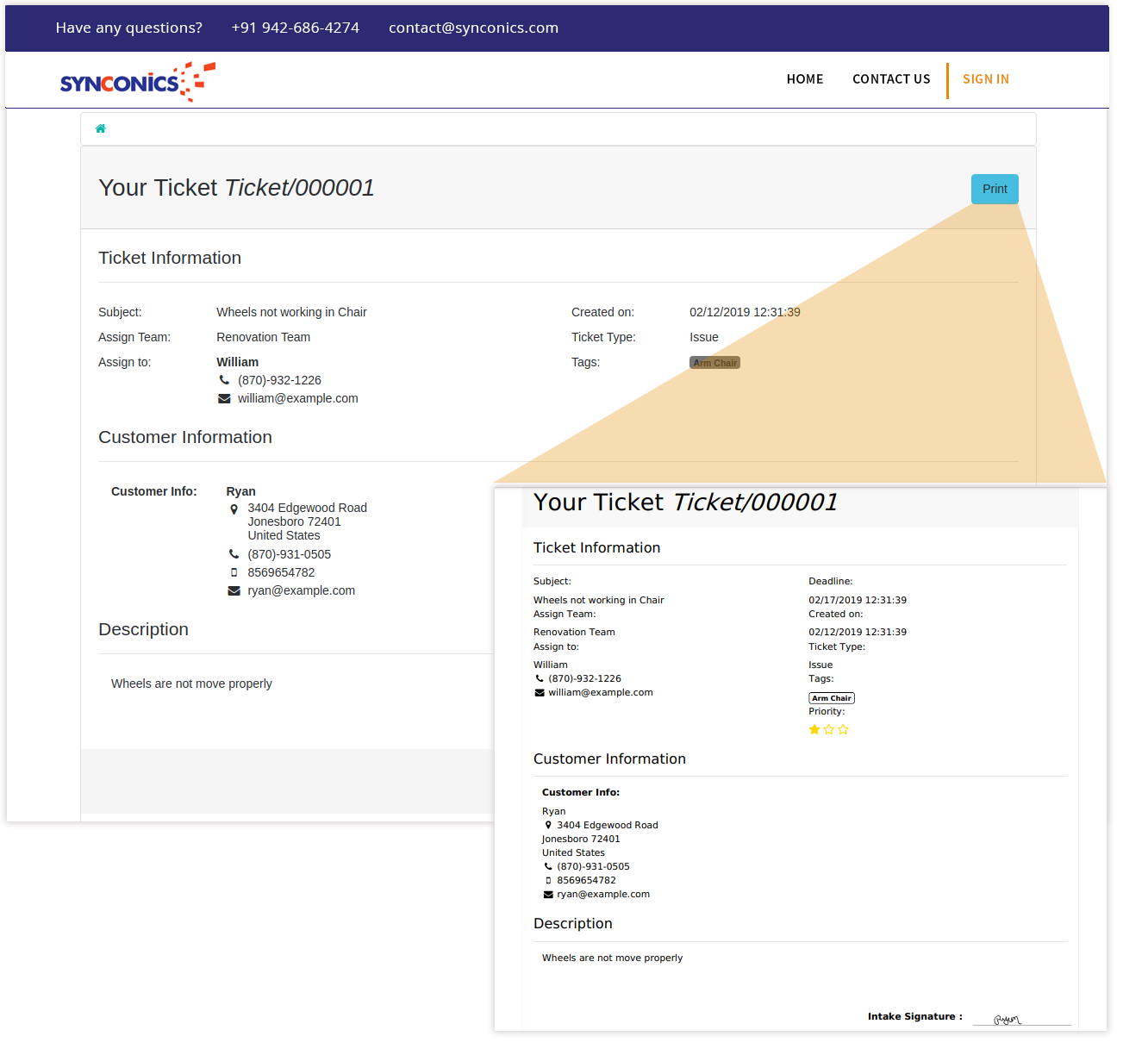 Intake Backend Approved Ticket View
On customer approval, signature is auto attached in ticket & "Is work approved to proceed?" block is automatically ticked.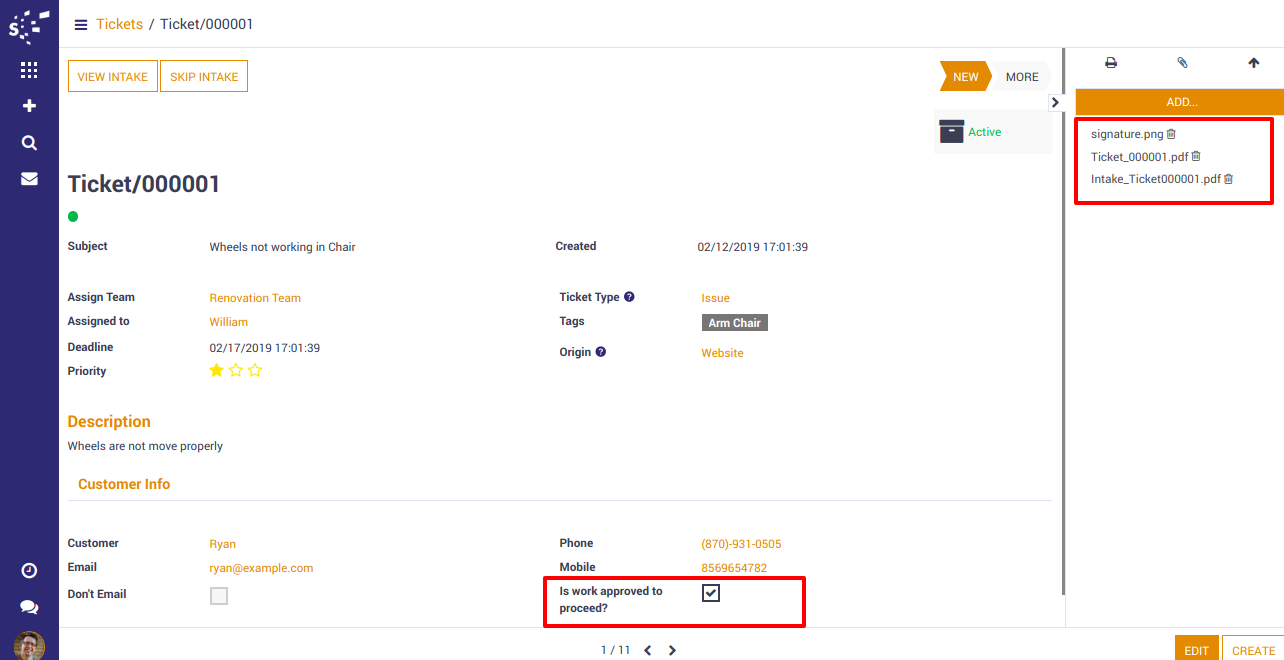 Intake Rejection Process
Customer can reject the intake form through "Reject" button after reviewing the details and specify the reason for rejection.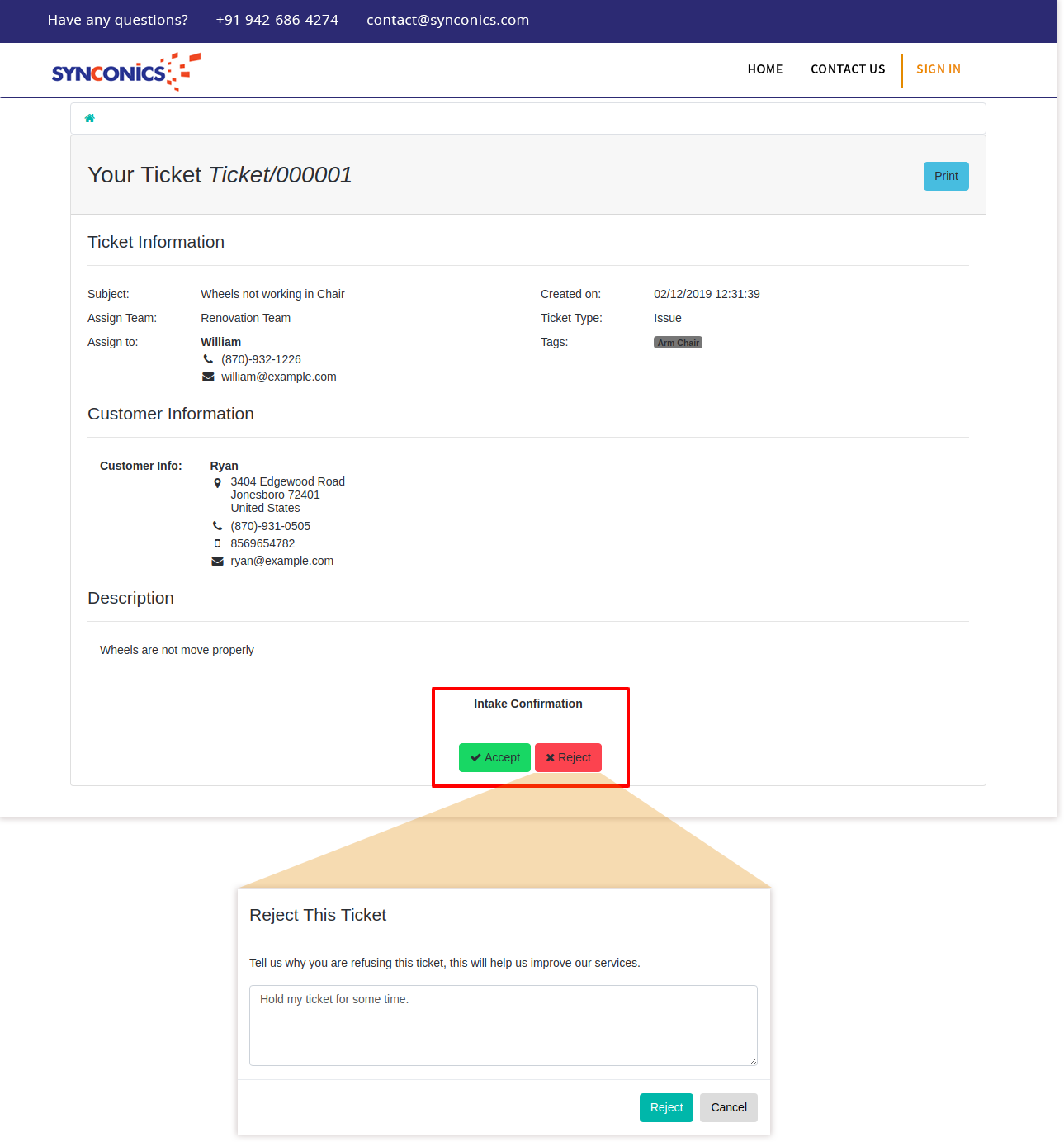 Intake Backend Rejection Ticket View
Once the intake ticket is rejected then it automatically move to cancel stage with rejection reason.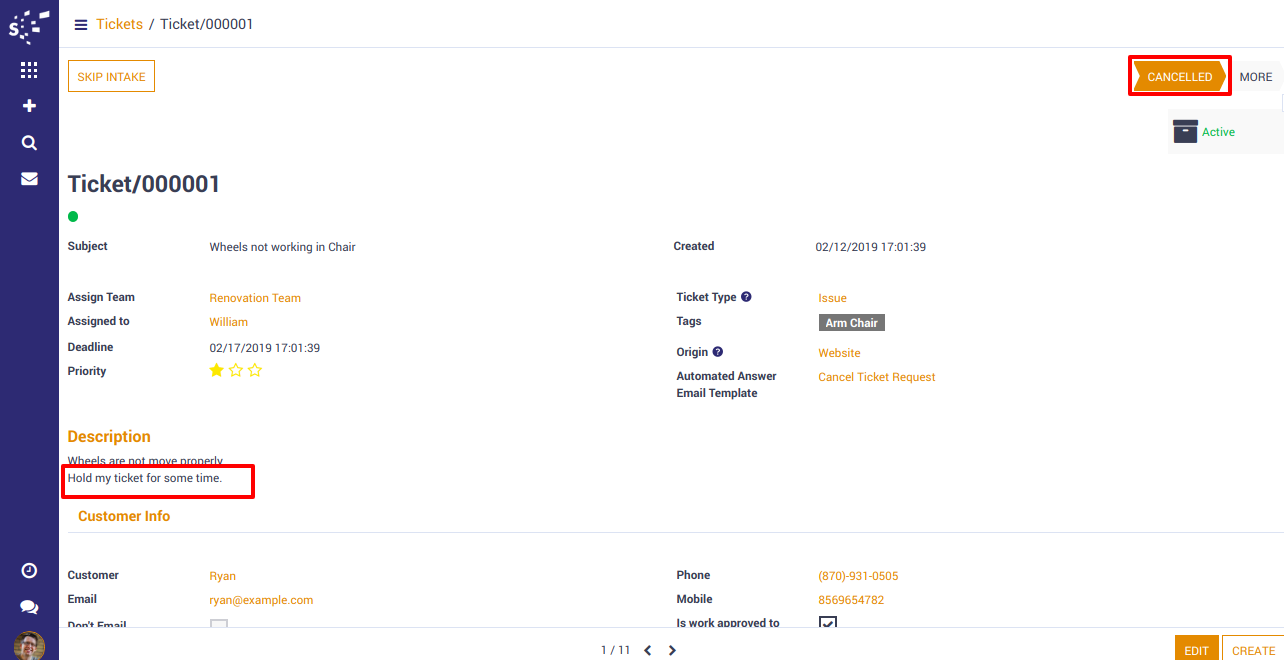 Notes:

All the apps are to be purchased separately, for individual versions and individual edition.
One month free bug support period will be offered pertaining to any one server used, testing or live.
If an error appears in our app due to other custom modules installed in your system, we will charge for our efforts to resolve those errors.
Please refer the document for configuration. If you need our support for configuration, please request our paid support.
Please note that you are not allowed to distribute or resell this module after purchase.
This module is tested and working on Odoo vanilla with Ubuntu OS.
Support services will be provided from Monday to Friday, 10:30 AM to 7:30 PM IST (Indian Standard Time).
---
This is a preview of the recently viewed products by the user.
Once the user has seen at least one product this snippet will be visible.
Recently viewed Apps