Repair Service - Live Chat Support
App Description Page
Repair Service - Live Chat Support
Present day consumer relationship management demands for a multiple platform approach for consumer complaints to be integrated with live chat.
Through live chat customer can communicate with the responsible person handling the ticket. LiveChat is commonly used to provide immediate support and information to customers.
Key Features
 Customers can chat directly with the responsible person related to the product or services.                 

 By entering '/ticket' keyword in the chat window, responsible person can generate a ticket.

 All live chat conversations convert as a ticket's detail description.
Configuration
Add the live chat to an Odoo website If the website is created with Odoo, then the live chat is automatically added to it. All that is left to do, is to go to Website -> Configuration -> Settings to select the channel to be linked to the website.

To configure Channels, go to Livechat/Channels.
Hide / display the live chat according to rules:
Rules for the live chat can be defined on the channel form. For instance, you can choose to display the chat in the countries you speak the language of. On the contrary, you are able to hide the chat in countries your company does not sell in. If you select Auto popup, you can also set the length of time it takes for the chat to appear.

Prepare automatic messages
On the channel form, in the Options section, several messages can be typed to appear automatically on the chat. This will entice visitors to reach you through the live chat.

Start chatting with customers
In order to start chatting with customers, first make sure that the channel is published on your website. To do so, select Unpublished on Website on the top right corner of the channel form to toggle the Published setting. Then, the live chat can begin once an operator has joined the channel.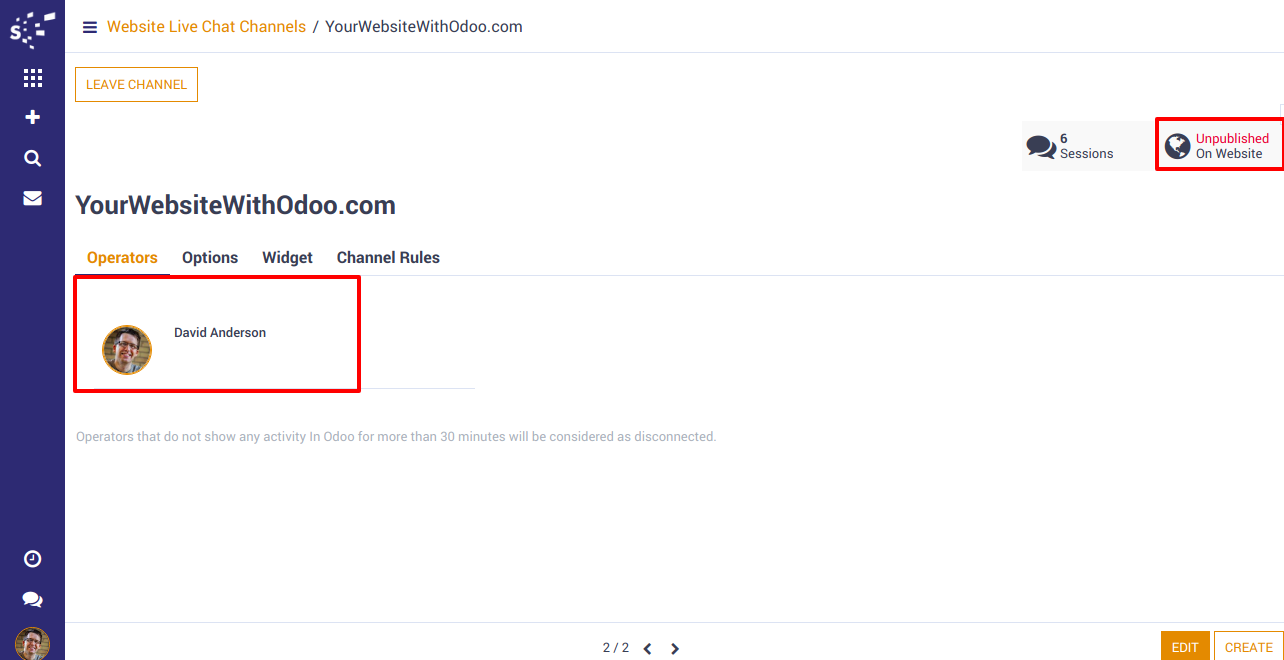 Use commands
/ticket : create a new ticket.
Live Chat between customer and service provider
Customer will chat with the service provider related to the product or services issue and get the solution instantly.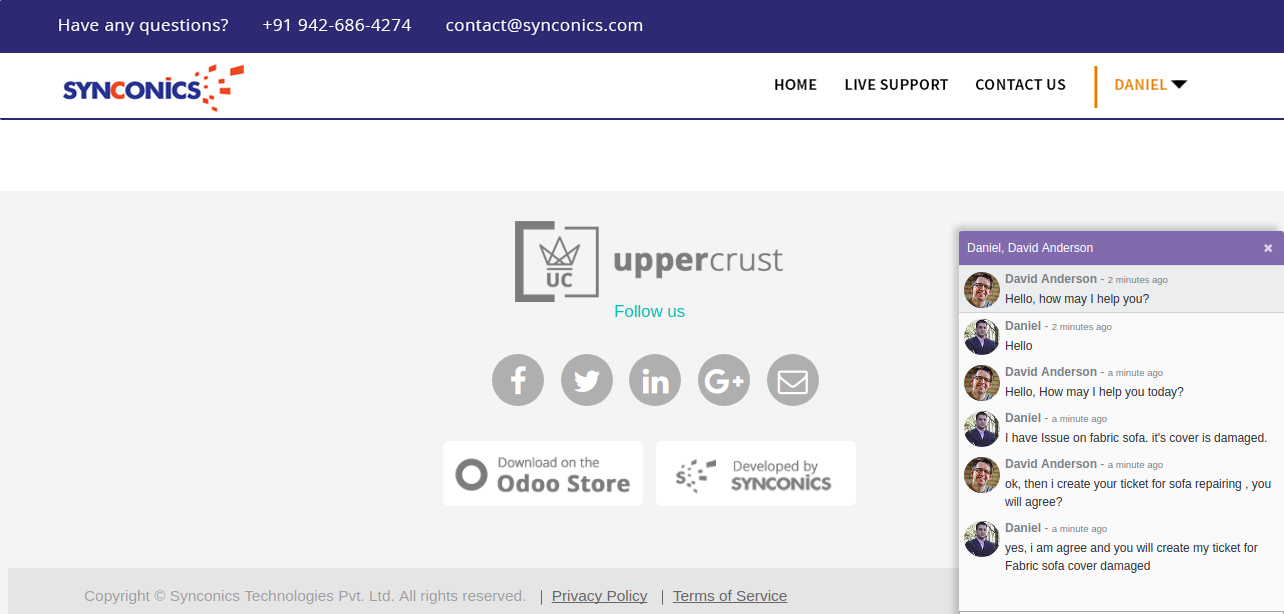 If issue is not resolve through chat then service provider can generate a new ticket via chat with "/ticket" keyword with subject.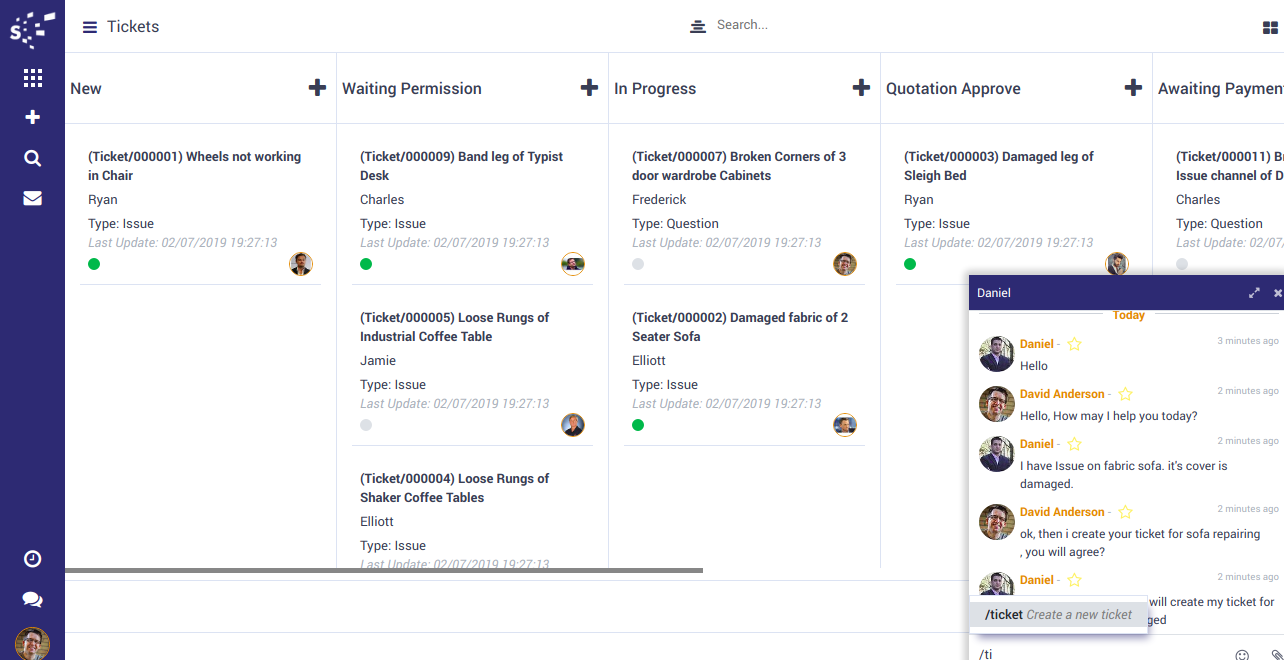 Ticket created via Live Chat
Ticket is automatically created and linked with live chat window.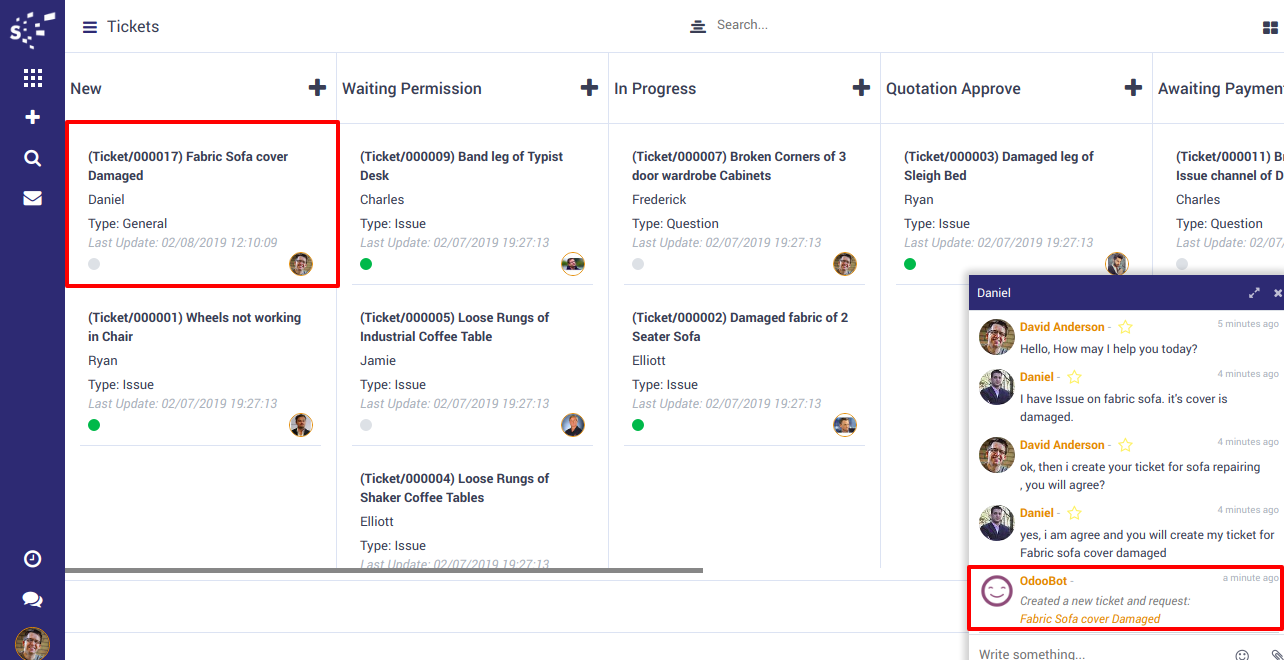 Ticket reference is attached in live chat and user will able to click on ticket reference and view its details.
The previous chat done between the service provider and customer will be added on the ticket description.
Livechat ticket Analysis
Go to Helpdesk/Reports/Tickets.
In-depth analysis of your livechat tickets through the pivot view.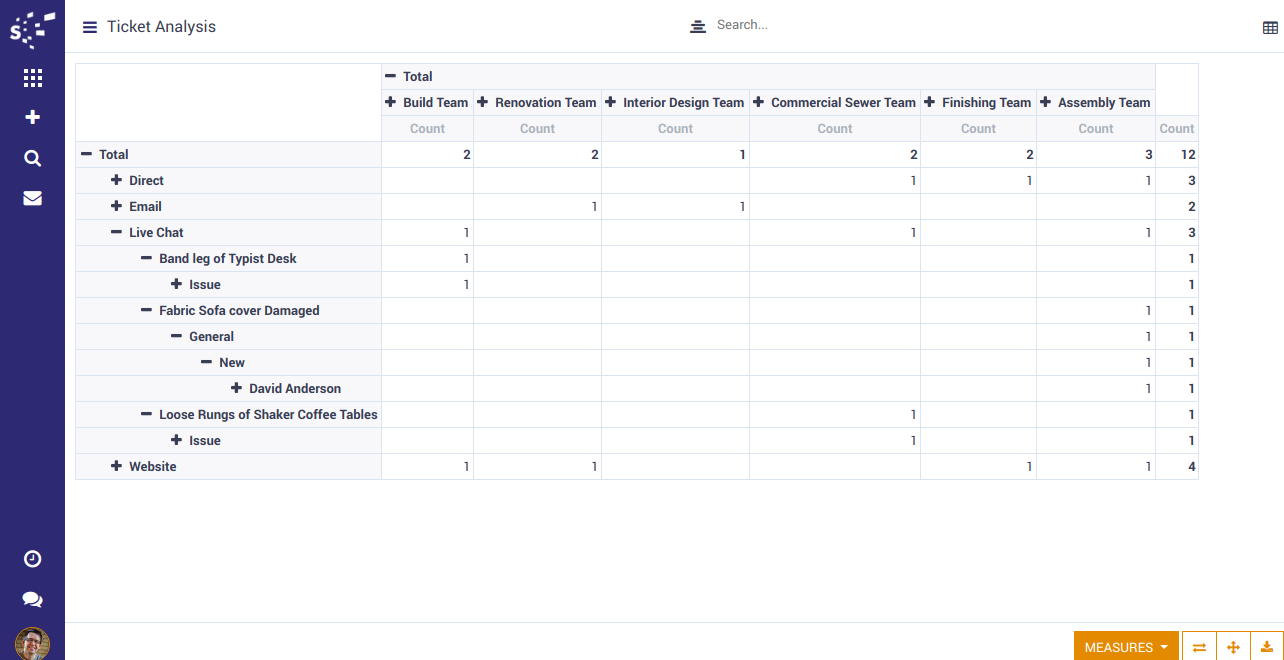 Notes:

All the apps are to be purchased separately, for individual versions and individual edition.
One month free bug support period will be offered pertaining to any one server used, testing or live.
If an error appears in our app due to other custom modules installed in your system, we will charge for our efforts to resolve those errors.
Please refer the document for configuration. If you need our support for configuration, please request our paid support.
Please note that you are not allowed to distribute or resell this module after purchase.
This module is tested and working on Odoo vanilla with Ubuntu OS.
Support services will be provided from Monday to Friday, 10:30 AM to 7:30 PM IST (Indian Standard Time).
---
This is a preview of the recently viewed products by the user.
Once the user has seen at least one product this snippet will be visible.
Recently viewed Apps