App Description Page
Pathology Lab Management
Pathology means the study of disease, and pathologists are the doctors who interpret biopsy or cytology specimens, monitor laboratory testing, and help interpret those laboratory tests. At HSS the Department of Pathology and Laboratory Medicine is divided into two sections: clinical pathology and anatomic pathology.

By using this module, You will be able to manage pathology labs, collection centres, patients, technicians and pathologists. you can also manage tests and test packages here.

After lab test completion system users will be able to generate a PDF report and invoice that will be shared to customers.
This module is compatible with
Community

Enterprise

Odoo.sh
Key Features
Manage lab technicians

Manage pathologists

Manage patients

Manage lab test requests, appointments with patients

Manage lab test packages

Manage diagnosis for blood and urine

Manage Lab Centers and Collection Centers

Generate blood or urine test reports

Send Blood test reports to customers via E-mail
Pathologist
It provides process for pathologist profile creation with it's details.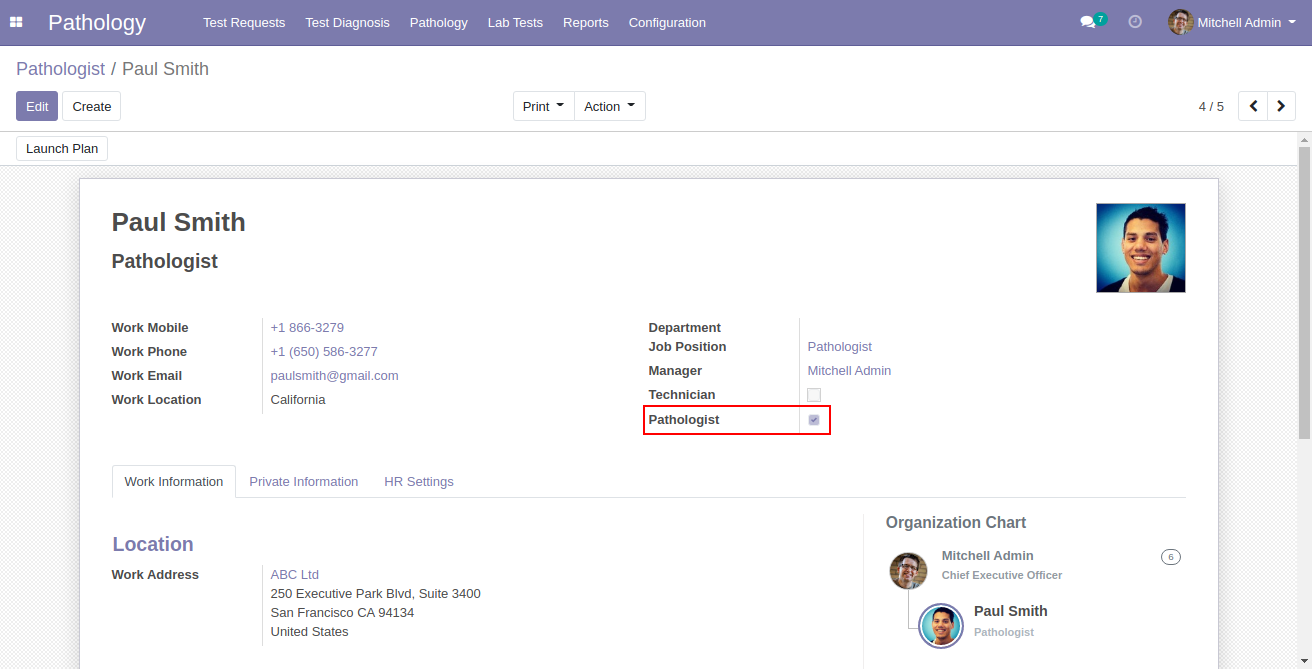 Lab Technician
It provides process for lab technician profile creation with it's details.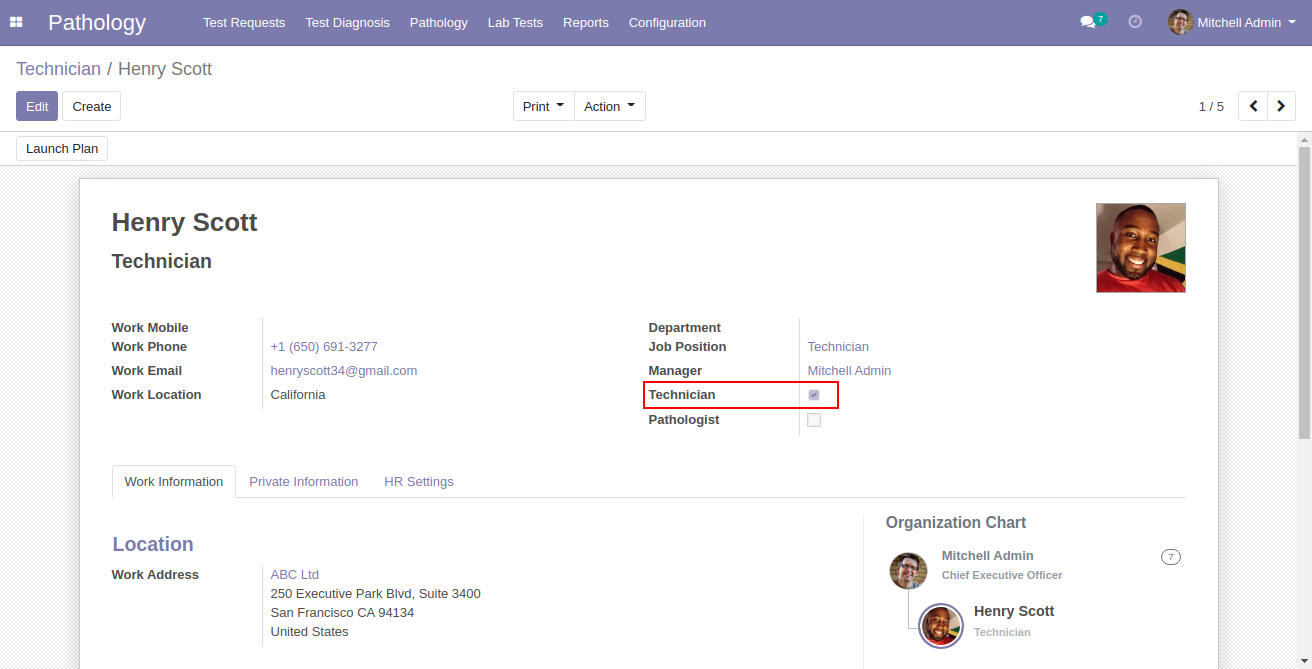 Patient Details
It's provides the patient details with personal information.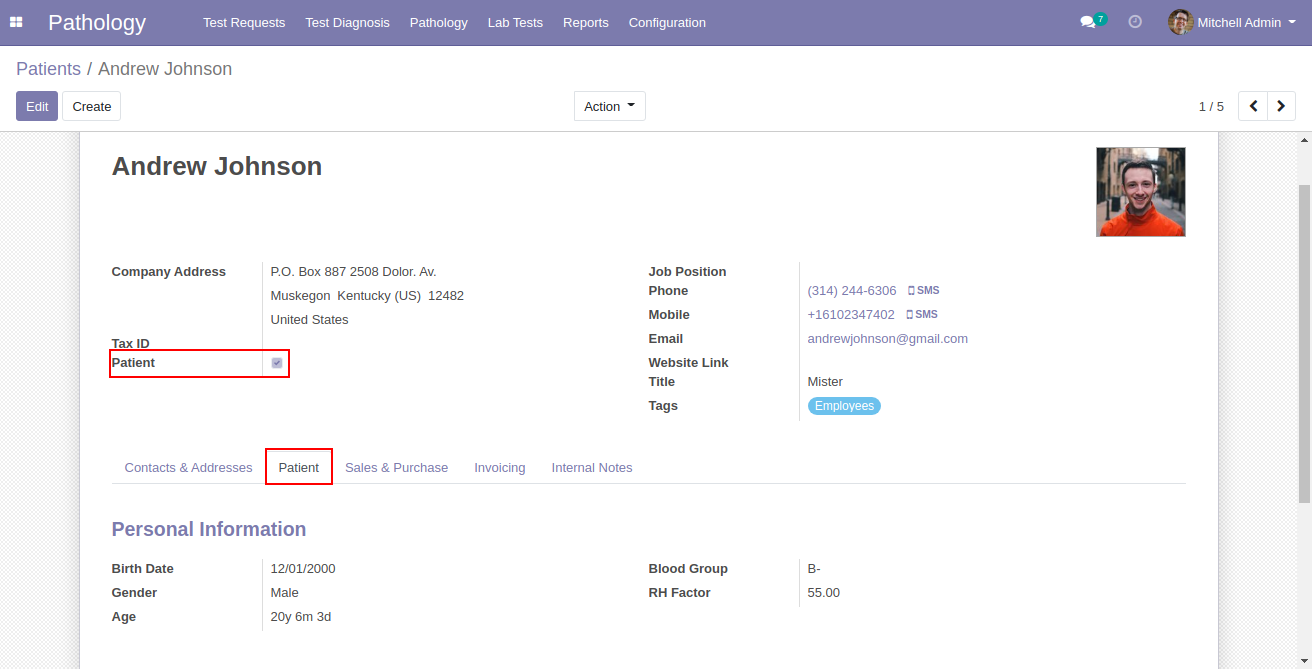 Lab Test Requests
A lab technician will generate a lab test request in which he will fill up different details like request date, patient, pathologist, laboratory centre, collection centre, test options like test or package, test diagnosis, and also visible related appointments and tests diagnosis.

Lab technicians will be able to create appointments for different patients in the draft stage.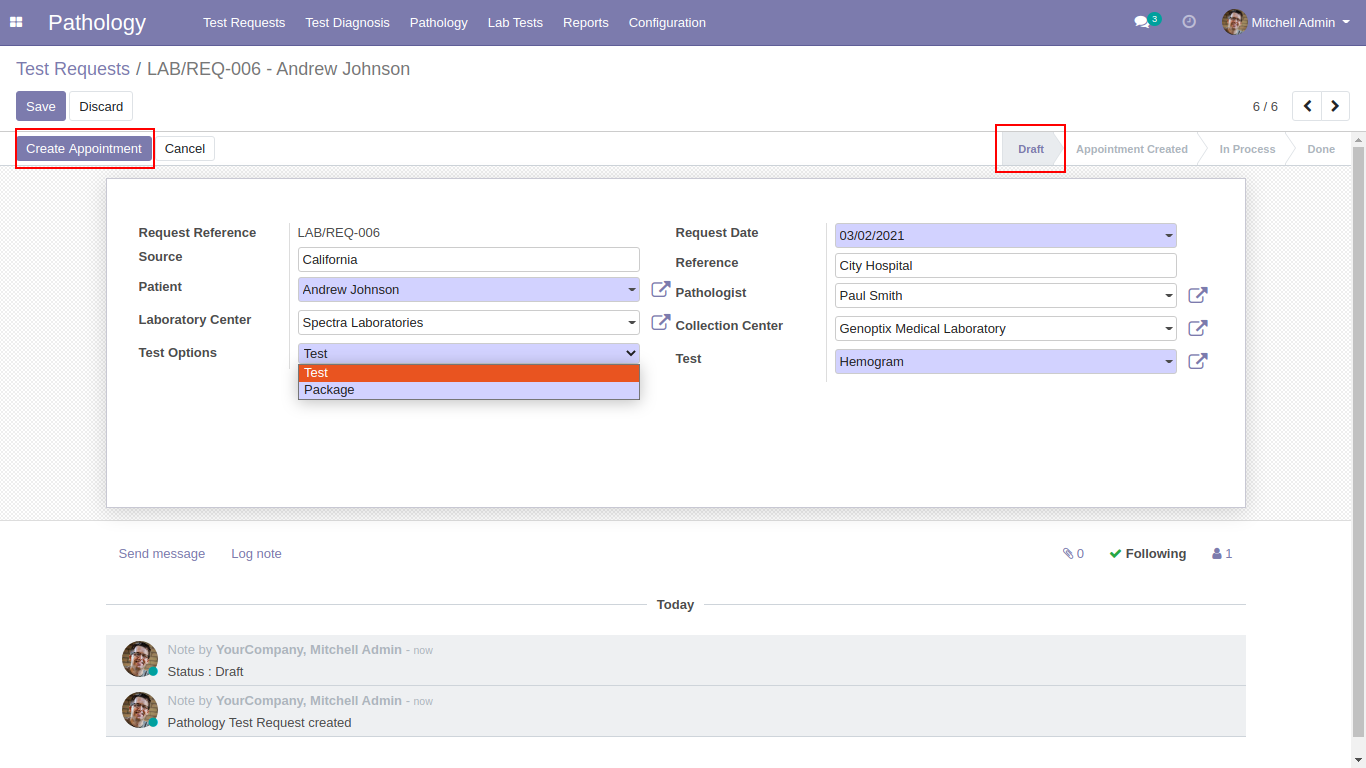 Appointment will be generated automatically by this wizard.

Patient's appointment details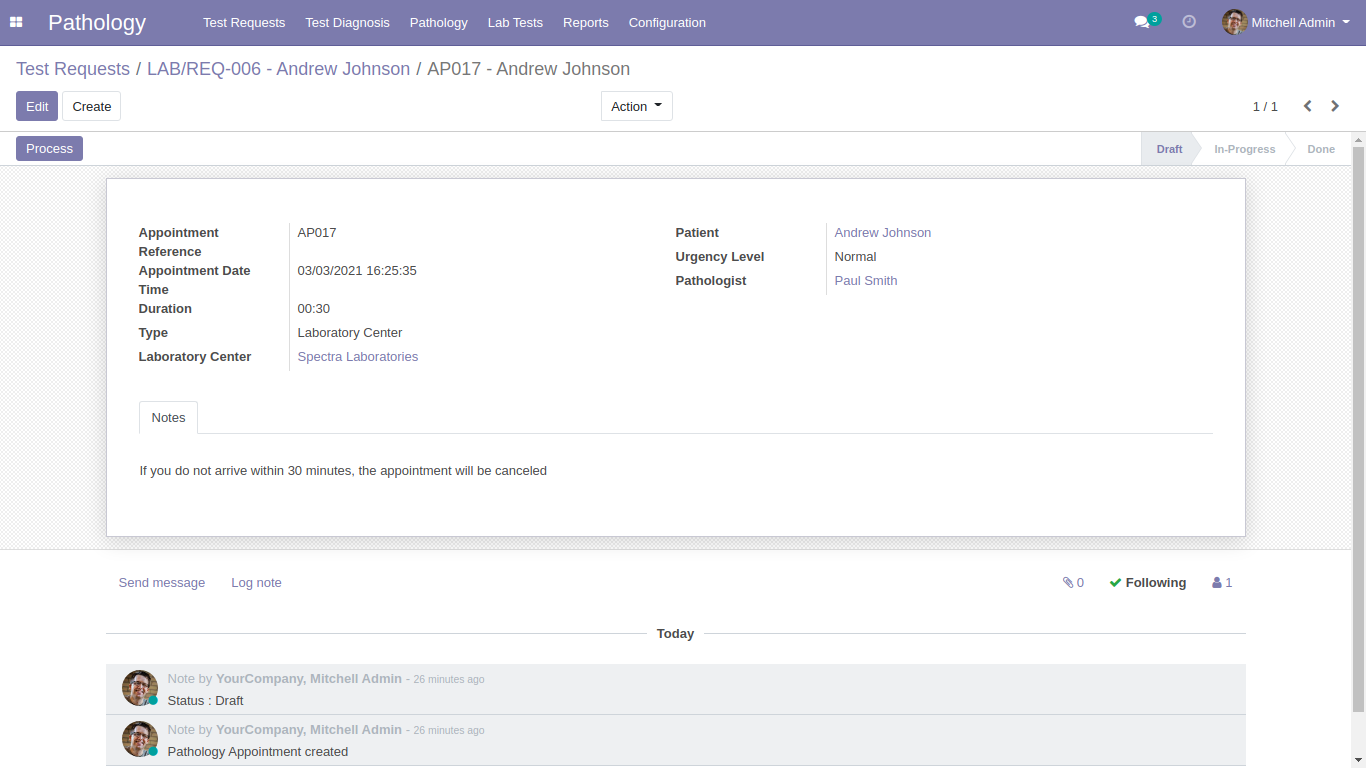 A lab technician will be able to process for test diagnosis after creating an appointment and when a patient arrives.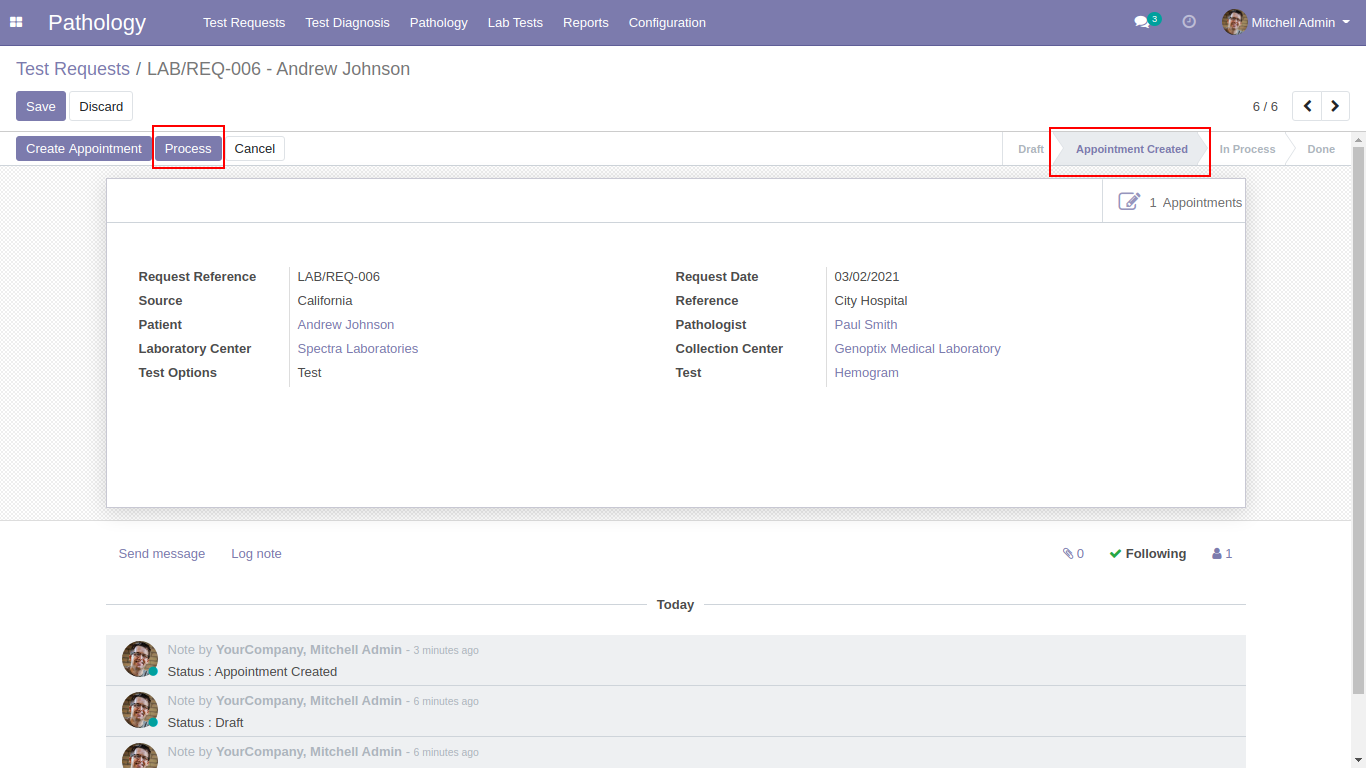 Invoice creation process can be done before or after diagnosis process.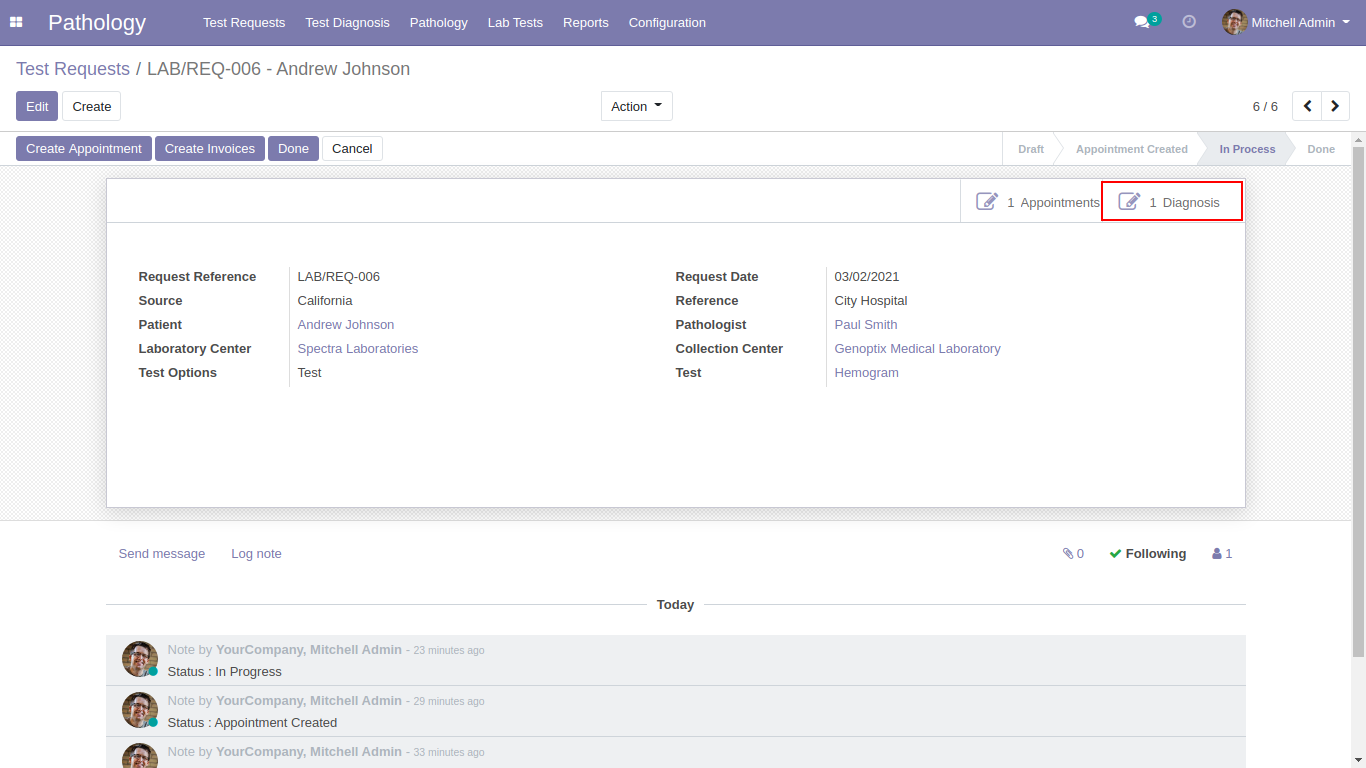 Patient's test diagnosis result. Here pathologist will be able to define minimum and maximum range for their lab test results with related values.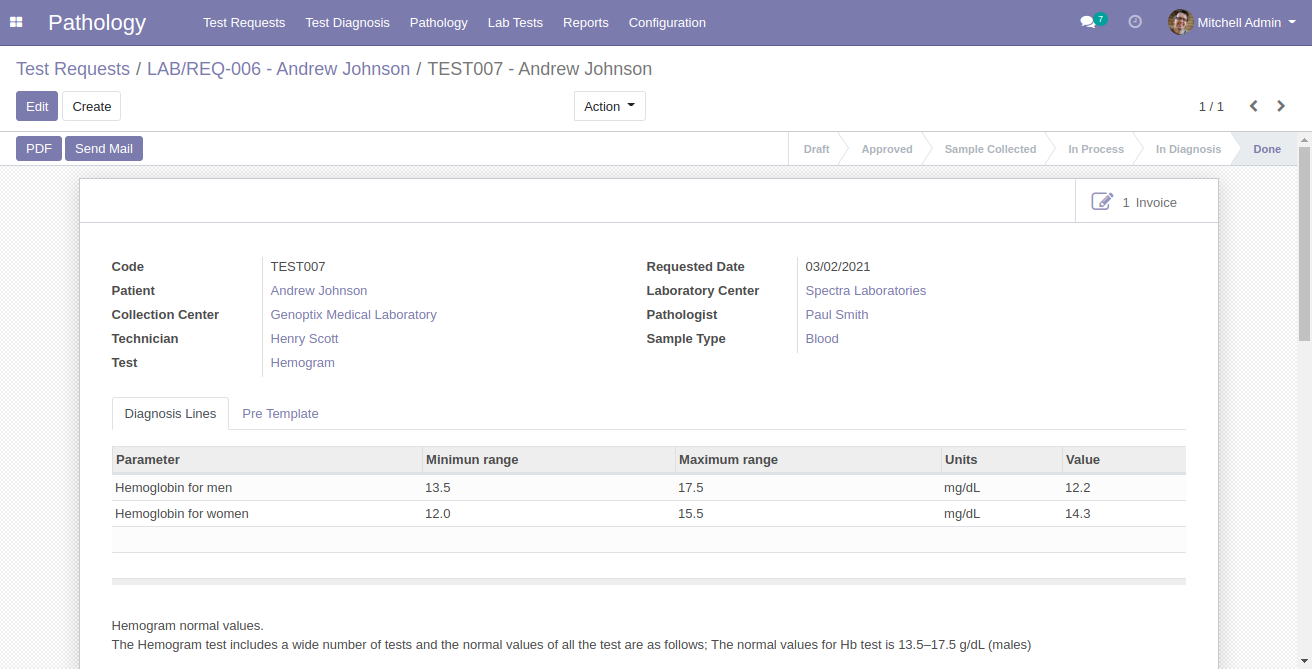 Visible created invoices entry from lab test requests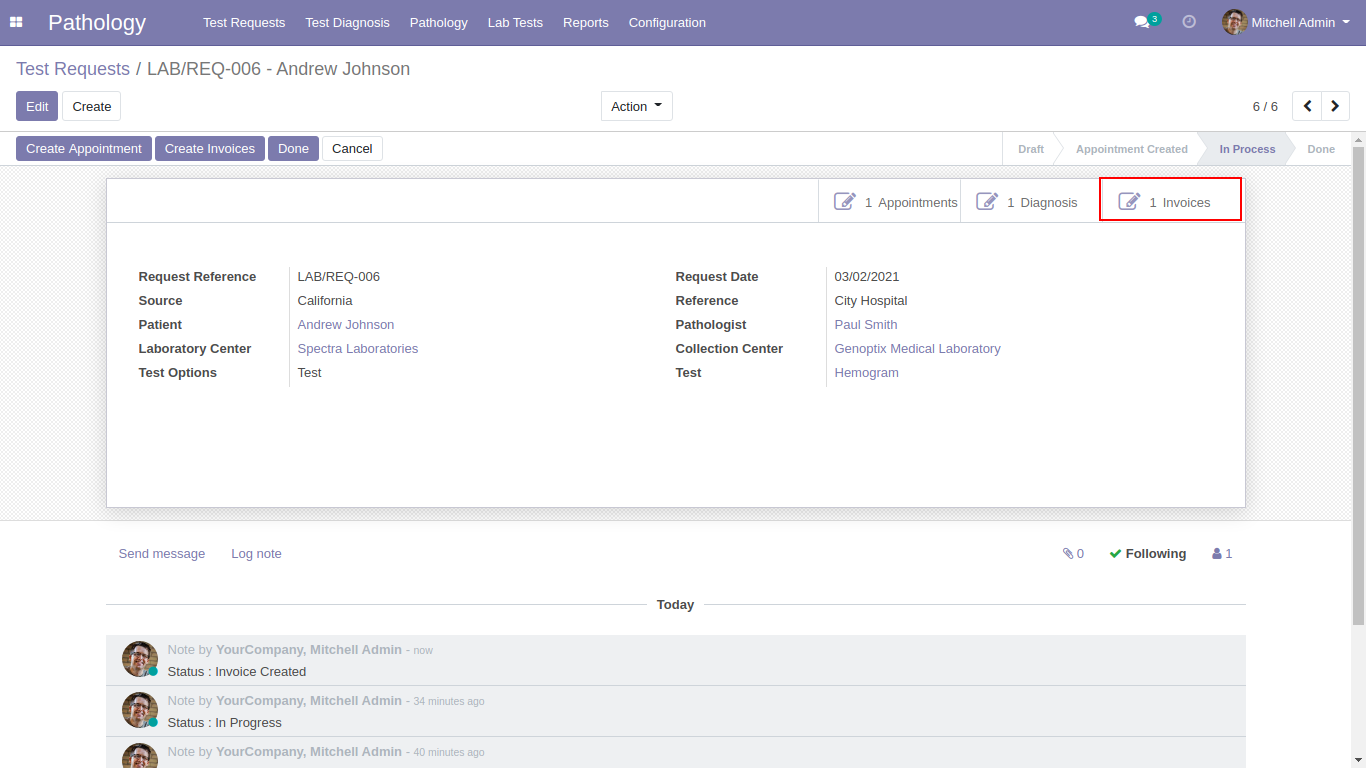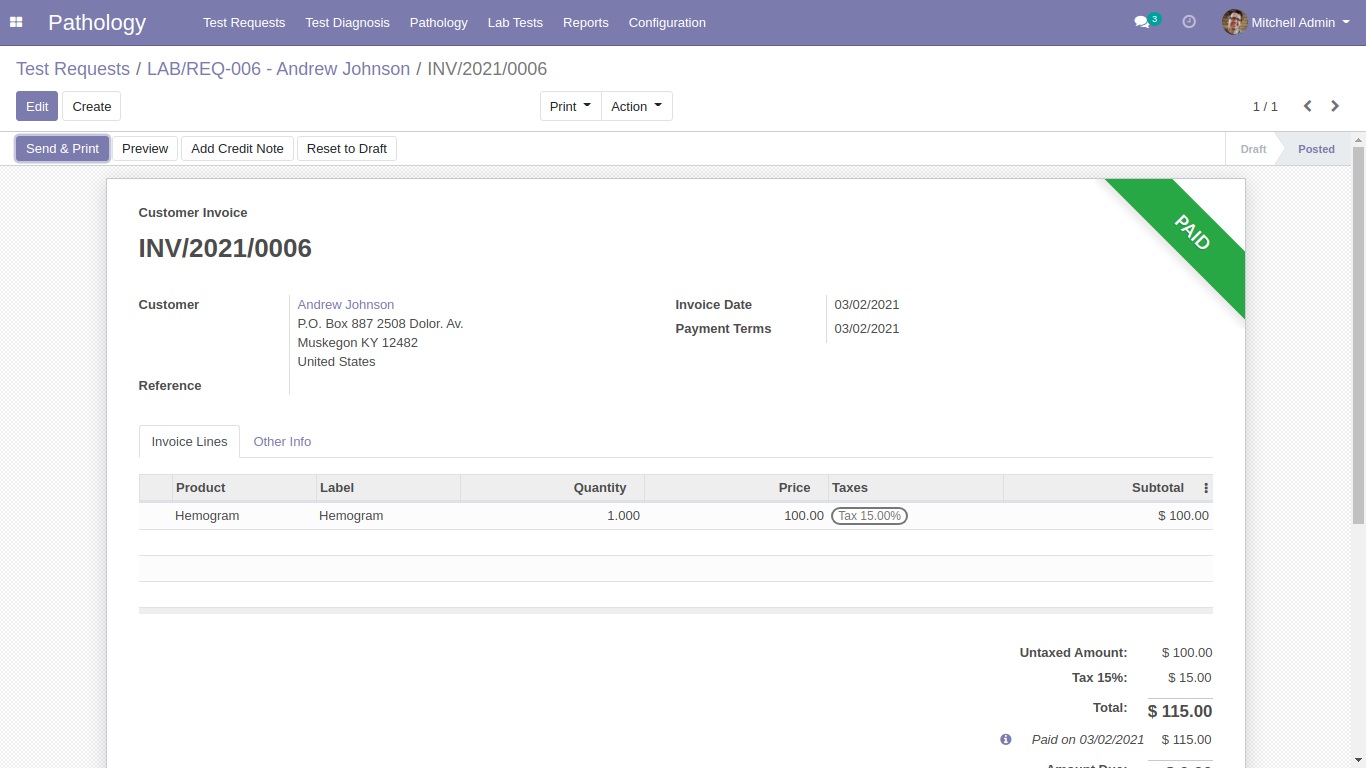 After completing each and every process, a lab technician will finally done the record.
Here record will be proceed to done stage only if all invoices related with respected lab test requests are paid.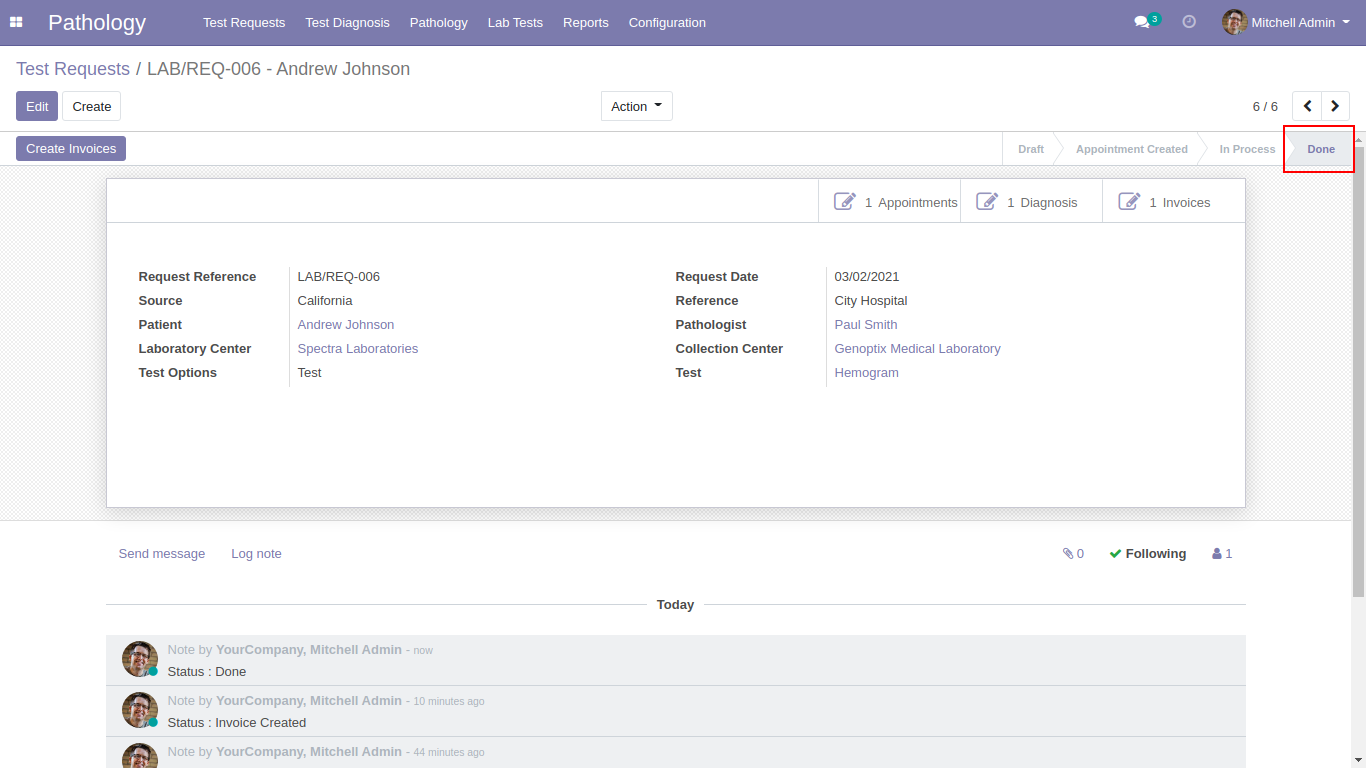 Lab technicians can also cancel a lab test request.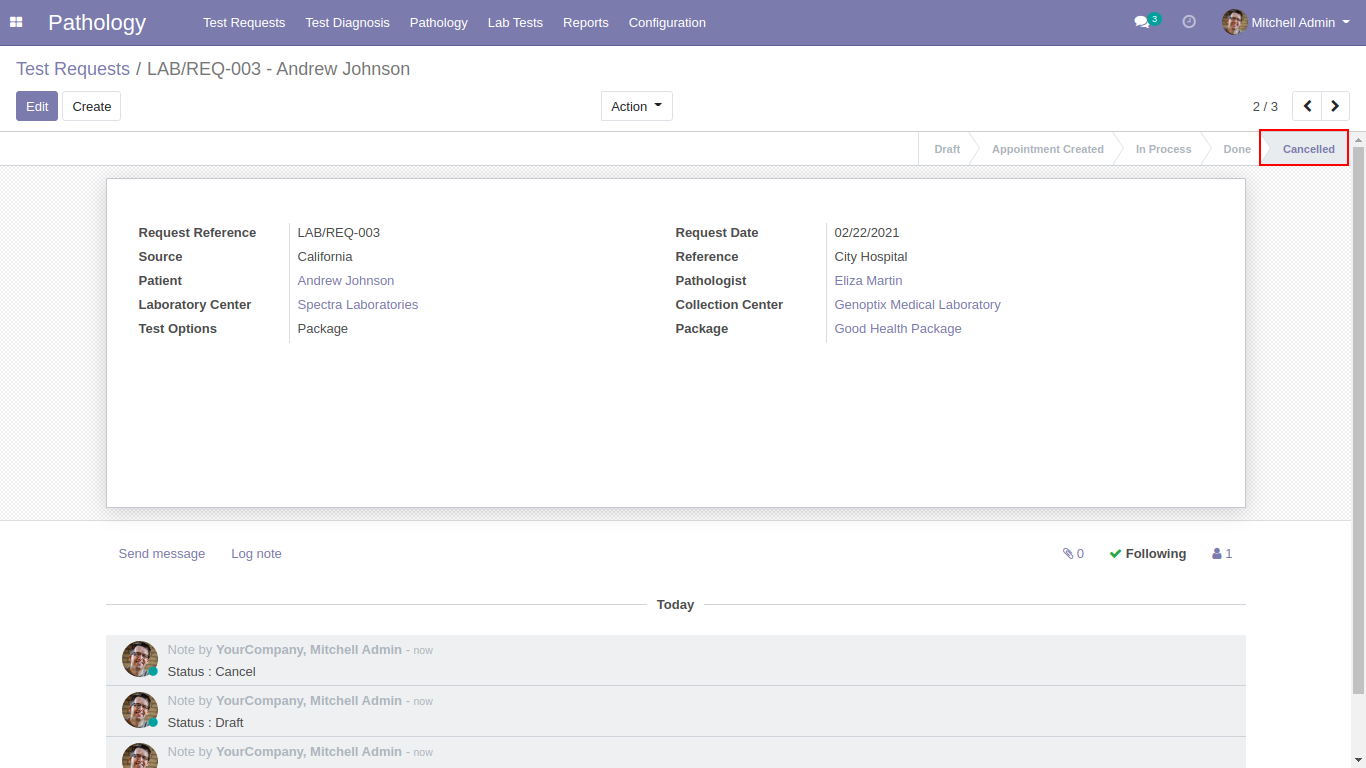 Appointments View
It provides the details like patient, appointment date, urgency level, pathologist, laboratory center, collection center duration of appointment, lab technicians can also create appointments from lab test requests or directly from calendar view.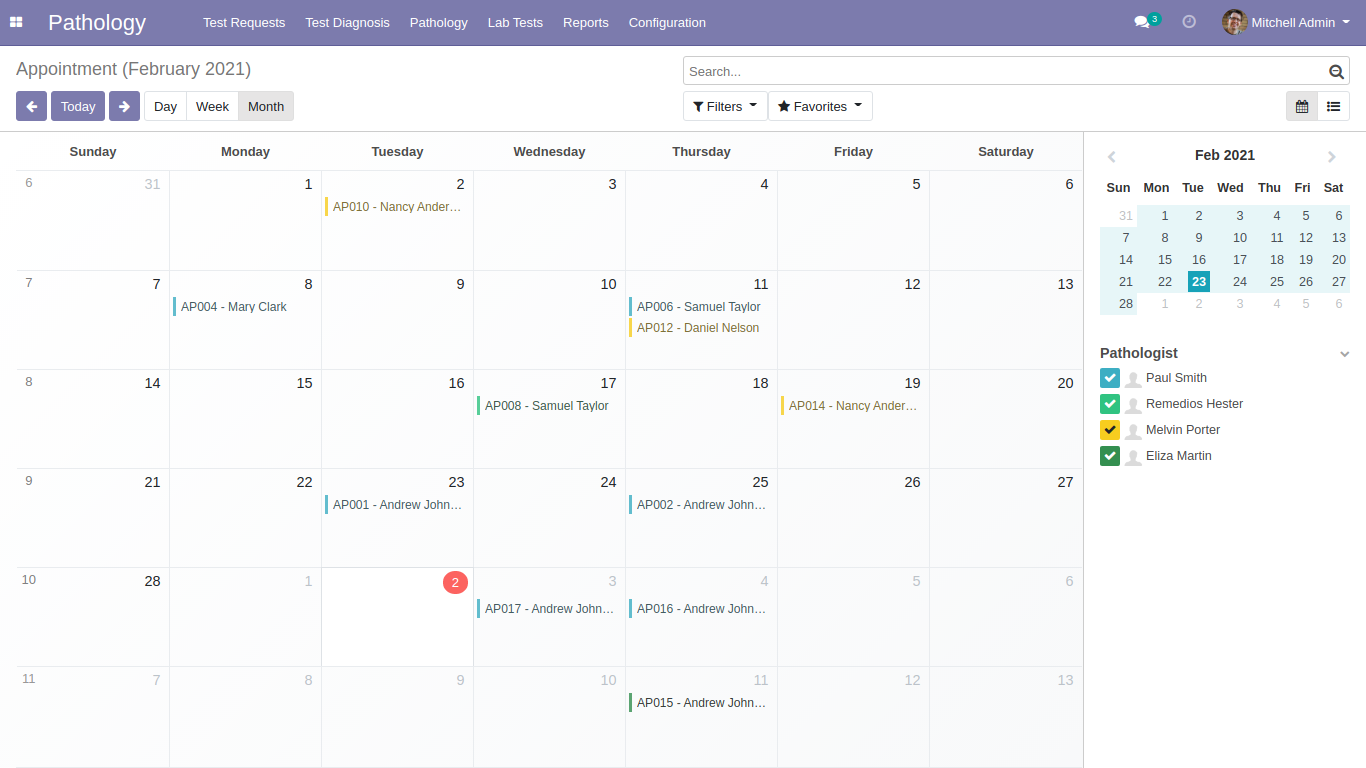 By default appointments will be created in draft stage.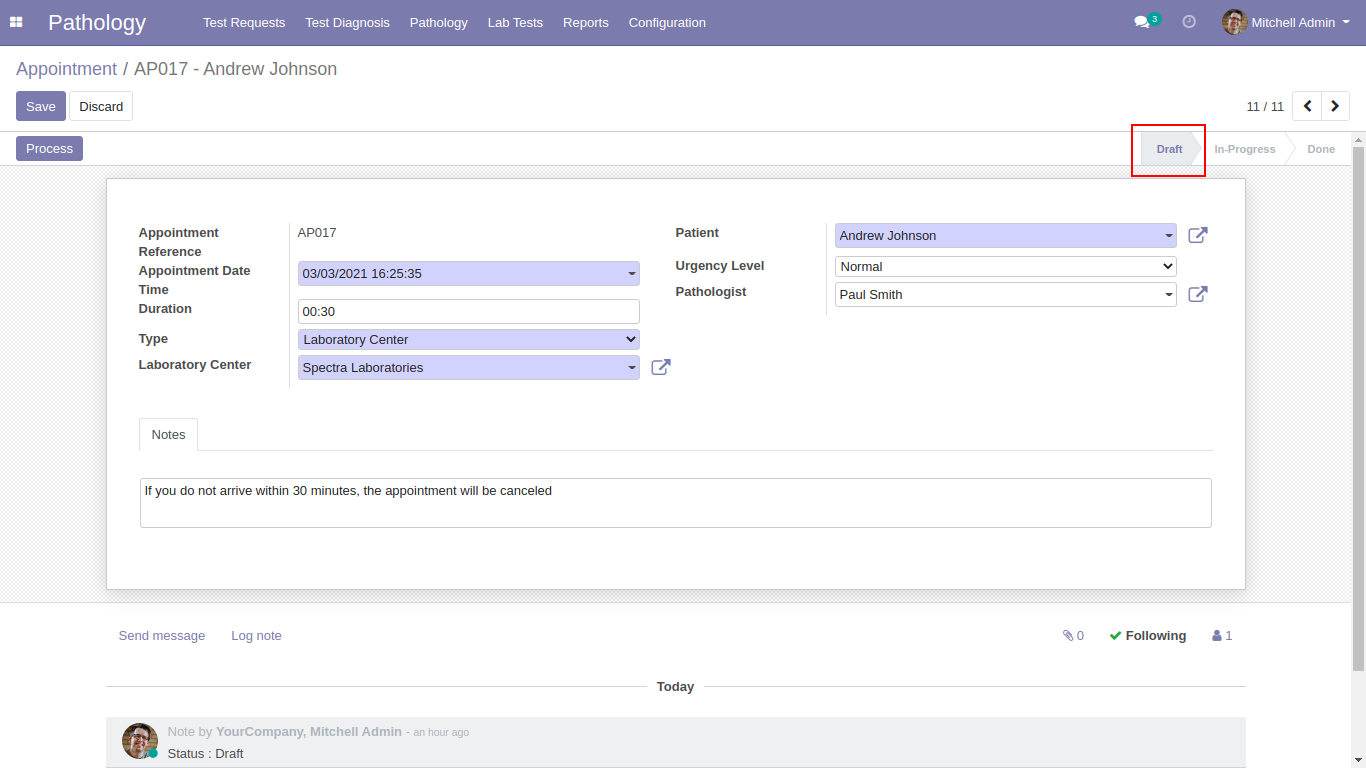 By clicking on process button, appointments will be moved to in-process stage.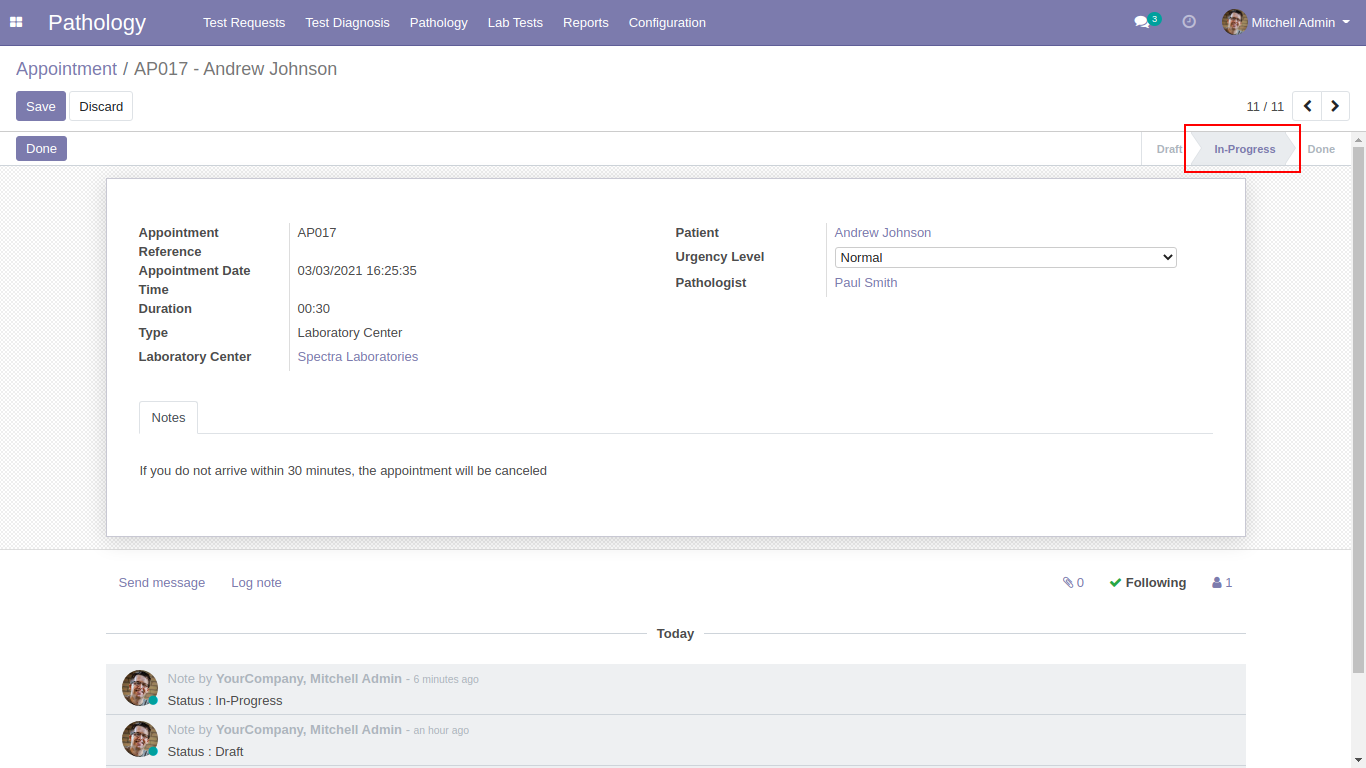 After done process appointment will be moved to done stage.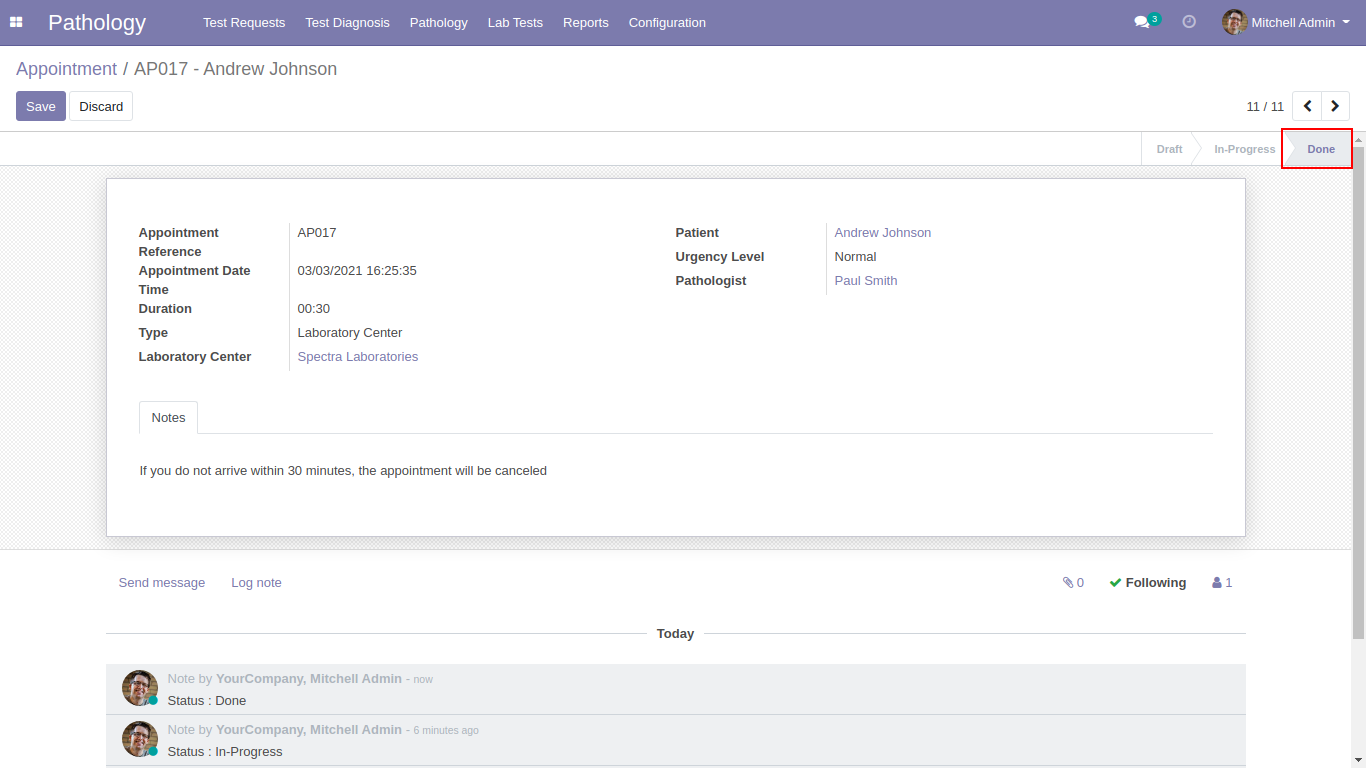 Test Diagnosis
It provides details like patient, collection center, requested date, laboratory center, pathologist, technician, sample type and test, complete all process you will be print pdf report also send mail.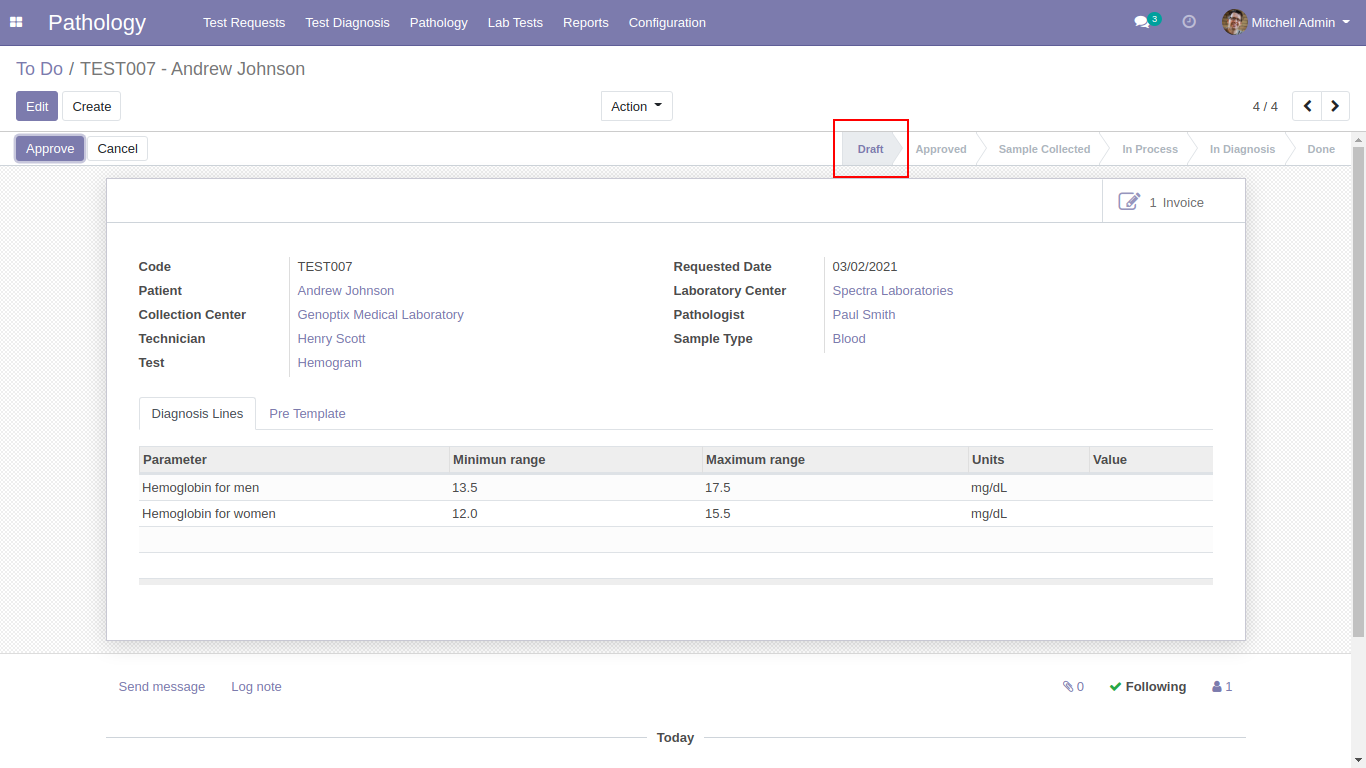 When patient's diagnosis is approved then it's move to approved stage.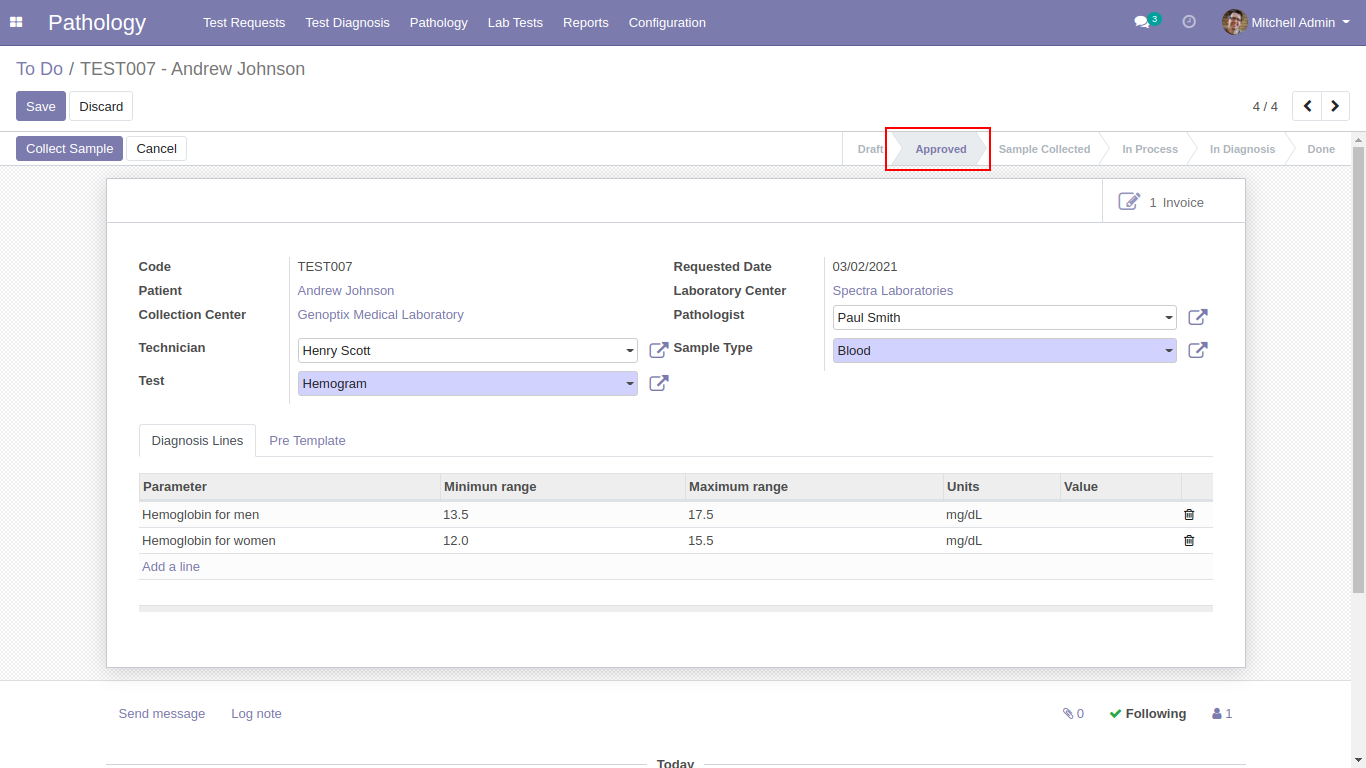 After approval patient's blood/urine sample will be collected.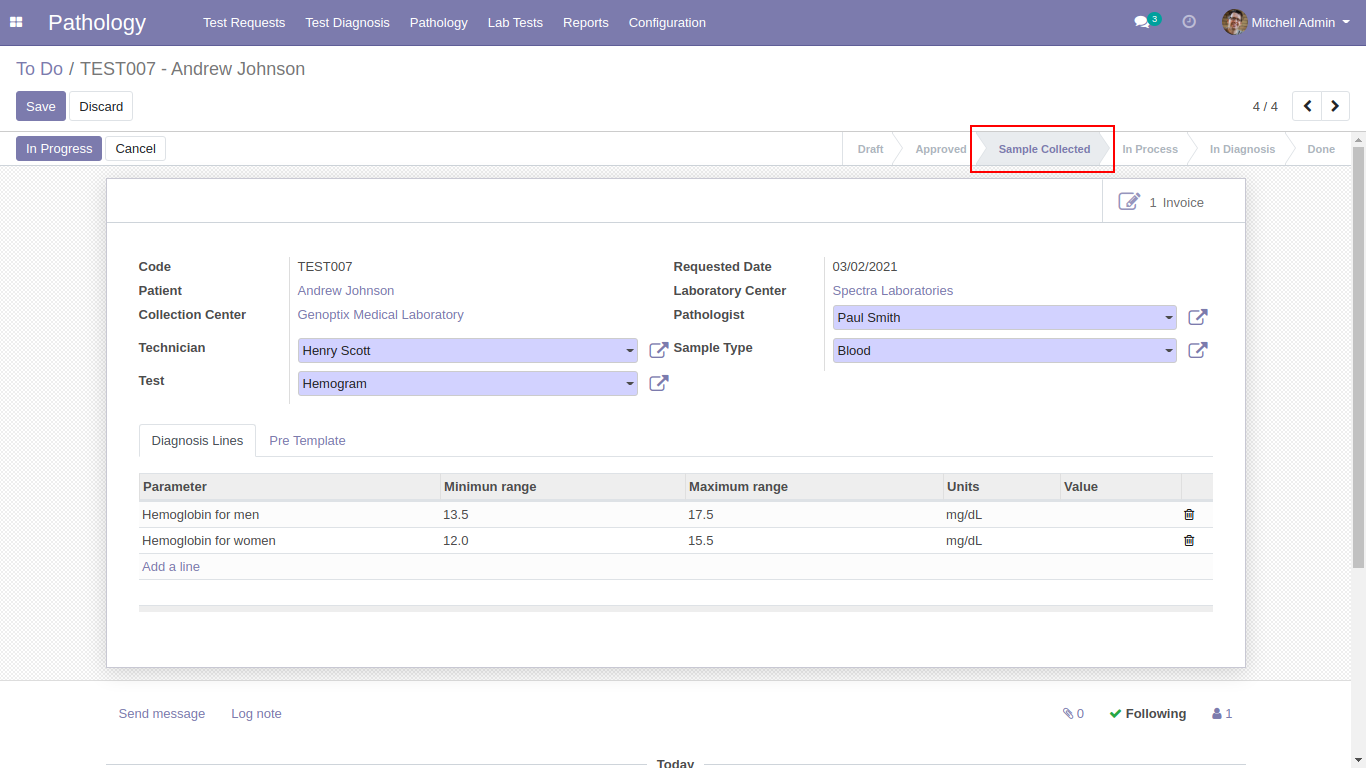 After sample collection a pathologist will start process of diagnosis.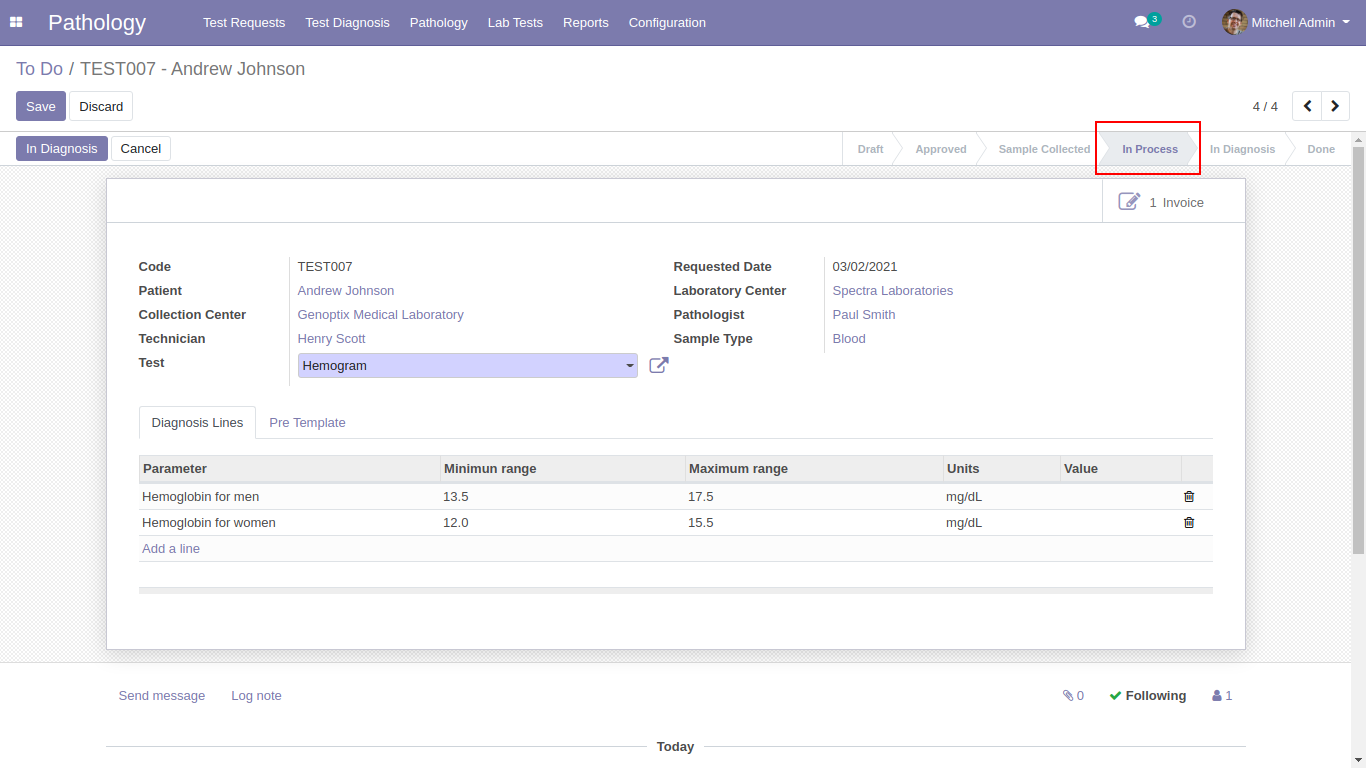 In the stage of 'In Diagnosis' pathologist will write test report.
After that finally a pathologist will done diagnosis test.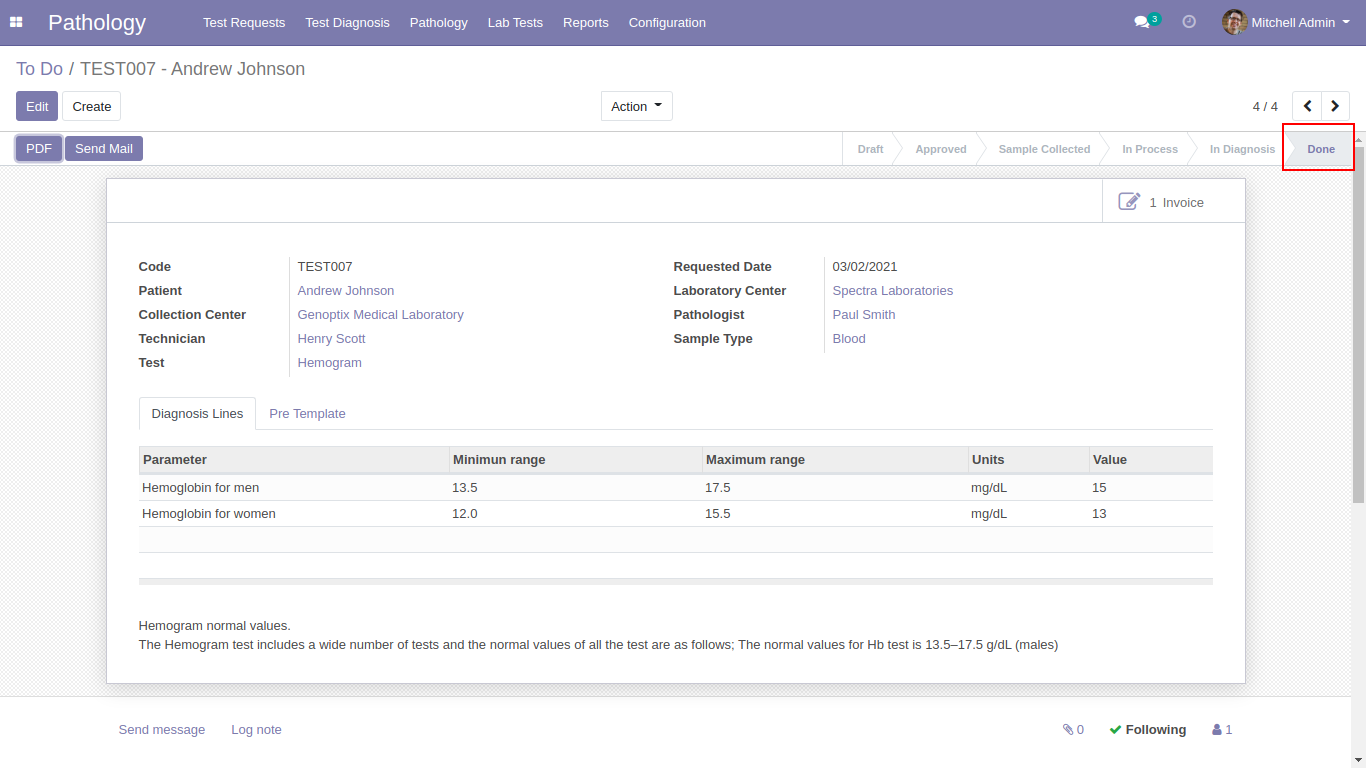 Pathology Test Report - Print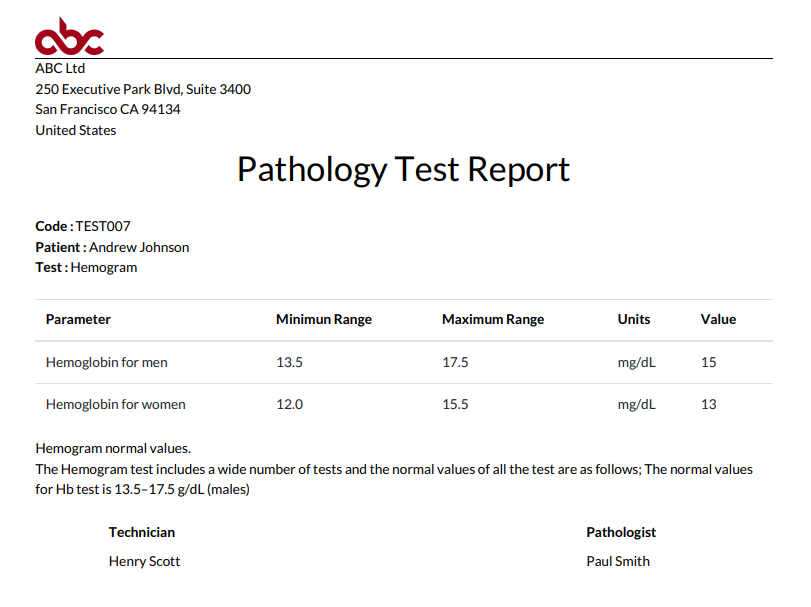 Reports can be also sent to the customer by E-mail.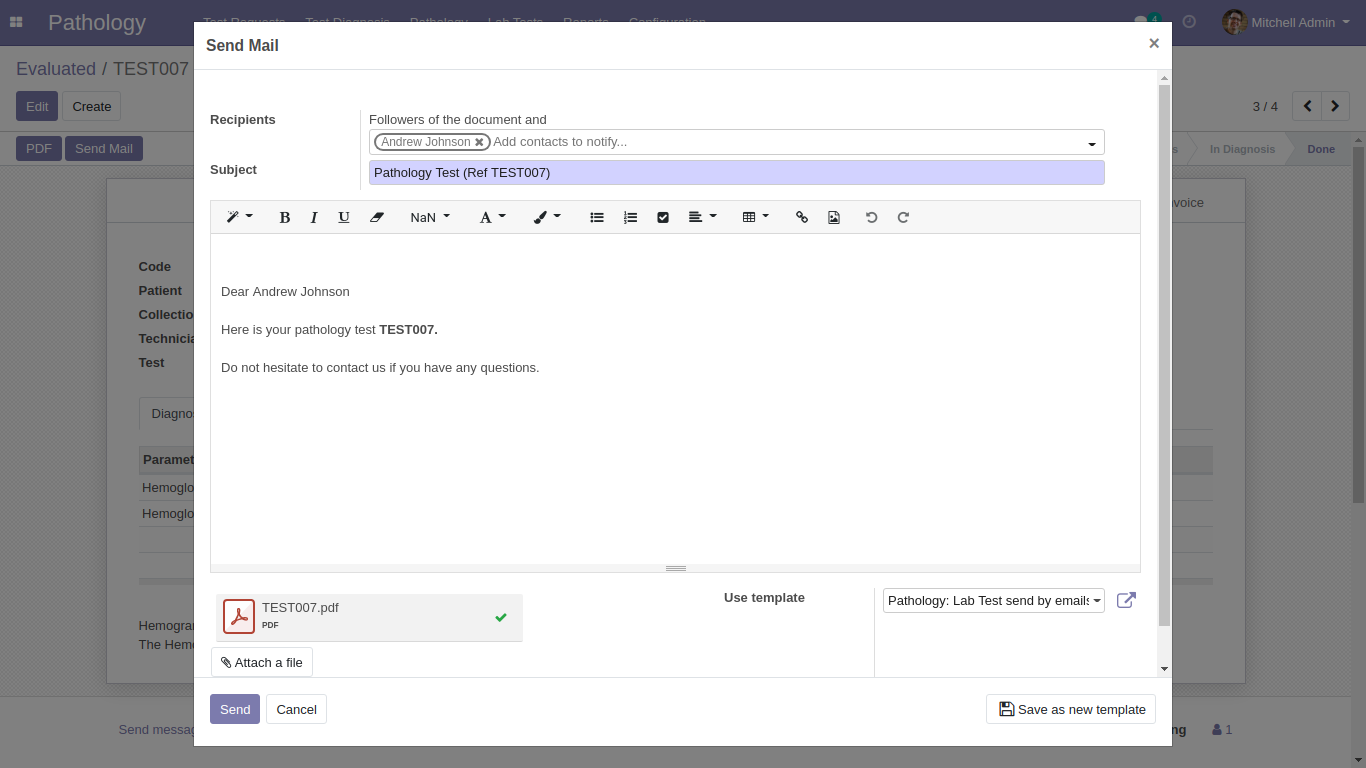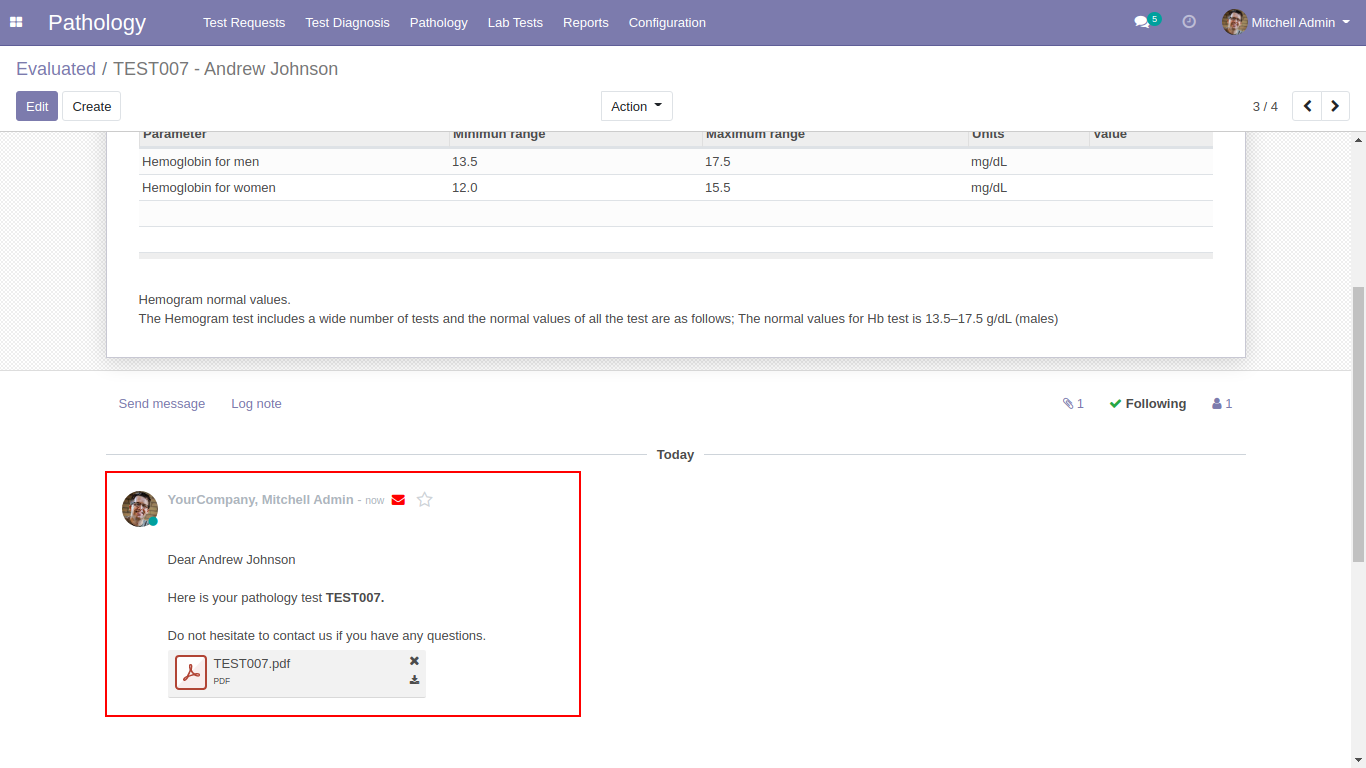 Configurations
Lab Tests
It provides details like report delivery time, report delivery time unit, sample type and parameters.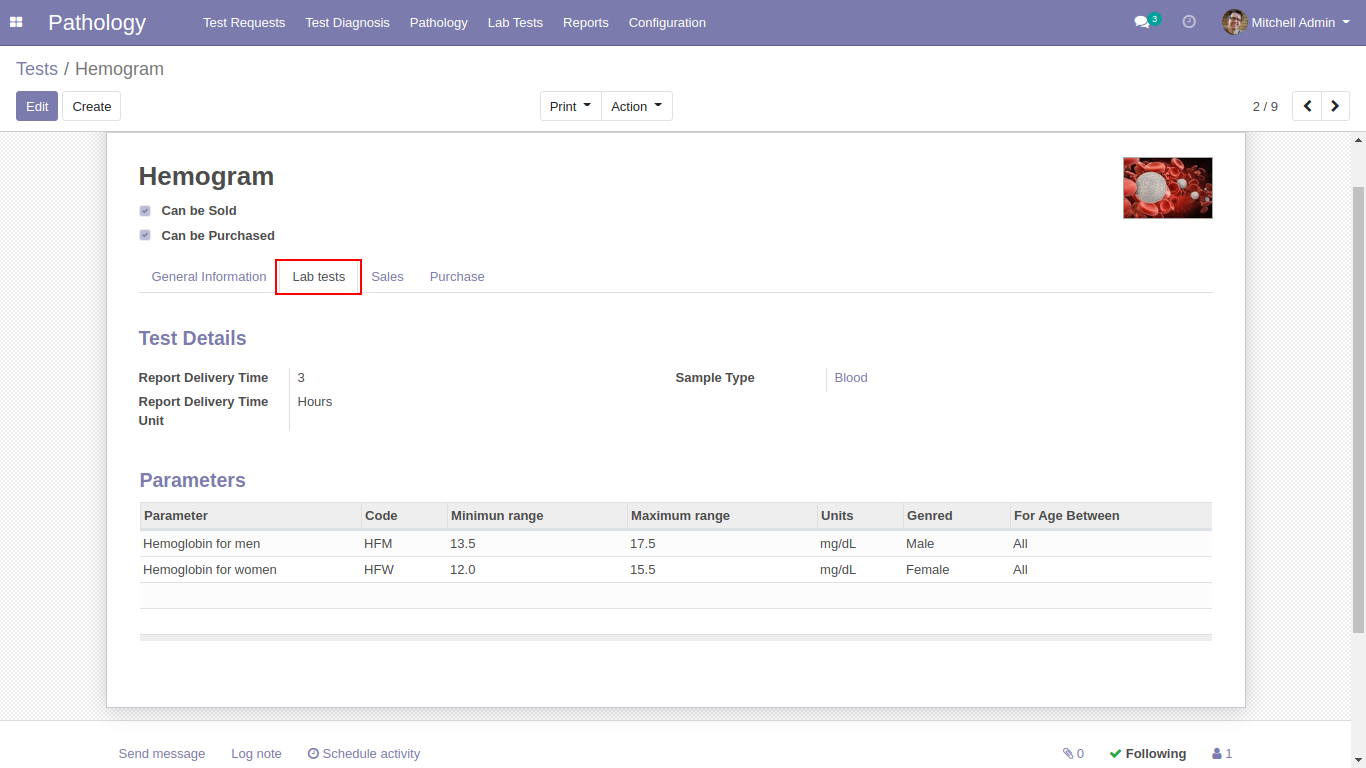 Packages
It provides details like name of the package, tests and package service.
Here lab technicians can select package directly that is Blood sugar package in which several types of blood or urine tests are involved.
Lab Centers
It provides details like name, center, mobile, phone, address and email.
A pathology lab can have multiple lab centers located at different physical locations.

Collection Centers
It's provide details like name, centre, mobile, phone, address and email.
From these collection centers patients will be able to collect their test reports.

Units
It provides details like units of measure, category and type like litre, milometer etc.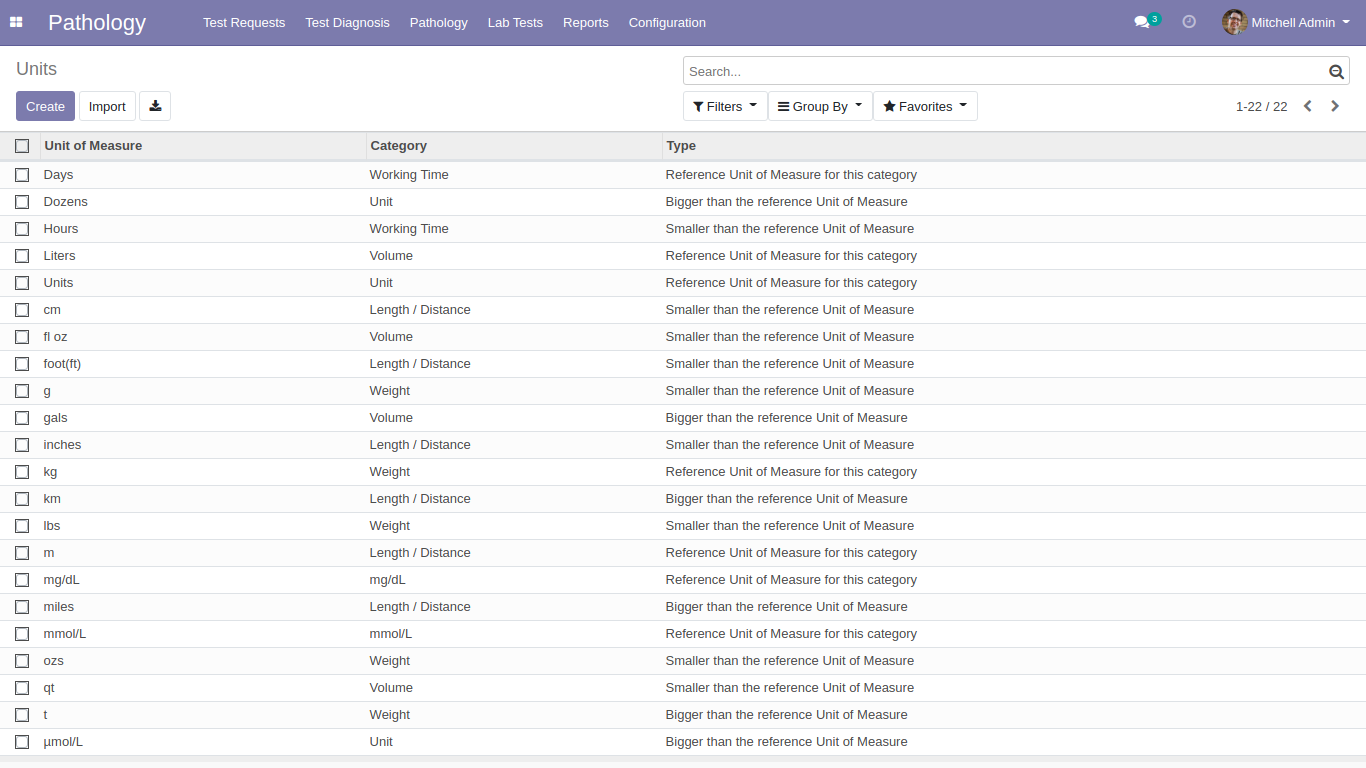 Parameters
It provides details like name of parameter, unique code, minimum range, maximum range, units, gender and For age between.
These parameters will be used directly by pathologists while diagnosing blood or urine.

Pre Templates
It provides details like name of template, test and description.

Sample Type
It provides details like name of sample type ,unique code and description of sample type.

Reports
Generate PDF or Excel report of Requests using From Date, To Date, pathologist and Test options.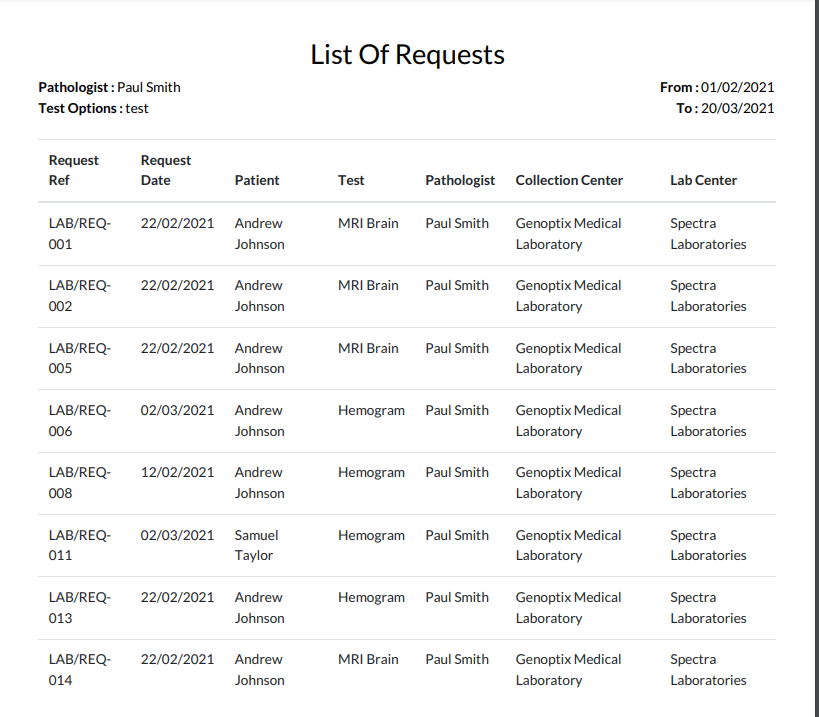 Generate PDF or Excel report of appointments using From date, To date, Laboratory centre and Pathologist.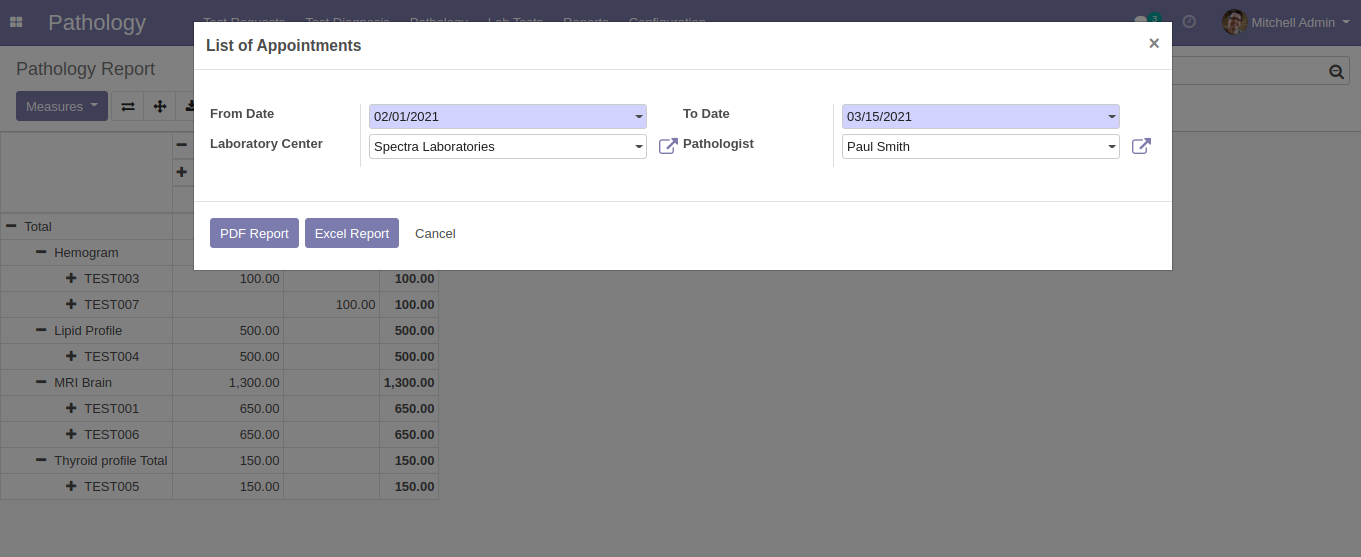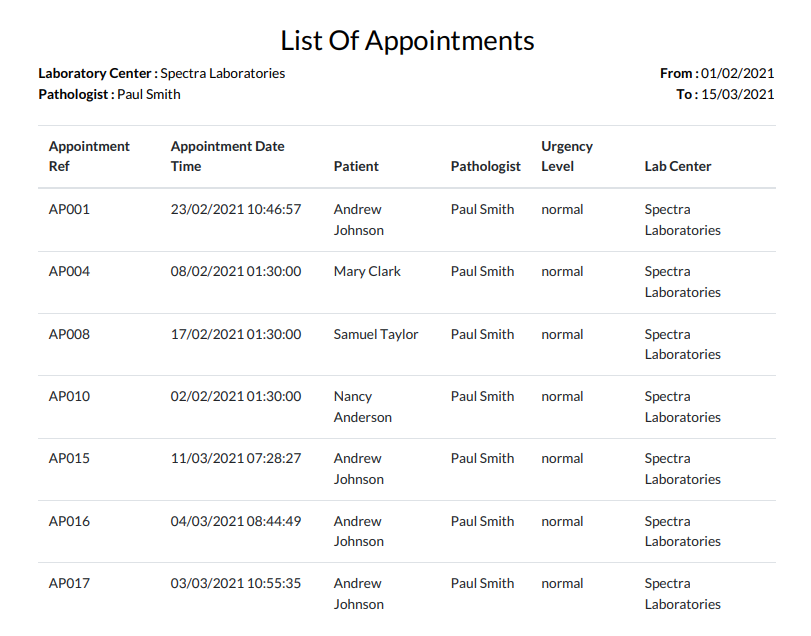 Generate pathology diagnosis test pivot report.
Users will be also able to download it in Excel format.

Notes:

All the apps are to be purchased separately, for individual versions and individual edition.
One month free bug support period will be offered pertaining to any one server used, testing or live.
Synconics is only responsible for providing the module zip file on your registered email, purchased from our app store or directly through our company.
Synconics is not responsible for installation or updating of the module on any of your server.
If an error appears in our app due to other custom modules installed in your system or if Odoo base source code is not updated on your system, to make it compatible with your source code, we'll charge you for our efforts to resolve those errors and make the module compatible with your source code.
Please refer the document for configuration. If any support is needed for module configuration, installation, updating or any help is needed, it will be considered in paid support.
Please note that you are not allowed to distribute or resell this module after purchase.
This module is tested and working on Odoo vanilla with Ubuntu OS.
Support services will be provided from Monday to Friday, 10:30 AM to 7:30 PM IST (Indian Standard Time).
Support will not be provided during Indian public holidays or company holidays.
---
This is a preview of the recently viewed products by the user.
Once the user has seen at least one product this snippet will be visible.
Recently viewed Apps